Corner Bathroom Vanities: The Space Saving Solution
Posted on

September 17, 2012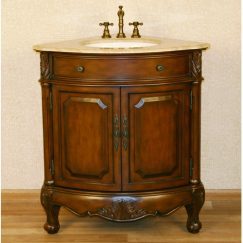 Corner bathroom vanities are a smart solution to a small bathroom.  Bathroom storage is one of the biggest concerns in bathroom design; coincidentally, small bathrooms can be one of the biggest frustration in homes and apartments alike. If bathroom floor space is limited, your storage options do not necessarily have to be. However, you can only work with what you have so creativity and innovation is a must.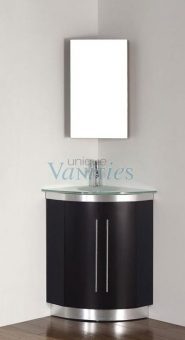 When it comes to storage, consider all your options.  Vanity storage, storage cabinets, or wall shelves are all reasonable choices.  Of course all of these options are dependent on floor space, layout design, or available wall space.  If the layout of your bathroom does not allow for much floor space, then maybe some design changes need to take place.  Keep in mind that different vanity designs accommodate for different bathroom designs.  In the instance of a small bathroom, there is one very simple solution of vanity design: throw out the idea of a traditional bathroom vanity and opt for a corner vanity.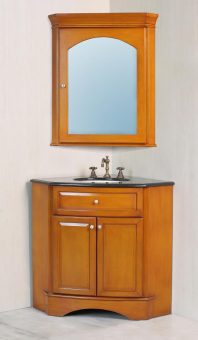 Conventionally, corner vanities are wedged-shaped and fit into a corner of the bathroom.  Corner vanities are hands down the most efficient way to get closed storage without compromising floor space in a bathroom. Basically corner vanities are half the size of a traditional vanity.  A very obvious question concerning corner vanities is if the vanity is smaller than how does it offer more storage.  This concern is very viable and yes, in fact, some storage is lost with corner vanities.  Keep in mind, though, that the storage that they do offer is very efficient storage.  Since the back corners that a traditional vanity would have are essentially cut off, the blind spots and the dark corners where items that are not often used tend to go missing do not exist.  This helps to keep all your most used items easier to find.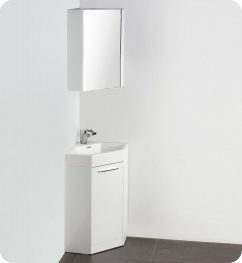 In addition, the use of crates and baskets inside the vanity can help keep all your bathroom products neatly organized.  Installing roll out shelves is an even easier way to access all your under cabinet storage.  Now that you have efficient vanity storage and have alleviated your scarce bathroom floor of unnecessary vanity area, you are able to fit in other storage furniture pieces.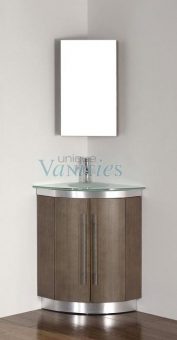 Written by: Hillary Hansen