Farmhouse design style is characterized by minimal accessories and practical materials. Farmers who switched from an outhouse to indoor plumbing didn't focus on ornate details or superfluous items; they often converted a spare bedroom or attic into a simple bathroom. This meant the layouts were not what we see today, and re-purposed furniture was often used. Attics often have sloping roof lines, so adding faux roof lines can help reinforce the farmhouse style in a modern bathroom.
Claw-foot bathtubs are common since they were practical when the farmhouse style originated.
Sink choices in farmhouse design include trough sinks, apron-front sinks (farmhouse sinks), and pedestal sinks.
Hexagonal tiles are often used in farmhouse bathrooms because they are cheap (the criteria farmers use when picking tile). This example also shows great use of a re-purposed kitchen cabinet. Furniture from other rooms was usually dragged in to hold towels and toiletries in original farmhouses.
Vanities weren't common in original farmhouse bathrooms, but they are often a necessity in modern bathrooms. Distressed cabinets are practical but won't seem out of place in a farmhouse design.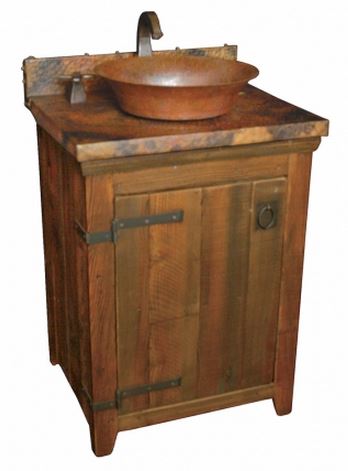 Content provided by Julia Ritzenthaler