We all know that interior design and décor trends come and go, and that there are certain rooms in the house that have a high ROI (return on investment) when even basic improvements are done. The kitchen is one, but so too is the bathroom. An easy and affordable way to almost immediately improve the good looks and function of a bathroom of any size is to change the vanity.
There are many kinds of bathroom vanities available, and homeowners will find them in the many "big box" stores as well as from bathroom suppliers and cabinet makers. As you begin to plan any sort of bathroom upgrades or updates, it makes sense to first familiarize yourself with the six most common vanity styles, as well as the concept of the vanity in general.
What Exactly is a Bath Vanity?
Interior design experts describe a vanity as a "cabinet built around your bathroom sink. One function of a vanity is to conceal the plumbing under the sink. In addition, since next to the shower or tub, the vanity is the largest fixture in your bathroom, it can set the style for your bathroom decor."
And while it serves a definite purpose, it always reflects the home's style. For example, your vanity can be made of different woods and countertop materials. They come as square, round, rectangular and corner mounts. There is tremendous diversity in them, and that is why there are those six commonly chosen designs, and they include:
1. Free-Standing Bathroom Vanities
As the name implies, the free-standing vanity stands apart from the wall and the room, much like a dresser or cupboard. It has many of the same advantages and good looks of something like the pedestal sink, but comes with that storage and the ability to hide the plumbing. It always has the sink built into the surface, and is usually a very sturdy piece of cabinetry made of materials that can withstand years of wear and tear. It can be an affordably priced option or an over-the-top designer installation, it might even be an antique refurbished into a vanity.
Click Here to Read Pros and Cons of Bathroom Vanity Materials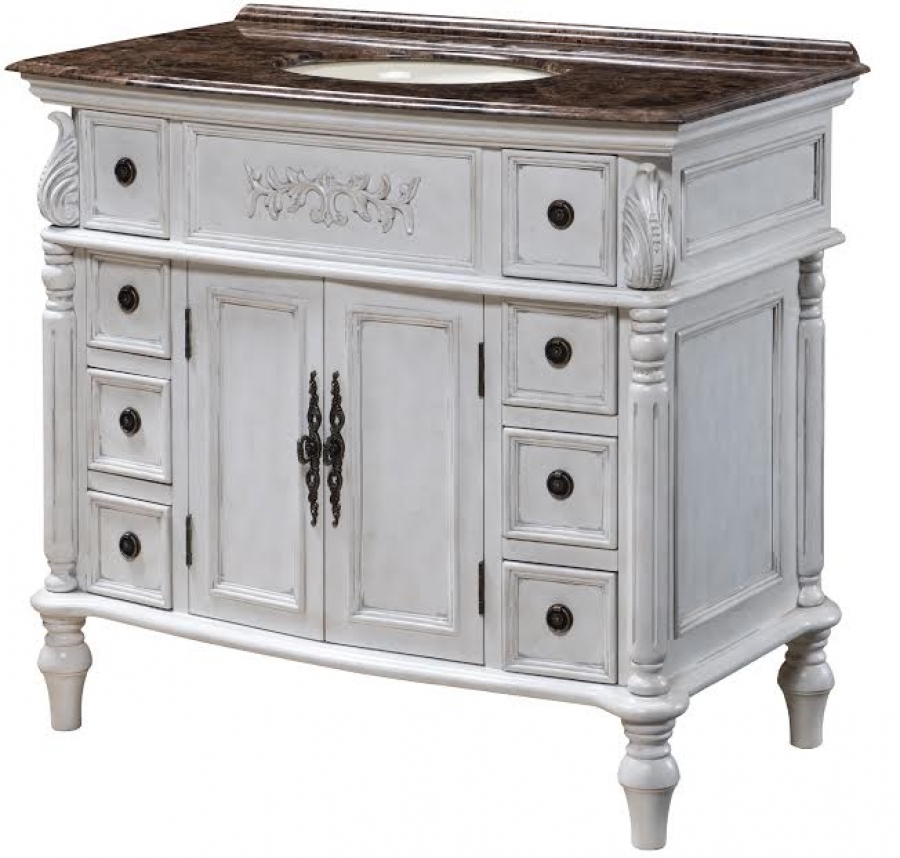 2. Pedestal Sink Vanities
This is the "anti-vanity" option that features only the sink on a pedestal, and is often the choice of those with very limited bathroom floor space or those with a specific design or style in mind. It is a very efficient and yet also very stylish choice, but if you require a lot of counter space or storage, it offers none. It can be a good choice, however, when the style is old-fashioned, very modern and clean, or utilitarian.
Click Here to Read Small Bathroom Storage Solutions
3. Vessel Sink Vanities
This is one of the latest innovations that pairs a free-standing vessel sink, such as a large metalwork bowl or beautifully glazed basin that sits atop the vanity surface. Keep in mind, it has unique visual appeal and lots of storage options, but it can be very costly and take up a lot of room. Vessel sink vanities are pretty common these days for commercial use like in restaurants or hotels. Designs are limitless with the variety of vessel bowls that come in all sorts of materials such as tempered glass or even natural stone where no two sinks are the same.
4. Wall Mount (Floating) Vanities
The pedestal sink sits atop a pedestal or base, while the wall mount sink is affixed to the wall and is one of the most iconic and classic options. Many may not even realize that their bathroom features a wall mounted sink simply because a vanity has been added to the space around it! It is a common choice for limited budgets or limited space, and it does require that reinforcements are incorporated into the wall and that plumbing is exposed or fitted inside special covers mounted on the underside of the sink.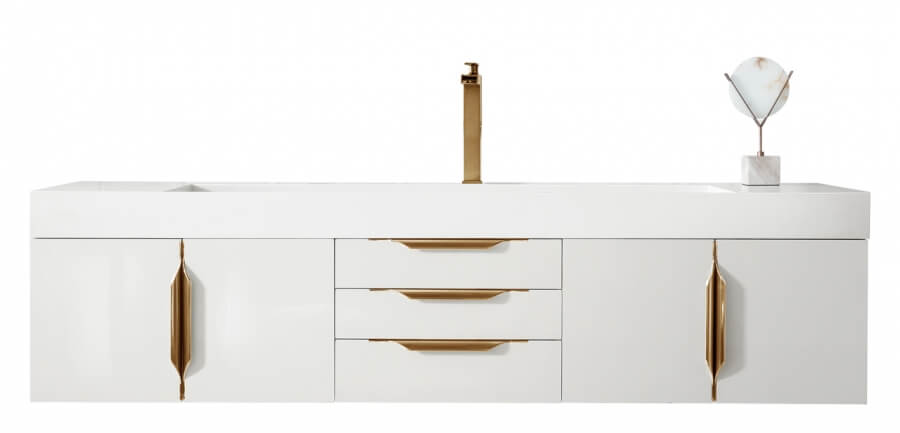 5. Corner Vanities
The final two styles are both vanities meant to meet special needs in a bathroom space. The corner vanity is a very popular style for the half-bath or washroom spaces. For example, a bathroom with only enough room for the toilet and sink may feature the corner vanity in order to make the most of available space. Typically, this will necessitate the use of a round sink, and can even incorporate a wall mount option to save further floor space. These are specialty vanities and sinks, to be sure, but can really help to convert even the tiniest area into a functional and esthetically appealing bathroom.
Click Here to Read 6 Space Saving Vanities for Small Bathrooms
6. Narrow Depth Vanities
Typical vanity depths are from 21″ to 24″, but there are times when the walking space in a bathroom just cannot accommodate the typical spatial needs of a vanity. When a walkway has to be wider, or when a narrow doorway limits how deep bathroom cabinetry can be, the narrow depth vanity saves the day. It will require a specialty sink or basin, too. Typically, it will be less than 21" in total distance from the wall and may need a unique set of faucets or taps (perhaps even wall mounted to save space) in order to meet the room's needs.
So What is Your Bathroom Style?
It pays to consider how you intend to use a bathroom vanity, as well as the right style for your needs. You must consider both room and floor space to prevent making overly narrow walkways or causing cleaning to become too challenging. The good news is that there are more than just the six styles above, and the stores and resources for finding bathroom vanities ensure an almost unlimited range of choices when updating or upgrading a home.
I couldn't be happier with the product! Everyone was very attentive and engaged from the beginning to the end of the transaction. Also, I received a really nice gift of soap as a thank you. That was an added surprise and windfall I hadn't anticipated. Thank you for that kind gesture. R&L did a nice job of communicating with me and the driver was very helpful with the delivery. I see no area that would require improvement. Well done all around! – John R.

---
My name is Julia Ritzenthaler, Founder and President of Unique Vanities, started in 2005. I started this business as an extension of our residential remodeling business, which focused on the design and build of custom cabinetry and architectural trim. I also worked as a financial advisor for 10 years at Ameriprise Financial, helping clients make sound money decisions, including budgeting for home improvement expenses. This expertise led me to start Unique Vanities, which offers a handpicked selection of high quality bathroom vanities, sinks, mirrors and more. You can find me most days sitting in Starbucks, my second office, or in my car driving my daughter across Dallas to gymnastics training.
---
More Great Resources on Bathroom Vanity Styles
Guide to Buying the Right Bathroom Sink
Estimating Bathroom Remodeling Costs