On July 12, 2021
Comments Off

on What Size Vanity Do I Need for Two Sinks?
The double sink is a lifesaver for some relationships and a convenience for anyone who needs more space for sharing
On December 8, 2020
Comments Off

on Can You Replace a Single Sink with a Double Sink Vanity?
If you reside in a busy home, turning a single sink into a double sink might make everyday activities much
On May 22, 2020
Comments Off

on Bathroom Remodel Planning Guide: Standard Fixture Dimensions
Your home is an original and you don't want it to have a stock or standardized appearance. Most of us
On May 14, 2020
Comments Off

on How to Remodel a Bathroom on a Budget
When thinking about remodeling, there are two rooms that can be a real challenge to the budget – the kitchen
On February 27, 2020
Comments Off

on 6 Most Common Bathroom Vanity Styles
We all know that interior design and décor trends come and go, and that there are certain rooms in the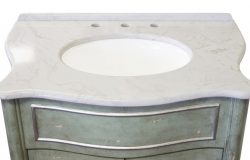 On May 8, 2019
Comments Off

on Bathroom Countertop Buying Guide
When it comes to customizing your bathroom, nothing quite compares to changing your countertop. The right bathroom countertop can lend
Beach themed bathrooms are relaxing and refreshing. Learn more about the elements that go into beach style design so you can get the most out of your bathroom remodel or update.
Come check out these great ideas for your new bathroom lighting project.
Ready to hang that new mirror? If so stop in to check out this easy, step-by-step guide on how to hang that new mirror.
Updating your powder room? Come check out this article for some Inexpensive tips that can give the room a new and stylish look.
This is one of the most common questions we hear as homeowners try to determine if remodeling is in the
Everyone needs to have a space in their home where they can kick back and relax. Creating a man cave
Discover some high tech accessories for your bathroom! Read this article to learn more about that.
Learn more about some ways on how you can recycle at home.
Trends: What's hot and what's not?
It's human nature to want change, and what better way to incorporate change into your life than to transform the
How can you redesign your home and bathroom without spending too much? Here's a good article about that.
Read some great tips on how to restore and old home.
Plumbing maintenance is one of the many headaches any homeowner can face. But guess what, you can now prevent and get rid of this problem with these great tips for your plumbing.
David Bakke writes about money management, home improvement, and smart shopping on the blog, Money Crashers. There's nothing quite like