If you want your bathroom to match your digitally-coordinated lifestyle, you've got a lot of options with which to create a high-tech environment. Aside from many kinds of high-tech toilets, other gadgets to improve your comfort, convenience, and efficiency in the bathroom range from programmable water settings to options for music, television, temperature, and even wireless tracking features on your bathroom scale.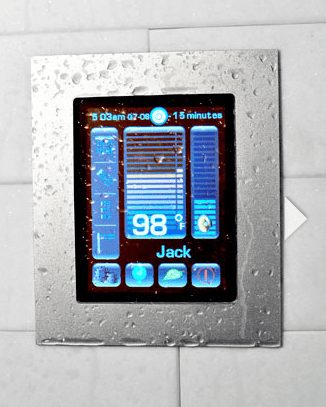 Programmable Shower
Take your shower hi-tech with a programmable controller like the one from Watermark-Designs. A digital touch screen lets you program different shower scenarios to set water temperatures from various outlets, change and set lighting and volume levels from a stereo or other audio player, and keep track of water use for conservation or budget purposes.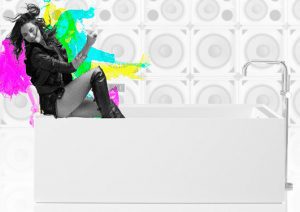 Acoustic Bath
Enjoy music and a hot bath at the same time in the same place with the acoustic bath from Kohler. Experience your music through the soothing element of water as you bathe or as you go through your daily hygiene routines. The acoustic bath plays in the tub full of water or in the bathroom when the tub is empty.

Hidden Cabinet Speakers
If you want to listen to your music in the bathroom without cluttering up your space with extra equipment, consider cabinets with the sound system built in. The Happy D.2 mirror cabinet can stream your music from your smartphone or other Bluetooth-compatible devices.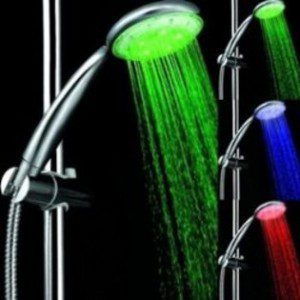 LED Temperature Control
Tired of your shower running too hot or too cold when you start your morning routine? Install an temperature controlled LED shower head for easy lever control for hot or cold or any setting in between. See red or blue light to easily identify temperature by sight with this sensitive touch control.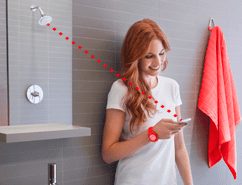 Showerhead with Bluetooth
Are you a singing sensation in your own shower? Listen to your music right through the showerhead with the Moxie showerhead with Bluetooth. This showerhead has a wireless speaker system that lets you listen to music right through the water in the shower instead of turning on a radio on the counter.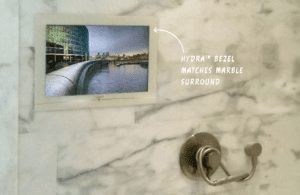 Waterproof Television
Can't bear to leave your favorite shows to record while you shower or bathe? With the Séura HydraTM waterproof television, you don't have to. This 19" HC LCD TV installs in your shower stall wall and plays right through the running water.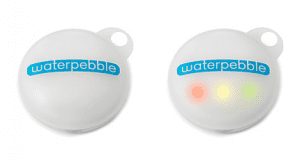 Waterproof Programmable Water Tracker
Want to lower your water bills and conserve water? Lose track of time in your morning shower and run late for work? The Water Pebble waterproof programmable water tracker shows you at a glance how much time you've got left from your settings.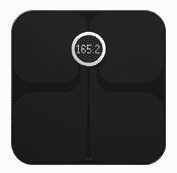 Wi-Fi Smart Scale
Take your weight management hi-tech with Aria Wi-Fi smart scale from FitBit. This scale lets you track not just your weight, but also BMI and body fat wirelessly for easy electronic access by phone, computer, and other devices.
Get the most out of your bathroom with some of these hi-tech gadgets and devices allowing you to modernize and automate many parts of your getting ready or winding down routine. Love music and want to bring your digital music into the bathroom? Worried about saving water and money on your water bills? Particular about your water temperature when you shower or bathe? These devices will help you get the most out of your mornings.
Contributed by Nikki Longo