If you reside in a busy home, turning a single sink into a double sink might make everyday activities much more manageable. A bathroom with dual sinks offers the chance for two individuals to get ready in the morning at the same time without unnecessary stress. Having two sinks for your master bathroom can be a serious luxury and ensures that each person has their own space.
Switching from a single to a double vanity can also be extremely useful in a home with only one bathroom. It's an update that might be necessary with a large family or an extra touch that makes life smoother for smaller families. If you share a single sink among multiple people, you might be wondering whether it's possible to convert it into a double sink and how much work it will take.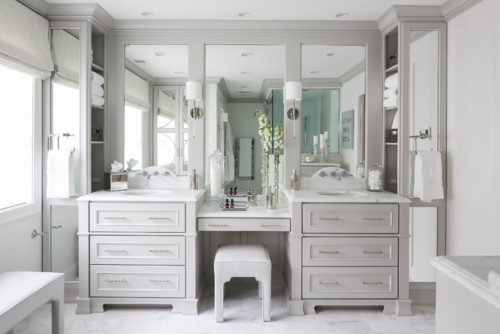 What to Consider When Replacing a Single Sink with a Double Sink Vanity?
It's entirely possible to replace a single sink with a double sink, although it requires a bit of work and money. Double bathroom vanities, sometimes called "his and her" sinks, can be more practical in situations where two people go through their morning routines simultaneously. While ideal for married couples, they also have a place in families with several children.
A vanity in a home consists of a faucet, a sink, and a cupboard that hides the plumbing. Many of them also come with cabinets over the sink along with a mirror. Vanities come in a variety of shapes and sizes to fit into any bathroom. Homeowners can either buy one that is premade or have a custom vanity made to match specific requirements. Either way, the styles and designs are nearly endless so everyone can find a model that meets their needs.
Installing a new vanity can be done by a homeowner or a professional. However, homeowners who take on the job will need to have some experience with plumbing or the situation might be stressful and time-consuming. The process involves assembling the cabinets, cutting holes for the plumbing, and placing the cabinets. Next, the counter material is sized, the top is placed to the cabinet, and the vanity is attached to the wall. The final steps involve installing the faucet and sink.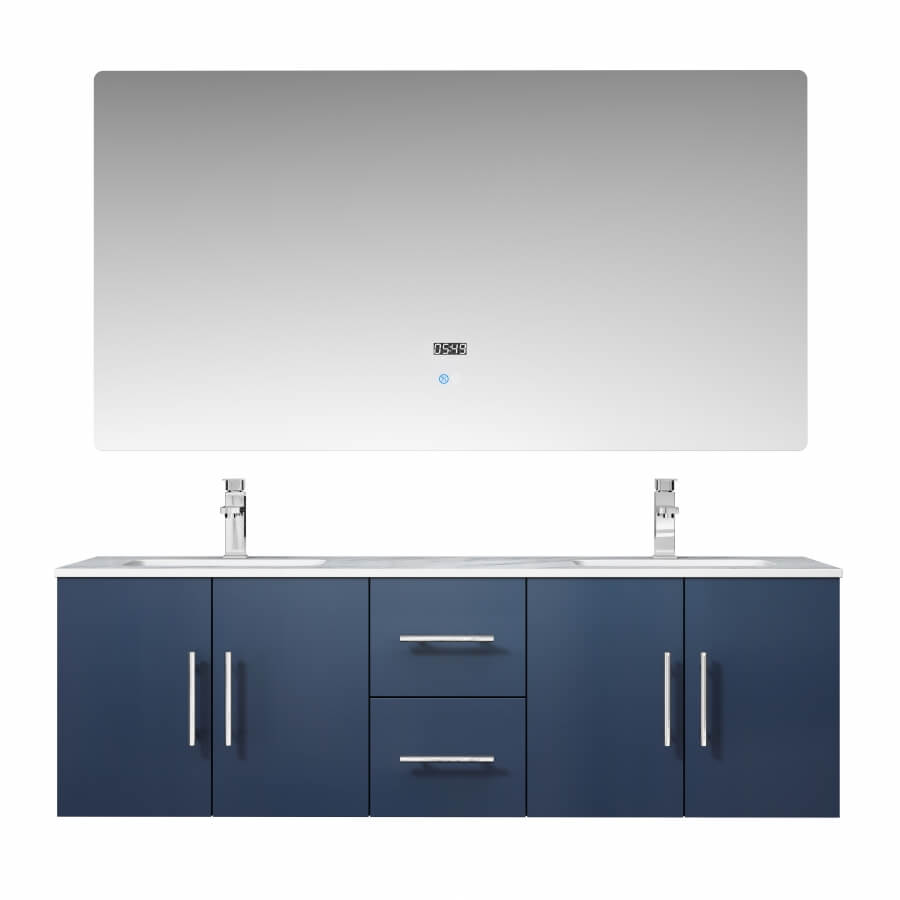 60 Inch Blue Double Sink Wall Mounted Bathroom Vanity
What is the Difference Between a Single and Double Bathroom Vanity?
The primary difference between the two is how many sinks you get. However, size is another major difference. The recommened amount of space to add a double bathroom vanity is at least 60 inches. This will give you the most space to stay comfortable while both sinks are in use. Though you may find double vanities as small as 48 inches. When you choose a double model, you get more storage space since the vanity is going to be longer. There will also be additional countertop space for grooming tasks. It also adds to your home value, which we'll talk about in more depth later on. Anyone who doesn't live entirely alone will probably find that a double vanity is the best choice.
On the other hand, a single sink might be fine for one person. It also ensures household members can use the bathroom alone. Single sinks are generally less expensive, so the saved money can be used to outfit the bathroom with other decor and fixtures. But you remain with a single sink, which can be an issue for some people, especially in homes with only one bathroom.
Related: Bathroom Vanity and Sink Buying Guide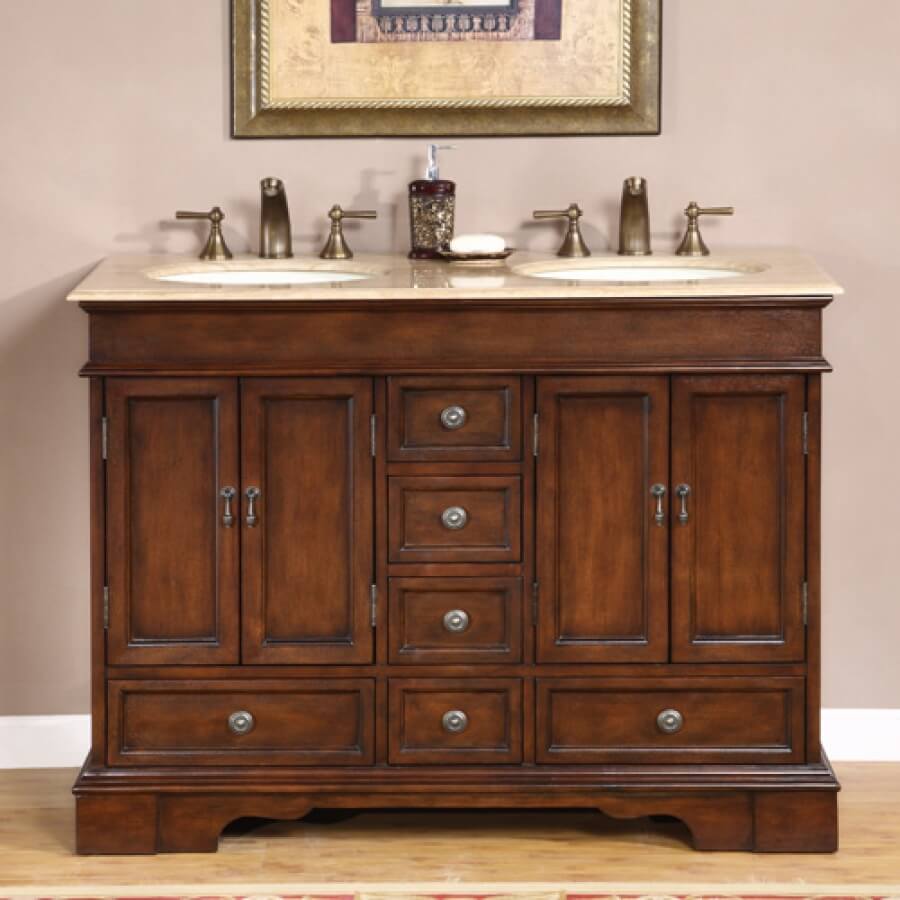 48 Inch Small Double Sink Vanity with Granite or Travertine Top
Amount of Space Required for a Vanity in the Bathroom
When you choose to install a double sink where a single sink one was, remember that you'll often have to give up something else in the bathroom. Because of that, it's essential to determine your priorities and make sure a double sink is more important to you than other items in the space. For instance, some people might prefer to add a laundry area or a shower stall rather than have two sinks. Others would rather give up extra storage to have two sinks available around the clock.
You'll also need to consider the amount of space you have to start with. If you plan to get a premade vanity, you can quickly and easily measure the space to make sure it will fit. If you're going to have a custom double vanity installed, you need to be aware of your area's building codes. If the vanity doesn't meet code, it can't be installed.
As a rule of thumb, the two sinks in the vanity should be at least 30 inches away from each other on a center to center basis. However, the most comfortable configuration will offer three feet or more of wall space for each person. Having a least six feet (72 inches) of space for the double vanity will ensure the environment doesn't feel cramped when in use by two people at once.
60 Inch Double Sink Bathroom Vanity in Victory Blue with Choice of Top
What is the Cost to Convert a Single Sink into a Double Sink?
Everyone will have a different budget, and various locations will have unique prices to install a double vanity. However, it's worth knowing what the average installation costs are so you can decide if it works with your budget and needs. In the United States, the average costs of a vanity installation are about $1,500, but the price can range from under $500 to nearly $4,000, depending on the features you require.
This is another situation where going premade or custom has a significant impact on the process. For instance, a premade vanity can cost anywhere from $100 to $2,600, while a custom vanity is going to be more expensive at $500 to $2,800. The vanity itself isn't the only cost you need to worry about. You'll also need to consider the cost for installation, which can range from $200 to $1,000.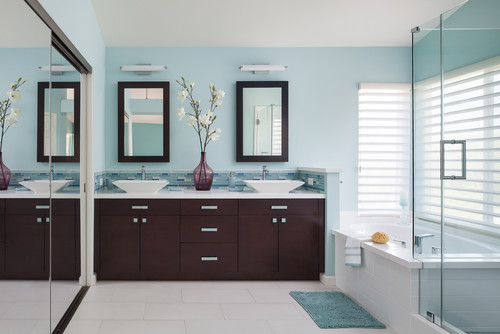 If you need to remove a wall to convert the sink, install new plumbing, or switch the backsplash, that will also add to the cost. Wall removal or new plumbing installations average about $1,000, while backsplash prices can vary from $1.50 to $30 for each square foot. If you need to purchase a vanity top, that can add anywhere from $50 to $200 to the required total.
The cost to replace a vanity also comes into play for many people. This can go from around $650 to $3,300 depending on which services are needed. Let's break that down a little more. Removing the old unit might cost anywhere from $100 to $400 while disposing of materials can go from $15 to $100. If the plumbing pipes need to be replaced, add on another $350 to $1,800. The actual installation of the new vanity can cost from $200 to $1,000.
Related: How to Create a Bathroom Remodel Budget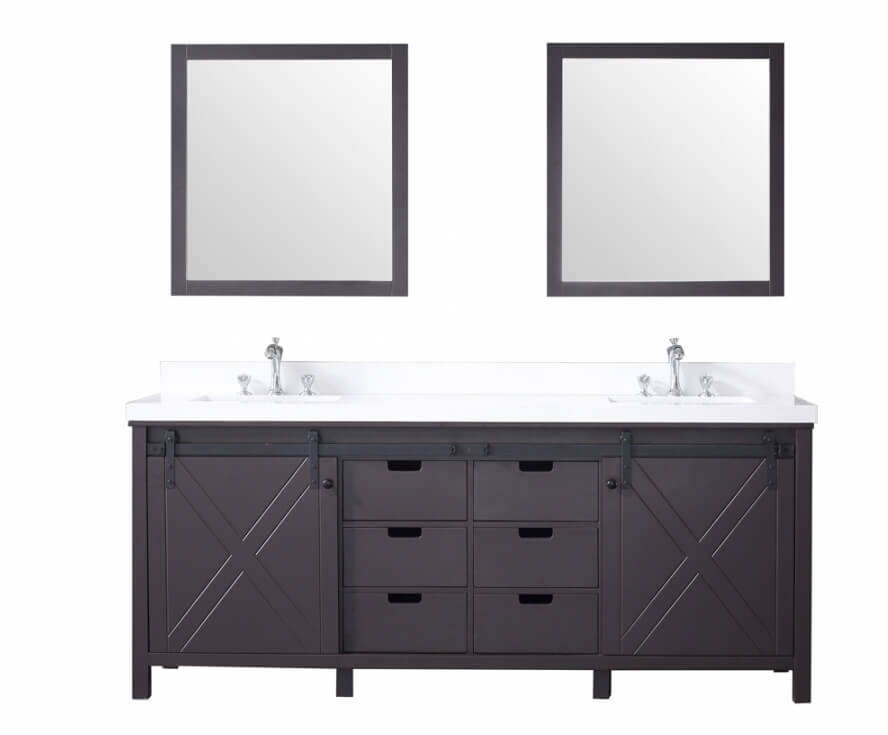 80 Inch Double Sink Bathroom Vanity in Brown with Barn Door Style Doors
Considerations about Sink Traps When Making the Change
When going from a one to a two sink bathroom, you might be wondering whether you need separate sink traps for each of them. The good news is that you can you use a single trap for both sinks. Installing two traps may actually create issues. In some cases, it can cause air pockets that will block up one or both of the drains.
If you do choose to go with a single drain trap for both sinks, each of the sinks should be no more than 30 inches from the other. However, ensuring there are at least 24 inches of space will make it comfortable for the two people who will be using the new dual vanity in the bathroom.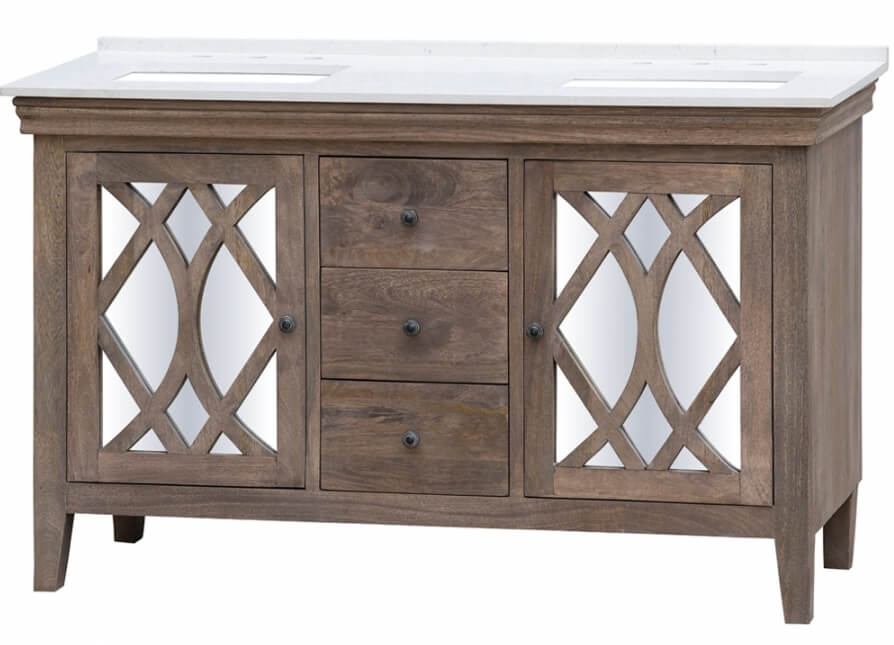 58 Inch Double Sink Bathroom Vanity in Mango Wood
Is There Value Added by Switching from a Single to a Double Sink?
There are many benefits to switching from a single sink to double sinks, and one of those comes down to the amount of value that you get. Even if you currently plan to keep your home in the family for the foreseeable future, plans change. At some point, you may decide to put the home up for sale, and added value can get you a better price for the property.
The reality is that bathroom renovations can be a substantial source to boost the value of a home. When it comes to your return on investment (ROI), some changes are better than others. Experts agree that some of the best ROI is found when making changes to cabinets, flooring, showers, tubs, and vanities. Swapping to a double vanity in the bathroom is especially useful since it offers more practical space.
Many people appreciate the convenience of having a double vanity rather than a single one that has to be shared between people in a home. Because of that, converting a single sink into a double vanity can add value to the home. As long as the job is done well, many people who are shopping for a home will pay extra to have more room to spread out in the bathroom.
Related: Bathroom Remodel Planning Guide: Standard Fixture Dimensions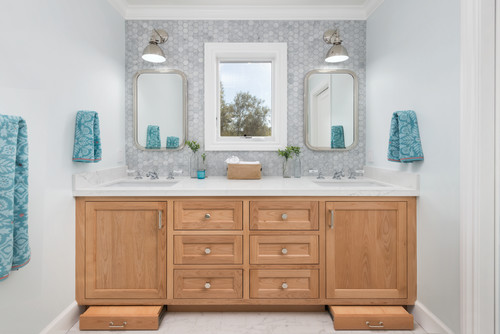 ---
My name is Julia Ritzenthaler, Founder and President of Unique Vanities, started in 2005. I started this business as an extension of our residential remodeling business, which focused on the design and build of custom cabinetry and architectural trim. I also worked as a financial advisor for 10 years at Ameriprise Financial, helping clients make sound money decisions, including budgeting for home improvement expenses. This expertise led me to start Unique Vanities, which offers a handpicked selection of high quality bathroom vanities, sinks, mirrors and more. You can find me most days sitting in Starbucks, my second office, or in my car driving my daughter across Dallas to gymnastics training.
---
Resources
https://www.thespruce.com/replace-and-install-bathroom-vanity-1824869#
https://www.bellacor.com/resources-and-guides/furniture-resources-and-guides/bathroom-vanity-size.html
https://www.apartmenttherapy.com/double-vanity-pros-cons-two-bathroom-sinks-versus-one-256088
https://homeguides.sfgate.com/plumb-double-vanity-102962.html