When you're considering an upgrade for your bathroom vanity, finding the right top can prove to be a daunting task. Whether you are doing a full renovation of the bathroom or just upgrading the vanity, you'll find plenty of great bathroom vanity top options available today. However, because you have all of those options, it might seem overwhelming to choose.
This guide will help you learn all about the different materials that vanities and countertops can be made from, which are best for the bathroom, and how to choose the right one for your space.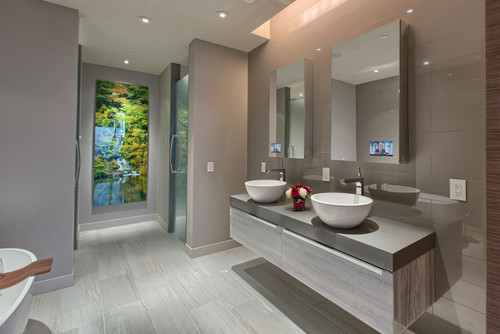 Material Choices
There are several different materials that vanity tops can be made from today. To begin with, you'll want to consider a surface that's not porous and that doesn't score easily. These counters don't see as much use as the kitchen, but they can still take quite a beating. When you're looking at the available material options, here are some other things to keep in mind.
Related: The Pros and Cons of Common Bathroom Vanity Materials
What Types of Countertops Look Best in the Bathroom?
Some people are concerned that only certain materials will go well in their bathroom. While this might be the case in terms of overall design or finish, you really can put just about any vanity or counter material in a bathroom. Ceramic, stone, granite, and modern glass are the most popular, but the bottom line is that you'll have to decide what you like best in your bathroom space. Take advantage of online "try on" tools where you can test different styles and materials in the space to see what fits by uploading a picture of your bathroom.
Related: 8 Top Bathroom Remodeling Trends of 2020-2021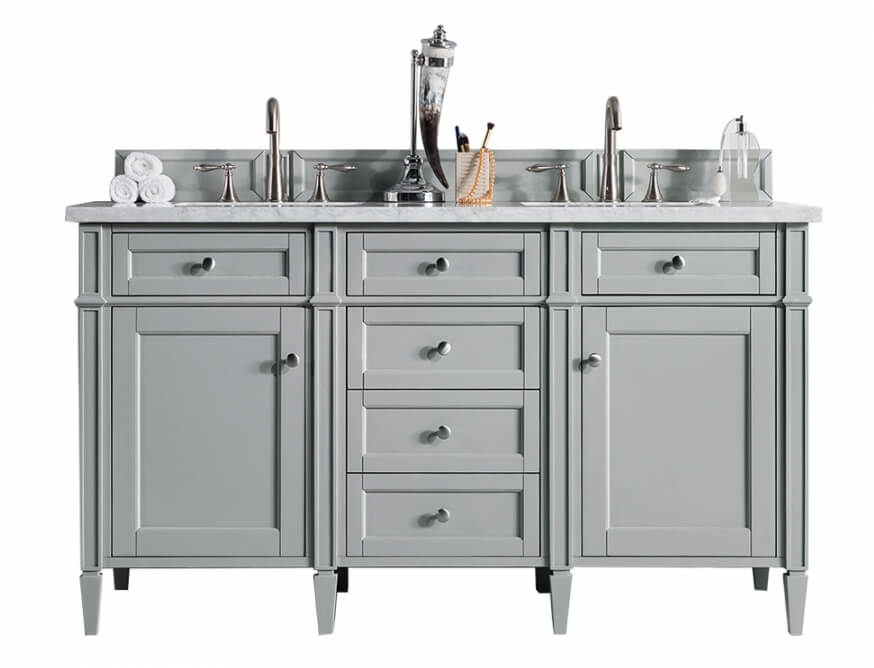 60 Inch Double Sink Bathroom Vanity with Choice of Top
What Countertop Material is Easiest to Maintain?
For the most part, bathroom surfaces are designed to be durable and easy to keep clean. The bathroom is notoriously one of the germiest places in the house, so of course, the fixtures designed for the space take that into consideration. Still, there is a difference in maintenance and cleaning requirements between all of the different materials out there. Granite is the easiest to maintain and keep clean, provided that you buy the best materials.
Granite is a natural stone that is scratch resistant and very hard, which means it can last practically forever with minimal care and maintenance. Quartz is also a good choice for easy maintenance and durability, but it's going to have a much higher price tag. Ideally, you'll have to compare the different products and their price tags to ensure that you're getting the best of both worlds.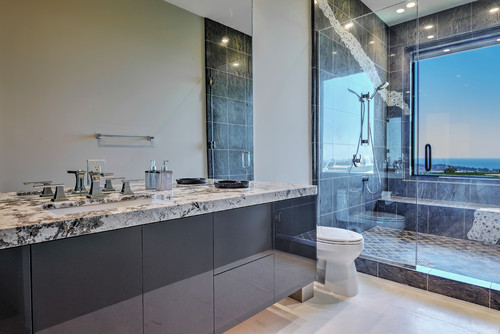 The Most Popular Options
Now that we've covered the basics, let's talk a little more about the materials available. Here's a more detailed look at some of the most popular options for bath countertops and vanity materials, as well as the pros and cons of each.
Granite Bathroom Countertops
Granite is, by and large, one of the most popular countertop materials installed right now, in bathrooms and kitchens alike. It comes in several colors and every single slab has a unique finish. You'll find everything from subtle patterns and colors to bold finishes, and the maintenance is minimal, at best. Simple cleaning is all these counters need, and they can hold up to just about anything that's thrown at them. Plus, granite is much more affordable than it used to be and is one of the most economical options available today.
The only real disadvantage to granite is that it has to be professionally installed for proper setting. The slabs are also incredibly heavy, so moving the counters can prove to be a challenge.
55 Inch Double Sink Vanity with Baltic Brown Granite Top
Marble Bathroom Countertops
Marble has been seen as a status symbol for centuries, but today it's more affordable than people think. It is still one of the most expensive options, but it is hard, and it looks great. It can even be polished or honed for a specific finish and comes in several color variations. Marble does have to be re-sealed from time to time, and it is more porous and prone to scratches, stains, and etching. However, when you use the right sealer, you eliminate the majority of the issues.
Still, with a lower price tag and better durability, granite might prove to be a better fit. Let's look at a couple of other options, too.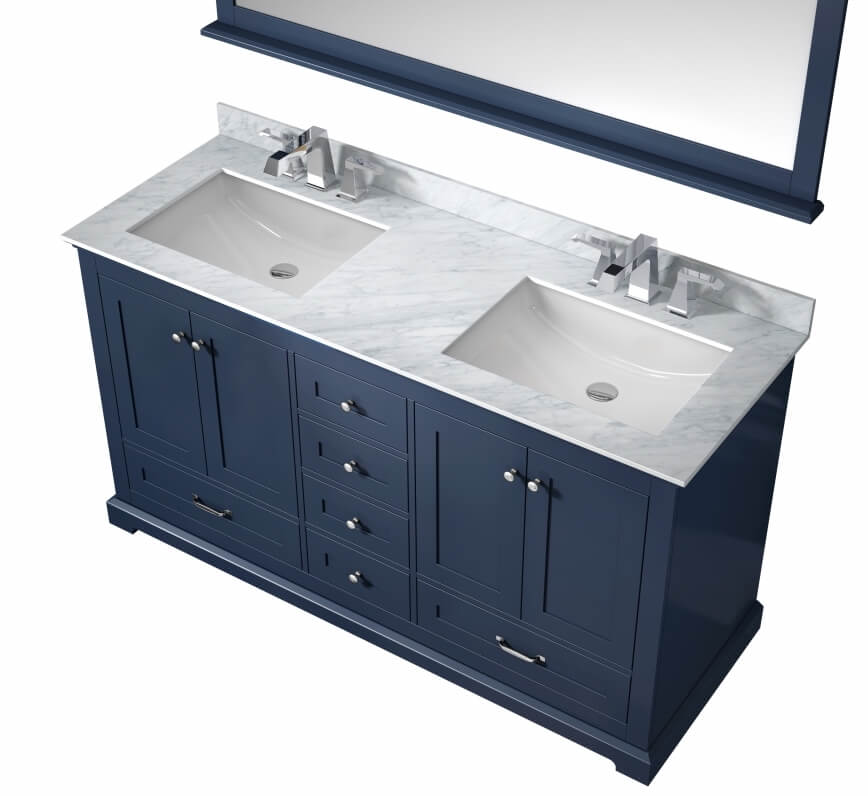 60 Inch Double Sink Bathroom Vanity in Navy Blue
Quartz Bathroom Countertops
Quartz is fast approaching the most popular type of stone to be used in bathrooms these days. Quartz is actually a man-made engineered stone that is made up of 95% quartz dust and other stone chips that are bonded together using resin. They then add the pigment to create the many different colors available. Quartz is resistant to moisture and stains and does not require sealing.
One downside is that quartz is much more expensive than say granite or marble. However, it is a good option for those who want more of a design and modern products to help reduce the amount of maintenance required.
48 Inch Single Sink Bathroom Vanity in Driftwood Finish
Laminate Bathroom Countertops
We put laminate on the list because while it's not the most stylish or modern choice, it's still a popular choice for budget-minded homeowners looking to upgrade a bathroom. Modern laminate designs are a lot more unique and intricate than they used to be, and can even mimic wood, granite, marble, and other finishes. However, they aren't always as durable and can be prone to stains, and they certainly won't hold up as long as something like granite, marble, or ceramic and porcelain tiles.
For those on a budget or who are outfitting rental properties where there is a risk of improper care or poor maintenance, laminate might be a good fit.
Related: How to Create a Bathroom Remodel Budget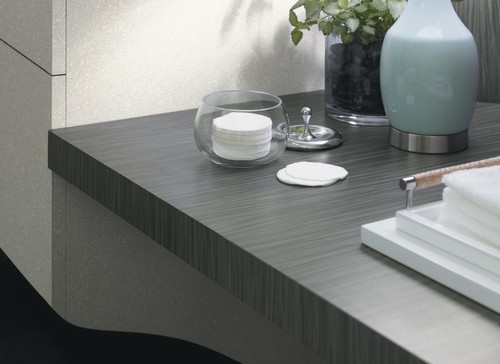 Related: Bathroom Vanity Backsplash Ideas
Get Started Now
If you're ready to learn more about finding the perfect bathroom vanity, check out our handy Vanity Buying Guide. There, you can learn all about the different materials and styles, as well as how to choose what's best for your space. You can also find a wide selection of vanity tops and modern sinks to give your bathroom an upgrade. At UniqueVanities.com, we have plenty of options for every taste and budget, so take a look around and let us know if we can help with your bathroom vanity upgrades.
72 Inch Double Sink Bathroom Vanity in Driftwood
---
My name is Julia Ritzenthaler, Founder and President of Unique Vanities, started in 2005. I started this business as an extension of our residential remodeling business, which focused on the design and build of custom cabinetry and architectural trim. I also worked as a financial advisor for 10 years at Ameriprise Financial, helping clients make sound money decisions, including budgeting for home improvement expenses. This expertise led me to start Unique Vanities, which offers a handpicked selection of high quality bathroom vanities, sinks, mirrors and more. You can find me most days sitting in Starbucks, my second office, or in my car driving my daughter across Dallas to gymnastics training.
---
Resources
https://www.toulmincabinetry.com/blog/what-are-the-best-materials-for-bathroom-vanity-countertops
https://www.thespruce.com/bathroom-countertop-materials-1821381
https://www.hgtv.com/design/remodel/bathroom-remodel/choosing-bathroom-countertops
https://www.homedepot.com/c/ab/best-bathroom-vanity-tops/9ba683603be9fa5395fab905dcb7770