In the world of bathroom trends, pedestal sinks haven't been getting a lot of attention until more recently. They were once the preferred choice for small spaces or a stylish minimalist look, but then they were quickly taken over by the popularity of vanities that offered extra space and storage that was so essential in the modern bathroom.
Today, they may be making a comeback, albeit in a whole new way. Keep reading to learn all about these sinks and why they might just be the perfect choice for your bathroom renovation.
Related: Time for a New Sink?: The Top Signs You Need a New Bathroom Sink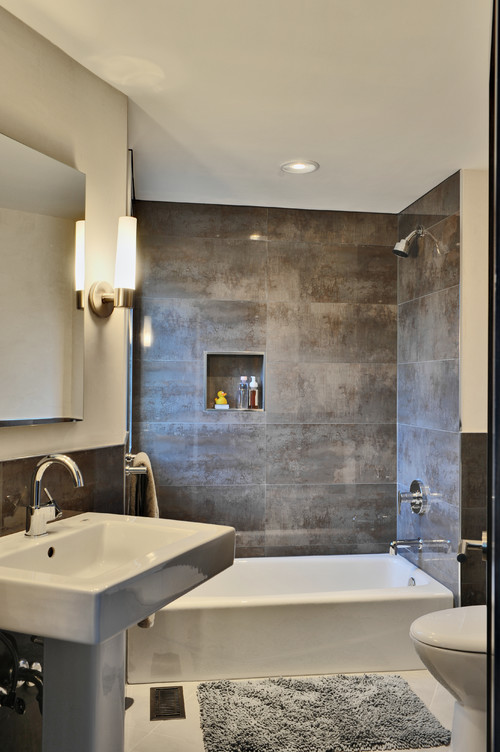 What Exactly is a Pedestal Sink?
Sometimes referred to as freestanding or standalone, the pedestal sink is a sink that is typically constructed of a single piece or two pieces of material (usually porcelain or ceramic) that includes a narrow, pole-like base and a wider sink basin sitting on the "pedestal". There have been several variations in details, design features, and size over the years, but the basic concept has been the same.
While functional, these sinks may offer a dated look to a modern bathroom. Fortunately, new designs are breaking the mold and putting this once-popular style back in the spotlight. Besides the obvious space-saving benefits, there is a lot to love about these sinks. They are simple, functional, and won't have issues with wood rot or damage like you would find with cabinet-style vanities. Let's take a closer look at the pros and cons.
Related: Bathroom Vanity and Sink Buying Guide
20.75 Inch Modern Glass Vessel Sink Bathroom Vanity with Mirror
The Pros and Cons of Pedestal Sinks
There are some things to be said for this sink style. For starters, it's great in small spaces, such as a powder bath, and when you don't want the bulk of a vanity cabinet taking up space. Here are some of the most important things to keep in mind when considering this sink for your bathroom remodel.
A pedestalsink will save a TON of floor space. If you have a small bathroom, or even if you just want the room to appear bigger, the more floor space, the better. That's why these sinks became popular in the first place—they have an impressively small footprint (width and shallow depth).
These sinks are functional and made of durable materials that will last a long time. Unlike wood vanity cabinets that could be ruined by water damage, broken, or otherwise wear down over time, the porcelain material is durable and will stand the test of time.
Design options are plentiful and offer a stylish upgrade. Even with the simple design, the sleek curves and sharp lines ensure a multi-dimensional look that's sure to turn heads even without taking up a lot of space.
24 Inch Single Sink White Pedestal Vanity
There aren't a lot of disadvantages to these sinks, for the most part. They don't offer as much counter space or storage as vanity cabinets and other styles of sinks, but that's often worth the compromise if you need something with a smaller footprint. They also require bracing to the wall behind them, which takes an extra step. Again, though, this is minor in the grand scheme of things.
Perhaps the biggest disadvantage is when you're not doing a full remodel—so often, homeowners remove a vanity to find mismatched tiles, differently-colored walls, or other half-fixes that were hidden and now need to be addressed. If you're not entirely sure how much you want to invest in this project, consider ripping out the old sink first and then decide how to proceed.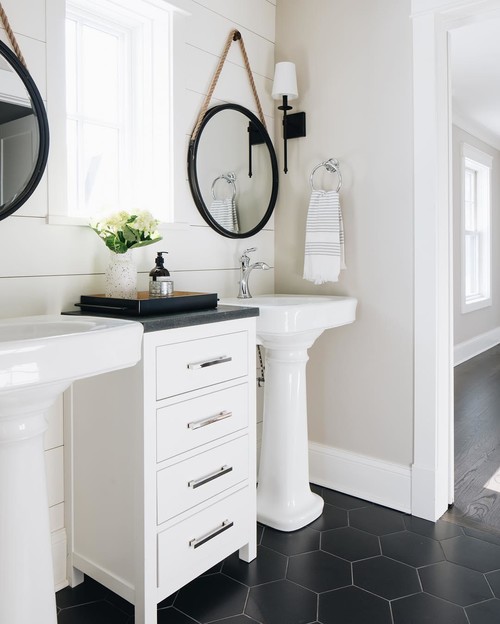 What About the Cost?
On the list of pros and cons, many people are probably searching for information on pricing or the cost of this type of sink. The good news is that you can find affordable options, depending on what style you have in mind and where you shop. According to Fixr.com, the cost to install this sink is about two to three times more than a vanity sink when done by professionals.
Bear in mind that you can choose a cheaper sink and consider DIY installation to offset the costs. However, this type of sink will also offer a better long-term investment because it will last much longer than a cheaply-made vanity cabinet in most cases.
Petrified Wood Natural Stone Pedestal Sink
Are Pedestal Vanities Making a Comeback?
There's a lot of discussion out there in the bathroom trends world about these sinks and whether they're hot or not. The good news is that while the traditional stereotype of the pedestal sink is still a bit questionable, the new designs being envisioned are changing the game and the way people think about the typical "pedestal" style sink.
Some pedestals feature a bulkier base or one that's more artistic, less focused on having that narrow center column that people know of this style. The idea is still to create a minimalist look but to do so in a more creative, artistic way. The end result? "Pedestal" sinks that are anything but, and that look more like a design piece than a functional item in your home.
You can find all kinds of modern bathroom sinks that mimic this style or redesign it and take it to a whole new level. Or, you can stick with the updated, but classic versions that are available. Either way, the minimalist, streamlined, elegant look is big in the bathroom trends world right now. The bulky cabinet is out and sleek lines and simple fixtures are in.
Related: 8 Top Bathroom Remodeling Trends of 2020-2021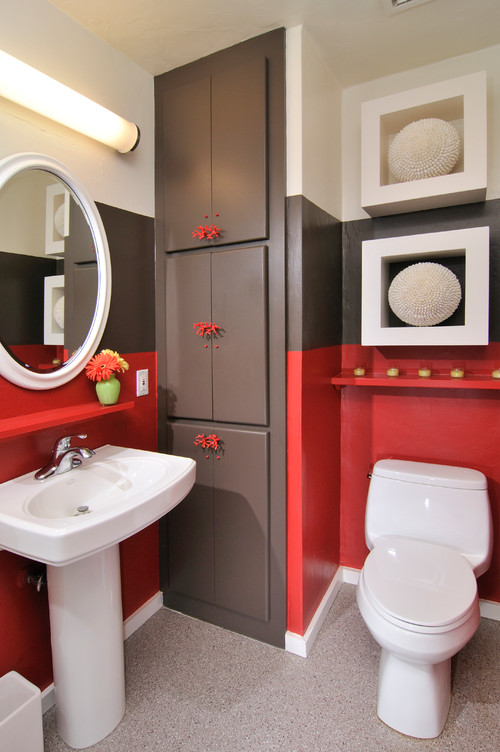 How to Install Pedestal Sinks
The installation process for these sinks is generally simple. Major home improvement retailers like Lowes and Home Depot even offer a consumer's installation guide for pedestal sinks. You need to place the sink in the proper location, brace the basin and the pedestal to the wall, connect the plumbing and fixtures, and then seal the seams with caulk. Sink installation is a fairly simple process with this type of unit.
Your new sink should come with instructions that will include prep, brace installation, sink installation, finishing details, and cleanup. If you are redoing a bathroom or installing a sink where plumbing doesn't exist, you will need to hire a plumber to rough-in the new plumbing lines for you. This isn't typically something that you want to attempt on your own.
23 Inch Unique Pedestal Bathroom Vanity with Granite
What About Visible Plumbing?
Most sinks include a pedestal that will mostly cover your plumbing connections, provided they are centralized and grouped closely. Of course, there may still be some visibility on the sides, or hoses might stick out. Some models might not offer any coverage for this, while others may have solutions built-in. Ultimately, you'll want to compare the options and consider what you like best.
One choice that you have is to find other creative ways to hide the plumbing, but there might also be the instance that some of it just shows a little here and there. Be sure to check pictures when you're shopping to see what the side profiles look like and how the plumbing lays once the sink is installed. That way, you'll know what to expect and can decide appropriately on which model to buy.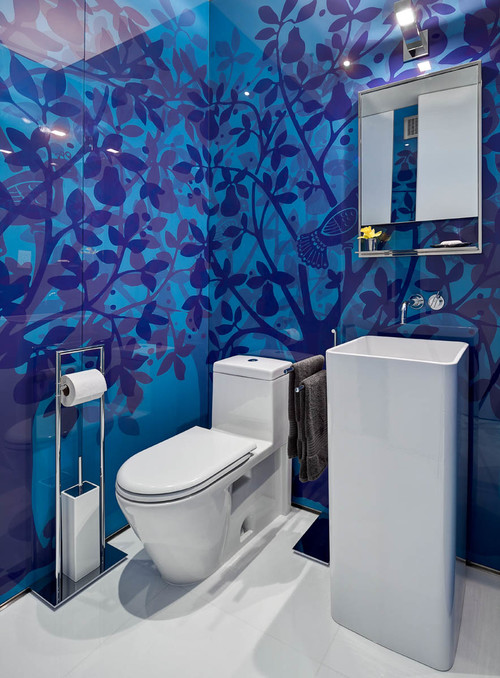 How to Maximize Storage with Limited Space
The single biggest drawback to the pedestal sink is that it doesn't offer storage. In small bathrooms and compact spaces, having as much storage as possible can be essential. However, finding the best way to do it can prove to be a challenge.
When you're limited on floor space, the combination of a pedestal-style sink with hanging cabinets or over-the-toilet storage might prove to be a better choice than a vanity cabinet. Pedestal and floating sinks are beloved for their sleek style and minimalist design, but they do lack some of the basic features that people need in the bathroom. In addition to lacking a cabinet, they may also lack the counter space of other styles.
How can you maximize your storage? Well, the Internet is a great resource for creative ideas. Consider installing a mirrored cabinet above the sink for small items, as well as floating shelves or another storage unit over or around the toilet area. Have space in another room/closet? Consider making a "linen closet" with the non-essentials like extras, towels, and things that aren't used regularly but belong in the bathroom.
The bottom line is that you shouldn't let the lack of storage discourage you from choosing a pedestal sink or another similar style. There's a lot that you can do in other areas to make up the difference, and the stunning finished design is sure to be worth the compromise.
Related: 12 Designer Tips Make a Small Bathroom Bigger
17.9 Inch Modern Console Small Bath Vanity
Find the Best Sinks, Vanities, and More
At UniqueVanities.com, we've got a full selection of affordable, unique pedestal sinks, vanities, and other bathroom sink solutions. We'll help you find the perfect style, stay within your budget, and give your bathroom a great upgrade that's as valuable as it is trendy, no matter what you have in mind.
Related: Bathroom Vanity Backsplash Ideas
We have plenty of modern styles that take up minimal space and create a unique design. Plus, we've got different finishes and sizes, offering something for just about every need. When you want something more than just another sink, our selection is sure to deliver. Check out our selection for yourself and see what you can find.
16.5 Inch Modern Vessel Sink Bathroom Vanity with Mirror
Resources:
https://m.homethangs.com/blog/2019/09/not-your-grandmas-pedestal-sink-an-updated-look-for-a-small-bathroom/
https://www.thebathoutlet.com/the-comeback-pedestal-sink/article/138
https://foter.com/modern-pedestal-sinks-for-small-bathrooms
https://www.thespruce.com/pedestal-sinks-are-in-again-1821407
https://www.thespruce.com/how-to-install-a-pedestal-sink-2718812
https://www.fixr.com/comparisons/pedestal-vs-vanity-sink#cQ
https://blog.pfisterfaucets.com/10-tips-for-decorating-around-a-pedestal-sink/
https://www.gillece.com/blog/2016/august/how-to-hide-the-plumbing-under-a-pedestal-sink/