Posted in Bathroom Essentials
On January 27, 2021
Comments Off

on 5 Best Shallow Depth Vanities for Your Bathroom
There are so many choices when it comes to getting a new bathroom vanity. However, there are also several factors that you can consider to help you narrow the options. If you're limited on space, a shallow depth vanity might be the ideal solution. In this article, we'll talk about what these vanities are, how they compare to standard vanities, and even show you some of the best options on the market today.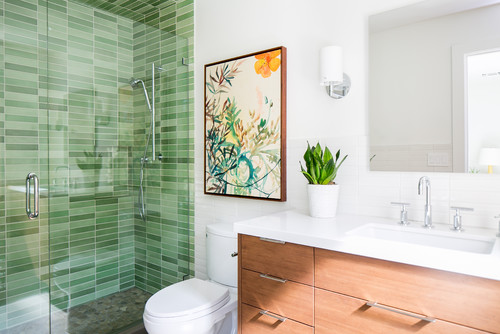 What is Considered a Shallow Depth Vanity?
Standard bathroom vanities have a measurement of around 21-24 inches in depth. While a few inches might not seem like a big difference, in a bathroom, every inch counts. Shallow-depth vanities are those that measure between 17 and 20 inches deep. These slim vanities can be any width or height since depth is the concern.
Related: Bathroom Vanity and Sink Buying Guide
72 Inch Double Sink Bathroom Vanity in Glossy White with Electrical Component
This vanity offers two sinks, three drawers for storage, and built-in electrical outlets and USB outlets for easy device and bathroom appliance use and charging. It features a stylish white slat finish for a clean, modern look and includes pre-drilled holes for a single-hole faucet (not included). The vanity measures 72.5 x 18.75 x 30.25 inches, offering a slim profile for smaller spaces.
How Shallow Does My Vanity Need to Be?
If you're remodeling your bathroom and trying to make adequate space, it can be difficult to determine exactly how much space you're working with. Measurements are one thing, but actually seeing a vanity in place can make all the difference. Measure the existing vanity if you haven't removed it yet and then measure back a few inches. See what feels comfortable. Visit a local showroom and get a feel for your options in person, if you want, to help you decide on the perfect depth.
17.9 Inch Modern Console Small Bath Vanity
This bathroom vanity is ideal for really small spaces when you just need a sink but don't have much room to spare. The sink is ceramic with a cherry wood shelf and stand for a little bit of storage without taking up a lot of space. It measures 17.9 x 16.1 x 31.1 inches and is pre-drilled for a single-hole faucet.
What About Storage Space?
This is the one big drawback of shallow vanities– they lack the storage space of their deeper brethren. Still, however, there are alternatives for storage in the bathroom. It's probably best for most of that stuff to be stored away from the plumbing, anyway. If you need storage in your bathroom but don't have a lot of floor space, consider going vertical.
You could also adopt an unused or partially-used closet in a nearby room or hall for the items that aren't used daily or regularly, and only store essentials in the bathroom. There are a lot of different options. What matters is that you take the time to explore them and figure out what works for you. Don't think that a shallow vanity is the end of the storage conversation.
Related: Bathroom Design and Inspiration
36 Inch Single Sink Bathroom Vanity in Navy Blue with Frosted Glass Doors
This sleek vanity includes a modern sink and stylish frosted glass doors on the cabinet where you can store things even if you're short on space and need a slim vanity. The navy color looks great in all kinds of spaces and the included integrated ceramic sink is prepped for a single-hole faucet. It measures 36 x 18.25 x 34 inches high and is a surefire upgrade to any space.
What Types of Faucets Should Be Used?
You will want to choose a faucet with a lower profile to match the shallower sink basin and counter space. You will also need to consider how much room you have between the pre-drilled faucet hole(s) and the back of the countertop or the wall. Typically, slimmer vanities will require thinner, slimmer, and smaller faucets and taps in general. This matters not just for function, but for aesthetics, as well. You don't want a sink with a faucet that looks awkwardly-oversized.
20 Inch Vessel Sink Bathroom Vanity with a Travertine Top
This modern sink is going to turn heads and make a big impression with its impressively small footprint. It offers a basin sink made of travertine and an English Chestnut base and cabinet that has a little room for storage. The cabinet also offers a soft-close door that's great for saving your fingers. The faucet is not included but it is pre-drilled for a single-hole unit. The entire vanity measures 20 x 18 x 30 inches.
Single vs. Multi-Hole Faucets
There is often the discussion of whether you want to use a single-hole faucet fixture or a fixture that has separate holes for the taps and faucet, respectively. Typically, you'll either have to choose this before you choose a vanity, or you'll base this decision on which vanity you choose. Confused? Don't be. Here's the reason:
Vanities and sinks are pre-drilled for faucets. Some designs will have a single hole, while others will have separate holes for the faucet and taps. If you choose your vanity first, you will be limited to the types of faucets that you can buy and vice versa.
It's not that complicated, but it's something to think about if this matters to you. Typically, this is less of a concern for people than the general styles of the faucets, and both types have plenty of modern, stylish choices.
Related: How to Create a Bathroom Remodel Budget
48 Inch Single Sink Bathroom Vanity in Latte Oak with Radiant Gold Pulls
This modern bathroom vanity features a stylish oak finish and is available with a matte or glossy white top, or as just the cabinet alone. The handles are a beautiful radiant gold and make cleaning easy, while the single-sink design leaves plenty of counter space to be used. The cabinet measures 48 x 19.5 x 19.5 with the countertop and only 14.5 inches high without.
Now that you know more about buying a shallow-depth vanity and which products are best, you should have no trouble finding the piece that works for your space.
Resources:
https://www.hayneedle.com/tips-and-ideas/bathroom-vanity-buying-guide/
https://www.homedesignoutletcenter.com/blog/shallow-depth-bathroom-vanities/
https://trubuildconstruction.com/reviews/2019/8/20/the-best-shallow-narrow-depth-vanities-for-your-bathroom