The double sink is a lifesaver for some relationships and a convenience for anyone who needs more space for sharing in their home. However, some people worry that they don't have enough space to fit a second sink. You might have more room than you think because you might need less than you think to squeeze in that extra space.
Sure, you're not just going to drop a sink right next to the first one and leave no space between them – you have to find a proper double vanity that is made for two sinks. That starts, of course, with knowing what size that is. In this guide, we'll cover how to measure your space, what size vanities are available, and what factors can help you decide what is best. In no time, you'll have that extra sink, no matter what size your space might be.
First, let's talk about that space and how to figure out what you have.
Related: Bathroom Organization Tips
How to Measure Your Bathroom Space for a Vanity?
Measuring for a vanity is an important step in the process. You don't want to take up too much space, but you also don't want to sell yourself short and settle for less than what you want. There are two big measurements to consider here: depth and width. Depth is important because you don't want the piece jutting out into the room and taking up too much space. Sometimes, people forget to consider this part.
Typically, bathroom vanities are available in depths of 12, 15, 18, and 21 inches deep. The standard size is 21 inches, and there are also a few options that are as deep as 24 inches for large spaces and those who need more counter space or storage. The available depths might also depend on the styles of vanities that you choose.
The width, of course, is the more pressing factor here if you're in the market for additional space on the counter for that second sink.
48 Inch Double Sink Bathroom Vanity in Espresso
Plumbing: This is the most important part of measuring for your vanity. If your plumbing doesn't line up with the sinks, you're going to have to choose a different vanity or do a lot more work. Since you're doing a double sink, you'll want to measure between the two plumbing access points so that you know how far apart your sinks can be.
Once you know that, you'll have a better idea of the width options that are available to you. In some cases, you might have more than one. Plus, if you're putting in new plumbing for a second sink, the options open up much wider because you can customize the size and spacing to your exact needs.
Once you measure between the plumbing, you'll also want to measure from each plumbing fixture out to the wall, or out as far as you think you want your vanity to go. Combine those numbers and that will tell you how wide your vanity should be. For example, if the space between the plumbing is 32 inches and you have 8 inches on either side of the plumbing, you'll want a 48-inch vanity (32 + 8 + 8 = 48).
Related: Bathroom Vanity and Sink Buying Guide
48 Inch Small Double Sink Vanity with Granite or Travertine Top
If you have a space that measures 50 inches between the plumbing and you want to leave a little less than a foot on the outside of each sink, you'll be good with a 72-inch vanity (50 + 11 + 11 = 72)
The standardization of sizing and plumbing connections helps make this part easier for the average homeowner, so don't stress too much about it.
72 Inch Double Sink Bathroom Vanity in Driftwood Finish
What are Standard Double Vanity Sizes?
There are also some standard sizes in the vanity world, for both single and double vanities alike. If you are going to have two sinks, experts recommend the following vanity sizes:
48 inches (much less common, but available with limited counter space)
60 inches (very common)
72 inches (very common)
84 inches (growing in popularity for larger spaces)
If you've got weird measurements, misaligned plumbing, or other issues, you may want to consider a custom build, but anything within this range (48-84 inches) will provide you with the space that you need for dual sinks in your new bathroom vanity.
Related: Why Consider A Floating Bathroom Vanity?
89 Inch Double Sink Bathroom Vanity with Offset Sinks
Other Considerations
You'll want to consider how you will be using the space and what you want out of a second sink in the bathroom. For example, if you're just outfitting a guest bathroom with a new counter and you want a dual sink for style, you might not worry as much about counter or cabinet space. If, on the other hand, you're trying to keep your spouse from brushing their teeth over your shoulder in the morning as you fight for the lone sink, space is a prime concern.
Another factor is storage. Are you looking for extra storage space in your endeavor, or is it all about that added sink? Vanity cabinets that are made for double sinks offer a lot more storage potential, so you might want to think about that before you decide. There are several benefits to adding a second sink to your vanity, and even when you don't have a ton of space, it's still possible. All it takes is a little time, planning, and knowledge of what's available.
Related: 6 Ways to Maximize Bathroom Space
58 Inch Double Sink Bathroom Vanity in Mango Wood
Twin Sinks On Trend
Two sinks are always better than one—we live in a society that's obsessed with more and when it comes to splurging, we've learned that it's best done right at home. We treat ourselves to things like premium bathroom vanities with two sinks and more counter space because we appreciate the little extras like that.
Today, almost all of the trending designs you find for bathrooms, save some of the modern minimalist creations, are focused on double sinks and deluxe comfort in a place where people spend more time than they realize. If your bathroom is due for an upgrade and you think two sinks is the answer, you'll be happy to know you've got lots of possibilities at hand.
Related: Trending 60 Inch Bathroom Vanities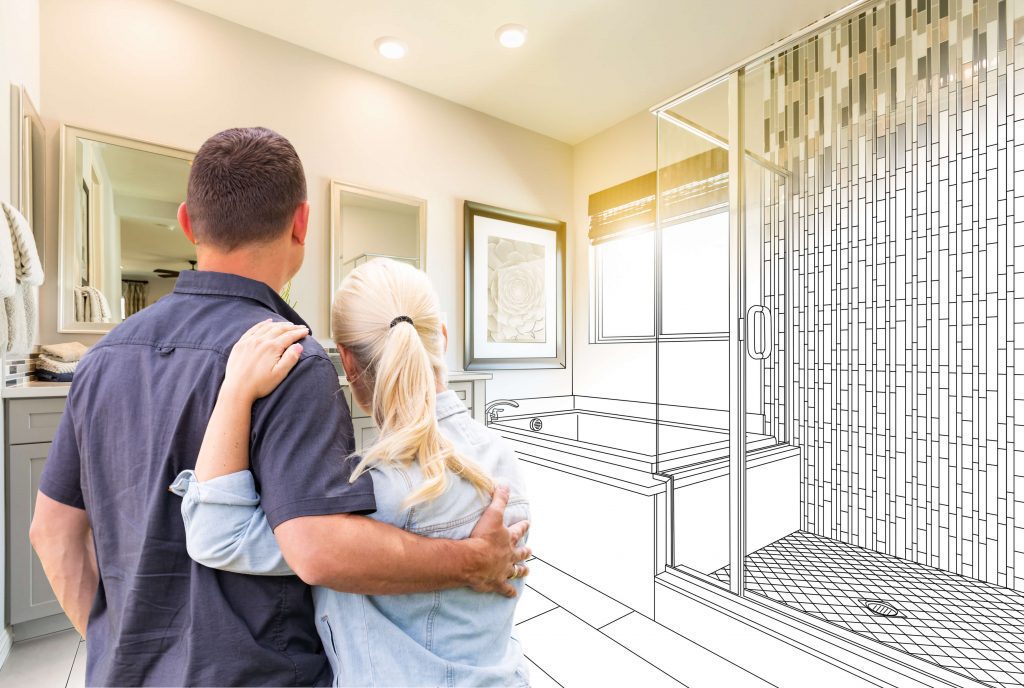 Resources
https://www.cabinetdoormart.com/blog/post/what-size-bathroom-vanity-do-i-need-for-2-sinks
https://homeguides.sfgate.com/much-room-double-sink-bathroom-89665.html
https://www.houzz.com/discussions/2259943/what-s-the-minimum-size-for-double-sink-vanity
https://www.lowes.com/n/buying-guide/bathroom-vanity-buying-guide1
https://www.hayneedle.com/tips-and-ideas/bathroom-vanity-buying-guide/
https://www.signaturehardware.com/ideas-buying-guide-bathroom-vanity.html