One of the most important things to know before shopping for a new bathroom vanity is how much space you have available to work with. We've compiled this worksheet to help you get your numbers in one place before you hit the stores or websites. Print it out or make sure you've got all the listed notations before you start your search. And if you need us, you know where to leave a question–in the comment box! (Caveat: Comments are great if you are not a spammer… Notice, I never approve of you guys? Please stop. Thanks.)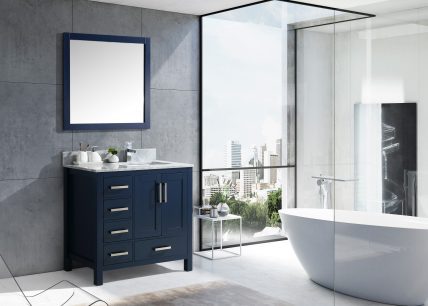 36 Inch Single Sink Bathroom Vanity In Navy Blue with Offset Right Side Sink
Now… without further ado…. (and complaints from the moderator…)
Measuring Your Available Space!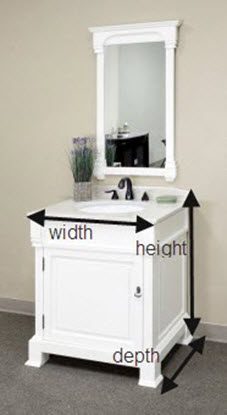 Check the available width! If you are not planning to move any of the plumbing, use the plumbing as your center line and measure out equally in each direction to see what your maximum available width will be.  It is always best to mark out this dimension with blue tape on the wall and floor to get a real visual sense of how the vanity will look.  FYI: Vanity cabinets range in size from 12-84 inches measured from the widest point, usually the countertop overhang.  When using a furniture style vanity, you will want to leave some space on the sides to allow access for cleaning.
Important Building Code Note: If your vanity will be right next to the toilet, leave at least 18″ between the edge of your vanity cabinet to the middle of the toilet tank to be compliant.
Width Available: ____________________
Check the available depth! When determining the depth of your vanity, consider the swing of the bathroom door, shower door, and vanity cabinet doors.  If needed, you can hold a piece of chalk on the edge of the door, swing it open to make a mark on the floor, and then measure from that. Remember to leave an inch or 2 extra just to be sure you are not developing a pinch point between the vanity and a swinging door. Vanity depths generally range between 18-21 inches.  Shallower depths are available but in a more limited selection.
Depth Available: ____________________
Check the available height! Vanity cabinets range in height from 30-37″, depending on the vanity you are looking at. Make sure to factor in any accessories you've picked, installed, or the wiring in place. Low set lighting, mirrors you've already decided to use, or backsplashes you'll be adding will all affect the available height you are working with.
Height Available: _____________________
Post provided by: Hillary Hansen