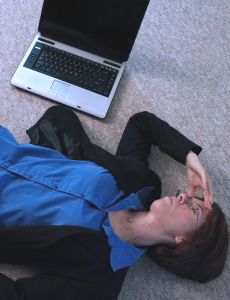 "Seriously? Did I just lose 2 hours looking at 972,000 vanities and don't have any choices to show to my husband?"
Depending on what stage you're at in your soon-to-be remodel, you may not be ready to go out and seriously shop. But when you are, there are some basics you should have in mind, so you don't spend a lot of extra time looking at items that aren't ideal for what you need–or flat out just won't work. (Trust me, we all set out with good intentions…. but, for some, our window shopping alter-ego can over power us… unless, that its, we have a clear focus on what we're looking for.)
So, for those who are like me, and don't want to get stuck on a website for 2 hours (yes that actually happened) here are a few basics to have nailed down before you go out OR online.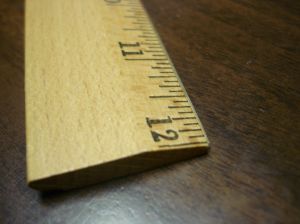 Make it measure up.
Size matters. We've got a handy little worksheet that you can use to figure out what size vanity you'll need. Click the link and print the post. That simple. But make sure you do it and figure out all your size constraints BEFORE you go shopping online or in the stores. Seriously. Save yourself two trips. Additionally, don't count on "squeezing" it in between two walls. For example, if you've only got 51″ to work with, you'd want to, at the largest, consider a 48″ vanity that would leave a bit of space on either side.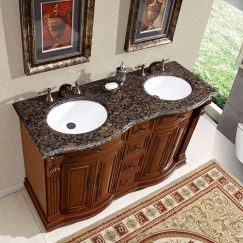 Single or double??
Number of Sinks. If you're working with a small half-bath or powder room, the number of sinks may not even come into question, but if you're working with a master–often times this will be a main consideration. Do you fight for sink/counter space with your spouse regularly? Do you have enough space for two sinks? (P.s. Your options for smaller vanities with two sinks are becoming wider–some as small as 47 inches!) Once you know how much size you are working with, then you can begin the sink debate…. Again, all BEFORE you hit the stores.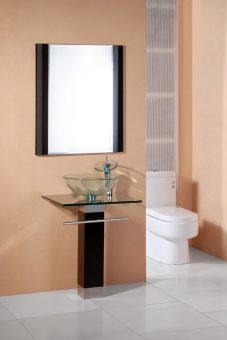 Modern?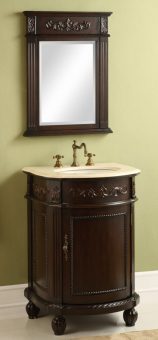 or Traditional?
Style. For many homeowners, this one is a no-brainer. Is your style more contemporary or traditional? However, many couples are finding their style choice may not be an exact match with their spouse. So, with that being said, it's a good idea to have this conversation before you do any searching. Decide on an overall style for the room before you look to finalize choices. Nothing is worse than deciding on a traditional bathroom and then wasting time looking at contemporary vanities. Making these decisions will help send you down the right path the first time.
These things may seem like basics, but like myself, I've known too many people to get stuck in the shopping phase and then complain later about not having anything done. Taking these steps can send you into action mode and actually looking at pieces that can become final options for your remodel!
Contributed by: Julia Ritzenthaler