Wood offers a great look and finish in the bathroom, but it's often a hard choice to make because of one major concern: moisture. As we all know, wood is highly prone to moisture damage and susceptible to mold growth. As such, it has to be properly manufactured and treated to be effective as a choice in the bathroom. Fortunately, there are several models on the market today that can be great in any bathroom space, so long as they're properly cared for.
In this guide, we'll go over how to take care of wood bath vanities, including how to protect them from moisture, reduce moisture in the bathroom in the first place, and more. We'll even talk more about the best materials for a bathroom and how you can choose your favorites.
Related: Bathroom Vanity and Sink Buying Guide
58 Inch Double Sink Bathroom Vanity in Mango Wood
How to Keep Humidity Down?
One of the things that makes a huge difference in bathrooms, including keeping materials like wood protected, is controlling humidity. Bathroom exhaust fans aren't just for help with odors—sure they're great to help disperse the air too, but they are designed to pull the moisture out of the air so that it's not trapped in the room. When a bathroom doesn't have an exhaust fan or another means of ventilating the humidity, moisture buildup, and mold potential are high.
If you don't have an exhaust fan, have one installed as soon as possible. It doesn't have to be anything fancy; there are several models on the market today that can be installed relatively quickly and without much effort. If you live somewhere that this isn't an option, consider other ventilation options. Some people have opted to add a ceiling fan, for example, and then provide the room with an open window to use for natural ventilation.
Consider a dehumidifier if you have problems with excess moisture that an exhaust fan doesn't seem to resolve. This can add an extra layer of protection by taking even more moisture out of the air. It's not essential, but it's a good way to ensure that your bathroom stays nice and dry, no matter how wet or steamy things get.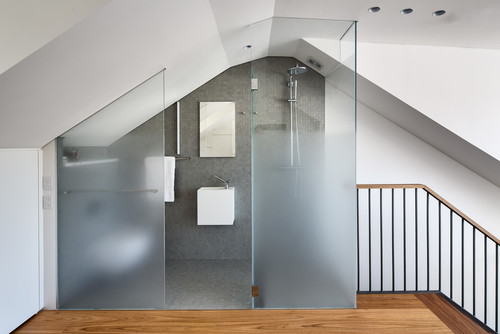 Waterproofing Cabinets and Woodwork
One additional way that you can protect your wood in the bathroom is to waterproof the woodwork and cabinets. This is part of the reason that high-gloss paints are preferred for bathroom spaces—they repel water better and help keep moisture from getting into the woodwork and drywall. Waterproofing takes it one step further.
Many wood bath vanities are made with a veneer over particleboard or plywood to circumvent moisture issues in the first place. Of course, these veneers are not impervious to water penetration or damage—even the best-made cabinets and vanities have seams, cracks, and areas where water can sneak in and cause a serious problem before you even realize what's going on.
If you want to be sure that your vanity and other woodwork is protected, apply a water-resistant paint or clear coating that will offer total waterproofing so that you don't have to worry about swelling, warping, discoloration, or other damage. Usually, a single coat of a high-quality sealant will do the trick, but with paint, you'll typically want to apply two coats.
Related: 8 Top Bathroom Remodeling Trends of 2020-2021
72 Inch Single Sink Bathroom Vanity in Glossy White with Electrical Component
How to Care for Wood Bath Vanities?
If you do have a wood bath vanity and you want to keep it in good condition, you should clean it regularly. Take the time to wipe it down with a cloth and mild detergent. Remove any potential water spots, and make sure that you wipe up any drips or spills on or near the wood as soon as they happen.
If water does get to your wood vanity or other woodwork in the room, you'll want to dry it up immediately with a towel and turn the exhaust fan on to help draw out the moisture. If you have a portable fan, you can point it at the water-damaged area until you are certain that it is dry. This will guarantee that no moisture is left behind and that mold will not grow as a result.
Don't use abrasive materials on soft woods, as this could cause scuffing and scratching. Once the wood is scratched, it will be much more susceptible to moisture and mold. Those small crevices are spaces for mold to hide. Stick to soft cloths or paper towels and cleaners that are safe for use on wood.
Related: How to Choose a Modern Vanity for Your Powder Room
80 Inch Double Sink Bathroom Vanity in Navy Blue
So, What Materials are Best?
If you're careful, using wood bath vanities is possible. Tons of vanities are designed exclusively for bathroom use, so they're made to withstand the moisture and potential damage as much as possible. Most vanity cabinets today are made of wood, in some capacity. Thus, it's not to say that wood is a bad choice; you just have to be careful about how you use it, protect it, and care for it in the bathroom space.
Make sure that you're extra careful to seal cracks, corners, areas around the sink, and the seam along the floor with a proper sealant once the vanity is installed. That way, water can't get through anywhere. You'll also want to wipe down the surfaces of the bathroom right after your shower or bath so that it doesn't linger.
You could also find vanities available in various composite and metal materials, but these will have their own concerns, as well. Some people choose pedestal sinks that are completely ceramic or porcelain in construction, which removes the risk of water damage to wood entirely. Regardless of what you choose, it's all about how you take care of it when it comes to preventing water damage and mold growth.
Check out all of the modern stylish vanities on the market today and now that you know more about how to care for them, don't rule the beautiful wood options out because you might find something that you absolutely love. If you take regular care of your wood bathroom vanity, it can provide years of enjoyable use.
Related: What Type of Bathroom Vanity Tops are Best?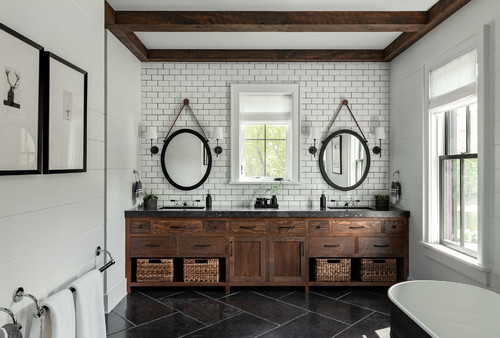 Resources
https://www.luxurylivingdirect.com/blog/post/how-to-protect-wood-bath-vanities-from-moisture-and-mold.html
https://www.thekitchencenter.com/avoiding-moisture-damage-to-your-bathroom-cabinets
https://edgewoodcabinetry.com/services/bathroom-cabinets-vanities/a-look-at-how-moisture-affects-your-bathroom-cabinets/
https://www.woodworkingtrade.com/best-wood-for-bathroom-vanity/
https://woodimprove.com/how-to-waterproof-wood-for-bathroom/