The vanity is one of the most important elements in your powder room or bathroom, for several reasons. Not only are you more limited on space in a half bath style powder room, but you'll have different needs in terms of storage, style, and function. Just as with the main bath, you have tons of options for sizes, materials, designs, and even the way these sinks and vanities are installed.
In this guide, we'll cover all the details of getting a new bathroom vanity for your powder room, starting with what should be on your list of things to look for. Then we'll talk about how to measure for the perfect size, choosing your storage options, materials, and more. Plus, you'll learn about how to measure for plumbing fixtures and which vanities might or might not be an option based on your current plumbing layout.
In the end, you'll get a vanity that not only looks great, but that functions perfectly for your space. Let's dive in.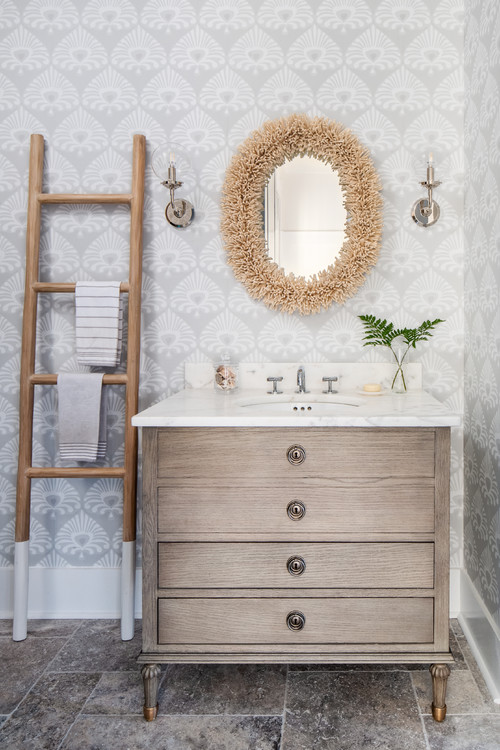 What Should I Look for When Buying a Modern Bath Vanity?
There are plenty of factors that go into your decision as to which vanity to install in your powder room. The first thing on your mind should be why you're upgrading in the first place. Did you just decide to replace the vanity? Are you in the middle of a full bathroom renovation? Is your powder room just in need of a little touching up?
Take the time to think about why you're replacing your powder room vanity at this exact moment in time. That will often help make a lot of the decisions for you. When shopping for a new vanity, you'll want to consider factors like:
Size
Style (Cabinet, pedestal, floating, etc.)
Material
Storage and function
Consider the use of the space – you're not going to invest in a high-end custom fixture for a powder room like you might for your master bath suite, for example. Or maybe you will. Either way, that's the type of thing that should be on your radar in addition to the basic considerations that we're going to discuss below.
Related: Why Consider A Floating Bathroom Vanity?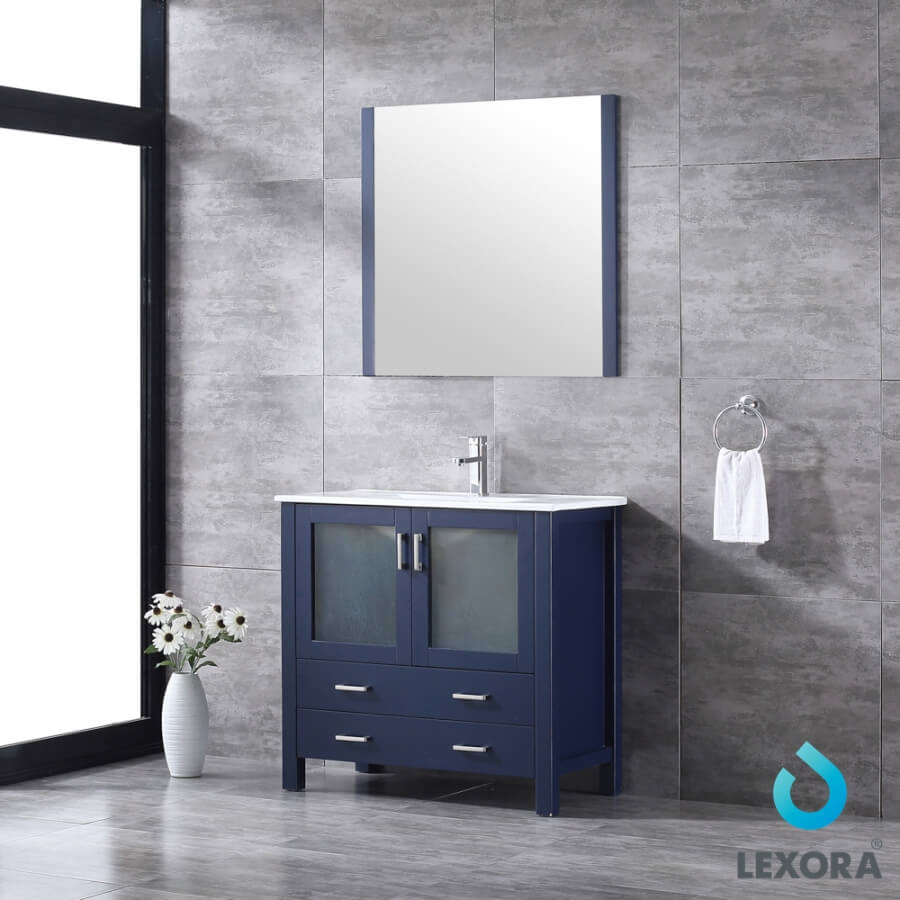 36 Inch Single Sink Bathroom Vanity in Navy Blue with Frosted Glass Doors
Sizing: How to Measure and Choose the Right Modern Vanity
The size of the vanity is one of the most important considerations. This is going to determine how well it fits in your space, whether it fits in your space at all, and how it works with the rest of the room. Those looking to save floor space might consider a pedestal sink or a floating vanity, for example, while those who want cabinet storage may prefer a standard vanity style.
As far as size goes, you'll need to measure the space that you have. Make sure that you look at where the plumbing connection comes in because that will determine exactly where the vanity or sink unit is installed—some larger cabinets may not fit in smaller powder rooms, or you may have to modify the back panel for plumbing access so that you can still get the model that you want.
You will want to measure the total width, and then measure out from the plumbing fixtures to see how much space you have on each side. If, for example, you have about 10-12 inches of space to work with on each side, you might opt for an 18-24 inch vanity that fits perfectly and still provides storage space. Another measurement to consider is the height – most vanities and sinks are installed at a height of 29-33 inches.
Speaking of sinks, will you want one or two? In a powder room, one is usually sufficient. However, if you're trying to create a more upscale look, or perhaps even if you just have the space available, a larger double sink vanity could make an impressive statement piece.
Related: How to Create a Bathroom Remodel Budget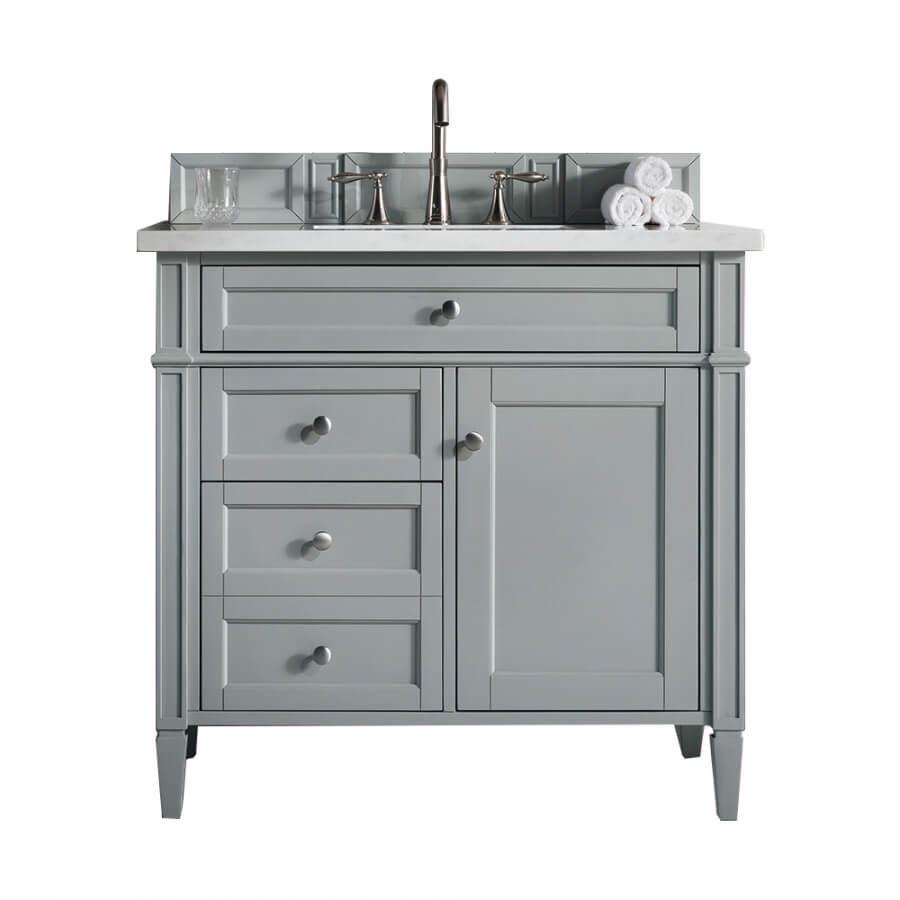 36 Inch Single Sink Bathroom Vanity with Choice of Top
Storage Options
There are several different types of vanity cabinets and storage options to choose from, as well. If you have the room, a bathroom vanity that includes drawers or cupboards could be handy to store toilet paper, hand towels, soap, and other necessities. Some people prefer a cabinet so that it looks more like a piece of furniture, while others like the style of a pedestal or standalone sink.
If you opt for a sink without storage, you can always install cabinets elsewhere, such as above the toilet, or consider other storage solutions. In a powder room, you shouldn't need to keep much more than a few extra towels and rolls of toilet paper on hand, so storage isn't as big of an issue here as it might be in the main or master bath.
Related: 12 Designer Tips Make a Small Bathroom Bigger
22 Inch Bathroom Vanity with Travertine Vessel Sink
Materials
There are two different considerations here, depending on the type of vanity that you choose for your powder room. If you choose a cabinet style vanity, you'll need to consider the cabinet material and the counter or sink material. If you choose a freestanding pedestal sink, the sink material might be the only thing on your radar.
Either way, you'll want to choose durable materials that are going to withstand all of the harsh elements of the bathroom. The sink and vanity top should be made of ceramic, porcelain, or another durable material. Several people are also installing granite in the bathroom these days, and other durable materials are available, as well.
There is no one that is better than another – most of the materials out there are designed to withstand the use and abuse that happens in the bathroom. You'll just need to compare the options and see what works best for your budget.
Related: How to Make a Bathroom Look and Feel Luxurious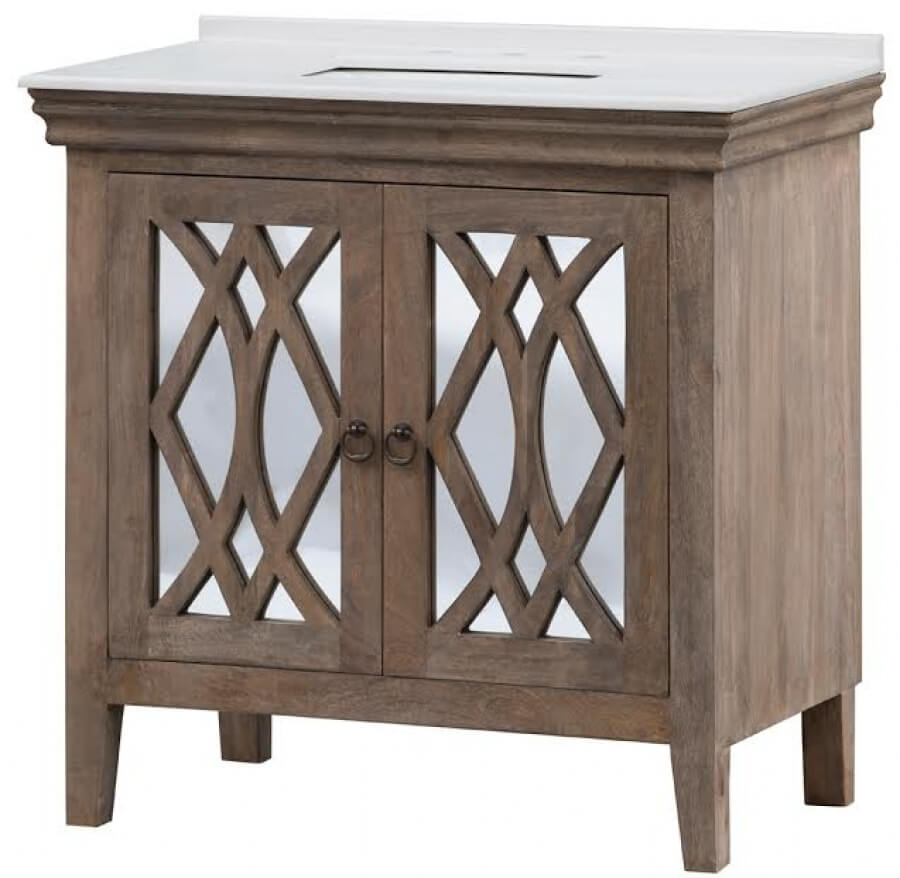 36 Inch Single Sink Bathroom Vanity with a Clear Mango Finish
The Final Decision is Yours
Although it might seem like an insurmountable task at first, finding the right bathroom vanity for your powder room is a lot simpler than you think. By breaking it down into the elements above, you'll be able to get exactly what you want. You can also look around online for design inspiration and to see what other people are doing in their own spaces, thanks to sites like Pinterest and Houzz. In no time, your powder room will have the perfect new vanity, no matter what you decide.
Related: 6 Ways to Maximize Bathroom Space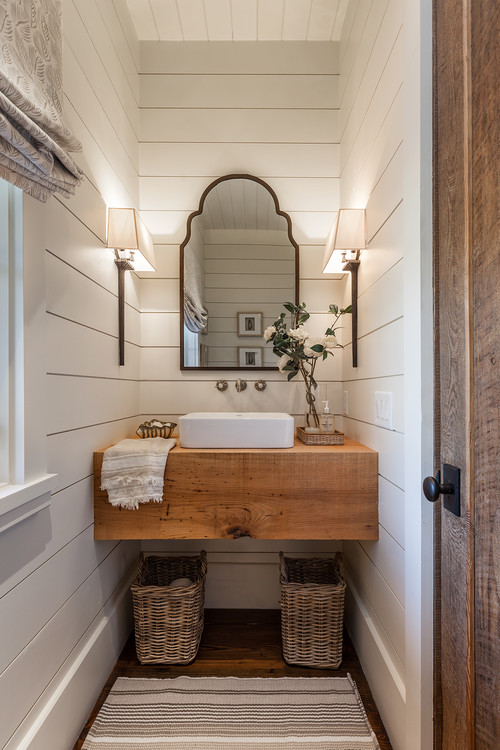 ---
My name is Julia Ritzenthaler, Founder and President of Unique Vanities, started in 2005. I started this business as an extension of our residential remodeling business, which focused on the design and build of custom cabinetry and architectural trim. I also worked as a financial advisor for 10 years at Ameriprise Financial, helping clients make sound money decisions, including budgeting for home improvement expenses. This expertise led me to start Unique Vanities, which offers a handpicked selection of high quality bathroom vanities, sinks, mirrors and more. You can find me most days sitting in Starbucks, my second office, or in my car driving my daughter across Dallas to gymnastics training.
---
Resources
https://kitchenandbathshop.com/choosing-bathroom-vanity/
https://www.laurysenkitchens.com/blog/how-do-i-choose-a-bathroom-vanity/
https://www.thespruce.com/best-powder-room-vanities-4159416
https://www.houzz.com/magazine/how-to-pick-out-a-bathroom-vanity-stsetivw-vs~7688299
https://www.lowes.com/n/ideas-inspiration/powder-room-vanity-updates
https://www.mymove.com/home-inspiration/bathroom/half-bath-powder-room-ideas/
https://www.dwell.com/article/how-to-choose-a-bathroom-vanity-23249306