When it comes to making a bathroom look like a lavish escape, you might be surprised to learn that you don't have to spend a fortune to do it. That's right – there are plenty of great ways that you can make your bathroom look and feel like a luxurious spa experience even if you're on a budget. The fixtures and accessories available today are designed to cater to a true luxury experience right at home for those who want it.
You can go all-out and do a full renovation of the space to create the bathroom that you've always wanted, even if you are on a limited budget. On the other hand, you could even make just a few small changes in the course of a weekend without much of a budget at all and still create that ultimate spa experience right at home.
So, how do you go about planning your perfect luxury bathroom without going broke? Here are some things to keep in mind.
Related: How to Remodel a Bathroom on a Budget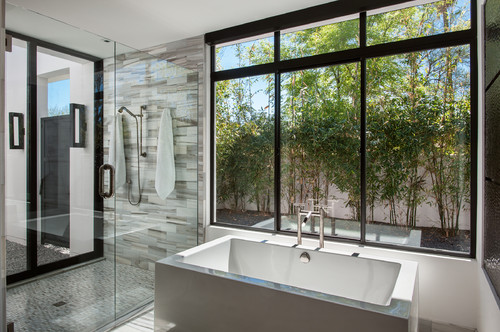 What Makes a Bathroom Luxurious?
When you're trying to create a luxury space (with or without luxury finishes), it's all in the planning and design of the space. There are a lot of factors involved in renovating or designing a new bathroom, so it's helpful if you can hire a designer or architect to help you create the perfect space.
A professional will be able to offer advice on what makes bathrooms "luxurious":
Open floor space, which creates the illusion of a bigger room
Calm whites and light blues that resemble spas and high-end hotels
Premium flooring and fixtures
Soft textiles, including rugs, towels, curtains, and other linens
Use toiletry and tub trays to hold and display various toiletries in an aesthetically-pleasing manner
You'll also want to consider things like the styles of plumbing fixtures that you choose, the lighting in the space, and even the type of hardware that you use on cabinets, doors, and other furnishings. We'll get more into that next.
Related: 11 Steps to Remodeling Your Bathroom
60 Inch Single Sink Bathroom Vanity in Driftwood Finish
Key Features: Bathroom Sink, Vanity, Toilet, Tub/Shower
Your key items are going to make the biggest impact: the toilet, sink and vanity, and bathtub and/or shower. Thus, you'll want to choose items that fit the luxurious look that you have in mind without breaking your budget. Think about the look that you want. Use sites like Houzz and Pinterest to get inspiration for your project and take notes on what you like best or what features say "luxury" to you. Then, you'll be able to start making your own choices.
Sinks have a lot of unique trends right now, from farmhouse-style basin sinks to countertop bowl-style sinks, and even floating sinks and vanities that create a modern luxury aesthetic. Check out these sleek marble and granite vessel sinks for just one example of affordable luxury. The sink and vanity are a big part of the bathroom—will you choose a standard cabinet-style unit or will you go with something sleek and modern for a higher-end finish?
Natural Petrified Wood Stone Sink
Choose a toilet that is a bit higher-end than basic. You'll notice the difference in aesthetic—choose the one that looks more luxurious, even if it only costs a few dollars more. This is going to be harder to customize but it's a necessary part of the space, so do your best.
The tub and shower are where you can really shine with luxury finishes for less. You can choose premium materials, deep freestanding tubs, glass showers, multi-head shower stalls, and so much more. Plus, since they're becoming more popular and readily available, you'll find a lot more "luxury" products that are in a friendlier price range for the average homeowner. If you're going to splurge on your luxury bathroom upgrades, the tub and shower are the place to do it.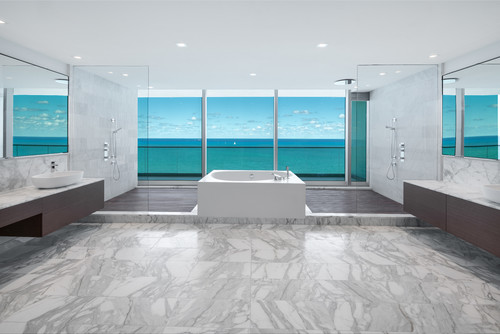 Finishing Details Matter
We've all seen that composite flooring or unique tile that looks like it cost a small fortune, but is actually one of the cheapest materials available. This is where you can make a lot of luxury without a lot of money—in the details. A high-end storage cabinet will provide the same solution as a cheaper one, but with a more spa-like, luxury look and feel.
Consider upgrading some basic elements to get a luxury look for less. Choose lighting that makes a statement, even if that statement is just "calm". Glam up your mirror and other accessories—the difference between a $20 towel bar and a $100 towel warmer could make your bathroom look like it's worth a lot more.
Related: How to Pick the Right Bathroom Mirror
Update all of the cabinet hardware and choose something stylish and modern to accent the space. You can find really nice-looking hardware for a lot less than you might think. Even a fresh coat of paint and new hardware on an old vanity can make a huge difference, and you won't have to spend more than a few dollars.
It's all about making the smart upgrades and knowing which elements to focus on. Sit down and think about what you want out of the space and then take the time to write down the things that matter most to you. Remember how we talked about the importance of planning and design?
Related: Bathroom Vanity and Sink Buying Guide
Scents, Comforts, and More
Once you've got the space designed and all of your upgrades picked out, it's time to think about the little things you can do to keep the space feeling like a spa. Consider a wax warmer, diffuser, or other scent solution that will ensure that the bathroom always smells amazing. Invest in high-end soaps, add some fresh flowers, and choose premium towels (they're worth the extra money).
Apothecary jars, putting towels on display, and other spa-like details can add finishing touches to your design to make it the perfect spa space. Even if you start with these small changes and move onto bigger upgrades later, you can do it. More importantly, you can do it without having to spend a luxury budget and still get the luxury bathroom you have always wanted. What's your inspiration? Get started on your new bathroom design now.
Related: 12 Designer Tips Make a Small Bathroom Bigger
Resources
https://www.houzz.com/magazine/9-details-that-count-how-to-make-your-bathroom-feel-more-luxe-stsetivw-vs~82105264
https://www.buzzfeed.com/emilyshwake/bathroom-hacks-spa-relax-soothing-clean-organized-nice
https://professionalstaging.com/design/how-to-make-your-bathroom-more-luxurious-and-spa-like/
https://www.thespruce.com/make-your-bathroom-look-expensive-4053172
https://www.homedit.com/luxury-bathrooms/
https://www.mydomaine.com/how-to-make-your-bathroom-look-expensive-4767834
https://www.realtor.com/advice/home-improvement/tricks-to-make-bathroom-look-expensive/
https://somuchbetterwithage.com/small-bathroom-renovation-tips-to-make-feel-luxurious/
https://www.homestolove.com.au/how-to-make-a-small-bathroom-look-elegant-15491