Home renovations have been more popular in the past year than in several decades. That means that trends and new design ideas are always cropping up that can change how you see your space and give you a better form to go with your function. Today's best bathroom vanities are all about modern style with an old-world twist.
First, let's choose the right vanity for your bathroom, and then we'll go over the top 10 trending styles of 48 inch wide bath vanities for 2021. You'll learn all about what features to look for, how to size a vanity, and even how to choose between single- or double-sink models. Read on to find out more and find your new vanity quickly.
Related: Bathroom Vanity and Sink Buying Guide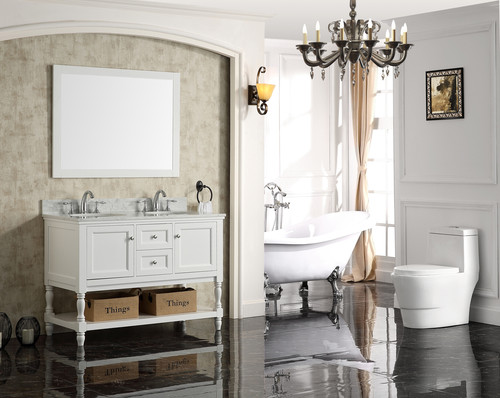 How to Choose the Right Size Vanity?
Bathroom vanities come in several sizes, most of which have been standardized into a selection of categories, with sizes available as small as 18 inches up to 48 inches or more. A 48 inch vanity is one of the first sizes that are reasonably large enough to accommodate a second sink without creating a tight space. However, it's still small enough that one larger sink could look good, or you could capitalize on the counter space.
Look at how much space you have to work with. Remember, when choosing vanities think about where your plumbing lines up, too, because that can affect placement, which can then affect the sizing. For example, you might have room for a 48 inch vanity centered, but if it has to go off to the right, you might need to downsize to a 41 inch vanity. Measure first, and measure a few times. If you're unsure, don't hesitate to ask the pros.
Related: How to Create a Bathroom Remodel Budget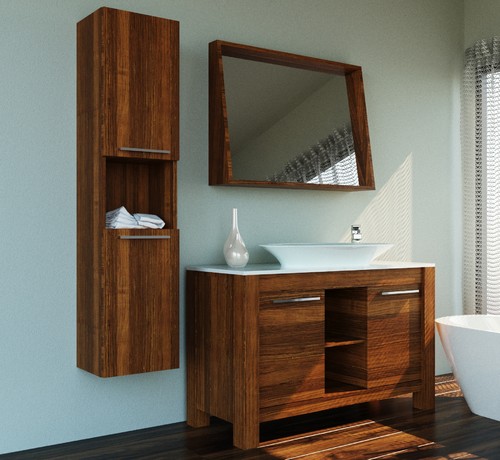 How Many Sinks Do You Need?
The next thing on your list should consider the number of sinks you want. Again, with a 48-inch space, you can easily fit two smaller sinks for a "his and hers" style look. You must decide if you need the additional sink or have the plumbing or the means to put it in. Often, people choose to stick with what they have if they aren't doing a major bathroom overhaul. Running new plumbing lines or removing old ones can be much more work than people anticipate.
Whether you choose one sink or two, consider the aesthetic as much as the function. After all, it does no good to have that extra space if you hate looking at your selected vanity. You have to like what you choose, even if that means making a few compromises here and there.
Fortunately, today's selection includes a variety of styles that offer single and dual sinks with a 48-inch vanity and cabinet. Therefore, it should be easy for you to find what you need at this size.
Related: Can You Replace a Single Sink with a Double Sink Vanity?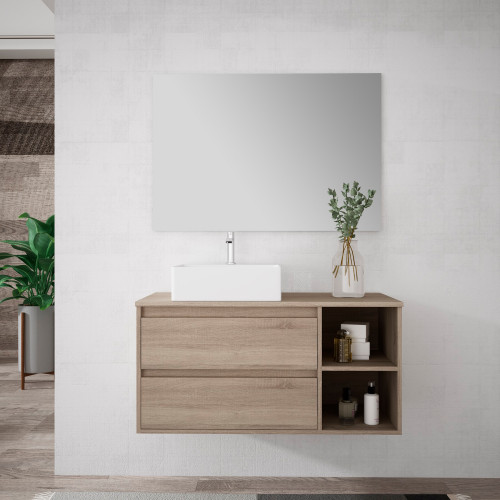 What Styles Are Trending?
There are several hot trends in bathroom vanity design right now. Modern looks have become popular with things like floating vanities and minimalist designs. Clean lines, dark colors, and lots of glass are popular choices for people who want a more modern design in their bathroom.
Another vanity trend is the freestanding or raised sink, where it's more like a bowl on the countertop than an inset like a traditional sink. Speaking of sinks, basins are also a popular choice, even for the bathroom vanity. People realize counter space is nice, but a deep, useful sink is much nicer.
There's also a new trend of gray wood finishes that offer a more rustic or beachy theme and something more unique than the standard brown and white options. Some people opt to paint or choose a pre-painted vanity that adds a pop of color, but this isn't as common as the more rustic or modern look. It's an interesting dichotomy, but there's plenty for everyone to love.
Related: 8 Top Bathroom Remodeling Trends of 2020-2021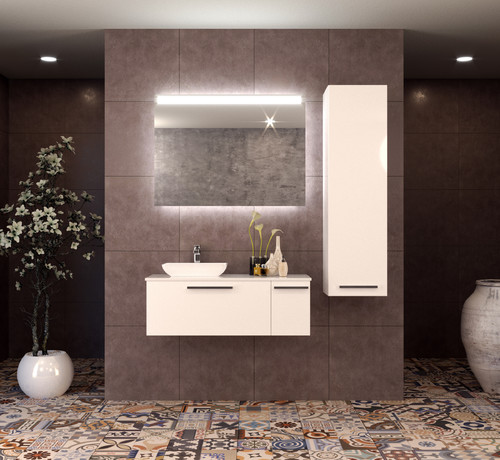 The Top 10 List
Here's a look at the 10 Best Vanities available now at UniqueVanities.com:
1. 48 Inch Single Sink Bath Vanity in White with/without Top
This vanity includes a modern sink and faucet option with the choice of a top or just the cabinet, giving you more options for a modern style.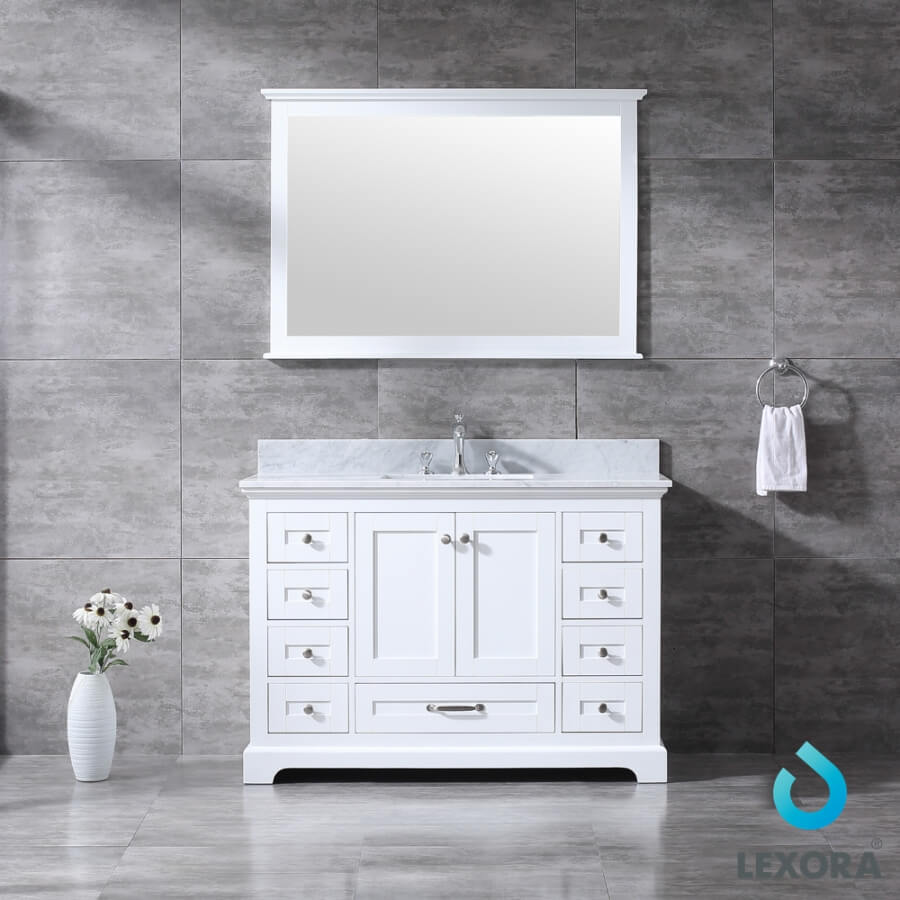 2. 48 Inch Double Sink Bathroom Vanity in Dark Walnut
This vanity offers a more traditional look with dual sinks and a deep walnut finish that creates an upscale finish in any space.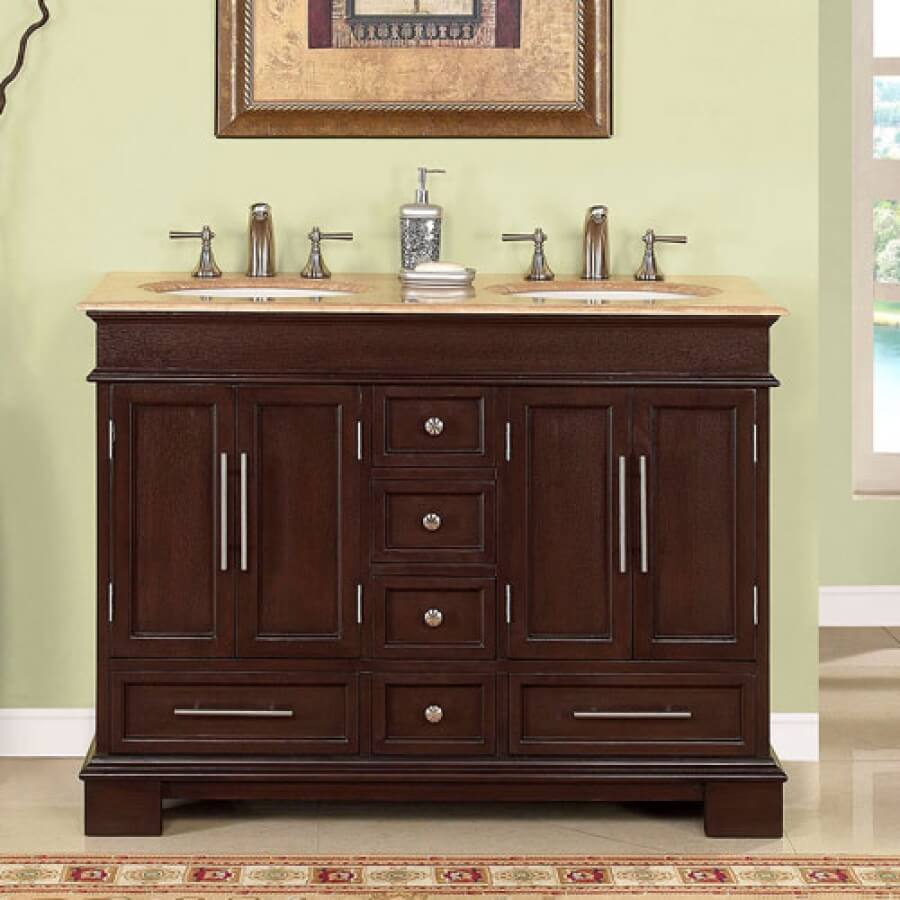 3. 48 Inch Single Sink Bathroom Vanity in Driftwood Finish
This driftwood vanity is a more rustic design that offers that worn look, with a single sink and plenty of storage.
4. 48 Inch Gray Oak Modern Bathroom Vanity
This vanity delivers a gray oak finish, sleek modern handles, and frosted glass for those who crave modern.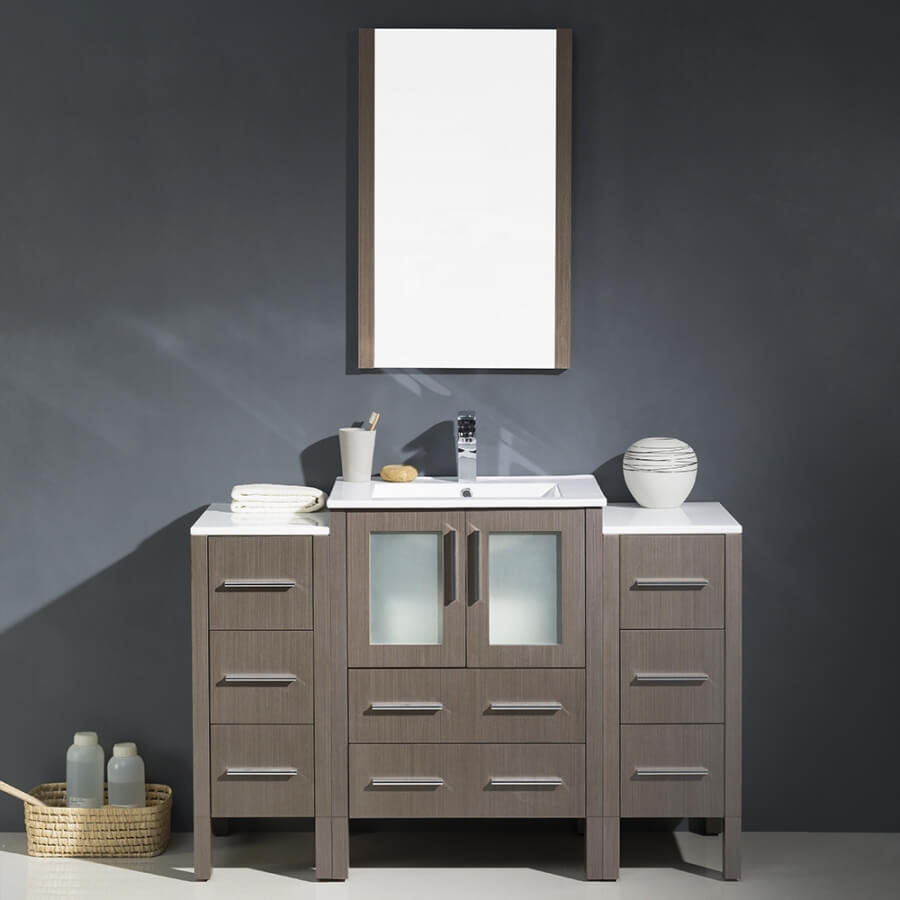 5. 48 Inch Antique Two-Tone Single Sink Bathroom Vanity
If you want a more rustic look that's still traditional, this is the vanity for you. It offers a two-tone brown finish for extra detail.
6. 48 Inch Single Sink Bathroom Vanity in Antique Walnut
If you want a stylish design, this antique walnut vanity is the perfect choice, with detailed inlays and decorative carvings for added style.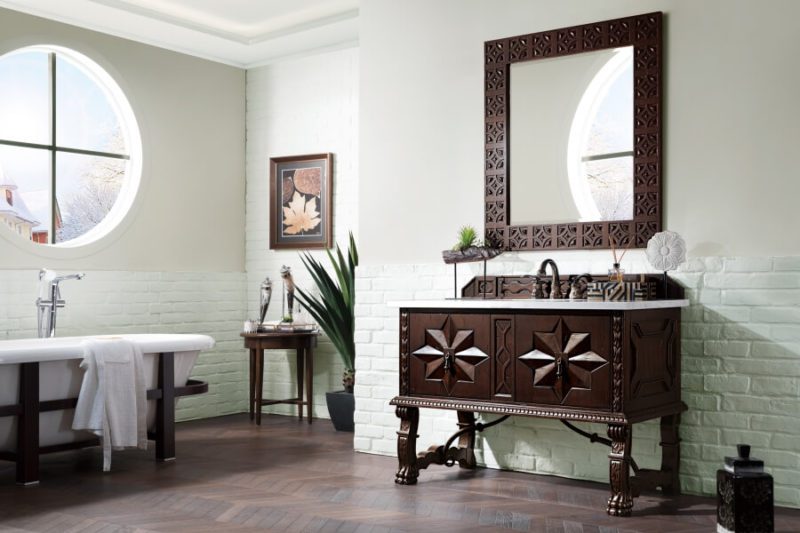 7. 48 Inch Small Double Sink Bath Vanity with Granite or Travertine Top
This smaller design features dual sinks that leave more counter space and still offer a stylish look, with a traditional cabinet in dark antique brown.
8. 48 Inch Single Sink Bathroom Vanity with Choice of Top
If you want a traditional white cabinet, this model offers your needs. It includes storage and a single sink top.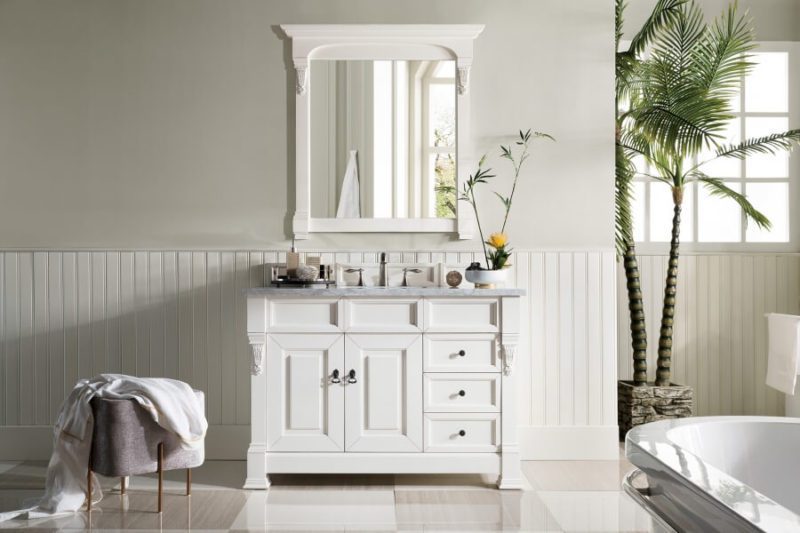 9. 48 Inch Single Sink Bathroom Vanity with Choice of Top
This sink features a stylish urban gray finish with a choice of tops and brushed satin nickel details.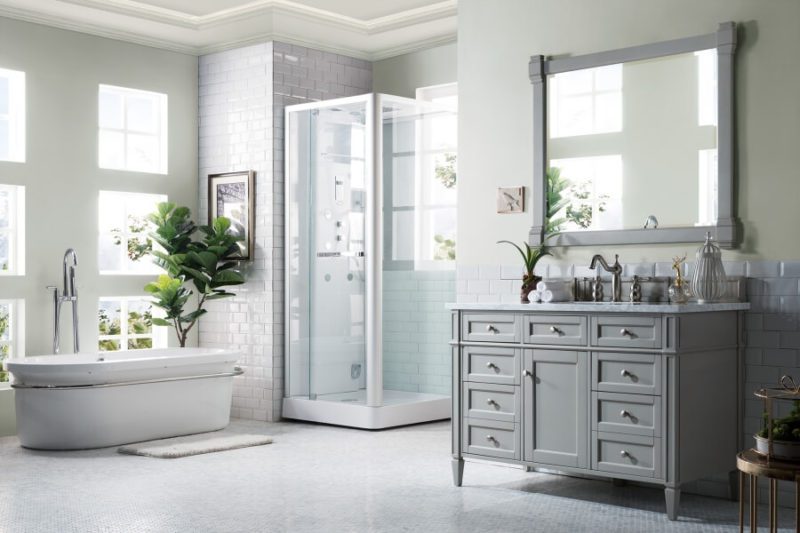 10. 48 Inch Double Sink Bath Vanity in Antique White
For those who like a clean look, the antique vanity offers dual sinks with a modern finish and plenty of storage.
Find Your New Bath Vanity Today
Check out any of the vanities above and see if they can deliver your desired design features. From designs with sleek, modern lines to cabinets with plenty of storage and even optional double sinks in several styles, there is sure to be something for everyone. Plus, if you need help, the team at UniqueVanities.com is here for you every step of the way.
---
My name is Julia Ritzenthaler, Founder and President of Unique Vanities, started in 2005. I started this business as an extension of our residential remodeling business, which focused on the design and build of custom cabinetry and architectural trim. I also worked as a financial advisor for 10 years at Ameriprise Financial, helping clients make sound money decisions, including budgeting for home improvement expenses. This expertise led me to start Unique Vanities, which offers a handpicked selection of high quality bathroom vanities, sinks, mirrors and more. You can find me most days sitting in Starbucks, my second office, or in my car driving my daughter across Dallas to gymnastics training.
---
Resources
https://www.bellacor.com/resources-and-guides/furniture-resources-and-guides/bathroom-vanities-buying-guide.html
https://www.bellacor.com/resources-and-guides/furniture-resources-and-guides/bathroom-vanity-size.html
https://www.modernbathroom.com/blog/post/2017/03/28/are-double-vanities-right-for-you
https://theflooringgirl.com/decorating/bathroom-vanity-trends/