White marble is a beautiful and highly functional choice for your bathroom. However, it can sometimes present its own challenges, including proper care and cleaning. This material makes such a beautiful, timeless look in any space, including bathrooms. However, marble counters are different from marble floors and there are several cleaning considerations for each.
For the sake of this guide, we'll be focusing on cleaning white marble vanity sinks and counter surfaces. There are some things that you will need to keep in mind, so first, let's take a minute to talk a little more about why marble makes a good choice for bathroom vanities and other things that you should know besides just how to clean the material.
Related: What Type of Bathroom Vanity Tops are Best?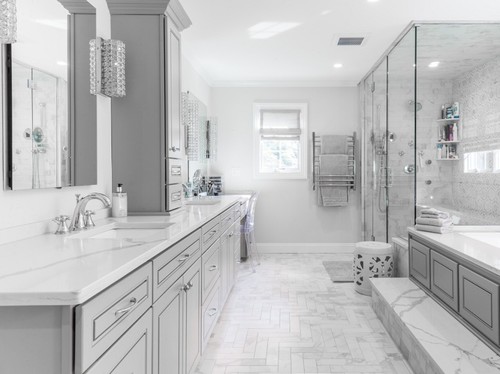 Why Choose Marble?
There are several benefits and reasons to consider when it comes to marble as a finish in your bathroom. Even though it looks expensive, marble is a lot more affordable than other natural stone materials and still provides a premium finish. Marble also offers more durability and heat resistance than other stone materials, making it a great choice for kitchens and bathrooms where the counters see a lot of use and abuse.
Marble counters look great, but in the bathroom, they'll also provide a distinct, durable look for a long-lasting investment. You'll probably upgrade for the sake of redecorating before you actually have to replace your marble vanities or counters.

Marble is a cost-effective design choice that provides all the perks and the same high-quality finished look as more expensive stone products, but without the high price tag. It also comes in all kinds of styles and finishes, and can even be stained if you want a unique look. This stone is also softer, which makes it easier to cut and shape so it is available in more sizes and designs at lower prices than other stone materials.
Related: Bathroom Countertop Buying Guide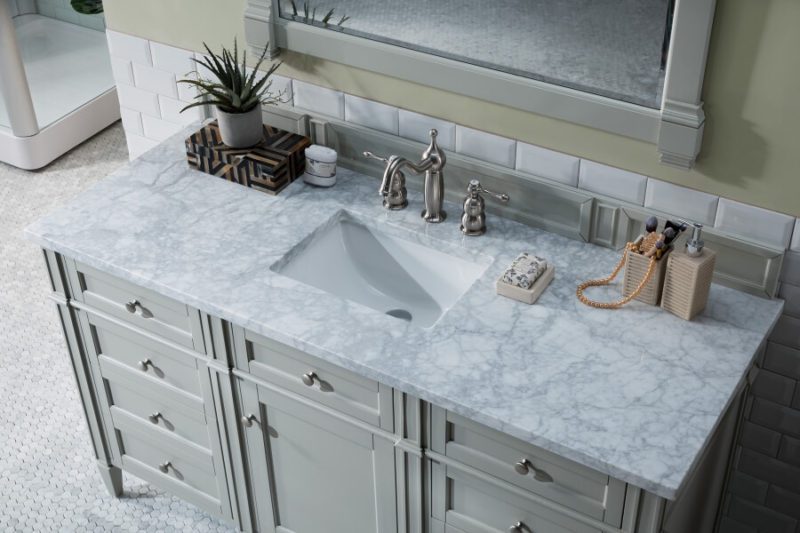 60 Inch Single Sink Bathroom Vanity with Choice of Top
How Often Does Marble Need Sealed?
Sealing marble will help keep it from being etched or stained. It won't prevent damage entirely, but it will provide an extra layer of protection. Sealing needs to be done regularly as a part of maintenance to ensure that the counters are always protected and will have their best lifespan possible.
According to the experts, you'll want to seal your marble counters every 3-6 months, depending on how much use and wear they see daily. It is important to protect the quality of your marble counters by providing the maintenance and care that they need, including routine sealing. If you aren't sure when you last sealed your counters, that probably means it's time.
Make sure that you choose a proper marble sealing product that is designed to deliver the results that you need. You can try a few different products to see what works best or just ask around for recommendations.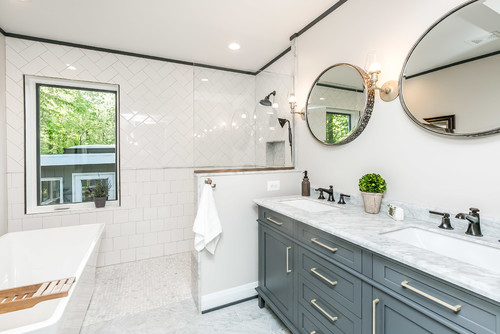 How to Properly Clean and Care for White Marble?
There are several different ways that people use to clean marble, but they aren't all effective and some are just downright unsafe for the surface itself. Plus, you also have to know what kind of marble you have: honed or polished. Honed marble is a more matte finish while polished marble will be shiny and can be hard to capture in pictures. The type of marble will depend on how it is best cleaned and cared for.
While honed marble is more absorbent than polished marble and could hold stains more easily, it does hide etching better, and the latter tends to be a bigger issue for those who own marble countertops. There is a lot to consider in the process, including several things that you want to avoid at all costs. So, how do you clean your marble counters?
Related: 11 Steps to Remodeling Your Bathroom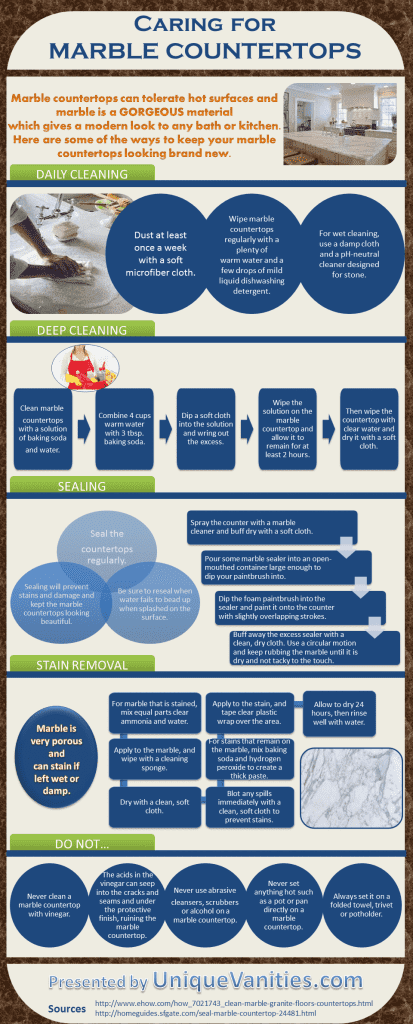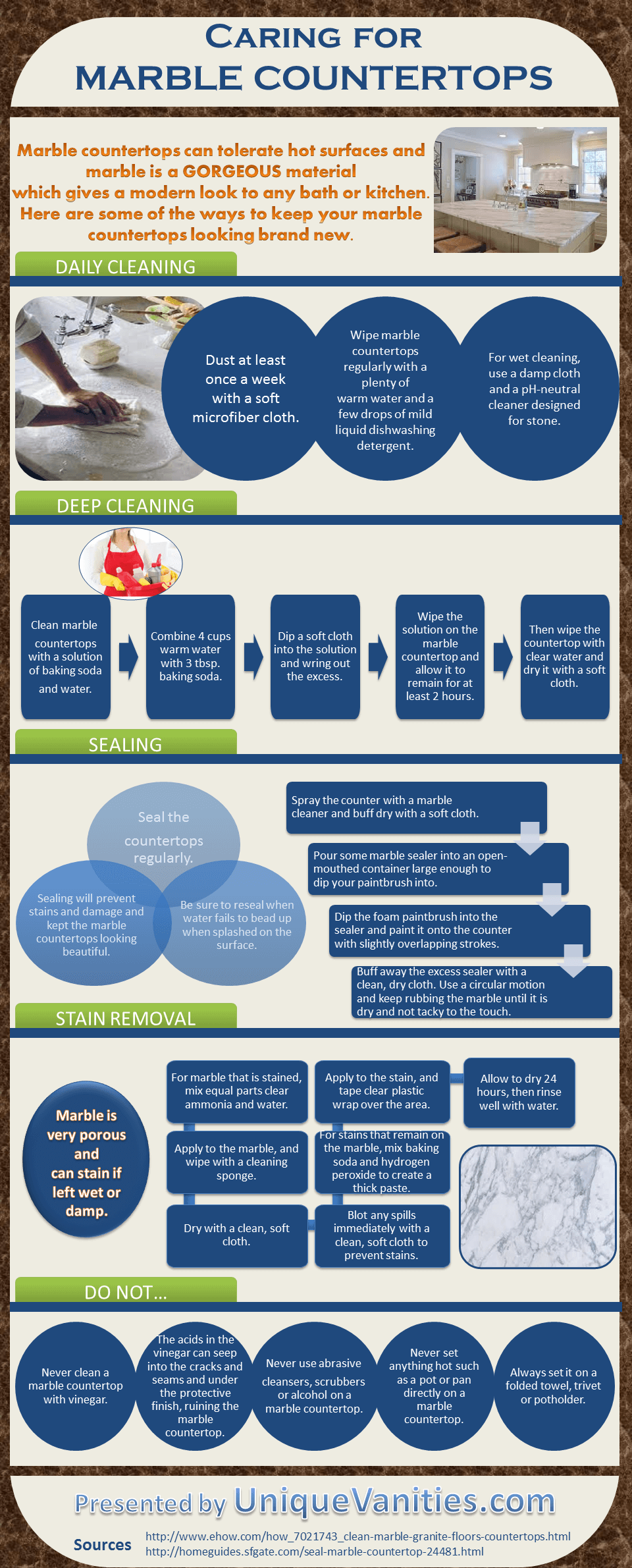 Avoid Acids and Abrasives
Although marble is durable, it is also a softer stone. Therefore, it is much more susceptible to etching or other damage from abrasive items and acidic cleaners. You should never use vinegar, lemon, or any chemical cleaners that are acid-based in nature. This can eat away at the stone and damage it significantly, which is not what you want.
Be very careful here because a lot of household cleaners that claim to be safe might have an acid-base or ingredients that could be abrasive. If you have any questions or concerns about how to properly care for your counters, you might want to consult your marble dealer or another professional who can advise on the best course of action.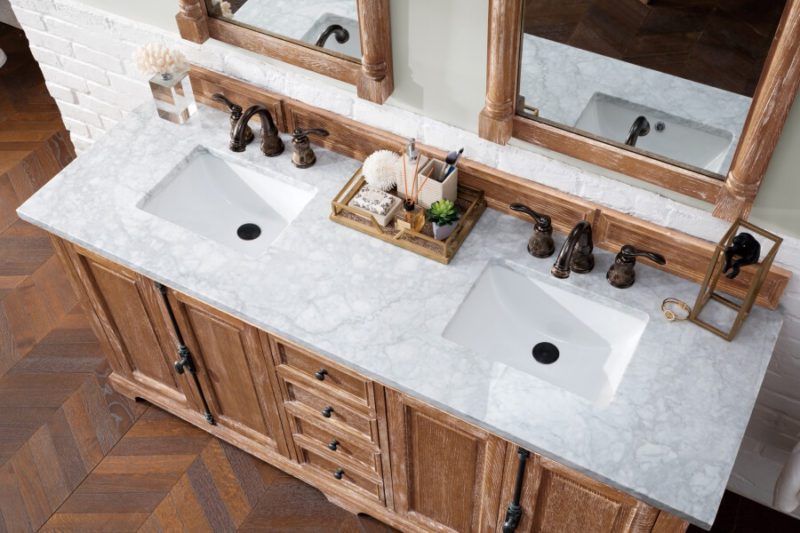 72 Inch Double Sink Bathroom Vanity in Driftwood
Honed Marble
If you have honed marble, you will want to clean it with a non-acidic cleaner, or just plain old dish soap and water. You can also find specific marble and granite cleaning products that are designed to take care of the delicate marble while giving it the best clean possible. Honed marble should be cleaned with as little water as possible and wiped up immediately to prevent moisture or cleaner from soaking into the surface.
Polished Marble
Cleaning polished marble counters can be done with the same products used for honed marble. These counters aren't as porous, but they are more prone to etching so you will want to use a soft cloth for cleaning, not a sponge or anything scratchy. Choose marble cleaners for the best results, but you can also use soap and water to keep it basic and still get a clean result.
Related: The Pros and Cons of Common Bathroom Vanity Materials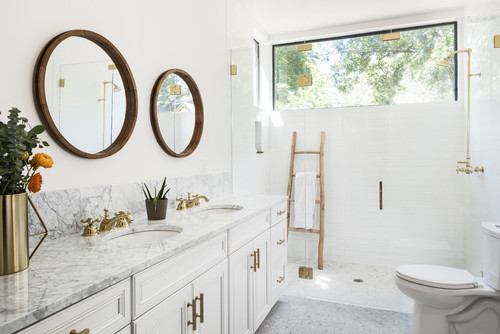 Can You Remove Stains or Etch Marks from Marble?
Marble is a beautiful material, but it is also notorious for its ability to attract stains and etch marks. Fortunately, there are some solutions for these issues. There may be some etches and stains that just can't be removed, but more often than not, you'll be able to get a lot of the damage out if you know what you're doing and it isn't too severe.
To get rid of etch marks, you'll want to use a polishing powder that's designed specifically for use with marble. There are several products that you can sprinkle on, buff out, and use to fill in the surface and repolish at the same time. Some people swear by polishing liquids, but they rarely fill etch marks or remove them, and instead just give the counter a nice shine.

Stain removal is a bit more time-consuming, but it can be done. Depending on the type of stain that is present, you will need to use different cleaning materials. For example, oil-based stains need chemical cleaners like those with ammonia or bleach or even mineral spirits. Organic stains, such as wine or coffee, will be easily cleaned with some peroxide and ammonia.
If you happen to have mold or mildew buildup, your best bet is going to be to clean with bleach and dish detergent mixed in a spray bottle. You can spray the surface and then wipe clean, and follow with clean water to ensure no bleach residue is left behind.
Related: Bathroom Vanity Buying Guide: How to Choose the Right One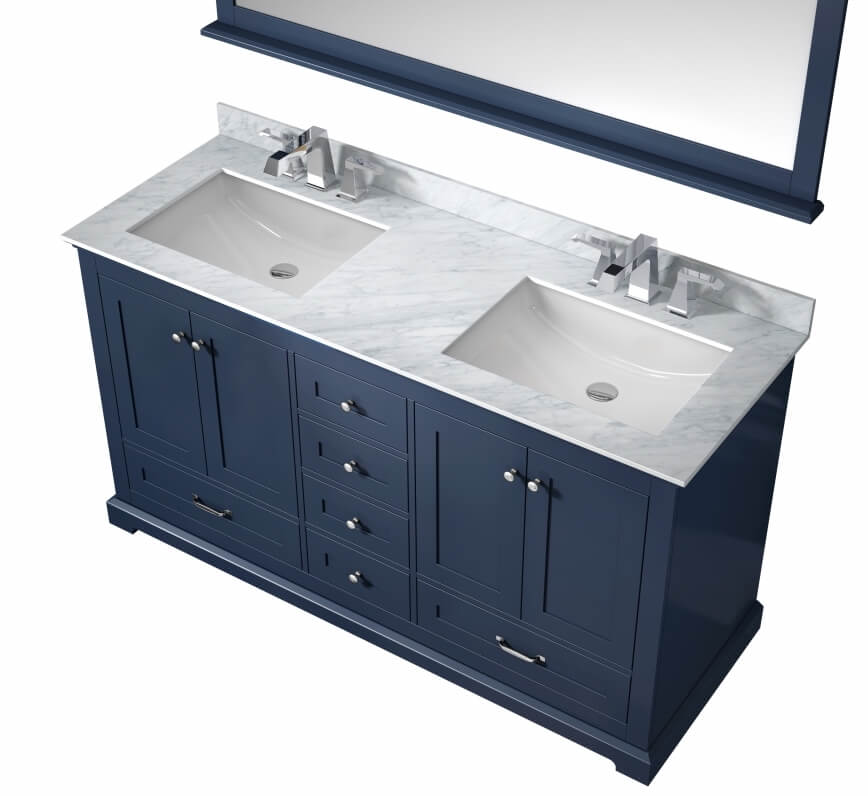 60 Inch Double Sink Bathroom Vanity in Navy Blue with Choice of No Top
Preventive Measures to Avoid Stains
The best thing you can do is prevent as much potential damage as possible, including stains. Make sure that you keep your marble sealed regularly and choose products that will offer the best protection. As far as spillage and damage, consider using coasters or other protective items when sitting items on a counter. Make sure that you clean the area regularly and keep an eye out for new stains or buildup to eliminate them as soon as possible.
Although some stains have a distinct cause, others are just the result of buildup or dirt that was not addressed in a timely fashion. Marble is beautiful and durable, but it still succumbs to improper care and can be easily damaged if you aren't careful.
Granite Gold Daily Marble Cleaner
Should You Hire Someone?
Some homeowners, after reading up on how to care for marble, question whether they are capable of doing the best job. Fortunately, it's generally not as difficult as it looks. When it comes to sealing or taking care of deep set-in stains, you might want to let someone else do the work, though. It depends on what you're comfortable with and what you're willing to pay for. Take the time to consider what you're up against and whether you feel like you can get the job done yourself. It's better to be safe, but unless you've got serious issues, general cleaning and maintenance aren't too difficult to handle.

What if the Damage is Too Much?
Perhaps you're dealing with a counter that just can't be cleaned. If it's been more than a few years and you are struggling to get rid of pesky stains or damage, it might be time to think about a new vanity counter. They are more affordable than you might think, and it could save you a lot of stress to just replace the counter when it's seen better days.
If your bathroom vanity has seen its better days and you're thinking of an upgrade, whether that's marble or any other material, we have the selection you need. At UniqueVanities.com, you'll find all of the latest styles and best looks for bathroom vanities of all sizes. Check them out here and treat yourself to a new vanity today!
Related: Bathroom Vanity and Sink Buying Guide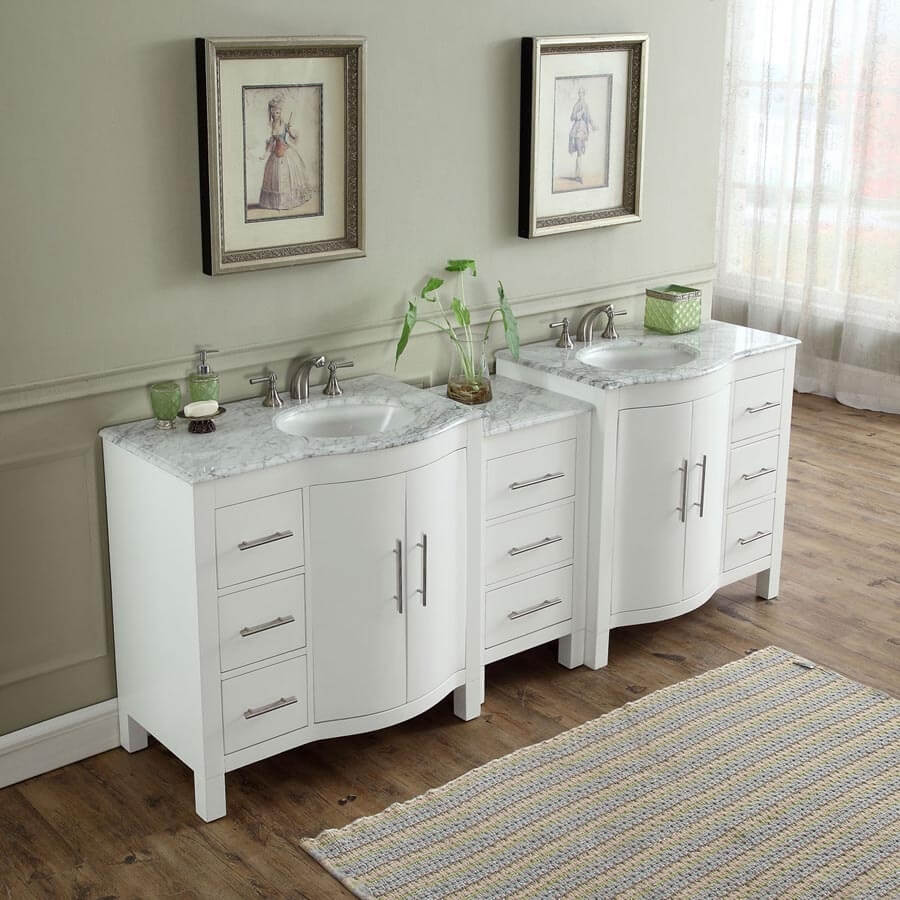 89 Inch Double Sink Bathroom Vanity with Offset Sinks
---
My name is Julia Ritzenthaler, Founder and President of Unique Vanities, started in 2005. I started this business as an extension of our residential remodeling business, which focused on the design and build of custom cabinetry and architectural trim. I also worked as a financial advisor for 10 years at Ameriprise Financial, helping clients make sound money decisions, including budgeting for home improvement expenses. This expertise led me to start Unique Vanities, which offers a handpicked selection of high quality bathroom vanities, sinks, mirrors and more. You can find me most days sitting in Starbucks, my second office, or in my car driving my daughter across Dallas to gymnastics training.
---
Resources
https://www.bobvila.com/articles/how-to-clean-marble-countertops/
https://www.forbes.com/sites/houzz/2015/07/28/how-to-clean-marble-countertops-and-tile/?sh=30a7f9d1bf46
https://www.thespruce.com/homemade-marble-cleaner-1387933
https://www.bhg.com/homekeeping/house-cleaning/surface/how-to-clean-marble/
https://www.countertopspecialty.com/best-and-safest-marble-cleaning-products.html
https://www.designmorsels.com/best-marble-cleaning-hacks-for-bathrooms-and-kitchens/
https://www.wikihow.com/Clean-White-Marble
https://www.countertopspecialty.com/bathroom-marble-cleaning-care1.html
https://www.merrymaids.com/cleaning-tips/tidy-home/special-care-required-how-to-clean-a-marble-show/