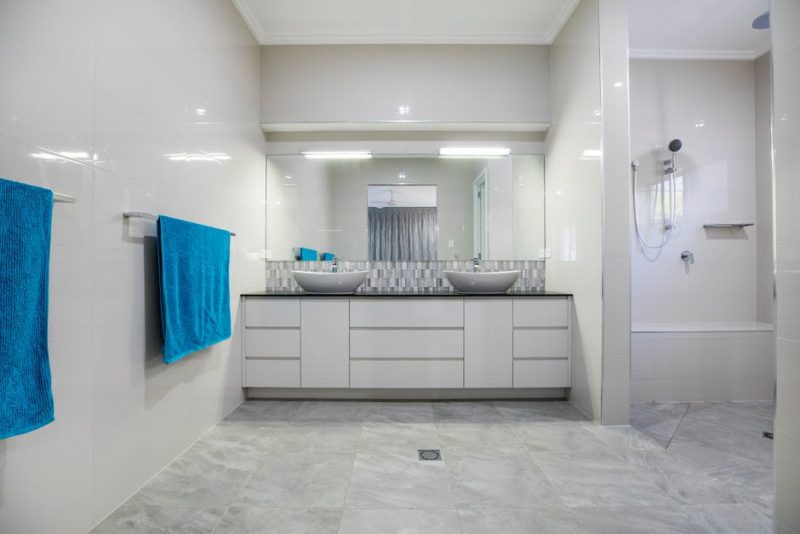 So, you're redoing your bathroom. You've got a lot to decide on like do you want a shower or a bath? What do you want to do with the flooring and walls this time?
What sort of bathroom vanity are you looking for? While your vanity may not be as important as some of the things we mentioned above, it is still an essential piece of furniture.
When choosing the right vanity, there are a million things you need to consider. Your bathroom layout for example. Check out this quick guide to learn all the things you should look for when choosing.   
1. Who Will Be Using it and How?
When picking out your vanity, the first question should be asking yourself is who will be using it and how they will be using it. If both you and your spouse head off to work in the morning, then you don't want to have to crowd around the vanity to get ready. This means you'll need to get one with two sinks. 
If you live alone but tend to use a bunch of products to get ready in the morning, then you'll need to prioritize counter space. 
2. Your Plumbing
Your plumbing will have a say in the kind of vanity you get and where you put it.  While you can move your plumbing, this will cause the price of your project to jump up. So you may want to work around it unless it will put your vanity too close to a door or if you don't want it to be by the toilet. 
Regarding style, most plumbing hookups will work with standing vanities. If you want to go with a wall-mounted one, that's fine but your plumbing will have to be moved a bit to make it work. 
3. Your Obstacles
The style of your bathroom can be changed as much as you want, but it may cost you a bit extra to try and move doors around or knock down walls. That's why looking for obstacles before starting your project is important. 
Watch out for the door swing. If your door opens inward and hits the vanity, then it will be a little annoying. If you're going with a shower with a door instead of a curtain, then you'll have to be aware of that door as well. 
Consider how close you want the vanity to the toilet. You don't want to bump into it when rushing to use the bathroom.
Look at your traffic flow in the bathroom in general. Adding a vanity shouldn't make navigating through the room harder.
If you're having trouble figuring out your obstacles, put a box down in the room to act as the vanity and do a walkthrough. This will help you understand where the actual thing should be. 
4. Storage Space
Now comes the time for storage. At long last, you have a place to put things so you can organize your bathroom! Before you get too ahead of yourself, decide what kind of storage you want.  
You may have to give up some storage space so the vanity can fit in your bathroom. Also, the plumbing may not be able to work with four rows of drawers and your sink, so you'll have to take that into account too. 
5. Pick Out the Sink Style
Not all sinks are made the same, and which one you get will affect the style and function of your vanity. This being said, there are a lot of sinks out there so it may be better for you to decide how much counter space you want to have before you choose the bowl. 
A sink will take up space no matter what kind you get, but if you were to go with an under-mounted sink, then you could have more counter for example. 
6. Get Materials that Can Handle Wear and Tear
You're going to be mean to your bathroom sink, and you won't mean to. It's going to see a lot of wear and tear. There is spilled makeup, cleaning products, water, and humidity. 
Even if you cut your bathroom vent on, there will still be plenty of humidity. Certain materials can stand up to that better than others. You also want a countertop that isn't vulnerable to grout.
This isn't a requirement, but grout can be a pain to clean so that it will save you some headaches. 
7. Scale
The last thing we're going to talk about is scale. You always have to consider the vanity size to bathroom size ratio before settling on something. 
Size
You don't want to cram a huge vanity in a tiny bathroom no matter how much storage space you want. It will make it awkward to move around and use your bathroom as a bathroom.  
Even if you use your bathroom all the time, a standard 25 inches wide and 21 inches deep will work fine if you don't have space for a large one. 
Height
Again, you want to consider who uses the vanity with this one. If you or your spouse is short, trying to use a tall vanity will be awkward and vice versa. If you're tall and have short vanity, you'll hurt your back by crouching down. 
The standard height for vanities is 32 inches. That should suit your needs rather you're tall or short.
Choosing the Right Bathroom Vanity to Suit Your Needs
Picking out a bathroom vanity that suits the needs of everyone in your home can be tough. You have to consider everything, from the size and height of the sink to the obstacles that will be in your way.
We hope that this article has helped you narrow down your choice a little bit. Get a vanity that everyone can get the most out of.
Can't find a vanity that you're looking for no matter where you go? Browse through our shop and see how we compare.
---
My name is Julia Ritzenthaler, Founder and President of Unique Vanities, started in 2005. I started this business as an extension of our residential remodeling business, which focused on the design and build of custom cabinetry and architectural trim. I also worked as a financial advisor for 10 years at Ameriprise Financial, helping clients make sound money decisions, including budgeting for home improvement expenses. This expertise led me to start Unique Vanities, which offers a handpicked selection of high quality bathroom vanities, sinks, mirrors and more. You can find me most days sitting in Starbucks, my second office, or in my car driving my daughter across Dallas to gymnastics training.
---