When considering remodeling, two rooms can be a real challenge to the budget – the kitchen and the bathroom. Both have lots of plumbing and electrical needs, and the bathroom may have such costly issues as tile work and more. It can feel like a no-win situation if you are eager to remodel a bathroom on a budget, but we have a few strong tips (backed by experts) that will let you refresh the look and function of the space without also emptying the bank account.
How Can You Save the Most Money on a Bathroom Remodel?
If you are eager to hear what design and home improvement experts would say is the number one tip for saving money on a bathroom remodel, it is this: Don't tamper with the layout.
By not changing the layout or adding on, you can reduce costs while making major changes. After all, the floor plan or layout is what exists before you start any project, and if you stick with that as the foundation of the work, you won't see the budget creeping up higher and higher.
Consider that a lot of people fall in love with a product, like a new tub or vanity. Then, when it comes time to work that item into the bathroom remodeling project, they either have to forget about it OR invest huge sums to make it work. If your goal is to limit the budget, you must work within the existing layout. Don't try to "shoehorn" an oversized shower enclosure or gorgeous soaking tub into a space that just cannot accommodate it. The bathroom will become small, dysfunctional, and expensive, or it can remain functional and within a budget.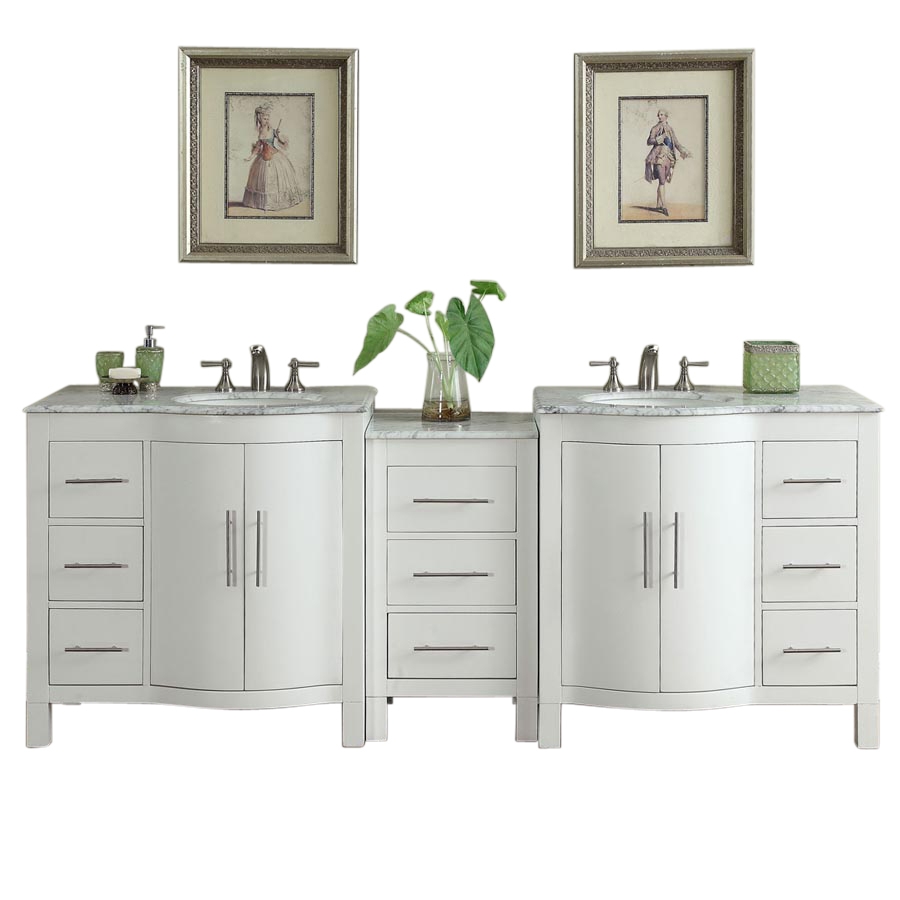 89 Inch Double Sink Bathroom Vanity with Offset Sinks
Should You Move the Plumbing?
In line with sticking to the existing footprint is the goal of leaving plumbing and fixtures in place. Yes, it might be ideal if you could move the toilet and sink or switch the shower placement, but if it means tearing up floors and walls to install new plumbing, the budget will skyrocket.
As writer Cheryl Freeman discovered, "Changing the layout of the room entirely, or even marginally, to accommodate plumbing in different areas of the room could significantly raise the cost of a renovation, especially when considering installation costs. So it's recommended you try to use existing plumbing and not drastically change the layout of your room."
DO Eliminate the Tub
One step that you can take to give your bathroom a more modern update is to eliminate a tub altogether. Spacious and contemporary shower stalls with glass doors and lots of room are a wonderful alternative to a tub and shower combination. You'll save water by avoiding long soaks in the tub, and you save your back by more easily cleaning the space without crouching down on hands and knees.
Doing this lets you keep the plumbing and general footprint of the bathroom, but really boosts the bathroom's modern esthetic and functionality (as well as safety).
Cost-Effective Materials
Earlier, we mentioned tiles and how they can be incredibly expensive to install or replace. This is only one material that is a bit less cost-effective. However, if you love the idea of a tiled bathroom, you can be a bit savvier about using them and go with a half or partially tiled room.
For instance, you can purchase affordably-priced tiles and do a single wall or a half-wall surround of the tub or sink area. You should also go with ceramic tiles rather than more modern marble or stone tiles, which can be extremely expensive.
Materials are not limited to tiles alone; you always want to stick with durable and affordable options, such as porcelain, over anything else. With countertops and cabinetry, it is the same. You can still upgrade to a more luxurious-looking space without breaking the budget.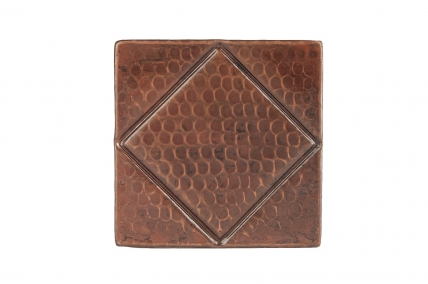 4 Inch Hammered Copper Tile with Diamond Design
Shop Floor Models
What should you do if you are in love with something made of more costly materials or at a price point well out of your budget? One trick that experts use is to "shop floor models". Walk through any big box home improvement store, kitchen and bath store, or shop that sells bathroom cabinetry and other supplies, and you'll see floor models. These are display pieces that are rarely damaged and yet can be purchased at a steep discount.
If you are going to do this, consider sale items, clearance items, and "entry level" items that are new products typically available at lower prices for their introductory period. Also, shop around online before committing to one floor model. Sometimes, online sales can get you a brand new sink, toilet, double sink vanity or other item at the same costs as floor models. It all boils down to asking about floor models and making rapid-fire online comparisons to ensure you get the best deal.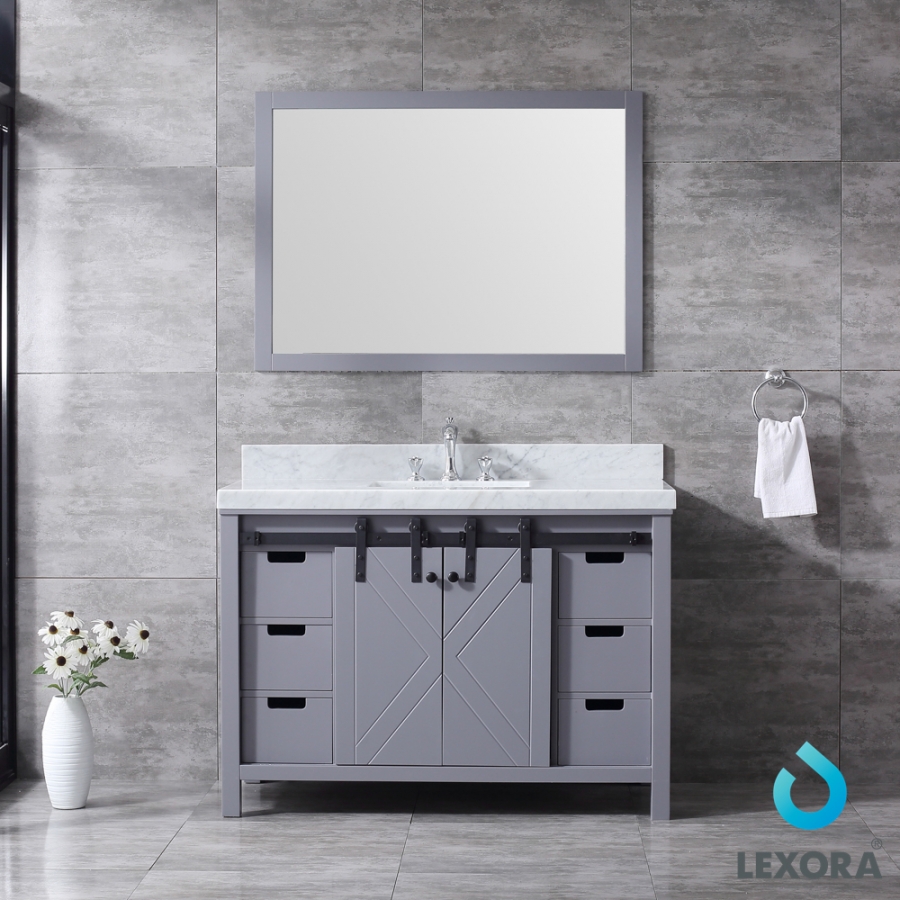 48 Inch Single Sink Bathroom Vanity in Dark Gray with Barn Door Style Doors
What to Keep in a Total Bathroom Reno?
Lastly, we're all told we should reduce, reuse, and recycle. This is great advice when looking to remodel a bathroom affordably. As Freeman also wrote, it is cost-effective to save "the decent things," but then she warns about going too far. She says, "if you hang on to every last screw or tub stopper, you're defeating the purpose of planning a lovely new bathroom."
For example, leaving the ceiling sheetrock or materials is fine, but don't leave the outdated fan. Save the old faucets if they look and function well, but not if they will cost more than new bathroom fixtures to clean and reinstall. Don't save the old toilet as it may not perform well over the long term, may not match the new style of the room, and may use more water than desired.
Also, consider factors such as LED bathroom lighting to save money over the long term, using quality paint that can be updated easily and regularly, swapping out linens and certain fixtures, and using accents to give the space an updated appearance. With simple steps and strategies, you can keep your budget low and your outcomes amazing.

---
My name is Julia Ritzenthaler, Founder and President of Unique Vanities, started in 2005. I started this business as an extension of our residential remodeling business, which focused on the design and build of custom cabinetry and architectural trim. I also worked as a financial advisor for 10 years at Ameriprise Financial, helping clients make sound money decisions, including budgeting for home improvement expenses. This expertise led me to start Unique Vanities, which offers a handpicked selection of high quality bathroom vanities, sinks, mirrors and more. You can find me most days sitting in Starbucks, my second office, or in my car driving my daughter across Dallas to gymnastics training.
---
More Great Resources on How to Remodel on a Budget
How to Refresh Your Bathroom on Any Budget
15 Cheap Bathroom Remodel Ideas