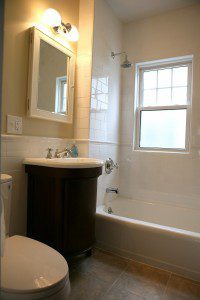 Pre-planning is the most important step in a bathroom remodel. This will give you an idea of how your new bathroom will look after the remodel and help you think of all the features you want. This may also save your thousands of dollars by preventing unforeseen issues that may be too late to change once remodeling has begun. Here is a checklist of all the things to consider before you start a remodeling.
Start collecting ideas from different sources like magazines and online blogs.
Start saving information and pictures you like in different folders for everything you need in a bathroom such as tub, vanities, countertops, floor, lighting, windows, tiles and mirrors.
Evaluate your current bathroom and establish a budget range.
Design Considerations:

Is the location of the existing plumbing for sink, tub, toilet or shower fine or should it be moved to suit your new design?
Do you want to install a gray water recycling system? If the area you live in has water shortage, this may be a good idea.
How many sinks do you want to install? One or two? This depends on how many people in your household plan to use the bathroom.
Which is better for your bathroom? A wall mounted or freestanding toilet and vanity? What would maximize the available space?
How often will the bathroom be used? This will help you decide the kind of materials used such as tiles and vanity countertop. For E.g. if the bathroom will be used frequently, installing a stone countertop would be good idea as it needs less maintenance and more durable.
Is the heating/AC ductwork in order? Does it need to be upgraded or moved?
What about windows? Do you want to add one or increase the size of an existing one? If yes, what are the design considerations to adding one in the shower? Do you want to add a skylight or bay window? What about the glass used for the window? Should it be opaque, argon-charged one sided or clear glass with covered with a curtain?
What features do you want in your new bathroom?

Low-flow showerhead or rain showerhead
Frameless shower enclosure
Low-flow toilets
Towel warmers
Radiant floor heating
Touchless aerated vanity faucet
Add a Jacuzzi or just install a large shower stall
Humidity control

Style Considerations:

Traditional, contemporary or transitional
Color palette
Vessel sink or Pedestal sink
Granite, quartz or laminate countertop
Marble, granite, ceramic or engineered wooden floor tiles
Mood lighting, Recessed lighting and shower lighting. LED, Halogen or CFLs?
Fixtures
Vanity mirror

Storage Considerations:

Do you want to expand storage and add a linen closet?
Do you want a vanity with extra storage?
Do you need a medicine cabinet?
Need more storage? May be you can add a built-in bench with storage underneath.
Once you have gone-through the checklist, talk to your designer, have a trade-walkthrough and get remodeling!
This post was brought to you by UniqueVanities.com where you can find the coolest pedestal sink bathroom vanities.