This is one of the most common questions we hear as homeowners try to determine if remodeling is in the budget or not. I can answer this in 2 ways:
The short answer: In a recent survey of 100,000 USA homeowners, the average bathroom remodel cost was $11,000.
The long answer: It depends on a number of factors.
Where do you live (part of the country), which will determine labor costs.

Do you need to relocate plumbing? This can be a bigger expense item if you need to move any plumbing. If you can use your existing plumbing, you will save on the total cost.

Do you need to relocate lighting or electrical outlets? Just like plumbing, if you need to relocate electrical wiring or fixtures, this will cost in both licensed labor and you will also have to fix or cover the original locations (drywall repair/paint).

Will your finish out be moderate or high end? Such as solid stone countertops (granite), custom wall finishes, high end plumbing fixtures, custom cabinetry, flooring, etc.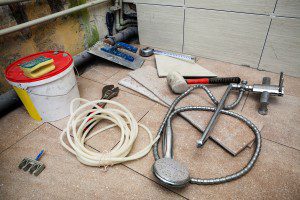 Assuming you plan to hire a general contractor, who would be responsible for overseeing the job in its entirety, use an average budget of $15,000. For higher end finishes or major plumbing/electrical needs, start with a $30,000 budget. If $15,000 – $30,000 is in your budget, then the next best step is to start defining the scope of the project. Before you get quotes, you should have either a solid plan of what you want accomplished, or hire a designer if you have no idea where to begin. This way you will have enough information to present to 3 contractors so that you can get apples to apples comparison quote for the project.
If you are a do it yourselfer, then you can save on labor costs. You need to assess your own skills, and whether you will need to hire a licensed professional for plumbing or electrical updates.
If you'd like to update your bathroom, but aren't prepared for a full remodel, consider some simple, cost effective ways to update your bathroom. Ideas include:
Fresh Paint

Updated Accessories

Replace Fixtures

New Countertops
A great resource to help you define the scope is Houzz. You can ask questions, look at bathroom design photos, find products, and you can search for professional designers and contractors in your area.
Dallas Bathroom Remodeling
Before you dive into a large remodel project, it's best to do your homework first. A poorly thought out remodel can lead to many problems, such as the project taking longer than planned and or going over budget. Remodeling CAN BE stressful. Remodeling without a plan WILL BE stressful.
Written By: Julia Ritzenthaler