Everyone needs to have a space in their home where they can kick back and relax. Creating a man cave for your home is a great way to add personality to your space and gives you a place where you can de-stress. Most man caves are done in the basement or a garage, but anything goes when it comes to interior decor. If you don't have enough space for a man cave in your home, why don't you turn a bathroom into the perfect relaxation space? Here are some tips to help you turn a drab bathroom into a fabulous but masculine man cave.
What Is a Good Paint Color for a Man Cave?
The first step to turning your bathroom into a testosterone filled haven is to whip out a paint can. Changing the walls' color is super simple, but the result is quite dramatic. When picking a paint color for your man cave, anything goes. Pick darker colors like cobalt blue or deep red if you want the space to look tough and manly. You can always paint the walls with your favorite team colors if you like sports.
What Are Some Creative Ideas for a Man Cave?
The beauty of designing a man cave is that you can use your creativity to build a space that feels like you. Since bathrooms tend to be small, compact spaces, you need to think outside of the box so you can use every square inch of space to your advantage. For example, instead of a traditional pedestal sink cabinet, you can install a Craftsman tool cabinet for all your hand washing needs.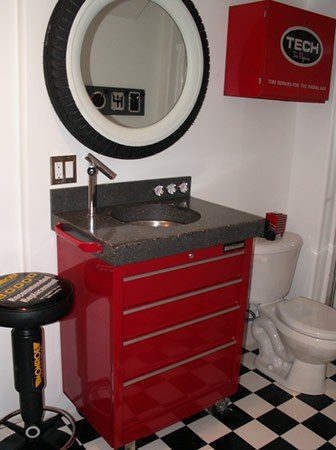 What Kind of Technology is Good in a Man Cave?
Adding a few gadgets to your man cave can make it epic. One thing you can add to your space is a smart toilet. Smart toilets are awesome because they come with a boatload of features. One of the best things about these gadgets is that they come with heated seats to be comfortable when nature calls. They also have a self-cleaning nozzle that removes germs and a nightlight bidet; not sure why you need a night light there – but hey, why not! Another awesome gadget for your bathroom is a mirrored TV. A man cave isn't complete without a television; where else would you watch sports? But TVs in the bathroom take up room, so why not double down and combine your TV and your vanity? These contraptions look like mirrors, but they are fully functioning televisions so that you can shave and catch all the highlights from last night's game. For either product to work, you will need a TV and internet; otherwise, you have just purchased an expensive mirror and TV.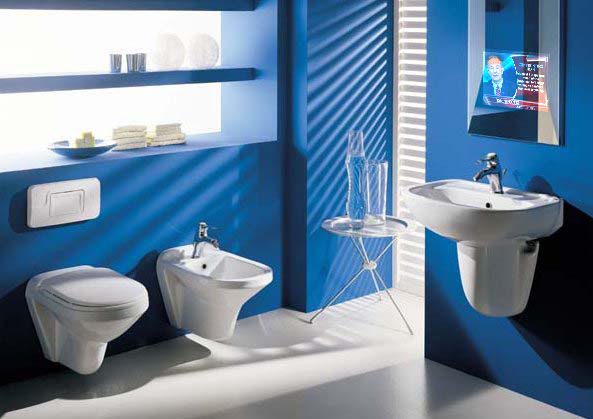 What are Some Accessories to Add to a Man Cave?
Adding some personality to the bathroom door can help brighten the space. To do this, you can paint the door red, blue, or any other attention-grabbing color and place a sign that says, 'You're now entering the man cave.' Once you're in there, every man cave needs a mini-fridge – it's a fact of life. You can stock your mini-fridge with the works: a few beers, snacks, soda, bacon, and so on. Let's face it, sometimes you get hungry and need to refuel. And if the man of the house has an iPad or iPod, plenty of products will integrate the device, like a toilet paper dispenser.
Designing a man cave is a fun experience. Hopefully, with the help of these tips, you'll be able to turn your boring bathroom into a wonderful haven.
Ryan Harris is a freelance copywriter and marketing consultant who works with small businesses and start-ups to design effective social media strategies to jumpstart brand growth. He has worked extensively with B2B and B2C clients on marketing strategy, focusing on product introduction. He spends his free time reading tech news and supporting his favorite sports teams.