In the bathroom, lighting is an ongoing debate that many people seek advice on. How much light is too much? Where should the lights be? What types of lights are best? There are so many questions and considerations that it can be mind boggling. Fortunately, we've got you covered. In this guide, we'll address everything that you need to know about lighting for small bathrooms, and bathrooms in general, including:
Why it's so difficult to light bathrooms properly
The best lighting for small spaces
The types of lighting: task, accent, decorative, etc.
Popular styles and fixtures
And more!
First up, let's talk about the challenges of bathroom lighting and why it's such a sore spot in so many home renovations and upgrades.
Related: Bathroom Mirror Lighting Ideas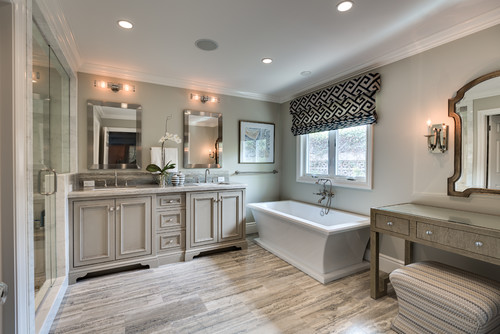 What are the Challenges of Bathroom and Vanity Lighting?
Bathroom and vanity lighting contain their own set of unique challenges. You want to create the right level of light for the space to be functional, but you also want a calming ambiance so that it's not a stark or startling space. This is often why people struggle to find the perfect balance.
In a small space, that can become even more of a challenge as you try to find small fixtures that fit into the room without taking over but still providing the light you need. Most bathroom fixtures are designed for one of the three purposes discussed below (task, accent, and décor), but picking out what's what can be hard.
Add to that fact that when you walk into a typical home improvement store or lighting showroom, you see the lights in this huge, open space where you can't get an idea of how they will look in your bathroom. Because of this, it's helpful to look around online for bathroom and vanity lighting designs that can help inspire you and give you a better feel for how things will look in the completed bathroom.
The other big challenge is that many of these fixtures depend on the other fixtures and furnishings you install. For example, if you opt for track lighting, you may have to choose a different exhaust or vent fan option. Some people even like the idea of a ceiling fan in the bathroom, which can be great, but you'll have to decide whether the lighting fits the room.
There's a lot to consider, which is what it comes down to, and why educating yourself is such an important part of the process.
Related: How to Make a Bathroom Look and Feel Luxurious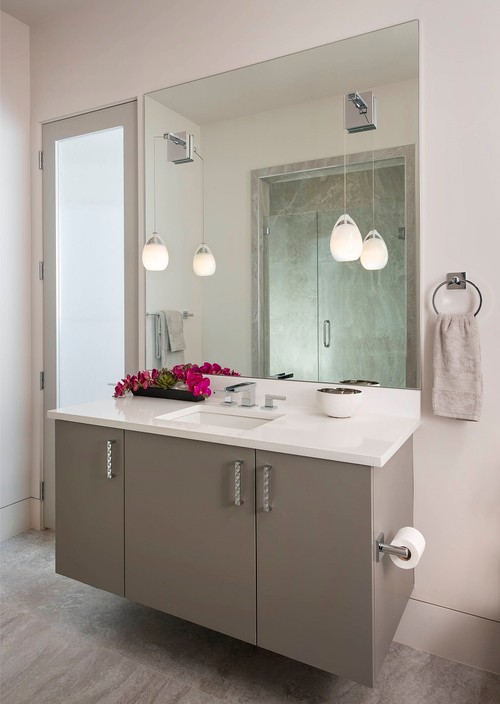 What are the Types of Bathroom Lighting?
You'll need to consider three main types of bathroom lighting. Even in a small space, you might benefit from having all three when it's done correctly. To decide what you need, let's look at them all and what they entail.
Task Lighting
This is usually the lighting above the vanity, designed to provide adequate light for things like shaving, makeup, doing your hair, and other tasks. It must be bright enough to see well but not so blinding that it's unpleasant. You'll be able to choose from single light fixtures or multi bulb lighting, both of which have their place. Choose brighter bulbs for these fixtures, typically between 40 and 60 watts, depending on how many bulbs are in the fixture total.
4 Light Vanity Strip Lighting Oil Rubbed Bronze
Accent Lighting
This lighting is typically designed to create the aesthetic in the space and may be used alone when the task lighting is not needed for a calmer or dimmer space. Even in a small bathroom, accent lighting can do a lot to create an inviting space where you can relax, and the task lighting will be there when you need it. For example, you might install accent lighting via recessed cans and then use task lighting around the vanity mirror. Perhaps you'll choose decorative sconces for accents and a simple set of track lighting for over the vanity mirror – the accent is about the aesthetic, so just remember that when choosing this lighting.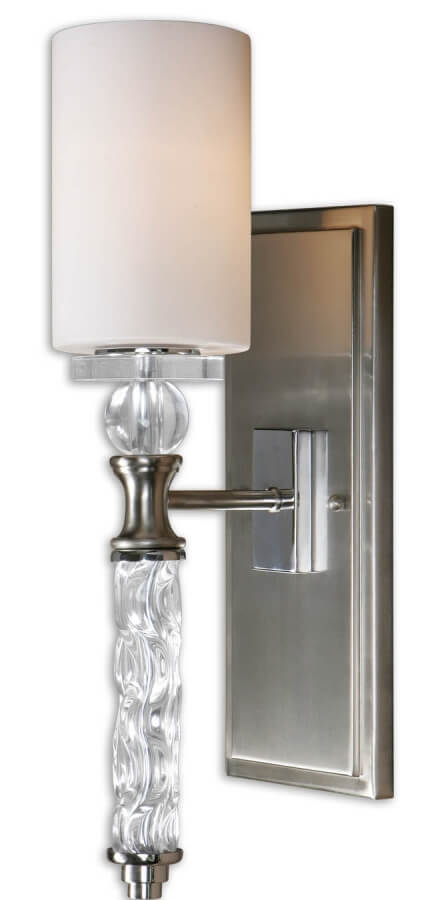 1 Light Wall Sconce In Brushed Nickel
Decorative Lighting
The final category is reserved for purely decorative lighting. It doesn't necessarily provide any function except for general lighting, but it is chosen because of its style and adds decor to the space. Pendant lights and chandeliers are decorative statement lighting choices that can be used in bathroom spaces. Of course, there's also a caveat here – there are some instances where lighting can be both decorative and functional. That's where you can win with your bathroom lighting in small spaces.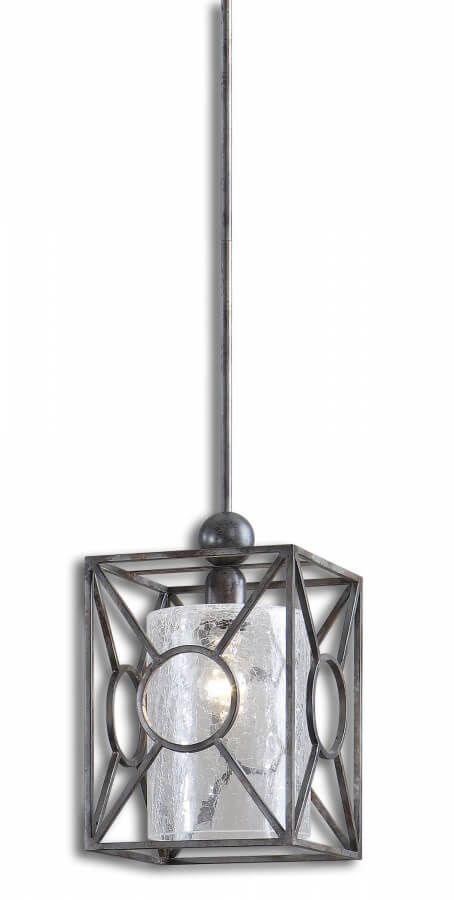 Arbela 1 Light Rust Black Mini Pendant
Understanding these lighting categories will help you choose the fixtures for your new space better. You can even find design inspiration on sites like Pinterest to help you get started.
Related: How to Pick the Right Bathroom Mirror
The Best Lighting Styles and Ideas for Small Spaces
Lighting is a different beast when dealing with a small space, bathroom, and vanity. Not only do you have to light the space properly, but you have to do so while being mindful of the size of the fixtures, the amount of light being put out, and the placement, or layout, of lighting around the room. When you're limited on space, that can seem impossible.
Fortunately, there are a lot of different options. Combination lighting is always a good place to start, such as the above mention of decorative lighting that's also purposeful – you can combine your love of light with its functional use and get the best of both worlds. In smaller bathroom spaces, getting more for less with bathroom and vanity lighting will make all the difference.
Standard ceiling and ceiling/fan combination lights are fairly typical and don't have much to note. Modern fixtures are changing how bathrooms look, but other than that, you won't find much to think about here – it's just standard lighting, and it will get the job done.
Related: 6 Ways to Maximize Bathroom Space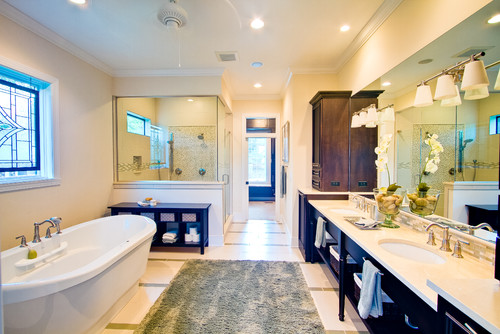 If you're dealing with a space where you don't have a lot of room for fixtures to hang, you might consider recessed lighting. This can be a great way to add task lighting and brighten a space without having a fixture protruding into the room. Track and pendant lighting, when you have the room, are great for task lighting. They can be installed in precise locations to provide the exact amount of light needed, making them a great choice for a small bathroom.
Sconces are also a popular choice for bathrooms and offer a lot of versatility. Depending on the style and placement, they could be used for decorative and accent lighting or even be installed around the vanity mirror for task lighting with the appropriate wattage bulb.
Just about any fixture will do in a small bathroom, but remember, the ones that take up more space on the wall or ceiling will need to be factored into your overall design – are they going to overpower the rest of the room or make the space seem smaller? You want to avoid these things, no matter which lights you choose.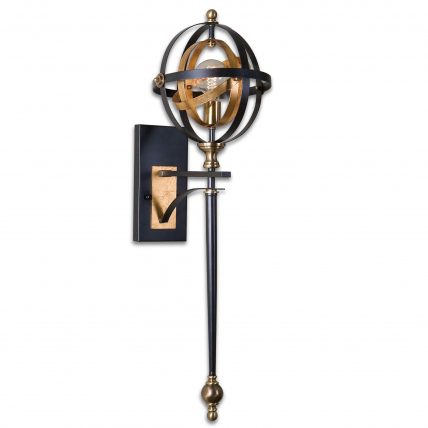 Rondure 1 Light Oil Rubbed Bronze Sconce
What Kind of Light Bulbs Should I Use in the Bathroom?
Of course, with all the considerations surrounding the fixtures, you'll want to make sure you give as much consideration to the lights. Today's market offers many options, but modern eco-friendly LEDs are typically your best choice. You can find these in various wattages and bulb styles to outfit your new bathroom and vanity lighting with the best bulbs for energy efficiency.
LED light bulbs will last for years when used regularly and properly. You can also find them in dimming bulbs if you want to create a unique ambiance in your small bathroom space. Globe bulbs are a popular decorative choice, as they provide ideal lighting for the vanity when you need good task lighting and also bring a stylish touch.
4 Light Vanity Lighting in Brushed Nickel
Small Space, Big Impact The Right Lights Matter
Now that you know more about choosing the best lighting for your bathroom, no matter the size, it should be easier for you to get everything you need. Remember to explore all of the options and take the time to find inspiration online to help you create your new design. You'll want to take advantage of the growing selection to find something unique and befitting of your tastes – fortunately, there are tons to choose from.
Consider matching task lighting to the vanity and accent lighting to the rest of the space or investing in a combination light fixture to save space and get a decorative touch without losing function. There are just so many ways that you can go. All that matters is that you carefully consider all your options along the way. The right bathroom and vanity lighting can make or break your small bathroom or powder room.
Related: Bathroom Design and Inspiration
---
My name is Julia Ritzenthaler, Founder and President of Unique Vanities, started in 2005. I started this business as an extension of our residential remodeling business, which focused on the design and build of custom cabinetry and architectural trim. I also worked as a financial advisor for 10 years at Ameriprise Financial, helping clients make sound money decisions, including budgeting for home improvement expenses. This expertise led me to start Unique Vanities, which offers a handpicked selection of high quality bathroom vanities, sinks, mirrors and more. You can find me most days sitting in Starbucks, my second office, or in my car driving my daughter across Dallas to gymnastics training.
---
Resources
https://www.proremodeler.com/7-tips-better-bathroom-lighting
https://www.remodelista.com/posts/remodeling-101-how-to-install-flattering-lighting-in-the-bathroom/
https://www.hgtv.com/design/remodel/bathroom-remodel/designing-bathroom-lighting
https://www.hunker.com/13720007/tips-for-selecting-the-perfect-small-bathroom-lighting
https://www.curlycraftymom.com/2018/10/small-bathroom-lighting-ideas.html