Installing lighting with a vanity mirror is a delicate process. Of course, choosing the lights to go with your new vanity and mirror can be an even bigger struggle if you're unsure what to look for. There are several different kinds of lighting to choose from today. Finding the right fit for your bathroom vanity will be about taking advantage of the resources and inspiration to create the bathroom space you've always wanted.
Vanity mirror lighting is no longer the harsh, bright lighting that it was in the past – but it still offers plenty of visibility in any space and allows you to create the perfect mood and design. Most people are familiar with the classic vanity lighting options, but what else is there? This guide has you covered.
Below, we'll discuss the kinds of lights used for vanity mirrors, as well as how you can upgrade yours and what to consider in the process.
Related: Lighting Tips for Your Home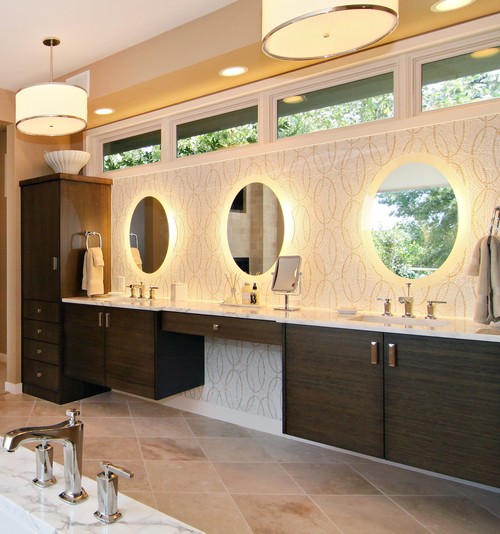 What Kind of Lights Are Used for Vanity Mirrors?
There are as many types of lighting available for your bathroom vanity today as there are for the rest of the areas of your home. You can find traditional styles that include the larger round bulbs as an accent and those that include hanging sconces and pendant-style fixtures. Still, more offer different designs and styles, all focused on creating an interesting and inspiring space while providing the light people need.
You can choose from ambient lighting and task lighting combinations that create the ideal space, including new combination lights that offer ambient lighting upward and task lighting at a downward position to have the light you need in a single fixture or two. This is great for space-saving designs or those who don't want too many lights.
You can also choose the popular multi-light fixtures. The three-light option is a big hit because it offers just enough light without overdoing it. Plus, the design of the three-light fixture generally fits pretty well over the vanity mirror for sizing and appearance's sake.
Today, you can even buy an empty fixture and then choose your shades or led bulbs to go with it to create a completely custom look and still get the lighting that you want.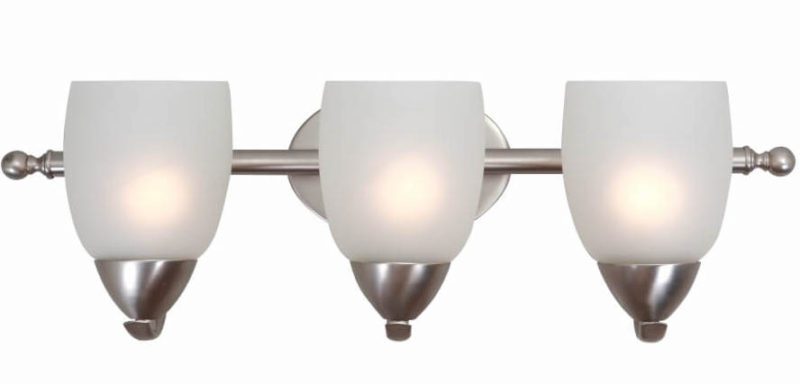 3 Light Vanity Lighting in Brushed Nickel
Bathroom Lighting 101 The Details
What is the best lighting for a vanity mirror? It's the lighting that works for you. Consider the design of the light fixture and whether it fits into the space. There are several different types of vanity lights available today. These lights are made to go above the bathroom vanity or vanity mirror, providing even task lighting for your daily hygiene, self-care, and makeup routines.
These fixtures come in every shape, size, and style. You can find everything from single fixtures to lights that hold up to four bulbs. Pay attention to the size of the fixture so that you can buy a light that matches your space and fits in with the vanity mirror accordingly.
Here are some other things people question regarding getting the best vanity lighting.
Related: 7 Ways To Brighten Your Dark Bathroom
4 Light Vanity Strip Lighting Oil Rubbed Bronze
Should vanity lights face up or down?
As mentioned above, you typically have two kinds of lighting in a bathroom: task and ambient. As the names suggest, task lighting is designed to help you get things done, while ambient lighting just provides light for the space and is usually less harsh or has a dimmer option than task lighting.
Task lights will need to face down to provide the amount of light you need. These are supposed to help you see what you're doing, so if they faced toward the ceiling, they wouldn't be very useful. Ambient lighting, on the other hand, should face up to create a soft, natural light feeling in the space. You can also find ambient lighting that faces down, which is fine.
As long as the task lights are focused on the task, you'll be on track.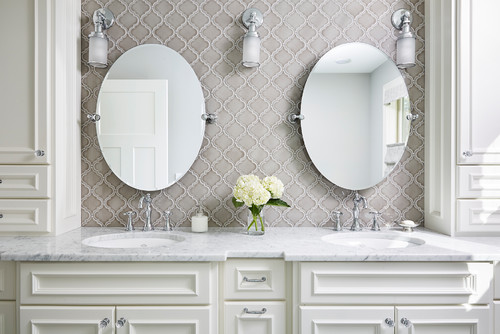 How much bathroom light is ideal?
You'll want to stick to 40-60 watt bulbs for ambient lighting, while some people prefer bulbs up to 100 watts for task lighting in the bathroom – it all depends on how much you want to see and how bright you need the space to be. If you have a smaller bathroom and choose a three-light fixture, for example, you might not need all three bulbs to be 100 watts.
It's all about how you'll use the lights and how much you need. Some people prefer as much as possible, while others like to create a relaxing space and dim the lights when they can – it's a personal choice, and it's one that you'll have to consider in your search for the perfect lighting.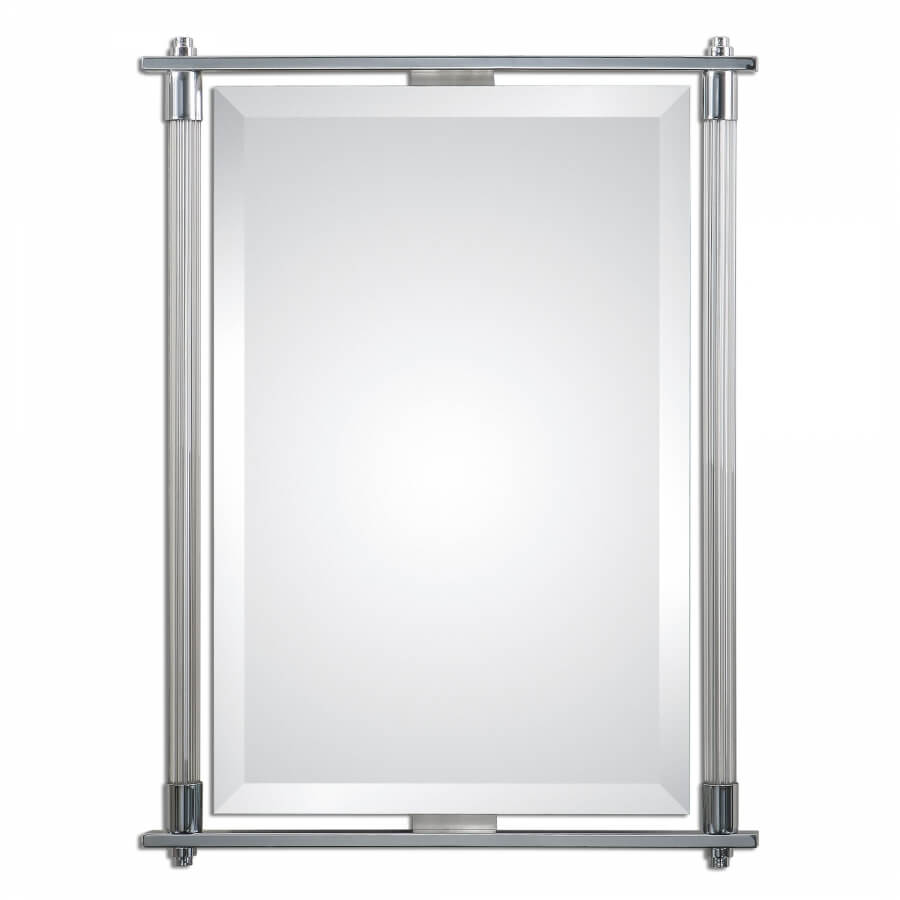 Adara Polished Chrome Rectangular Vanity Mirror
What about the placement of the bath lights?
You'll have to consider a few things to figure out exactly where you want and need the lights. For starters, you probably want your task lights centered over the vanity so that you can always see what you're doing. Ambient lighting can be above the vanity mirror, a separate fixture in the middle of the bathroom, or anything else you choose.
Feel free to look around online, including at sites like Pinterest and home design sites, to see what others are doing with their vanity mirror lighting so that you can get inspired and take yours to the next level.
Related: Medicine Cabinet Buying Guide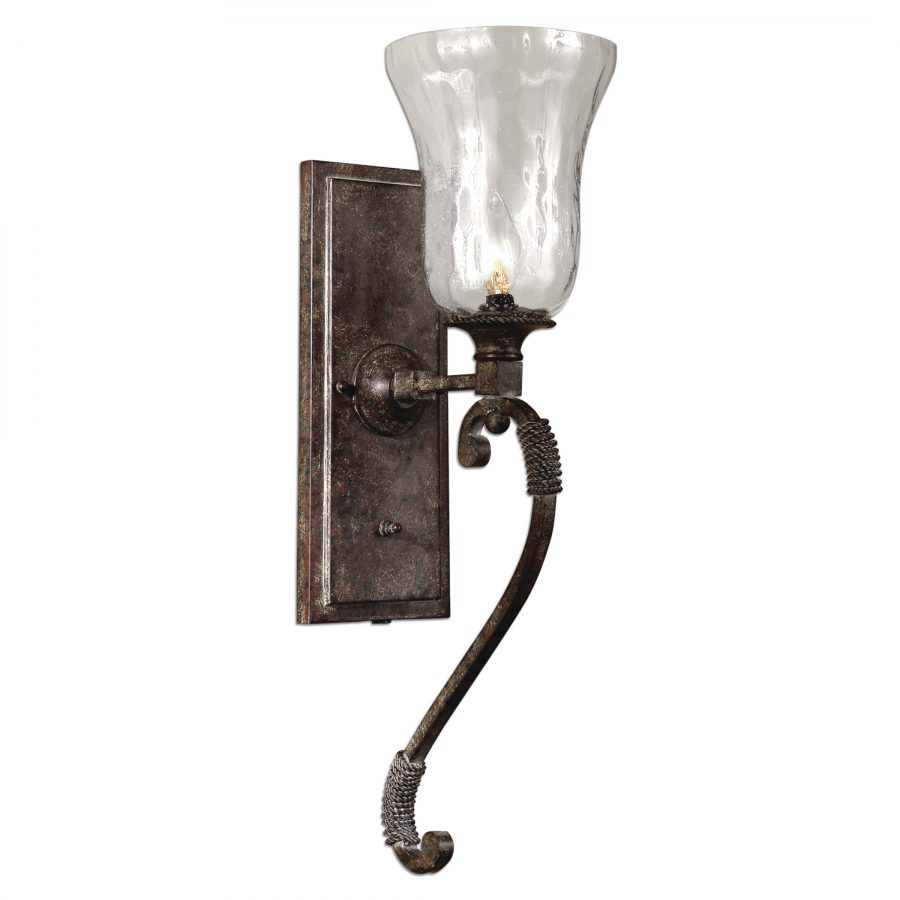 1 Light Blown Glass Wall Sconce
Vanity Lights Styles and Finishes
In addition to the selection of fixtures available, you'll also have several types of finishes to choose from, including the base itself and the sconces or shades you choose for your bathroom lights. Chrome, stainless steel, and brushed nickel are the most common choices for fixtures and hardware, while shades and lights are available in:
Clear glass
Frosted glass
Etched glass
Ribbed glass
Hammered glass
White opaque glass
Alabaster glass
You'll also find several styles of shades and fixtures to ensure you get the perfect bathroom look, no matter what you have in mind; think elegant, modern, or Hollywood style. Installation isn't that difficult on most vanity light fixtures, but since it's electrical, you'll want to consider hiring a contractor for safety.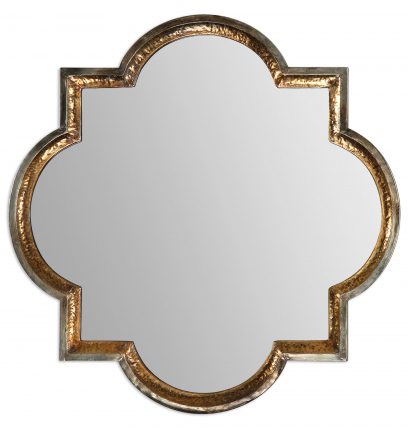 Hammered Metal Antique Gold and Silver Wall Mirror
Speaking of Safety…
Bathroom lights are inherently made to be in the bathroom space – thus, they should be rated for use near water and designed to provide a safe solution. Some people choose a light fixture for another area of the home, however, which may not be rated for use in a bathroom where water is commonly present.
Above all else, ensure your vanity mirror lighting is rated for safe use in a bathroom.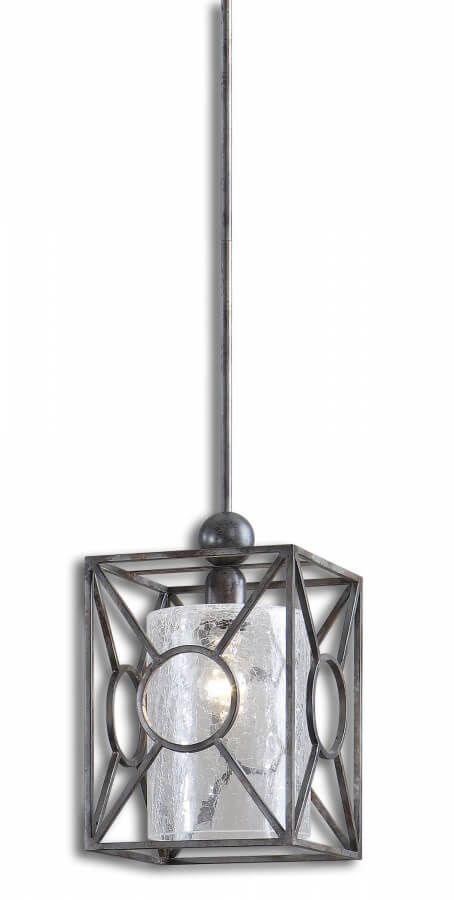 Arbela 1 Light Rust Black Mini Pendant
Layered Lighting What You Need to Know
Layered lighting is a common choice for bathrooms and kitchen spaces. This type of lighting is all about addressing the multifunctional needs of a space – as many design experts will tell you, there's no single light that can provide everything you need in a space.
Enter layered lighting, which most of you already use, whether you realize it or not. Layering lights involve ambient lights for general use, task lights for dedicated lighting in necessary spaces, and accent lights to draw attention to details or provide their decorative touch.
This example can be seen in a bathroom space when you have a centralized light fixture and exhaust fan in the ceiling and a vanity mirror light for task lighting. It allows you to have that ambient light for a more relaxing space but then have the task lights when needed. You can also add accent lights, but that's not always necessary in a bathroom.
If you want to maximize the space and this function, there's one thing that you can do to assist in your final design and that several people skip: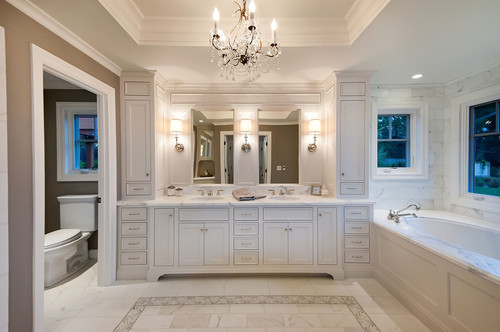 Put the Lights on Different Switches
Too often, people wire a single switch to all their lighting and then are forced to simultaneously use the task lights and ambient lights. Not only is this wasting electricity, but it can defeat the purpose of having separate lights in the layered style. Layered means you can use any of the lights on their own or together – make sure you give yourself that option when designing your new bathroom space.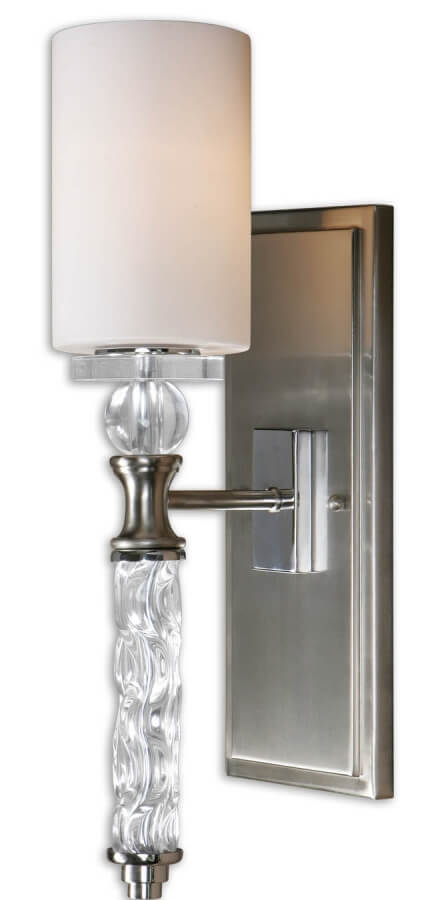 1 Light Wall Sconce In Brushed Nickel
The Bottom Line
If you consider these things when planning your bathroom light upgrade, you should have no trouble finding what you need. Check out this great guide to bathroom lighting for more details on planning, lighting considerations, and safety and construction concerns that may arise. Choose lights that you like and fit your space, and keep the tips in this guide in mind for the best results. In no time, you'll have the perfect vanity mirror lighting, no matter what that might be.
Related: Mirror Buying Guide for Your Entire Home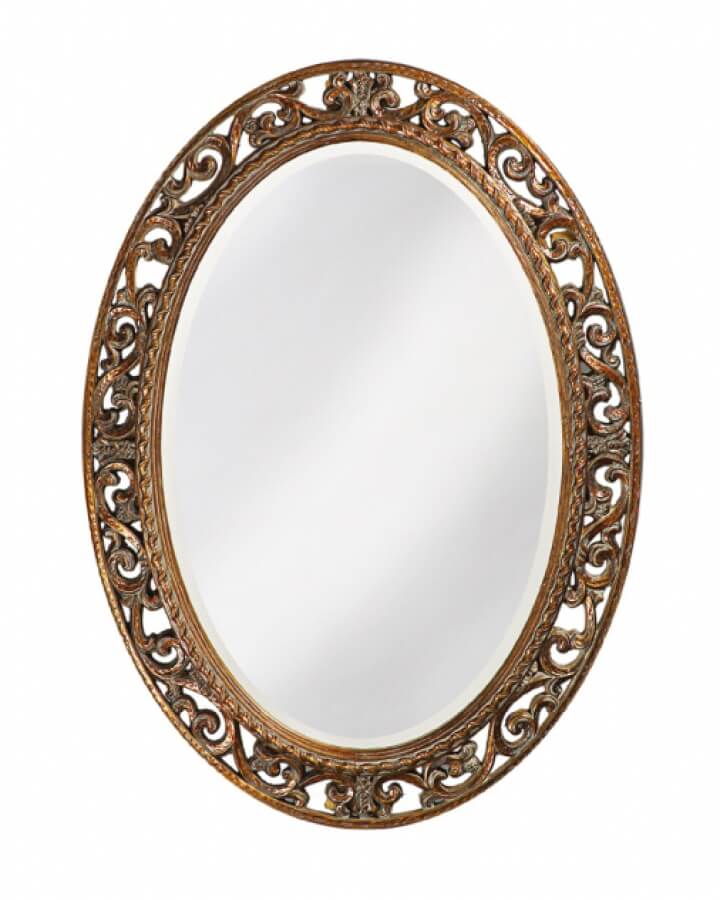 Suzanne Oval Mirror with Antique Bronze Finish
---
My name is Julia Ritzenthaler, Founder and President of Unique Vanities, started in 2005. I started this business as an extension of our residential remodeling business, which focused on the design and build of custom cabinetry and architectural trim. I also worked as a financial advisor for 10 years at Ameriprise Financial, helping clients make sound money decisions, including budgeting for home improvement expenses. This expertise led me to start Unique Vanities, which offers a handpicked selection of high quality bathroom vanities, sinks, mirrors and more. You can find me most days sitting in Starbucks, my second office, or in my car driving my daughter across Dallas to gymnastics training.
---
Resources
https://www.kbyd.com/lighted-bathroom-mirrors-are-they-worth-the-cost
http://d3jngao6jrxthd.cloudfront.net/pdfs/original/24500-astro-bathroomlightingguide.pdf
https://www.lightology.com/index.php?module=how_to&sub=bathroom_vanity_lighting
https://blog.1000bulbs.com/home/the-best-lighting-for-your-makeup-mirror
https://www.lowes.com/n/buying-guide/vanity-lighting-buying-guide
https://www.shadesoflight.com/blog_entries/bathroom-vanity-light-ideas-tips