UniqueVanities.com is always looking for the next best thing in bathroom style, which has led to our partnership with Lexora Home. We now have a full range of Lexora Home products to choose from, which all feature premium design details and provide people with the styles that they want at affordable prices, thanks to their wholesale operations. In this guide, we'll talk a little more about what this brand has to offer and then explore the bestselling models in our inventory to get you started.

Why Choose Lexora Home Vanities?
Lexora Home creates high-end bathroom designs, including a wide selection of vanities, mirrors, faucets, and other accessories and components. They are constantly updating their product selection to keep up with trends and promote themselves as a brand that offer modern styles with timeless quality. They feature premium designs with clean lines, beautiful details, and unique finishes that are of the highest quality, in every single product.
Now that you know more about what this brand has to offer, let's check out the bestselling vanities from Lexora Home.

Lexora Bathroom Vanity Bestsellers
This stylish vanity offers a traditional, yet modern design. It is a great introduction to the Lexora Home brand for those new to the style. This modern vanity offers dual cabinets and multiple drawers for storage. The chrome hardware offers a nice accent, and the vanity can come with or without the Carrera white marble top.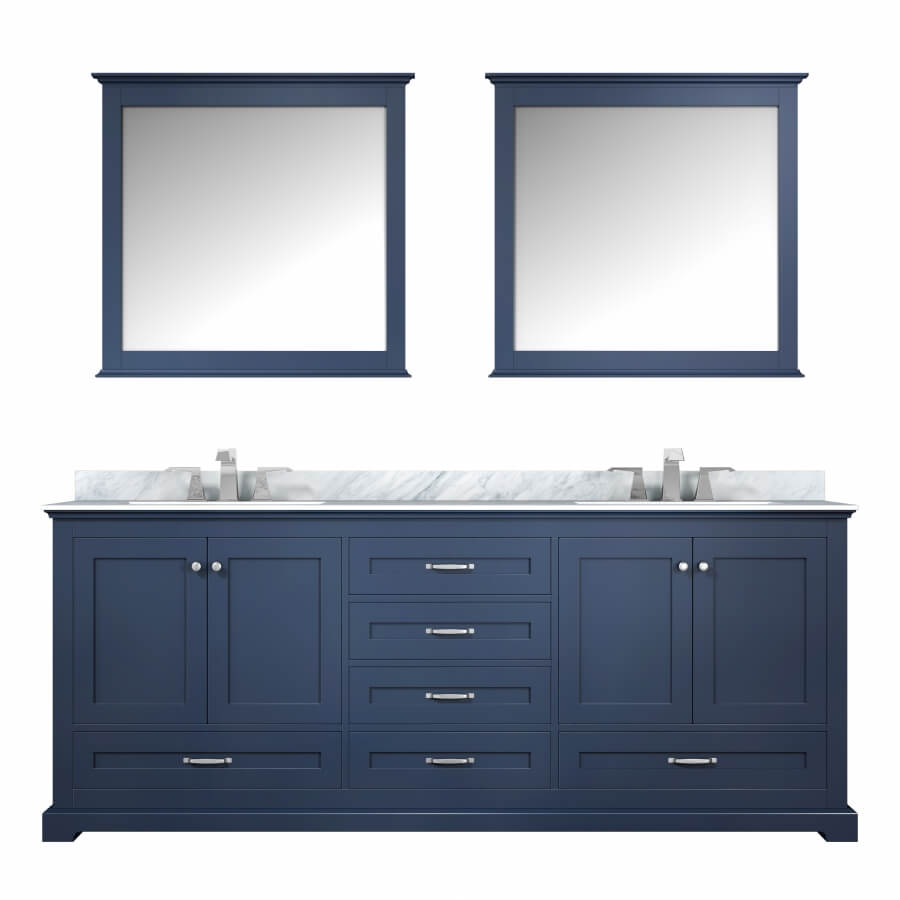 80 Inch Double Sink Bathroom Vanity in Navy Blue with Choice of No Top
Like the model above, this massive vanity is an impressive example of what makes Lexora Home stand out from the crowd. The dark gray finish is a hot design trend right now and the traditional, yet stylish design fits into just about any bathroom space. Those who want a lighter option than navy will enjoy this model, which also comes with or without the countertop.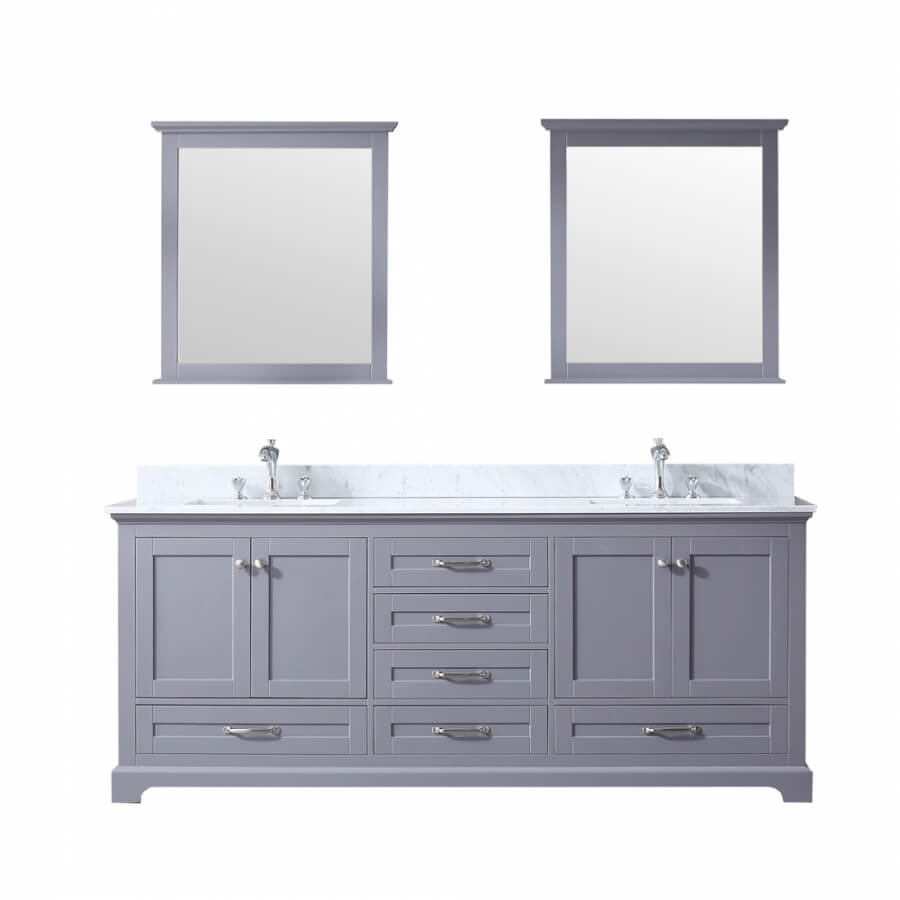 80 Inch Double Sink Bathroom Vanity in Dark Gray with Choice of No Top
The rustic look is in and with this vanity, you can get it in your space with ease. This modern piece features rustic finishes and hardware, along with a premium marble top that is optional. It also can undermount the sinks for a clean counter and easier installation. The dual sinks make sure that both of you can have room to ready yourselves, and there is an option for a mirror, as well.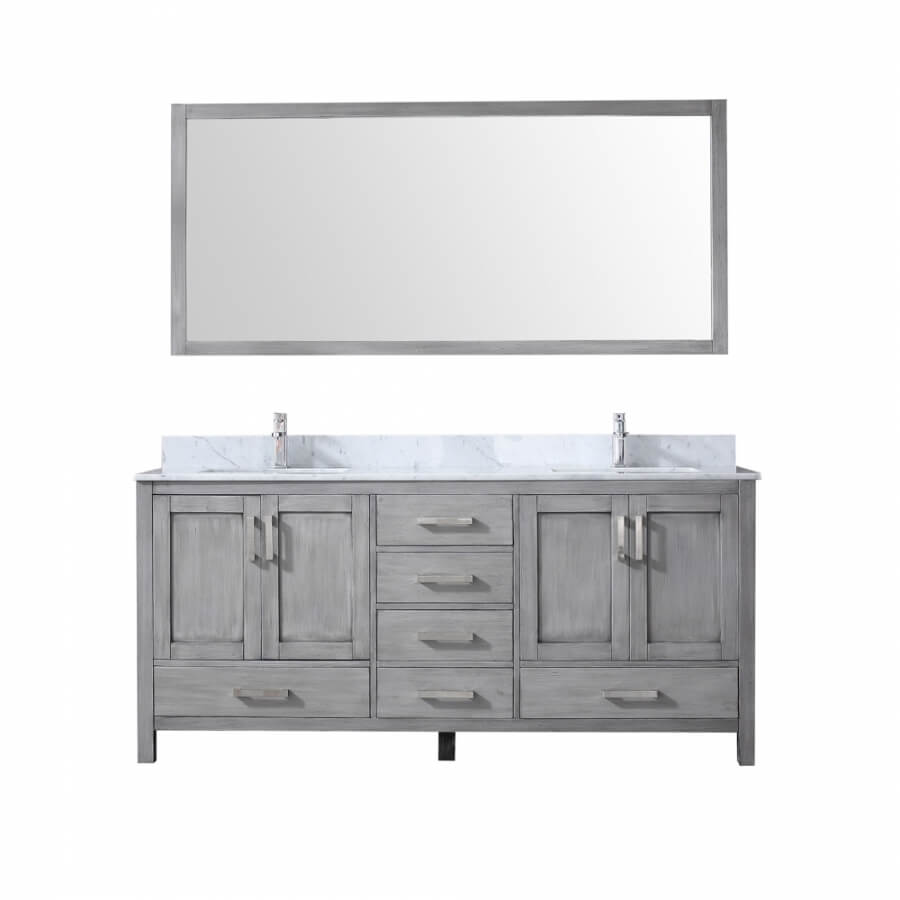 72 Inch Double Sink Bathroom Vanity in Distressed Gray with Choice of No Top
If you really want to hit all the trends, this vanity from Lexora Home that features barn doors instead of standard cabinets is sure to do the job. With a single sink option and plenty of counter space, this vanity is going to create a focal point and conversation piece in any bathroom. The white finish and contrasting black hardware add to the style and the gray quartz top is optional.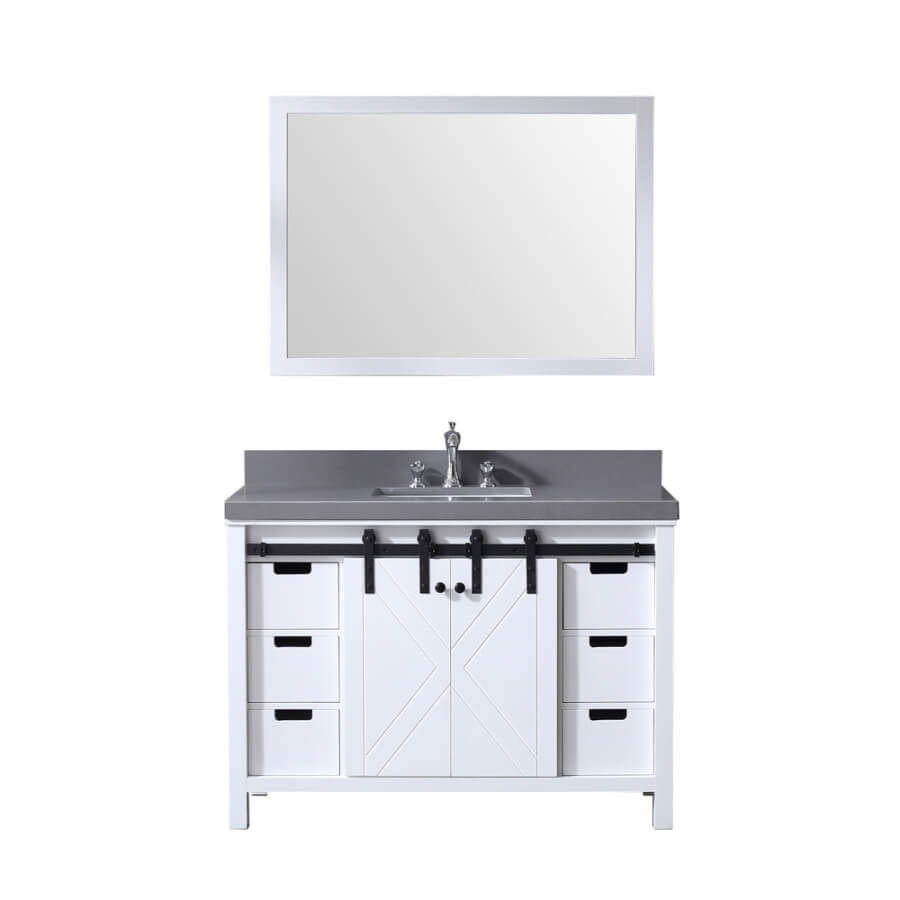 48 Inch Single Sink Bathroom Vanity in White with Barn Door Style Doors
This larger vanity with a single sink is going to change the way that you think of vanities. Its sleek design fits into several types of spaces and the pop of color with the navy blue is a great way to do something different without creating an eyesore. Plus, the counter and mirror are available, but optional, and soft-close hardware is included.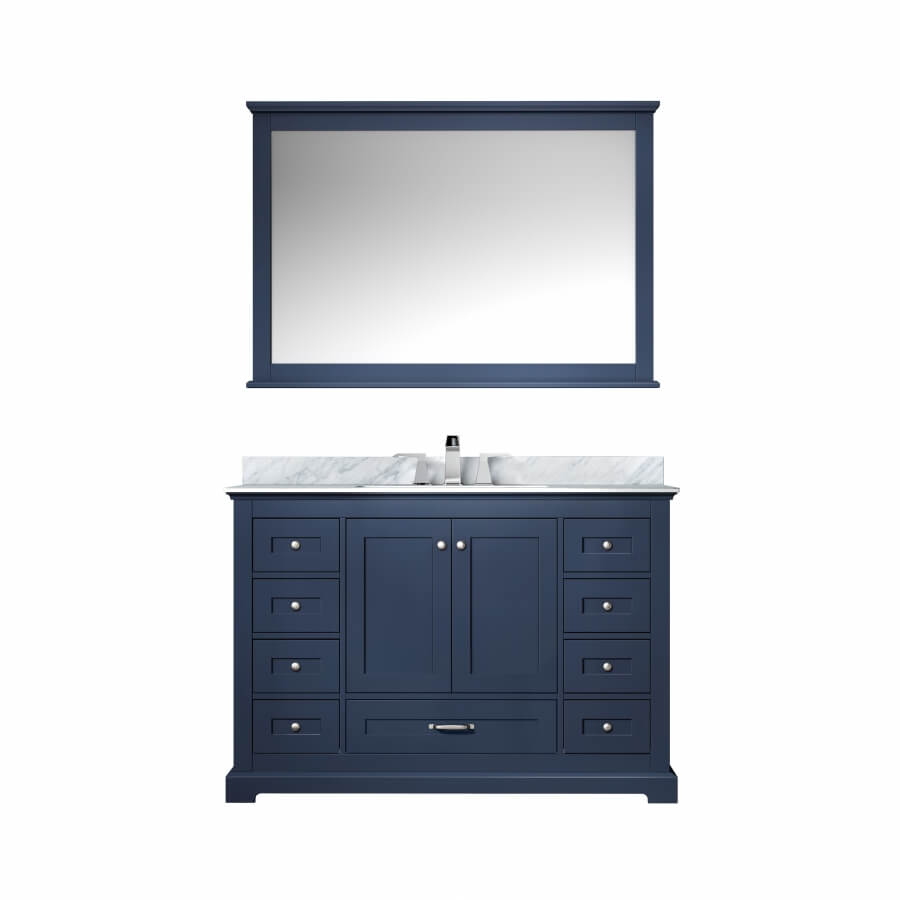 48 Inch Single Sink Bathroom Vanity in Navy Blue with Choice of No Top
Those who prefer a traditional style will love this vanity top that comes with or without a counter, and features unique molding and detail work, along with chrome hardware and an undermount sink for a seamless finish on top. It's made of premium materials and offers dual sinks without taking up too much space and includes soft-close doors and drawers for safety and comfort.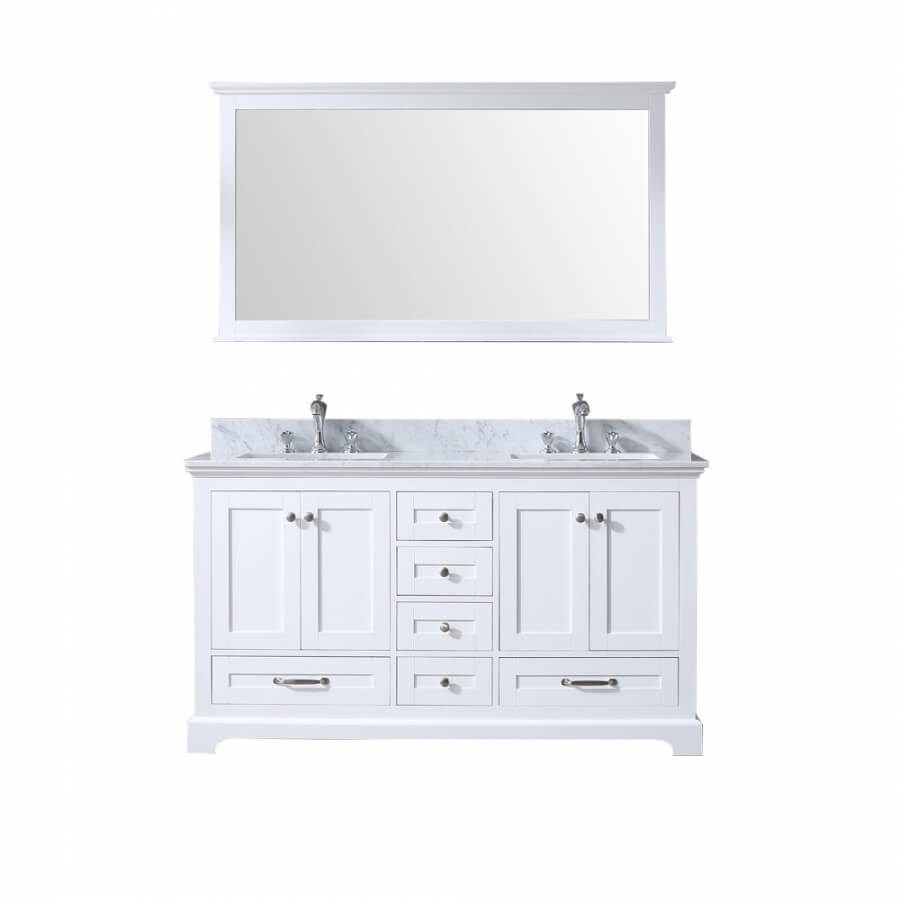 60 Inch Double Sink Bathroom Vanity in White with Choice of No Top
This dual vanity features two sinks, two cabinets, and two drawers—it's got a pair of everything to pair with your upscale bathroom design. This premium model is finished in a sleek gray and offers a simple, modern design that fits into contemporary bathroom spaces where floating vanities can add style and function while saving valuable floor space.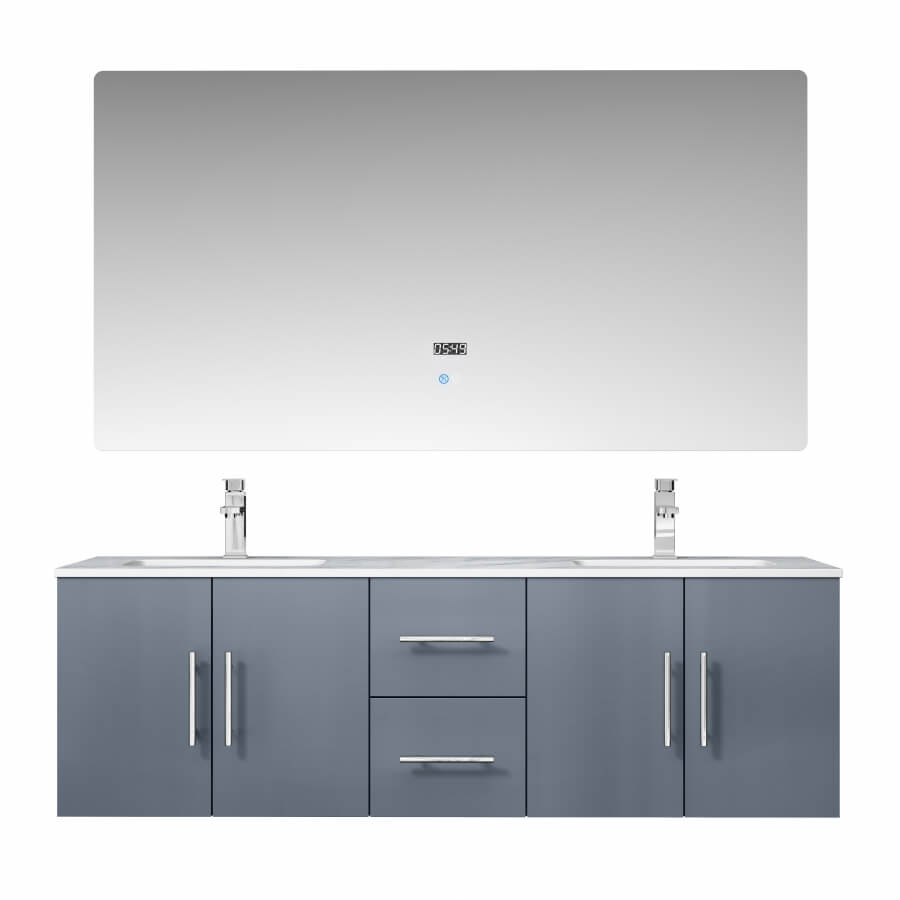 60 Inch Double Sink Wall Mounted Bathroom Vanity in Dark Gray
This wall-mounted vanity offers a more modern style, creating that floating look when you need something a little cleaner that is designed to save space. It features sleek chrome hardware to contrast the navy-blue finish and comes with an optional marble countertop for premium style and function.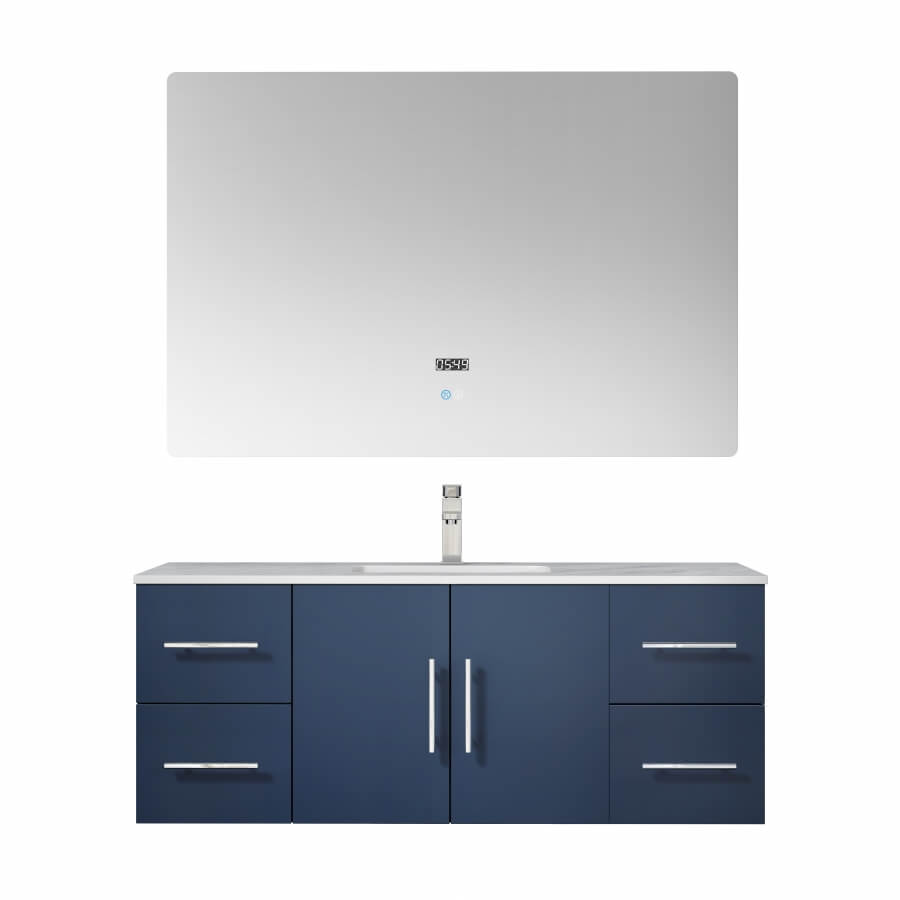 48 Inch Single Sink Wall Mounted Bathroom Vanity in Navy Blue
For the rustic bathroom, this 84-inch double vanity features a great design. With double cabinet doors under each sink and drawers between, there is plenty of room for storage and the 84 inches of counter space ensure that everyone has room to do what they need. Plus, it includes white Carrera marble countertop material and the option of adding dual mirrors.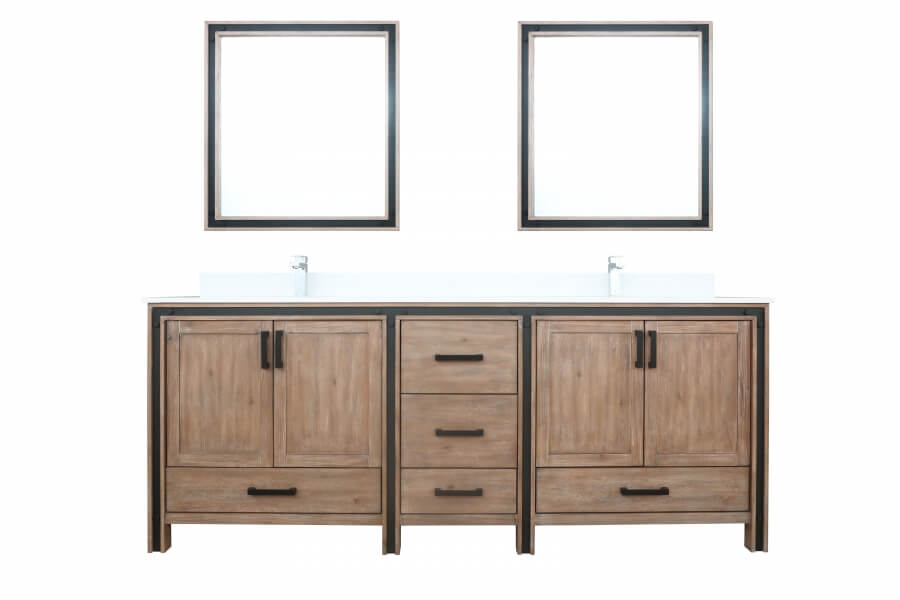 84 Inch Double Sink Bathroom Vanity in Rustic Barnwood
This modern vanity is made from hardwood materials and offers a modern finish in smooth white for a clean, crisp look. It includes an optional marble countertop or can be purchased as just the cabinet unit. There are multiple drawers for storage along with two doors that open to expose the plumbing and provide a little additional storage. The black trim and hardware details add a pop of style.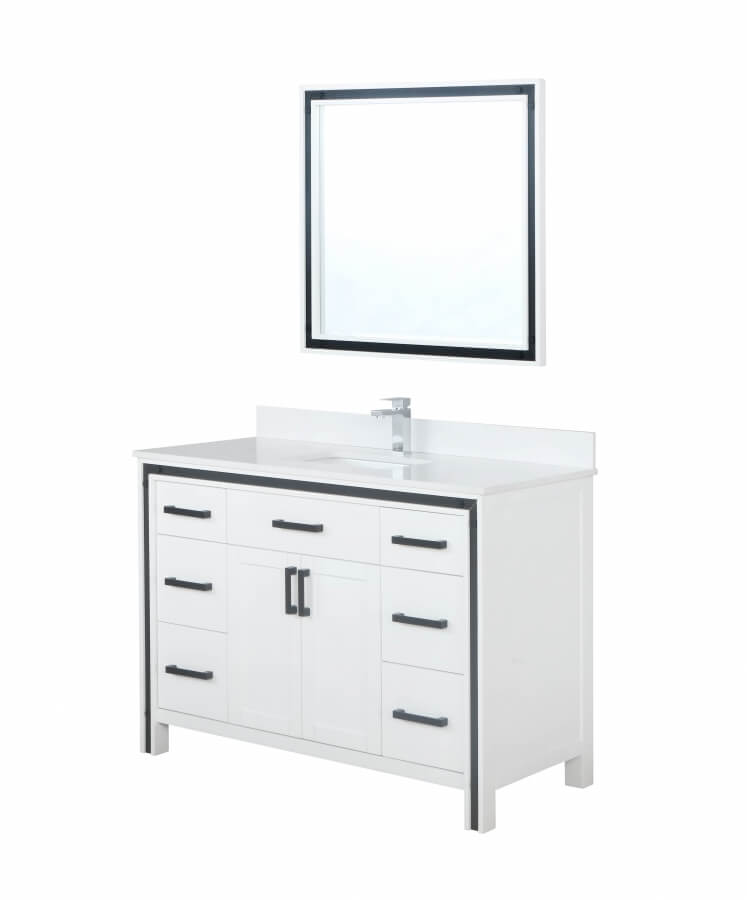 48 Inch Single Sink Bathroom Vanity in White with Choice of No Top
Check Out Our Lexora Collection Today
Lexora takes pride in creating pieces that are both stylish and functional, and in doing so without breaking the bank. The brand doesn't mass-produce products, which means there is a lot more attention to quality control, and they are consistently providing impressive warranties and guarantees to back up the quality of their products. The brand is committed to offering the best in high-end bathroom designs without the high cost, giving everyone the best of both worlds. Check out their products now and find your new bathroom vanity in no time.
---
My name is Julia Ritzenthaler, Founder and President of Unique Vanities, started in 2005. I started this business as an extension of our residential remodeling business, which focused on the design and build of custom cabinetry and architectural trim. I also worked as a financial advisor for 10 years at Ameriprise Financial, helping clients make sound money decisions, including budgeting for home improvement expenses. This expertise led me to start Unique Vanities, which offers a handpicked selection of high quality bathroom vanities, sinks, mirrors and more. You can find me most days sitting in Starbucks, my second office, or in my car driving my daughter across Dallas to gymnastics training.
---