At‌ ‌UniqueVanities.com,‌ ‌we're‌ ‌all‌ ‌about‌ ‌keeping‌ ‌up‌ ‌with‌ ‌trends‌ ‌and‌ ‌new‌ ‌design‌ ‌concepts‌ that‌ ‌are‌ ‌changing‌ ‌the‌ ‌world‌ ‌of‌ ‌bathroom‌ ‌design.‌ ‌One‌ ‌of‌ ‌the‌ ‌hottest‌ ‌trends‌ ‌in‌ ‌home‌ design‌ ‌right‌ ‌now‌ ‌is‌ ‌the‌ ‌use‌ ‌of‌ ‌barn‌ ‌doors –‌ ‌both‌ ‌for‌ ‌their‌ ‌aesthetic‌ ‌appeal‌ ‌and‌ ‌functional,‌ space-saving‌ ‌design,‌ ‌these‌ ‌doors‌ ‌are‌ ‌getting‌ ‌a‌ ‌lot‌ ‌of‌ ‌time‌ ‌in‌ ‌the‌ ‌spotlight.‌ ‌ ‌
Do‌ ‌they‌ ‌have‌ ‌a‌ ‌place‌ ‌in‌ ‌the‌ ‌bathroom,‌ ‌though?‌ ‌That's‌ ‌really‌ ‌up‌ ‌for‌ ‌debate,‌ ‌and‌ ‌also‌ ‌a‌ matter‌ ‌of‌ ‌personal‌ ‌opinion‌ ‌and‌ ‌style.‌ ‌In‌ ‌this‌ ‌article,‌ ‌we'll‌ ‌discuss‌ ‌why‌ ‌these‌ ‌doors‌ ‌are‌ ‌so‌ popular,‌ ‌whether‌ ‌they're‌ ‌a‌ ‌good‌ ‌choice‌ ‌for‌ ‌bathrooms,‌ ‌the‌ ‌pros‌ ‌and‌ ‌cons,‌ ‌and‌ ‌more.‌ ‌That‌ ‌way,‌ ‌you'll‌ ‌be‌ ‌able‌ ‌to‌ ‌make‌ ‌an‌ ‌informed‌ ‌decision‌ ‌and‌ ‌get‌ ‌your‌ ‌style‌ ‌set‌ ‌in‌ ‌the‌ ‌right‌ ‌direction.‌ ‌
Related: Master Bathroom Remodeling Trends
Why‌ ‌are‌ ‌Barn‌ ‌Doors‌ ‌Becoming‌ ‌So‌ ‌Popular?‌ ‌
All‌ ‌trends‌ ‌evolve‌ ‌similarly–‌ ‌someone‌ ‌comes‌ ‌up‌ ‌with‌ ‌an‌ ‌idea‌ ‌and‌ ‌then‌ ‌shares‌ ‌it‌ ‌with‌ ‌the‌ world.‌ ‌It‌ ‌gains‌ ‌traction,‌ ‌and‌ ‌sometimes‌ ‌it‌ ‌becomes‌ ‌a‌ ‌very‌ ‌popular‌ ‌choice.‌ ‌In‌ ‌the‌ ‌case‌ ‌of‌ barn‌ ‌doors‌ ‌for‌ ‌the‌ ‌home,‌ ‌they‌ ‌really‌ ‌offer‌ ‌the‌ ‌best‌ ‌of‌ ‌both‌ ‌worlds:‌ ‌function‌ ‌and‌ ‌style.‌ These‌ ‌doors‌ ‌are‌ ‌popular‌ ‌because‌ ‌they‌ ‌save‌ ‌space‌ ‌and‌ ‌they‌ ‌offer‌ ‌a‌ ‌unique‌ ‌look‌ somewhere‌ ‌between‌ ‌rustic‌ ‌country‌ ‌and‌ ‌industrial‌ ‌chic,‌ ‌giving‌ ‌plenty‌ ‌of‌ ‌variety.‌ ‌
Barn‌ ‌doors‌ ‌can‌ ‌also‌ ‌be‌ ‌made‌ ‌in‌ ‌almost‌ ‌any‌ ‌size.‌ ‌Tracks‌ ‌can‌ ‌be‌ ‌custom-sized‌ ‌and‌ ‌even‌ ‌the‌ ‌designs‌ ‌and‌ ‌finishing‌ ‌details‌ ‌of‌ ‌the‌ ‌door‌ ‌can‌ ‌be‌ ‌made‌ ‌to‌ ‌work‌ ‌with‌ ‌a‌ ‌certain‌ ‌space‌ or‌ ‌design‌ ‌theme.‌ ‌You‌ ‌can‌ ‌find‌ ‌doors‌ ‌off-the-rack‌ ‌that‌ ‌fit‌ ‌into‌ ‌your‌ ‌space‌ ‌to‌ ‌create‌ ‌that‌ perfect‌ ‌rustic‌ ‌look,‌ ‌but‌ ‌there‌ ‌are‌ ‌also‌ ‌some‌ ‌customizations‌ ‌available‌ ‌that‌ ‌are‌ impressively‌ ‌worth‌ ‌the‌ ‌investment.‌ ‌ ‌
80 Inch Double Sink Bathroom Vanity in White with Barn Door Style Doors
Barn‌ ‌doors‌ ‌are‌ ‌a‌ ‌hot‌ ‌trend‌ ‌for‌ ‌people‌ ‌because:‌
They‌ ‌are‌ ‌stylish‌ ‌and‌ ‌unique‌‌
They‌ ‌are‌ ‌functional‌ ‌and‌ ‌save‌ ‌space‌ ‌when‌ ‌compared‌ ‌to‌ ‌swinging‌ ‌doors‌ ‌
There‌ ‌are‌ ‌customizable‌ ‌styles‌ ‌available‌ ‌
They're‌ ‌easy‌ ‌to‌ ‌install‌ ‌and‌ ‌versatile‌ ‌in‌ ‌their‌ ‌designs‌ ‌
The‌ ‌hardware‌ ‌can‌ ‌be‌ ‌customized,‌ ‌too‌
The‌ ‌debate‌ ‌goes‌ ‌on‌ ‌as‌ ‌to‌ ‌whether‌ ‌this‌ ‌is‌ ‌a‌ ‌trend‌ ‌that‌ ‌will‌ ‌pass,‌ ‌but‌ ‌it‌ ‌is‌ ‌starting‌ ‌to‌ ‌seem‌ far‌ ‌more‌ ‌like‌ ‌a‌ ‌timeless‌ ‌upgrade‌ ‌for‌ ‌people‌ ‌who‌ ‌enjoy‌ ‌the‌ ‌style.‌ ‌Others,‌ ‌such‌ ‌as‌ ‌those‌ who‌ ‌need‌ ‌space-saving‌ ‌designs,‌ ‌may‌ ‌opt‌ ‌for‌ ‌something‌ ‌more‌ ‌stylish‌ ‌like‌ ‌a‌ ‌barn‌ ‌door‌ installation‌ ‌than‌ ‌a‌ ‌standard‌ ‌sliding‌ ‌or‌ ‌folding‌ ‌door‌ ‌that‌ ‌may‌ ‌appear‌ ‌cheap‌ ‌and‌ ‌flimsy.‌ ‌
Related: Bathroom Vanity and Sink Buying Guide‌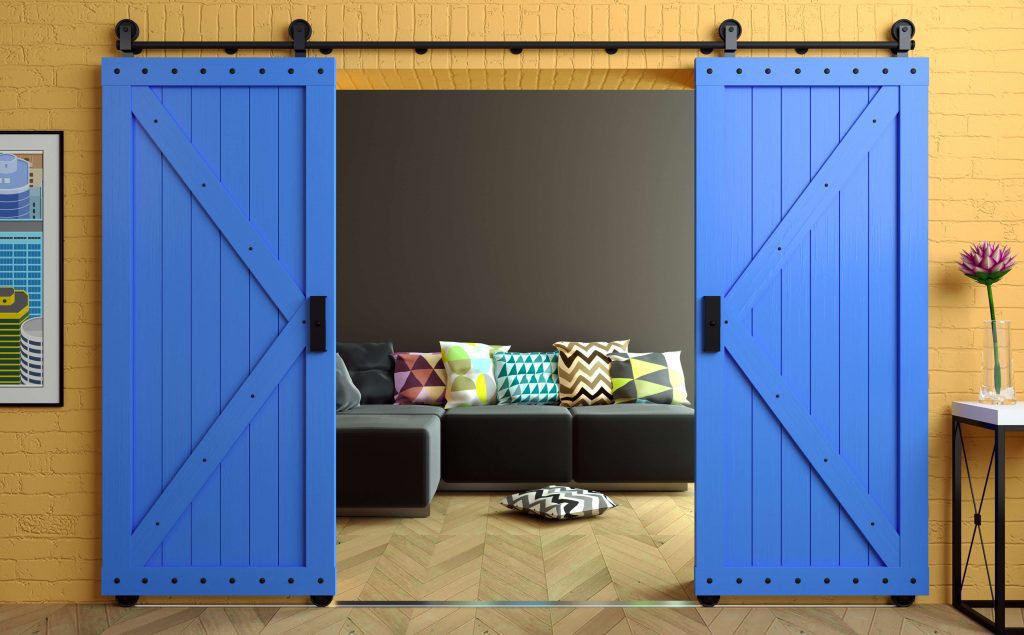 Are‌ ‌Barn‌ ‌Doors‌ ‌a‌ ‌Good‌ ‌Choice‌ ‌for‌ ‌the‌ ‌Bathroom?‌ ‌
In‌ ‌the‌ ‌bathroom,‌ ‌the‌ ‌biggest‌ ‌concern‌ ‌is‌ ‌privacy.‌ ‌As‌ ‌such,‌ ‌many‌ ‌people‌ ‌question‌ ‌whether‌ this‌ ‌is‌ ‌even‌ ‌a‌ ‌valid‌ ‌choice‌ ‌for‌ ‌the‌ ‌space–‌ ‌these‌ ‌sliding‌ ‌doors‌ ‌don't‌ ‌appear‌ ‌to‌ ‌be‌ ‌very‌ secure‌ ‌or‌ ‌private‌ ‌in‌ ‌many‌ ‌installations,‌ ‌after‌ ‌all.‌ ‌However,‌ ‌there‌ ‌are‌ ‌doors‌ ‌made‌ specifically‌ ‌for‌ ‌bathrooms‌ ‌that‌ ‌are‌ ‌going‌ ‌to‌ ‌deliver‌ ‌the‌ ‌privacy‌ ‌that‌ ‌you‌ ‌want‌ ‌and‌ ‌still‌ create‌ ‌the‌ ‌design‌ ‌aesthetic‌ ‌that‌ ‌you‌ ‌seek.‌ ‌ ‌
Barn‌ ‌doors‌ ‌can‌ ‌‌provide‌ ‌noise‌ ‌reduction‌,‌ ‌too,‌ ‌when‌ ‌you‌ ‌choose‌ ‌models‌ ‌that‌ ‌are‌ ‌made‌ ‌of‌ ‌sturdy‌ ‌materials‌ ‌and‌ ‌a‌ ‌high-quality‌ ‌design.‌ ‌These‌ ‌doors‌ ‌can‌ ‌be‌ ‌made‌ ‌of‌ ‌glass,‌ ‌wood,‌ ‌composites,‌ ‌and‌ ‌other‌ ‌types‌ ‌of‌ ‌materials.‌ ‌They‌ ‌are‌ ‌also‌ ‌well-insulated‌ ‌and‌ ‌can‌ ‌even‌ ‌be‌ ‌made‌ ‌with‌ ‌water-resistant‌ ‌finishes‌ ‌and‌ ‌materials‌ ‌so‌ ‌that‌ ‌they‌ ‌can‌ ‌function‌ ‌in‌ ‌a‌ ‌bathroom‌ space‌ ‌without‌ ‌succumbing‌ ‌to‌ ‌the‌ ‌risks‌ ‌of‌ ‌moisture‌ ‌damage.‌ ‌ ‌
If‌ ‌you‌ ‌need‌ ‌total‌ ‌noise‌ ‌elimination‌ ‌or‌ ‌want‌ ‌to‌ ‌reduce‌ ‌as‌ ‌much‌ ‌noise‌ ‌as‌ ‌possible,‌ ‌you‌ might‌ ‌consider‌ ‌adding‌ ‌a‌ ‌door‌ ‌sweep,‌ ‌weatherstripping,‌ ‌or‌ ‌other‌ ‌accessories‌ ‌that‌ ‌will‌ close‌ ‌the‌ ‌gaps‌ ‌in‌ ‌these‌ ‌sliding‌ ‌doors.‌ ‌There‌ ‌are‌ ‌even‌ ‌doors‌ ‌that‌ ‌are‌ ‌designed‌ ‌to‌ ‌provide‌ more‌ ‌noise‌ ‌reduction‌ ‌and‌ ‌privacy‌ ‌if‌ ‌you're‌ ‌willing‌ ‌to‌ ‌spend‌ ‌a‌ ‌little‌ ‌more.‌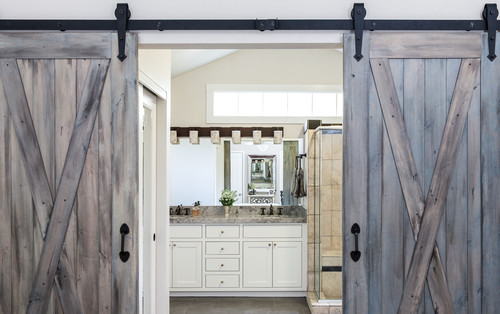 Do‌ ‌Barn‌ ‌Doors‌ ‌Add‌ ‌Value to the Home?‌ ‌
The‌ ‌next‌ ‌question,‌ ‌for‌ ‌most‌ ‌who‌ ‌are‌ ‌considering‌ ‌a‌ ‌renovation,‌ ‌is‌ ‌whether‌ ‌these‌ ‌doors‌ are‌ ‌actually‌ ‌going‌ ‌to‌ ‌add‌ ‌value‌ ‌to‌ ‌the‌ ‌home‌ ‌or‌ ‌not.‌ ‌When‌ ‌done‌ ‌right,‌ ‌the‌ ‌upgrade‌ ‌to‌ ‌the‌ bathroom,‌ ‌including‌ ‌the‌ ‌doors,‌ ‌will‌ ‌make‌ ‌a‌ ‌big‌ ‌impact‌ ‌on‌ ‌the‌ ‌home's‌ ‌value.‌ ‌In‌ ‌fact,‌ bathrooms‌ ‌are‌ ‌still‌ ‌one‌ ‌of‌ ‌the‌ ‌most‌ ‌desirable‌ ‌upgrades,‌ ‌with‌ ‌some‌ ‌offering‌ ‌impressive‌ ROIs‌ ‌and‌ ‌increasing‌ ‌sale‌ ‌prices‌ ‌substantially.‌ ‌ ‌
Of‌ ‌course,‌ ‌barn‌ ‌doors‌ ‌themselves‌ ‌are‌ ‌a‌ ‌style‌ ‌upgrade‌ ‌that‌ ‌can‌ ‌increase‌ ‌the‌ ‌value‌ ‌of‌ ‌the‌ home.‌ ‌Even‌ ‌if‌ ‌all‌ ‌you‌ ‌do‌ ‌is‌ ‌upgrade‌ ‌from‌ ‌a‌ ‌cheap‌ ‌plastic‌ ‌or‌ ‌wooden‌ ‌folding‌ ‌or‌ ‌accordion‌ door‌ ‌to‌ ‌a‌ ‌sturdy,‌ ‌well-made‌ ‌sliding‌ ‌barn‌ ‌door,‌ ‌you'll‌ ‌add‌ ‌impressive‌ ‌value‌ ‌to‌ ‌the‌ ‌space‌ without‌ ‌even‌ ‌renovating‌ ‌anything‌ ‌inside‌ ‌the‌ ‌bathroom.‌ ‌ ‌
When‌ ‌it‌ ‌comes‌ ‌to‌ ‌a‌ ‌home‌ ‌renovation,‌ ‌something‌ ‌like‌ ‌this‌ ‌will‌ ‌garner‌ ‌a‌ ‌much‌ ‌better‌ return‌ ‌on‌ ‌your‌ ‌investment‌ ‌than‌ ‌you‌ ‌might‌ ‌think.‌ ‌In‌ ‌fact,‌ ‌it's‌ ‌one‌ ‌of‌ ‌the‌ ‌best‌ ‌"profit‌ ‌for‌ ‌the‌ money"‌ ‌one-off‌ ‌renovation‌ ‌projects:‌ ‌new‌ ‌doors‌ ‌in‌ ‌your‌ ‌home.‌ ‌If‌ ‌you‌ ‌choose‌ ‌a‌ ‌stylish‌ trend‌ ‌like‌ ‌the‌ ‌sliding‌ ‌barn‌ ‌door,‌ ‌in‌ ‌the‌ ‌right‌ ‌places,‌ ‌you'll‌ ‌see‌ ‌your‌ ‌home‌ ‌value‌ ‌soar‌ ‌for‌ several‌ ‌reasons.‌ ‌ ‌
Even‌ ‌the‌ ‌doors‌ ‌alone‌ ‌can‌ ‌do‌ ‌wonders.‌ ‌According‌ ‌to‌ ‌a‌ ‌‌recent‌ ‌report‌ ‌from‌ ‌Zillow‌,‌ ‌homes‌ with‌ ‌a‌ ‌description‌ ‌that‌ ‌included‌ ‌"sliding‌ ‌barn‌ ‌doors"‌ ‌had‌ ‌sale‌ ‌prices‌ ‌13.4%‌ ‌higher‌ ‌than‌ the‌ ‌expected‌ ‌value,‌ ‌on‌ ‌average.‌ ‌
Related: Bathroom Design and Inspiration‌
Installation–‌ ‌Is‌ ‌it‌ ‌Easy?‌ ‌
Barn‌ ‌doors‌ ‌all‌ ‌feature‌ ‌a‌ ‌track-style‌ ‌system.‌ ‌The‌ ‌exact‌ ‌mechanism‌ ‌of‌ ‌the‌ ‌door‌ ‌and‌ ‌tracks‌ ‌will‌ ‌vary‌ ‌from‌ ‌one‌ ‌model‌ ‌to‌ ‌the‌ ‌next,‌ ‌but‌ ‌they're‌ ‌all‌ ‌somewhat‌ ‌similar‌ ‌in‌ ‌the‌ ‌way‌ ‌that‌ ‌they‌ ‌go‌ ‌up.‌ ‌While‌ ‌they‌ ‌‌aren't‌ ‌difficult‌ ‌to‌ ‌install‌,‌ ‌barn‌ ‌doors‌ ‌do‌ ‌require‌ ‌special‌ ‌anchoring‌ and‌ ‌installation‌ ‌hardware‌ ‌to‌ ‌ensure‌ ‌that‌ ‌the‌ ‌track‌ ‌and‌ ‌supports‌ ‌can‌ ‌actually‌ ‌hold‌ ‌the‌ door‌ ‌and‌ ‌allow‌ ‌it‌ ‌to‌ ‌operate‌ ‌properly.‌ ‌ ‌
You‌ ‌can‌ ‌find‌ ‌tips,‌ ‌videos,‌ ‌and‌ ‌valuable‌ ‌insights‌ ‌online‌ ‌to‌ ‌help‌ ‌you‌ ‌if‌ ‌you‌ ‌do‌ ‌decide‌ ‌to‌ ‌go‌ the‌ ‌DIY‌ ‌route‌ ‌here.‌ ‌There‌ ‌is‌ ‌a‌ ‌lot‌ ‌of‌ ‌information,‌ ‌including‌ ‌installation‌ ‌videos‌ ‌from‌ ‌home‌ improvement‌ ‌experts‌ ‌and‌ ‌contractors,‌ ‌so‌ ‌it's‌ ‌not‌ ‌unfathomable‌ ‌that‌ ‌you‌ ‌could‌ ‌do‌ ‌it‌ ‌on‌ your‌ ‌own.‌ ‌However,‌ ‌there‌ ‌are‌ ‌several‌ ‌factors‌ ‌to‌ ‌consider‌ ‌in‌ ‌the‌ ‌process.‌ ‌You'll‌ ‌have‌ ‌to‌ make‌ ‌sure‌ ‌that‌ ‌you're‌ ‌ready‌ ‌for‌ ‌the‌ ‌job‌ ‌and‌ ‌aware‌ ‌of‌ ‌how‌ ‌to‌ ‌safely‌ ‌and‌ ‌properly‌ ‌install‌ these‌ ‌doors‌ ‌before‌ ‌you‌ ‌begin.‌ ‌
Ultimately,‌ ‌it's‌ ‌best‌ ‌to‌ ‌leave‌ ‌the‌ ‌installation‌ ‌to‌ ‌the‌ ‌professionals.‌ ‌Even‌ ‌if‌ ‌you‌ ‌find‌ stylish‌ ‌doors‌ ‌that‌ ‌you‌ ‌love‌ ‌on‌ ‌a‌ ‌website,‌ ‌you'll‌ ‌want‌ ‌to‌ ‌consider‌ ‌hiring‌ ‌a‌ ‌handyman‌ ‌to‌ ‌install‌ them‌ ‌so‌ ‌that‌ ‌you're‌ ‌not‌ ‌trying‌ ‌to‌ ‌do‌ ‌the‌ ‌work‌ ‌alone.‌ ‌If‌ ‌nothing‌ ‌else,‌ ‌when‌ ‌you're‌ ‌making‌ this‌ ‌type‌ ‌of‌ ‌investment,‌ ‌you‌ ‌don't‌ ‌want‌ ‌to‌ ‌waste‌ ‌the‌ ‌money‌ ‌by‌ ‌messing‌ ‌up‌ ‌the‌ installation.‌ ‌In‌ ‌serious‌ ‌situations,‌ ‌you‌ ‌may‌ ‌risk‌ ‌damaging‌ ‌the‌ ‌doors‌ ‌or‌ ‌causing‌ ‌injury‌ ‌to‌ yourself‌ ‌or‌ ‌someone‌ ‌in‌ ‌your‌ ‌home‌ ‌if‌ ‌the‌ ‌installation‌ ‌isn't‌ ‌done‌ ‌correctly.‌ ‌ ‌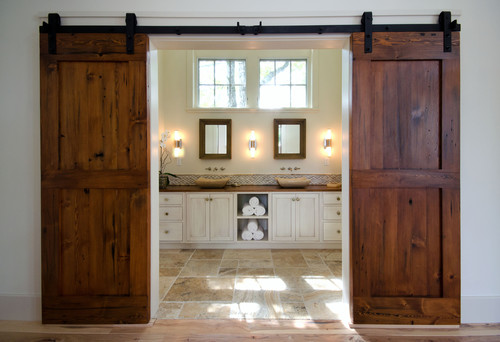 The‌ ‌"Barn‌ ‌Door"‌ ‌Look‌ ‌Slides‌ ‌Right‌ ‌Into‌ ‌the‌ ‌Modern‌ ‌Bathroom‌ ‌
If‌ ‌you're‌ ‌still‌ ‌questioning‌ ‌whether‌ ‌these‌ ‌doors‌ ‌are‌ ‌even‌ ‌going‌ ‌to‌ ‌fit‌ ‌your‌ ‌needs,‌ ‌let‌ ‌alone‌ whether‌ ‌these‌ ‌doors‌ ‌suit‌ ‌your‌ ‌style,‌ ‌you‌ ‌are‌ ‌in‌ ‌for‌ ‌a‌ ‌treat.‌ ‌When‌ ‌we‌ ‌talk‌ ‌about‌ ‌"barn‌ doors",‌ ‌we're‌ ‌not‌ ‌just‌ ‌talking‌ ‌about‌ ‌the‌ ‌standard‌ ‌models‌ ‌on‌ ‌the‌ ‌market.‌ ‌This‌ ‌term‌ ‌is‌ often‌ ‌used‌ ‌to‌ ‌describe‌ ‌the‌ ‌entire‌ ‌market‌ ‌of‌ ‌sliding‌ ‌interior‌ ‌doors,‌ ‌including‌ ‌those‌ ‌made‌ of‌ ‌wood,‌ ‌glass,‌ ‌and‌ ‌other‌ ‌materials.‌ ‌ ‌
Sliding‌ ‌doors‌ ‌are‌ ‌functional,‌ ‌primarily‌ ‌because‌ ‌they‌ ‌help‌ ‌to‌ ‌create‌ ‌a‌ ‌division‌ ‌of‌ ‌space‌ and‌ ‌allow‌ ‌the‌ ‌rooms‌ ‌to‌ ‌still‌ ‌flow.‌ ‌These‌ ‌doors‌ ‌are‌ ‌available‌ ‌in‌ ‌several‌ ‌styles,‌ ‌sizes,‌ ‌and‌ designs‌ ‌today,‌ ‌and‌ ‌can‌ ‌even‌ ‌be‌ ‌custom-designed‌ ‌or‌ ‌customized‌ ‌from‌ ‌pre-fab‌ ‌models‌ ‌to‌ suit‌ ‌your‌ ‌needs.‌ ‌In‌ ‌a‌ ‌modern‌ ‌bathroom‌ ‌space‌ ‌where‌ ‌substance‌ ‌is‌ ‌as‌ ‌important‌ ‌as‌ ‌style,‌ the‌ ‌space-saving‌ ‌functionality‌ ‌of‌ ‌the‌ ‌sliding‌ ‌barn‌ ‌door‌ ‌can't‌ ‌be‌ ‌ignored.‌ ‌ ‌
Sliding‌ ‌barn‌ ‌doors‌ ‌are‌ ‌more‌ ‌aesthetically‌ ‌appealing‌ ‌than‌ ‌traditional‌ ‌doors,‌ ‌whether‌ ‌they‌ ‌are‌ ‌opened‌ ‌or‌ ‌closed.‌ ‌This‌ ‌means‌ ‌that‌ ‌they‌ ‌can‌ ‌be‌ ‌an‌ ‌art‌ ‌piece,‌ ‌of‌ ‌sorts‌ ‌in‌ ‌addition‌ ‌to‌ ‌being‌ ‌a‌ ‌functional‌ ‌tool.‌
Related: 8 Top Bathroom Remodeling Trends of 2020-2021‌
84 Inch Double Sink Bathroom Vanity in Ash Gray with Barn Door Style Doors
Considerations‌ ‌in‌ ‌Choosing‌ ‌a‌ ‌Door‌ ‌
If‌ ‌you‌ ‌are‌ ‌going‌ ‌to‌ ‌choose‌ ‌a‌ ‌barn‌ ‌door‌ ‌style,‌ ‌you'll‌ ‌have‌ ‌some‌ ‌things‌ ‌to‌ ‌keep‌ ‌in‌ ‌mind‌ ‌in‌ ‌your‌ ‌search.‌ ‌First‌ ‌and‌ ‌foremost,‌ ‌if‌ ‌you‌ ‌choose‌ ‌the‌ ‌size‌ ‌and‌ ‌style‌ ‌of‌ ‌the‌ ‌door‌ ‌properly,‌ ‌it‌ ‌will‌ ‌eliminate‌ ‌many‌ ‌of‌ ‌the‌ ‌concerns‌ ‌for‌ ‌privacy.‌ ‌Some‌ ‌people‌ ‌automatically‌ ‌discount‌ ‌these‌ ‌doors‌ ‌because‌ ‌they‌ ‌don't‌ ‌latch‌ ‌and‌ ‌lock‌ ‌traditionally,‌ ‌but‌ ‌they‌ ‌can‌ ‌do‌ ‌a‌ ‌lot‌ ‌more‌ ‌for‌ ‌privacy‌ ‌than‌ ‌you‌ ‌might‌ ‌think‌ ‌when‌ ‌chosen‌ ‌properly.‌ ‌ ‌
For‌ ‌starters,‌ ‌when you choose a door, pick one that is bigger than the opening to offer additional privacy. Also, think about whether you want to have the door match or fit the design on one side or both. Some people get so caught up in all the details that they might not think about how the door needs to blend seamlessly into both spaces. If you take the time to see what's out there, you'll quickly see that you're not nearly as limited as you think.
When it comes to upgrading the bathroom, the barn door could be the look you want. It's not for every space, but as you've surely seen, it can do some pretty perfect things for the right space. Plus, it offers a much more stylish way to address space issues than folding doors of old, making it feel less like "settling" when you choose a stylish barn door instead.
Related: How to Make a Bathroom Look and Feel Luxurious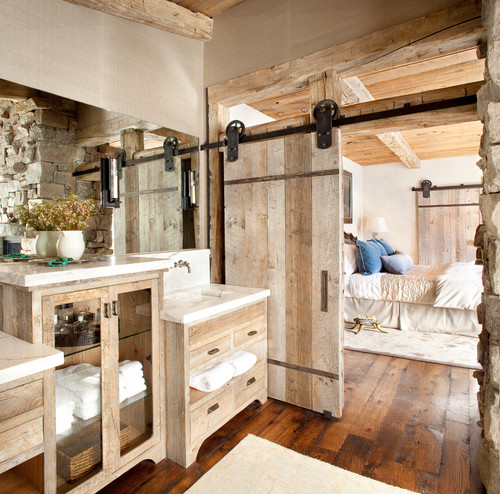 Resources
https://www.jimenezphoto.com/sliding-barn-door-bathroom-privacy/
https://www.mrhandyman.com/handyman-services/doors/barn-doors/barn-doors-in-bathrooms/
https://www.mrhandyman.com/blog/2019/july/how-to-measure-for-a-sliding-barn-door/
https://www.ortalheat.com/blog/these-4-eye-catching-upgrades-can-help-boost-your-homes-value
https://soundproofguide.com/how-to-soundproof-barn-doors/
https://www.homedepot.com/c/ah/how-to-install-barn-doors/9ba683603be9fa5395fab90d91dd08b
https://vibahardware.com/blogs/news/do-barn-doors-need-a-bottom-guide