What would you make of the following headline: "Transitional becomes the No. 1 style as farmhouse loses steam, according to the U.S. Houzz Bathroom Trends Study"?
If you are like other homeowners, you'd think that it was a valuable little tip from a major home design and decor website, and something to consider if you too were planning a master bathroom remodel in the coming year. While it is from a 2019 report, it identifies what is sure to be the dominant look in everything from paint colors to bathroom fixtures.
So, just what is transitional style? That same source noted that it is a modern, contemporary space. It is dominated by clean lines and neutral, soothing colors. Transitional is noted for its blend of classic elements with contemporary looks, so "a Shaker-style vanity with sleek hardware and streamlined lighting and mirrors" would appear in a transitional bathroom upgrade.
It is important to note the most popular style because, as reported,
Nine in 10 homeowners change the style of their master bathroom during renovation, and more than one-fifth (21%) choose transitional style, making it the most popular design style for updated master bathrooms.

Houzz Top Styles, Colors and Upgrades for Master Bath Remodels in 2019, by Erin Carlyle
What other trends dominated the bathroom upgrade category for 2019? Let's consider them one-by-one:
What are the Top Bathroom Colors?
As that one trend report itemized, it is the neutral palette that is being put to use to coordinate so seamlessly with the transitional style and its variations. Because of that, homeowners and design experts reported the use of the following colors:
White or pale wood for vanities as well as on counter tops
Grey and white hues for flooring
Grey and white colors for walls
White and grey were dominant colors throughout, and even shower walls incorporated lighter hues like beige, white or grey.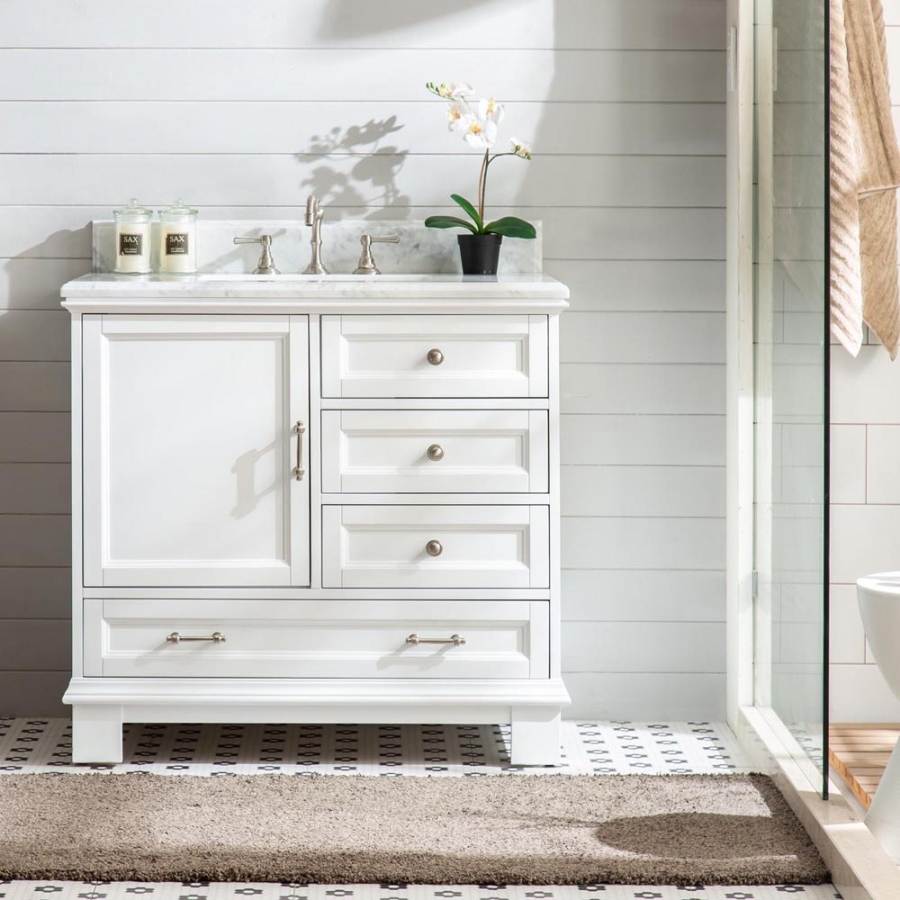 Major Bathroom Changes
One of the greatest or most distinct changes in the bathroom update trends is the amount spent, with increases to budgets beginning at around $1k and going upward. Additionally, it was the master bathroom shower that seemed to garner the greatest degree of attention with many opting to increase the size of the shower while maintaining the square footage of the pre-existing bathroom.
Major features like cabinetry are still a focal point in most bathroom upgrades, with countertops and vanity cabinets being changed and updated in 77% to 80% of master bathroom projects. And because the changes made during these updates are substantial, an increasing number of homeowners turn to bathroom specialists for the work. For example, roughly 53% of owners admitted to hiring a general contractor in 2019, up by 7 points from the 46% that worked with these experts in the previous year. 83% of all upgrades feature professionals of one form or another.
Top Bathroom Upgrades
As noted, a large portion of those doing bathroom upgrades opted to increase the size of the shower, without expanding the overall size of the room. Naturally, this indicates that such a decision comes at a cost. The most common change and top upgrade is to forgo the bathtub and opt for a much larger shower stall. As the report indicated, most are "pulling the plug on bathtubs," and around 24% opted to remove a tub, while 20% remained tub-free.
And if tubs are a part of a master bathroom upgrade, they are free-standing and flat-bottomed bathtubs as opposed to being part of a shower and tub combination. The top shape among all new tub installs was the free-standing and flat-bottomed option.
Another of the top trends is to replace flooring and wall finishes outside of the shower area. As noted, 84% replace the room's floors while that same number improve the walls outside of the shower space.
Customized vanities also rate among the top trends with around 77% admitting that this was a key component of their master bathroom update. Describing their choices as custom to semi-custom vanities, they included floating or wall-mounted sinks, Shaker doors (in line with the transitional trend), and free-standing vanities. Vanity updates also included an increase in size with the shift going from one sink to two.
Most Popular Bathroom Wall Finishes
The big changes in wall finishes are also something to note if planning a master bathroom upgrade. The walls outside of the shower were, mostly, finished with paint. Around 74% of all projects relied on painted finishes, but the remainder opted for the classic porcelain or ceramic tile finish.
Most Popular Bathroom Flooring Materials
Trends rarely lie, and it is interesting to note that as one of the top trends is flooring trends, alternative flooring materials are becoming quite popular. According to the report,
ceramic/porcelain tile continues to be the most popular material for flooring outside of the shower (62%). The popularity of natural stone for flooring is on the decline (25% in 2019 versus 30% in 2017). Instead, materials such as vinyl/resilient flooring and engineered wood are on the rise.

Houzz Top Styles, Colors and Upgrades for Master Bath Remodels in 2019, by Erin Carlyle
What are Some Updated Luxury Features in the Bathroom?
Lastly, one of the more unique aspects of the data is the evidence that points to homeowners leaning towards premium fixtures and features throughout. For example, roughly 11% of all upgrades featured at least one premium addition. This included simple upgrades such as rainfall showers and single-piece toilets. However, there were also double flush toilets and wall mount toilets in abundance. There were dual showers, body sprayer features, steam showers, and thermostatic mixing shower features. For tubs, soaking tubs, two-person tubs, and an array of whirlpools figuring prominently.
There was also an investment in higher tech toilets, too. With everything from self-cleaning and seat heating models of toilets to showers with built in speakers, lighting, and digital controls, to bathtubs with headed seating, the technological boom spilled over into the master bathroom upgrade.
Do you have to incorporate all of these same trends in your master bathroom updates? No, but if you are doing a remodel for one of the three most common reasons: improved function, esthetics or value, you certainly want to explore what many others have done. Consider simple upgrades if your budget is limited, or go for those major updates and get your bathroom as trendy as possible for 2020.

---
My name is Julia Ritzenthaler, Founder and President of Unique Vanities, started in 2005. I started this business as an extension of our residential remodeling business, which focused on the design and build of custom cabinetry and architectural trim. I also worked as a financial advisor for 10 years at Ameriprise Financial, helping clients make sound money decisions, including budgeting for home improvement expenses. This expertise led me to start Unique Vanities, which offers a handpicked selection of high quality bathroom vanities, sinks, mirrors and more. You can find me most days sitting in Starbucks, my second office, or in my car driving my daughter across Dallas to gymnastics training.
---
More Great Bathroom Remodel Trends Resources
Top Styles, Colors and Upgrades for Master Bath Remodels in 2019
The 6 Best Rain Shower Heads of 2020