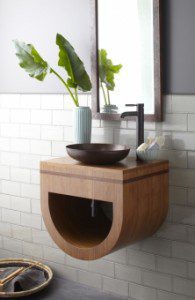 We recently got in touch with Jared becker, VP of Design at Walker Zanger, to offer up a few quick tips on how to maximize space in a small bathroom. Here are the tips he had to offer!
Use dark colors: Dark saturated colors actually make a room seem bigger.  Make sure that your bathroom has nice lighting though, or else the room may feel more like a cave.
Create a dam-less entry into the shower: By carrying floor material all the way through the shower, there becomes an uninterrupted flow of tile that visually stretches the length of the room.
Install wall mounted faucets: Incorporate a counter with a large sink by using wall mounted faucets and plumbing. Not only will this maximize space, but it will also give a custom look to your bathroom.
Utilize large format tiles on the floor: Larger tile will make the space feel larger and limit the amount of grout within the space. An excessive amount of grout will attract unwanted attention by the eye.
Select a larger vanity: Contrary to what you may think, when selecting a vanity, choose one of larger scale with a counter that reaches across the room and fills the space.  Just because it is a smaller room, doesn't mean you want use smaller vanities or sinks.
Choose an accent wall: Do a floor-to-ceiling application of continuous pattern that will create a flow within the room. With one constant flow of pattern, you avoid chopping up the room and making it feel smaller.