As people are spending more time than ever at home these days, renovations are at the top of the list. Of course, it's natural to want to choose the best designs and that requires knowing what they are. In this guide, we'll cover all of the latest trends and designs that are changing the way people look at the bathroom, from floating vanities and modern flooring to clean spaces and materials that promote a healthy home.
The bathroom is a space that requires unique considerations. It has to function, but you also want it to be stylish. Fortunately, modern designs and decor make it easy for you to get the best of both worlds. Make sure that you take the time to consider your goals in redesigning a bathroom because all of the different trends out there have a purpose.
For example, if you want to create a more open space that appears to have more floor area, you could choose a floating vanity and a seamless shower entry to make the room flow. If you are seeking better lighting, you'll want to check out the upgraded vanity lighting options available today. While you're planning and brainstorming your bathroom renovation, here's what you need to know.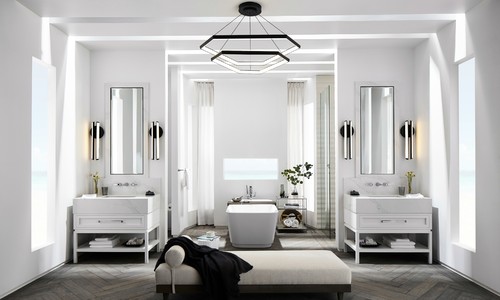 What's Trending Now in Bathroom Remodels?
Right now, the spa-style is hot. Everyone is looking to create relaxing spaces so that they can enjoy a little getaway right at home. The pandemic has changed the way people get out and enjoy the world, causing more of us to try to find comfort in new ways at home. A little bit of an investment in your master bathroom will not only give you a new space to enjoy, but it can add value to your home for the future, too.
Right now, the biggest remodel trends are in flooring, floating vanities, and fashionable layered lighting that changes the way you can use your bathroom space.
Related: 8 Top Bathroom Remodeling Trends of 2020-2021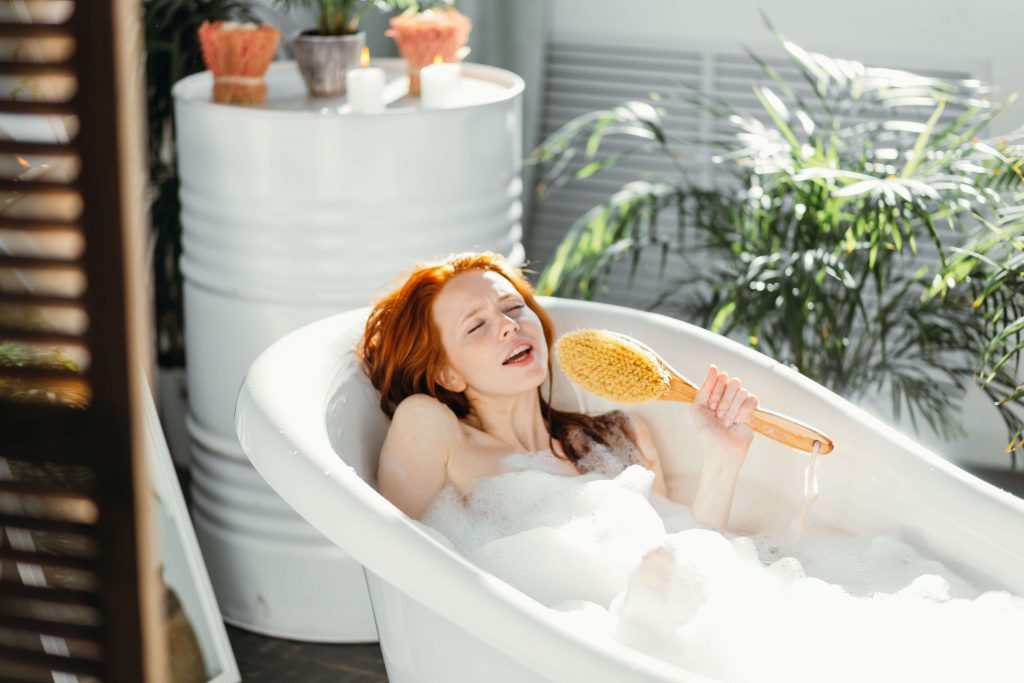 Bathroom Flooring
The floors of bathrooms are changing, with more people seeking out large, oversized tiles that give the appearance of more floor space. Some people are also choosing laminate or wood tiles, creating a wood look instead of a standard tile finish. Still more will go the extra mile and upgrade to a marble or granite tile for the ultimate in luxury when pulling out all the stops.
Focal tiles are also popular—creating a flowing space and then using small tiles to create a pop of color and design. This might not fit every space, but it's a fun way to draw attention to the floor and create a unique touch.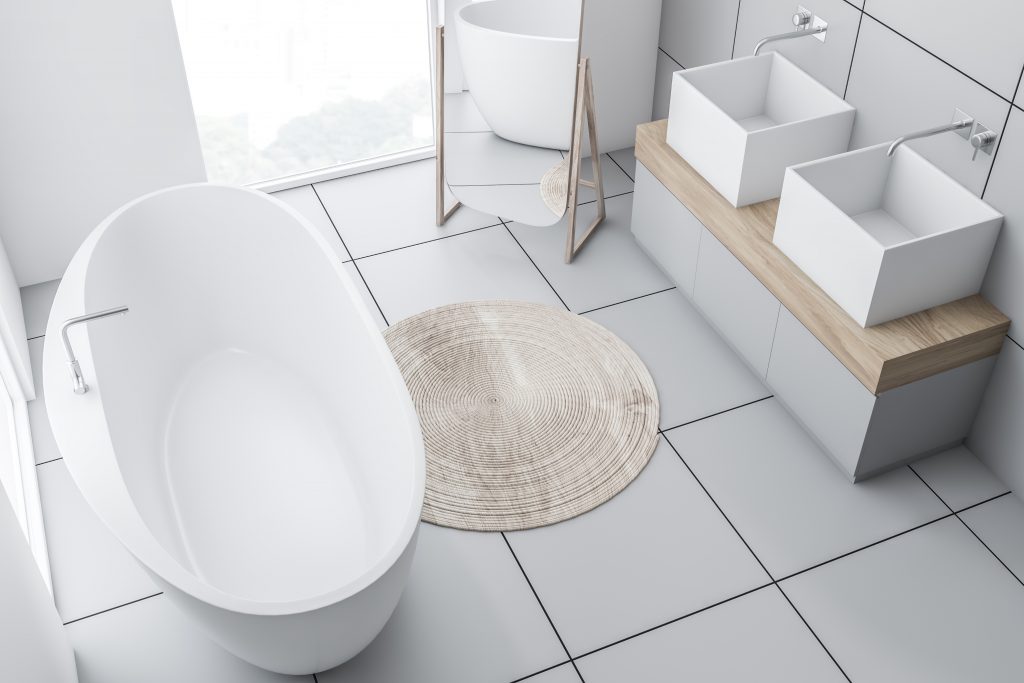 Floating Bath Vanities
Another really big trend right now is the floating vanity. As people search for functional ways to increase their space, they enjoy finding premium design choices like this. Floating vanities come in all sizes and styles, feature single and double sinks, and can be installed in just about any space. They also have a wide selection of finishes and counter options, including marble, granite, and others.
These vanities come in every shape and size you could imagine and will sit off the floor to create an illusion that there is more space. They also hide the plumbing fixtures, which makes them better than wall-mounted sinks or pedestal sinks that may leave plumbing exposed.
Related: Bathroom Design and Inspiration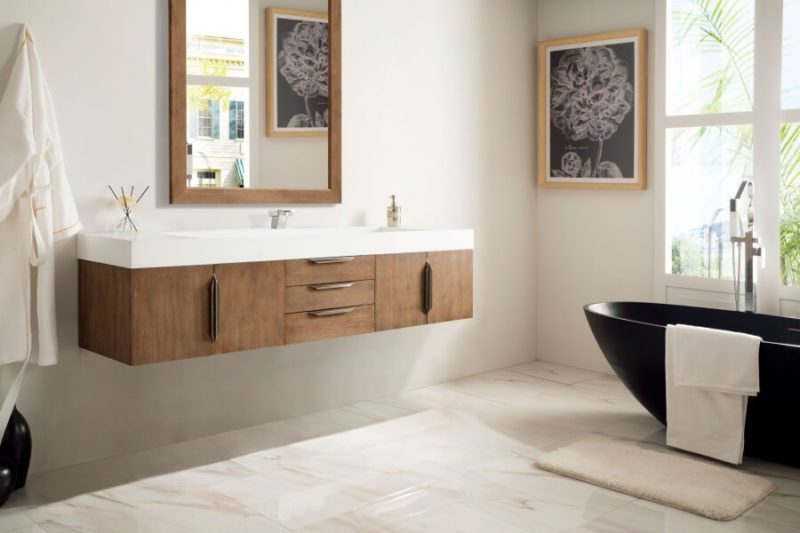 73 Inch Single Sink Bathroom Vanity in Latte Oak
Spa Inspired Showers and Tubs
Continuing with the spa theme, impressive showers with multiple shower heads and other features are trending right now as more people seek that luxury experience at home. From walk-in showers that are almost rooms of their own to luxurious soaking tubs that are roomy enough for two, the focus is on creating a getaway right at home.
The modern bathroom is no longer just about getting clean, and people are taking that to all kinds of new levels. Plus, the selection of tub and shower styles available are giving people more options than ever for decorating their perfect new space without spending a fortune.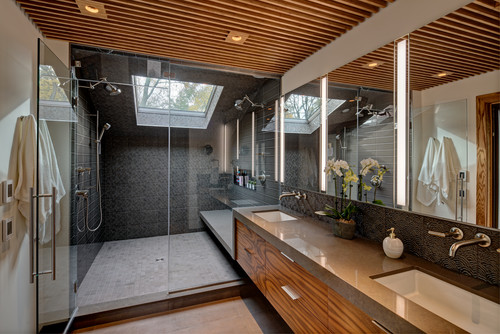 Hygienic Bathroom Surfaces
As people become more concerned with cleanliness in the home, choosing non-porous and easy-to-clean surfaces is a big trend. Fortunately, in the bathroom, the majority of available finishes already offer this feature, so it won't be hard to find.
Smooth tiles, larger pieces, fewer seams, and less wood are all popular trends. People are looking for the best features and fixtures with easy cleaning in mind. You don't have to make this a focal point of your own design, but it's definitely something to consider. Keeping cleaning to a minimum in the bathroom can add to the enjoyment of the space, too.
Bold Bath Designs
Graphics and design are hot right now. The modern, minimalist bathroom is still a popular choice, but more people are also going out on a limb to try bold prints, bright colors, and unique designs that create a totally different finish than anything you've seen before. Patterns like dots and dashes, and even animal prints, are becoming quite popular.
People are also choosing brighter and bolder paint colors. Did you know the right dark, saturated color and lighting combination can actually open up your bathroom and create the illusion of more space? You have to work to find the balance and not turn the space into a cave, but it can be done. White or light colors are no longer the only choices.
Related: 12 Designer Tips Make a Small Bathroom Bigger
Interior Design Details
Another hot area of focus that didn't always get much attention is the detail work in your bathroom—what kind of accents and hardware are you using? Everything from the difference between chrome and bronze finishes to the style of the hardware is going to make a difference in your space. Choose decorative handles and pulls that speak to your design and help tie the room together.
People going for the spa feel will choose soft lighting, candles, greenery, and other details to continue the relaxing feel of the space and add to the comfort. You can even choose hardware, finishes, and other details based on the type of space that you want to create, the theme of your design, or just what you like. It's about paying attention to the details, no matter what that means to you.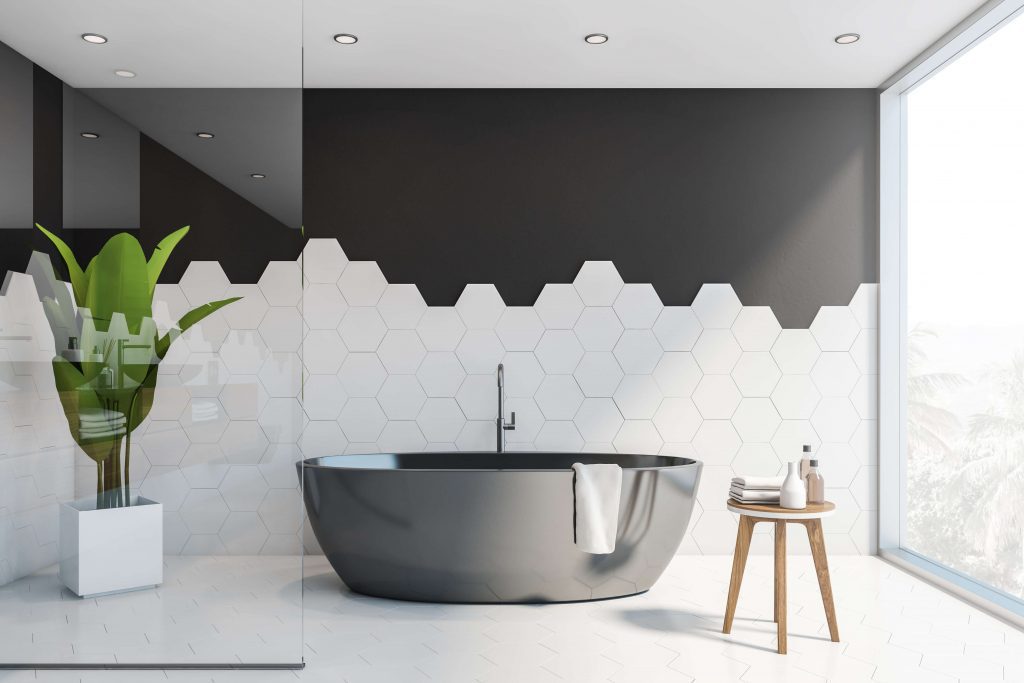 Lighting Trends
Bathroom lighting is changing, too. More people are looking for layered effects that offer style and function without the same old bathroom light fixtures. You'll find plenty of vanity mirror lighting and overhead bathroom lighting that can revolutionize your space.
There are sconces, multi-light fixtures, fan/light combos, and more. Some people are even choosing to add ceiling fans to their bathroom space so that they can have more airflow and create the right overhead lighting at the same time. It's best to use upward lighting for ambient light, while many people are choosing much more deliberate, stylish task lighting than ever before, too.
4 Light Vanity Strip Lighting Oil Rubbed Bronze
The biggest bathroom lighting trends include:
Better vanity lighting
Layered lighting for tasks and ambiance
More accent lighting
Statement pendant lighting
Alternative exhausting options (to avoid using the standard light/fan combo)
Eco-friendly fixtures
Non-traditional sconces and vanity lighting
These are just a few of the things people are doing in their lighting. Of course, remember to purchase eco-friendly LEDs for all of your fixtures to start the sustainability trend. Speaking of which, that's the next big thing in bathrooms for 2021.
Related: 7 Ways To Brighten Your Dark Bathroom
Sustainability
One area of focus that has little to do with design is the growing trend of creating sustainable spaces. From the materials used to the type of appliances and fixtures that are installed, people are looking for ways to reduce their impact and create a better space for their families. You can find sustainable building materials like recycled flooring, light fixtures that provide long-term LED lighting that won't use much energy, and more.
Eco-conscious fixtures are easy to find, including low-flow toilets and faucets, along with vanities that are made from recycled materials and designed to be eco-friendly. You can search for sustainable bathroom fixtures, including low-wattage lighting, eco-friendly exhaust fans, and so much more.
Choose as many natural materials as you can. If you've got the budget, go with the man-made tile as opposed to the manufactured product. Stick with natural linens and materials, and find pieces that are made to be eco-friendly if you want the best outcome here.
You can even find aerators and other add-ons that you can use to enhance your new sustainable space and get the look that you want without compromise.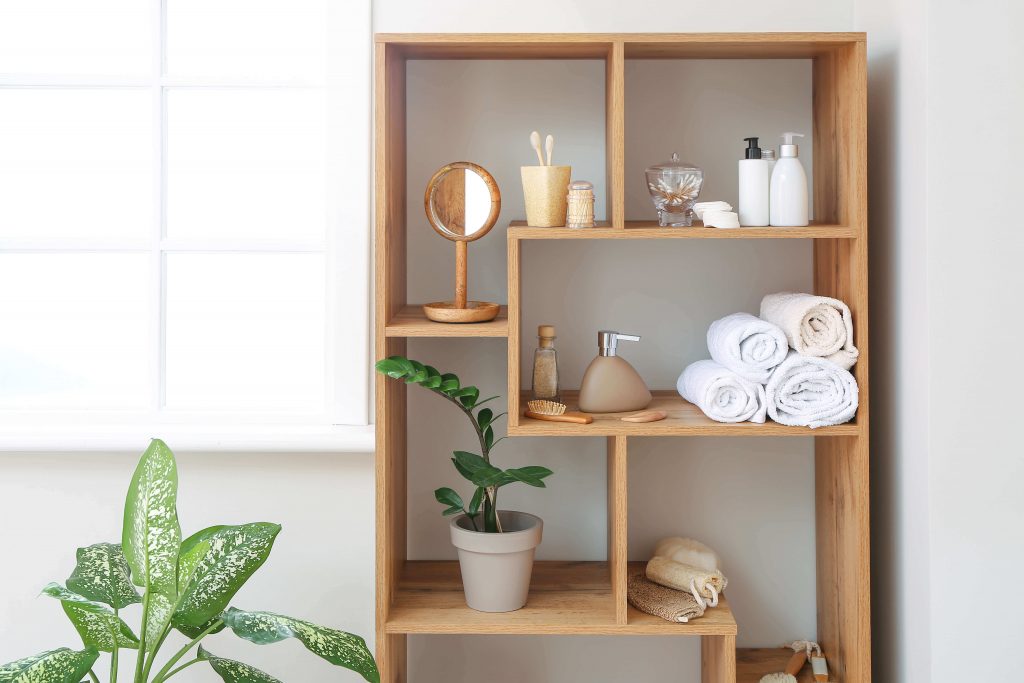 What Inspires You?
Now that you've seen what's trending for 2021, which designs, ideas and styles do you like best? You might be looking for something specific, or perhaps you just wanted a little inspiration for your own unique design. Take the time to consider all of the highlights on this list and how you can incorporate them into your own space.
In no time, you'll have a bathroom that stands out and shows off your style, giving you the space that you've always wanted. If we've learned anything in the past year, it's that we may as well be comfortable at home, so why not start in the bathroom and see how you can take advantage of these design trends to upgrade your space? Get started now.
Related: How to Remodel a Bathroom on a Budget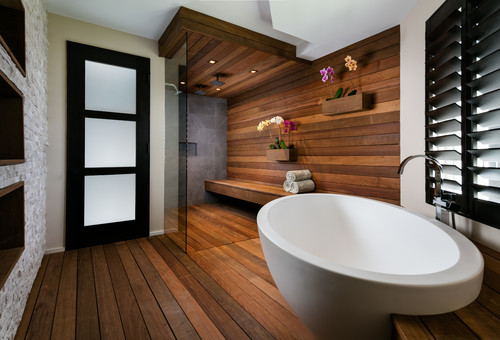 ---
My name is Julia Ritzenthaler, Founder and President of Unique Vanities, started in 2005. I started this business as an extension of our residential remodeling business, which focused on the design and build of custom cabinetry and architectural trim. I also worked as a financial advisor for 10 years at Ameriprise Financial, helping clients make sound money decisions, including budgeting for home improvement expenses. This expertise led me to start Unique Vanities, which offers a handpicked selection of high quality bathroom vanities, sinks, mirrors and more. You can find me most days sitting in Starbucks, my second office, or in my car driving my daughter across Dallas to gymnastics training.
---
Resources
https://www.bhg.com/bathroom/remodeling/planning/2021-bath-trends/
https://www.homesandgardens.com/news/bathroom-trends-203661
https://www.renoassistance.ca/en/bathrooms/bathroom-trends/
https://www.apartmenttherapy.com/bathroom-trends-for-2021-36857290
https://victoriaplum.com/blog/posts/bathroom-trends-2021
https://www.interiorzine.com/2020/04/25/bathroom-trends-2021-2022-designs-colors-tiles-ideas/