How is your bathroom? Is it a spacious and bright oasis, or is it a dark and dingy closet under the stairs that you'd sooner escape than spend a quiet moment out of the day in? If you are leaning more towards the latter, know that you are not alone. When it comes to small apartments and houses with few windows, it can be hard getting light into the little nooks and crannies of our homes.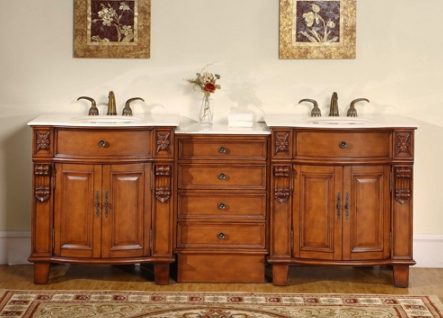 84 Inch Antique Brown Double Sink Bathroom Vanity with Marble
This is problematic for a bathroom, though. Between showers, self-care, and the obvious personal bio-breaks, we spend a surprising amount of time in the bathroom. These spaces should be inviting and inspiring. After all, it was in the bathtub that Archimedes exclaimed "Eureka!" and thereafter made it common knowledge that all of the best ideas are had in the bathroom. If you are stuck in a windowless bathroom, know that there are a few ways you can add some light. Follow these quick and easy seven tricks, and you'll be spending hours lounging and relaxing in the bathtub, soaking up inspiration.
Related: 8 Top Bathroom Remodeling Trends of 2020-2021

#1 – Start by Adding Some Candles and Lanterns
Nothing says a romantic or relaxing night spent at home like a candlelit bathroom. Why even turn the lights on at all when you could bask in the warm glow of a dozen candles? Choose scents like lavender, bergamot, or vanilla for the ultimate relaxation experience. You'll feel as if you are at a spa as you soak away your stresses with this sort of treatment.
However, we know that you can't always light a bathroom's worth of candles just to take your morning shower. Instead, consider adding sconces or vanity lights. Thanks to their smaller design, you can attach a couple of sconces to the bathroom wall for added light. Sconces also add the elegant feel of a Victorian-style castle. If that clashes with your design, you might also try a pendant light. These are perfect for small bathrooms because they take up air space rather than wall space, making the bathroom feel more cramped.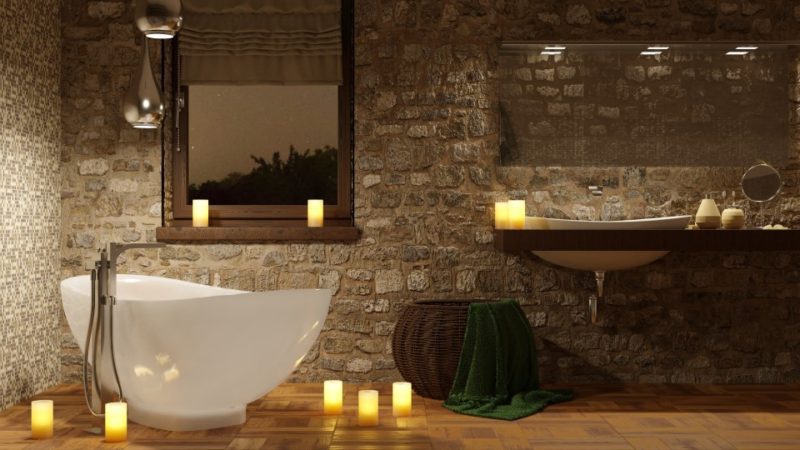 #2 – Freshen Up with a New Coat of Paint
Color and light go hand in hand. Darker colors, such as black and brown, are dark because they absorb more of the visible spectrum of light. Lighter colors, such as whites, creams, and pastels, are light because they reflect more of the visible spectrum of light. So, if you want to maximize how bright your bathroom looks, it's best to go for a lighter color. Clean whites or pale blues go great in a bathroom and will give it a fresh, clean feel.
Alternatively, you could try tile. Tile has the added benefit of being glossy, so it will reflect more light back into the room. Tile floors are quite common in a bathroom, but you can also tile the walls. A half tile, half paint wall is a great way to find balance, and you can work in more color. We recommend a pastel tile base that works up to a white wall. Just be careful not to go too dark on your shades.
#3 – Mirrors are Your Friend
While we are on the topic of reflecting light, let's talk about mirrors. Anyone who has walked through a mirror maze at a carnival or fair will tell you that mirrors are magical. They can create amazing illusions with light just by reflecting it back at us. Use this to your advantage in the bathroom. If the mirror currently in your bathroom is relatively small, upgrade to a larger one. With more reflective surfaces in the bathroom, more light will bounce around and create a brighter room.
You can also mirror the entire wall behind your bathroom vanity. This will open up the room even more where the reflection will be just as good as any open window. However, if you do not like the idea of that, reflective soap and tissue dispensers, stainless steel toilet roll holders, or even a small beauty mirror can achieve the same effect.
Related: Bathroom Design Tips: Upgrade Your Bathroom Mirror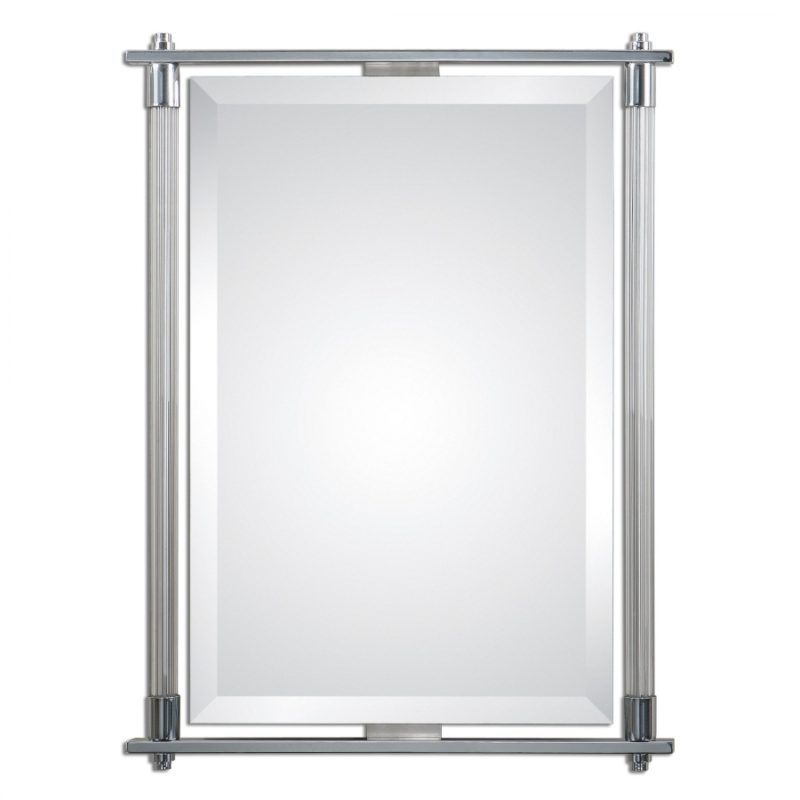 Adara Polished Chrome Rectangular Mirror
#4 – Liven it Up with Plants
If you want your bathroom to be a home oasis, you will need some plants. After all, no oasis is complete without a few bits of greenery. Since your bathroom lacks light, it's important that you are selective with what types of plants you choose. Be careful not to pick a plant that requires a lot of light. Prayer plants, peace lilies, and parlor palms are all wonderfully green but do not need sunlight. They can fit above your vanity or in a pot off to the side.
If space is limited, we recommend a hanging English ivy that can extend from above. Just like with a pendant light, you can maximize your vertical space by hanging plants rather than cluttering up the floor space with large pots. Plants will add a freshness and liveliness to your bathroom and make it feel more natural than just a cramped closet with a toilet and shower.
Related: Bathroom Design and Inspiration

#5 – Work in Some Personality
If you have the space for it, adding a few personal touches can make your bathroom come to life. A stool on which you can sit and do your makeup shows a dedication to comfort and beauty. Paintings or framed photographs also add focus points and show your interests. If you have a theme, work in items that relate to that theme. For instance, seashells for a beach theme, or a few books for a cozy library or den vibe.
Alternatively, if you don't have enough room, a few colorful hand towels will add a splash of contrast and vitality. You could also consider a custom order shower curtain or new bathmats. Anything to add a few small touches that say, "this is my bathroom; I designed it!"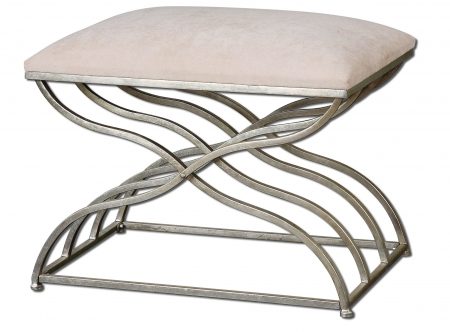 Shea Satin Nickel Small Bathroom Vanity Bench
#6 – Patterns Add Excitement
Wallpaper has made quite the comeback in recent years, and adding a few wallpaper details to your bathroom can really add some visual excitement. Bold patterns in a bathroom are reminiscent of restrooms that are usually staffed by a porter in hotels and five-star restaurants. Furthermore, textures add depth and make the bathroom appear larger. You can find wallpapers that match your themes, such as fern designs or sailboats. These little touches show creativity and an eye for detail.
If wallpaper seems too fussy for your style, you can also blend this trick with our earlier recommendation for tile. Why stick to just one type of tile when you can work in multiple colors and lay them in herringbone, parquet, or Chevron designs? You'll achieve the same reflectiveness of a glossy tile but with the added excitement of a stunningly distinct pattern. Be sure to lay out your pattern before applying any tile adhesive to avoid messing up the design.
#7 – Glass, Glass, and More Glass!
The key to making a bathroom as bright as possible is getting light everywhere. Light passes easily through glass, so the more glass you have in your bathroom, the fewer shadows and dark space you'll have to work around. Consider switching out your current shower curtain for a glass shower door to get the most glass as possible. These come in both transparent and translucent options if you feel uncomfortable with the lack of privacy bathing in an open-face shower.
However, if you have a bathtub, switching to a glass shower wouldn't make much sense. Instead, you could change out your sink. A tempered glass vessel sink is beautiful and also allows more light to travel through your bathroom. These come in both clear and colored options, and some will even diffract light to create an attractive halo effect. This style of sink can be round, square, or even oval-shaped. You will feel as if you are washing your hands in a basin rather than a deep-set sink.
Orange Blossom Glass Vessel Sink
Find What Suits You
With any sort of design change, the best advice we can give is to find what suits you. It's smart to start with a general idea of what you want the final picture to look like. Remember to consider how much space you have and be conscious of not over cluttering the bathroom. Open spaces tend to look brighter because there is less to block out the light. Most importantly, though, always add your personality.
Even if your bathroom ends up still feeling a little dark, it will still brighten how you feel as long as it matches who you are. Make your bathroom into a space where you can relax and never regret your design change. Before you start remodeling, go ahead and look for whatever speaks to you. With the right pieces, you'll have the right bathroom.
---
My name is Julia Ritzenthaler, Founder and President of Unique Vanities, started in 2005. I started this business as an extension of our residential remodeling business, which focused on the design and build of custom cabinetry and architectural trim. I also worked as a financial advisor for 10 years at Ameriprise Financial, helping clients make sound money decisions, including budgeting for home improvement expenses. This expertise led me to start Unique Vanities, which offers a handpicked selection of high quality bathroom vanities, sinks, mirrors and more. You can find me most days sitting in Starbucks, my second office, or in my car driving my daughter across Dallas to gymnastics training.
---
Resources
https://www.apartmenttherapy.com/small-bathroom-ideas-6-room-brightening-tips-for-tiny-windowless-bathrooms-203115
https://www.popsugar.com/home/photo-gallery/43445295/image/43445296/Add-Low-Light-Plant
https://www.proflowers.com/blog/plants-that-dont-need-sun
https://www.architecturaldigest.com/story/small-bathroom-ideas-for-a-brighter-breezier-space