A New Vanity Mirror Can Make All the Difference
We all want to find those helpful little tips and tricks that let us get a lot of bang for our buck. Nowhere is this truer than in the area of home improvements. We want to find simple ways of making improvements that generate a lot of wow. The bathroom can be a difficult place to achieve such results because bathroom design is so often about big ticket items.
Just consider the improvements and upgrades that are available to you in the bathroom:
New fixtures such as faucets, toilets, showers, and tubs
New flooring, particularly tile and other high-priced materials
New lighting and other fixtures
Not one of those options is simple…or cheap. There are still a few ways to improve the appearance of the bathroom and boost its design factor. One of the best is just by upgrading your vanity mirror.
How to Choose a Bathroom Mirror?
A properly chosen mirror is one that is the right quality, style, size, and placement. It's easiest to begin by understanding the size you require and/or the space you have available. After all, as the experts at Houzz advise, "When choosing the size of your mirror, you should consider not just function, but also proportion. To create a balanced look, think about the size of your mirror relative to that of your vanity."
One key point you have to keep in mind is the mirror shouldn't be wider than the vanity. Use this tip whether you are looking for a mirror for a single or double vanity.
Of course, the size can be smaller, and a standard recommendation is for the mirror to be between 70 and 80 percent of the width of the vanity. You can also opt to use a smaller mirror, in order to allow for lighting on either side.
Where is the Correct Mirror Placement Over a Vanity?
Then comes the placement of the mirror. And as one designer has explained, "one can choose to run the mirror along the entire length of the vanity or just span the length of the sink basin. The mirror should be centered above the basin and measure a couple inches less than the vanity or sink area."
And, others explain that "a functional mirror needs only to reach about a foot above and below the eye line of the people who will be using it. But the more height you can get, the better, because it will provide more viewing angles and a more open look to the space. Try to reach at least 4 to 7 feet above the floor."
Where to Buy a Quality Bathroom Mirror?
The next step is going to be buying the proper quality, and though it can be very tempting to pick up a mirror in a furniture store or somewhere you just happen to run across a gorgeous mirror, you need to consider whether or not it can withstand the rigors of the bathroom. As an example, many mirrors are frameless for a good reason; the wooden frame of a standard mirror may not stand up to the high humidity and moisture that occurs in most bathrooms, and even many metal frames may tarnish or take on an unappealing look.
Online is a great place to start your search. If you still can't find what you are looking for, you may want to browse specialty shops in your area. Shop for companies that make mirrors deemed "bathroom mirrors". These will have the types of low- to no-fog glass, weight, and other properties that can withstand the wear and tear of the bathroom.
What's Your Style
Then comes the style of the mirror, and really that boils down to one of two options: framed or frameless. The framed mirror can be as basic as one without a frame, but if you are going for a statement piece, then it is a great idea to consider how a frame might work. For example, an antique frame can set the tone for a space easily and quickly, particularly if the space is a bit Spartan and contemporary.
If the bathroom is a bit on the minimalist side, a framed mirror with a bit of texture – such as a wooden or hammered metal – can really amp up the style and create a definite accent piece.
Round mirrors are also a great option and they can add softness or character into a room that might be leaning towards the more rigid, angular or sharp look. Oval mirrors and round mirrors are also the ideal companions to pedestal sinks. The use of a rounded mirror may be the perfect upgrade or improvement.
How to Remove Your Old Mirror?
Once style is settled, it is time to buy the mirror and install. Before you can install, you need to remove the old mirror. The most common way that mirrors are mounted is with specialty glue, so the removal requires you to:
Cover the mirror with packing tape to prevent shattering
Begin to pry it away by sliding shims between the wall and the mirror
Place a shim beneath the hook of a pry bar (protecting the wall) and begin to move the bar behind the glass, maintaining pressure and listening for the paper to tear. It will release in increments.
Once at the bottom, it will need support to prevent a fall, and this may mean two people are required for success.
Remove it and carry it away.
Then begin repairing any damages and prepping the surface for a new installation.
You may have to fill any holes in the drywall, and wait for that to cure before installing the new mirror
How to Hang the New Mirror?
As one design expert noted from inspiredtostyle.com, "make sure the mirror is around eye-level for most of the users!
Here are three easy tricks to determine the optimal mirror height:
Hang the mirror 5" to 10" inches above the sink
Hang the mirror a few inches above the highest part of the faucet
Center the mirror in between the vanity lighting and the sink."
Remember too that you need to use specialty hardware if a mirror is exceedingly heavy, and that means you must know the type of wall from which it will hang. This also means understanding the weight of the mirror before it is purchased to ensure that no mistakes are made in terms of what you can expect from the wall and whether or not that mirror is, indeed safe.
It may even be a wise idea to hire the experts to do the hanging instead. The final step is cleaning the mirror!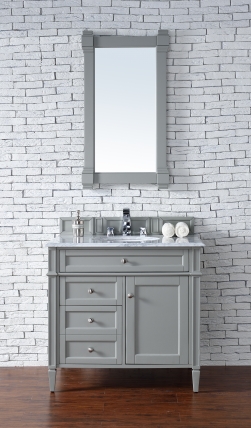 What are Some Tips for Cleaning Mirrors?
Home expert Bob Vila has a tried and true approach to cleaning mirrors, and it involves using vinegar and water to get the work done. As he said, "store-bought cleaners may offer an all-in-one answer, but good marketing is no match for the cleaning power and cost efficiency of this simple mixture. Plus, these cleansers tend to include more soap than is necessary, and more soap equals more streaks."
His method is one cup of vinegar and one cup of distilled water sprayed on a microfiber cloth that then does all of the cleaning and ensures nothing pools in the corners or streaks that newly installed mirror. A zig-zag movement across the mirror is the proper way to eliminate anything that has built up, and the job is done.
It is not simple to tackle bathroom upgrades, but we hope this two-part series has helped you to determine how to choose a new mirror that brings a different look or a new energy to the bathroom. It is a low-cost method for big returns.
Beautiful mirror! Second time I've ordered mirrors from Unique Vanities and I'm amazed at the packing and damage free delivery. Unbelievably attentive customer service. They make you feel special – as if you're they're best customer! The packing and delivery were flawless! I can't stress how delighted I am with your products, delivery, and customer service. Won't hesitate to do business with Unique Vanities in the future – Marjorie W.

---
My name is Julia Ritzenthaler, Founder and President of Unique Vanities, started in 2005. I started this business as an extension of our residential remodeling business, which focused on the design and build of custom cabinetry and architectural trim. I also worked as a financial advisor for 10 years at Ameriprise Financial, helping clients make sound money decisions, including budgeting for home improvement expenses. This expertise led me to start Unique Vanities, which offers a handpicked selection of high quality bathroom vanities, sinks, mirrors and more. You can find me most days sitting in Starbucks, my second office, or in my car driving my daughter across Dallas to gymnastics training.
---
More Great Bathroom Mirror Resources
How to Choose a Bathroom Mirror