People are giving their homes extra attention these days. Reports show spending in the home improvement industry reached more than $95 billion last year. Homeowners concentrate on many areas of their homes, including the kitchen, attic, basement, and outdoor spaces. At this point, though, the bathroom is the primary focal point for most.
Related: 11 Steps to Remodeling Your Bathroom
Why Are Bathroom Remodels So Popular?
Homeowners cite several reasons for revamping their bathrooms. Some do so because the bathrooms in their homes don't meet their needs and preferences. Others remodel their bathrooms because their existing ones are in disrepair.
Quite a few say they just can't stand to look at their old bathrooms any longer. Many are celebrating finally having the resources to carry out such a project after years of hoping and planning. Regardless of their reasons, one of the main considerations for a bathroom remodel is the type of bathtub to install.
Related: 8 Top Bathroom Remodeling Trends of 2020-2021
Bathtubs: Exploring Your Options
Until recently, homeowners had few bathtub choices because the traditional clawfoot design was the only option available. Popularized during the late 1800s, this type of bath began as an enamel-covered horse trough with decorative feet attached to the bottom. Of course, it quickly became the epitome of style and luxury.
In the 1920s, built-in tubs entered the mix. They're the ones we know so well today. Walls surround built-in tubs on three sides, whereas freestanding models are detached. These days, you'll find an extensive selection of bathtubs made of various materials. Both types of baths have their benefits and disadvantages.
Comparing Built-in Baths and Freestanding Tubs
Many enjoy soaking in a hot, luxurious bath after a long day. Doing so offers plenty of health benefits as well. Of course, a bathtub can make or break the entire experience. If you're struggling to decide which type of tub would best suit your needs and expectations, several factors come into play. We'll take a look at some of the most important points.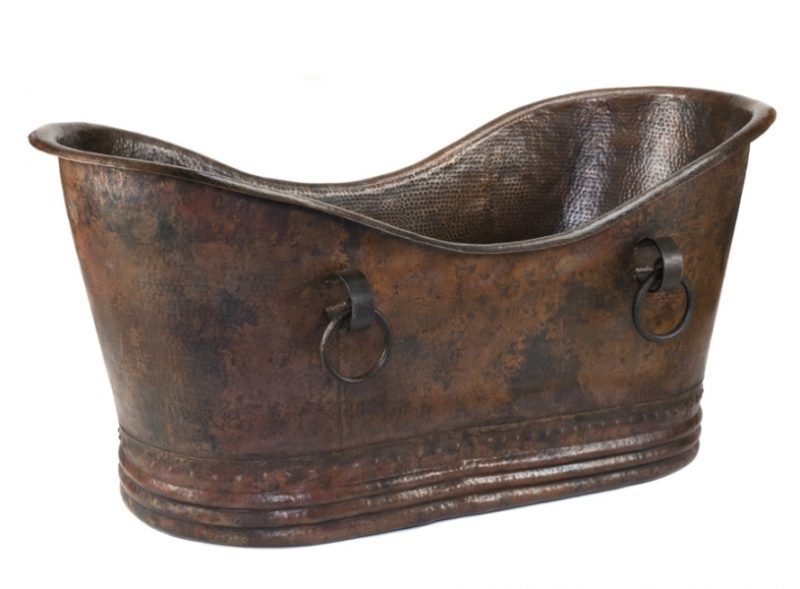 67 Inch Hammered Copper Double Slipper Bathtub With Rings
Flexibility
Regarding flexibility and freedom of choice, many insist freestanding tubs are the clear winners. They can essentially be installed anywhere in the bathroom as long as it's possible to tap into the plumbing from the desired location. You could have a freestanding tub installed near a window, in a secluded corner, or even in the middle of the room under some circumstances. At the same time, you can design the remainder of the bathroom around the tub's location.
Built-in baths don't offer quite the same level of freedom. They must be installed against a wall and have either walls or dividers on two additional sides. This can save a certain amount of space in bathrooms with limited square footage, but it leaves little flexibility. That said, the design of the space surrounding a built-in tub can certainly add a great deal of style and beauty to a bathroom.
Related: 7 Ways To Brighten Your Dark Bathroom
Aesthetic Appeal
Freestanding tubs have long been associated with beauty. Something about their decorative feet and refined designs just exude elegance. Those feet can be traditional and ornate or plain and simple, and even the latter doesn't detract from the style and appearance of the bath or its surrounding fixtures and décor.
Though many standalone tubs follow the conventional clawfoot design, several more conventional alternatives are available. Some stand on solid pedestals rather than feet. Others take on a bowl-like appearance. Those newer designs often meld well with more contemporary bathrooms.
In the past, built-in baths were considered dull and dated. Of course, that has changed significantly in recent years. An endless array of lovely built-in tub designs is available. Again, the surrounding elements make all the difference. With marble, tile, decorative backsplashes, and other features, built-in tubs can be as contemporary and elegant as their standalone counterparts.
Selection
Both freestanding and built-in baths have branched out significantly over the years. Each one boasts several styles and designs. Still, freestanding models are a bit more limited than their enclosed cousins.
Freestanding baths are typically made of either cast iron or acrylic, but they can be fabricated of fiberglass and other materials. Most are the traditional elongated shape. Most of us recognize and measure around five or six feet in length though various other shapes and sizes are on the market.
Built-in tubs are generally composed of acrylic or fiberglass these days as opposed to the porcelain models of the past. You'll find a long list of shapes and sizes, including large, spa-style versions with raised seating, massaging jets, and other features.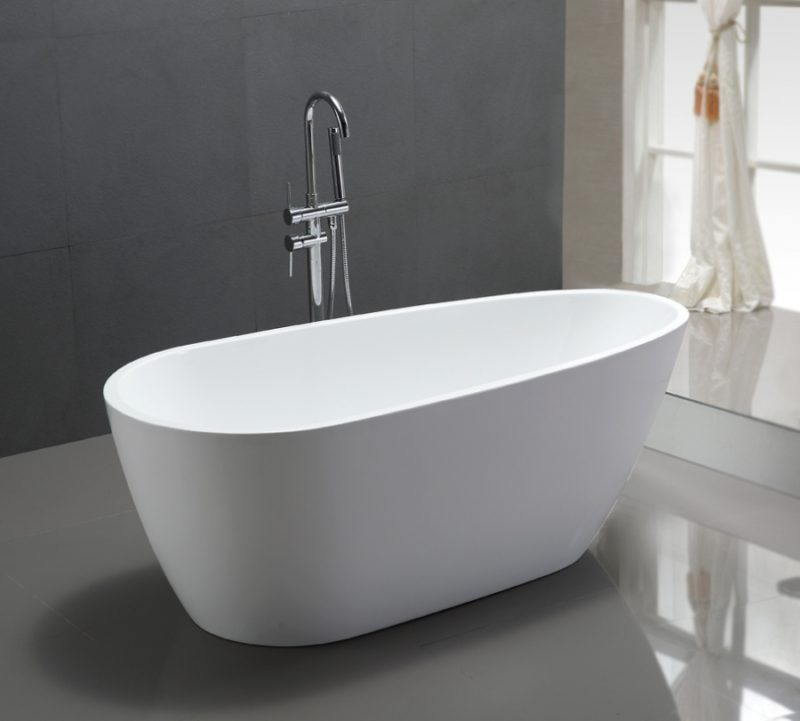 68 Inch White Acrylic Freestanding Tub
Comfort
Many choose freestanding tubs over built-in models because of their comfort and luxury. They offer plenty of room to stretch out and relax and can often accommodate two people comfortably. On the other hand, freestanding baths are notorious for losing heat quickly because of their composition and being vulnerable to the open air. Acrylic models don't go cold as easily as metal ones but still create a sense of urgency to finish the bath and get out.
Although standard built-in tubs don't offer the same level of spacious comfort as freestanding models, many new designs excel in this department. They're made with luxury and legroom in mind. On top of that, being closed in and having the benefit of insulation from surrounding walls ensures the water will stay warm for a bit longer than it does in most freestanding tubs.
Cost
Most people have a set budget for their bathroom remodels, so managing the costs involved is certainly a factor. On their own, built-in bathtubs are typically less expensive than freestanding models. Of course, you could easily make up the difference in cost with the materials and surrounding elements you choose for your bathroom renovation. Freestanding tubs don't require all those extra additions, so their higher base costs may balance out in the end.
From the perspective of installation costs, both types of bathtubs are comparable. With a freestanding bath, some plumbing considerations could drive up the cost. If you choose a location for the tub that isn't already equipped with fittings for faucets, the cost will naturally be higher. On the other hand, expenses often mount when you have dividers, tiles, and other features installed for a built-in tub as well.
Related: How to Create a Bathroom Remodel Budget
Which Bathtub Is Best?
People usually choose freestanding tubs purely because of their style and decorative appeal. They give you greater freedom of choice in terms of placement. One of the biggest drawbacks of freestanding baths is how quickly they allow the water to grow cold. New models made of contemporary materials are more effective at holding in the heat than older, more traditional versions, but they often don't measure up to built-in baths.
Built-in bathtubs are typically less expensive and more efficient. They're not quite as decorative as many freestanding tubs, but you can enhance their appearance in numerous ways. While freestanding baths offer more flexibility where placement is concerned, built-in models bring you more versatility and a broader selection of styles and designs.
If you're looking for traditional elegance and prefer where your bathtub will be installed, a freestanding bath may be the best way to go. Otherwise, a built-in tub might be a more suitable solution. Ultimately, it all boils down to your preferences, space, and budget. No matter which one you choose, the possibilities are virtually endless.
Related: How to Remodel a Bathroom on a Budget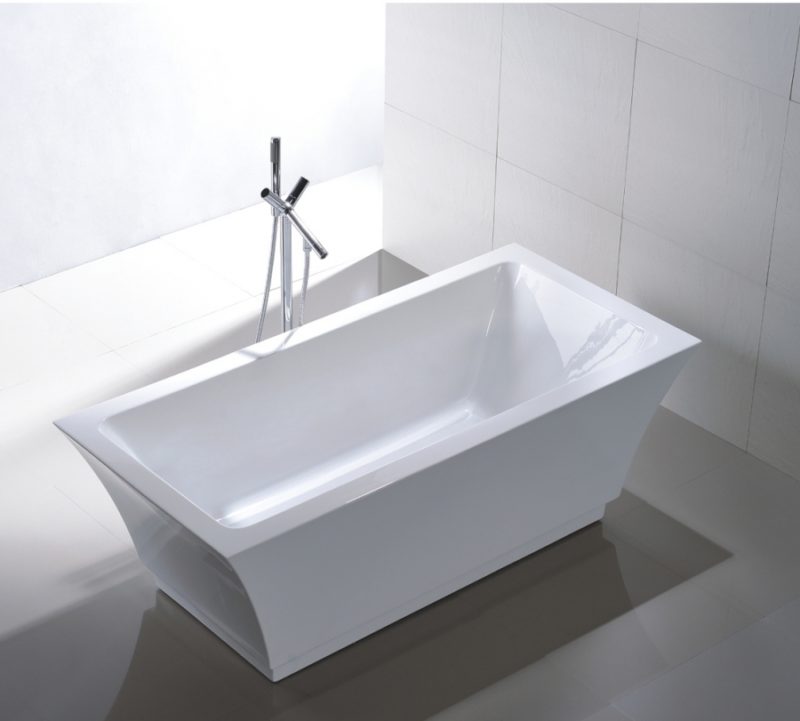 ---
My name is Julia Ritzenthaler, Founder and President of Unique Vanities, started in 2005. I started this business as an extension of our residential remodeling business, which focused on the design and build of custom cabinetry and architectural trim. I also worked as a financial advisor for 10 years at Ameriprise Financial, helping clients make sound money decisions, including budgeting for home improvement expenses. This expertise led me to start Unique Vanities, which offers a handpicked selection of high quality bathroom vanities, sinks, mirrors and more. You can find me most days sitting in Starbucks, my second office, or in my car driving my daughter across Dallas to gymnastics training.
---
Resources
https://www.fixr.com/comparisons/freestanding-vs-built-in-tub#cQ
https://blog.taylormorrison.com/2019/05/bathtub/
https://www.remodelista.com/posts/built-in-vs-freestanding-bathtubs-pros-and-cons-remodeling-101/