For those who want maximum space, a 72 inch vanity could be a perfect size. This width offers plenty of counter space, room for two sinks, and most importantly, fewer arguments about whose turn it is at the sink. Fortunately, bigger vanities are in and there are so many different styles available to choose from that you'll have no trouble finding your perfect fit. First, though, let's talk about how to choose the right size and other planning factors.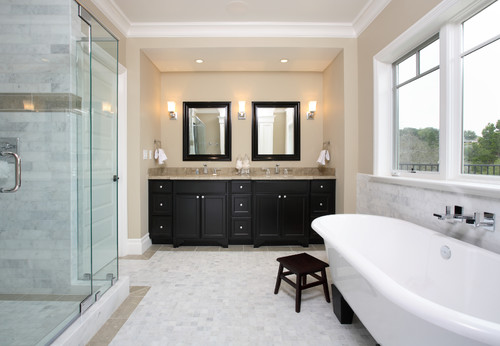 Choosing a Size: Where to Start
When you are measuring your vanity size or the space that you have to put it in, you might feel a bit overwhelmed at the thought of trying to decide. Fortunately, you'll be happy to know that bathroom vanities tend to come in standard widths and depths, so you just have to narrow it down from your options. 72 inch vanities are among the largest, with a few people going up to 84 inches or larger when they have the space.
You'll want to think about how much space you have to work with. Consider how each size of vanity (48, 60, 72 inches, etc.) will look in the space. If you want two sinks, you'll probably want to stay above 60 inches. 48 inches is doable, but it'll be tight. More on that next, though.
Related: 6 Ways to Maximize Bathroom Space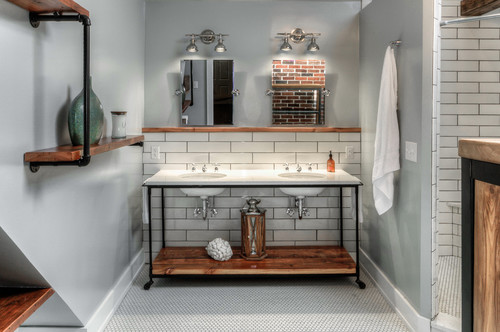 One Sink or Two?
Choosing the sinks is usually a simple enough task for most. A lot of people are upgrading for the sheer fact that they want a second sink. They're trying to figure out how much space they can afford and how much they're going to have to use here—that's where vanity sizing comes into play.
Of course, you can find vanities that are 60 and 72 inches in width that only have a single sink. They're less common, but they definitely maximize counter space when you've got the room to spare. Take the time to browse the selection available and see what styles you like best. You might realize that adding a sink is a great choice, or that going with one will work better than you anticipated.
Now that you've got a little insight to help you start your own search, let's take a look at the trending 72 inch vanities on the market today so that you can find the perfect fit for your space.
Related: Now Offering Lexora Home Bathroom Vanities at UniqueVanities.com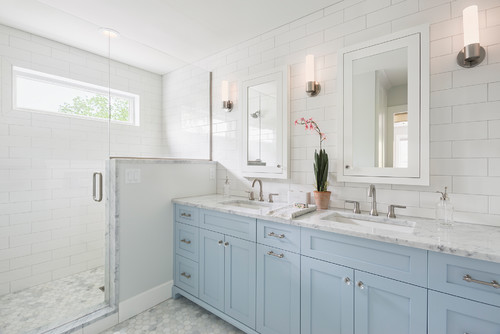 The Top Picks
Although you'll find plenty of options out there today, some styles are more popular than others. We've rounded up our best picks and you'll find a brief overview of each below.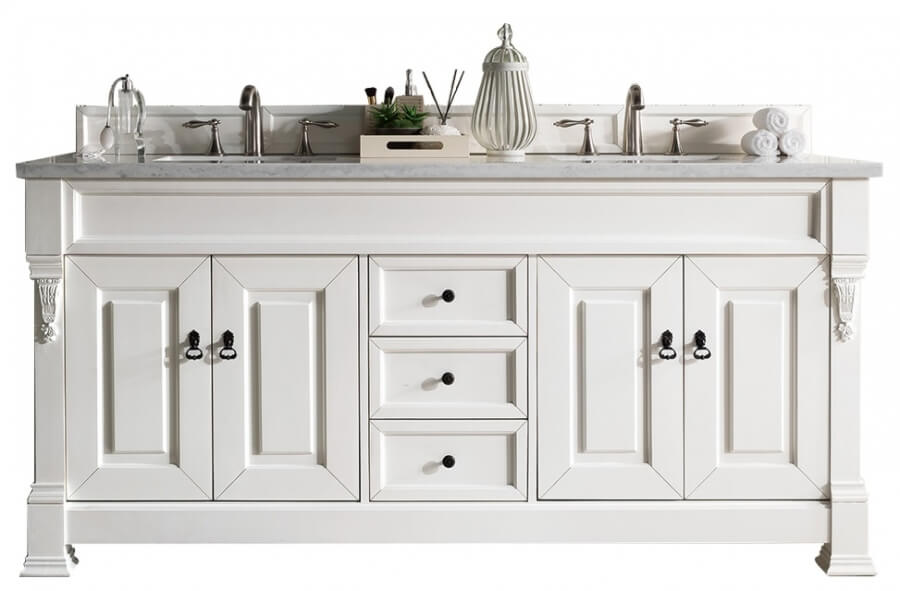 72 Inch Double Sink Bathroom Vanity with Choice of Top
This vanity offers a traditional white finish with dual cabinets and three drawers, along with decorative trim and molding that is sure to make a statement. It has multiple options for the countertop and is made for two sinks. Home with that country or rustic farmhouse décor will find that this style fits right in.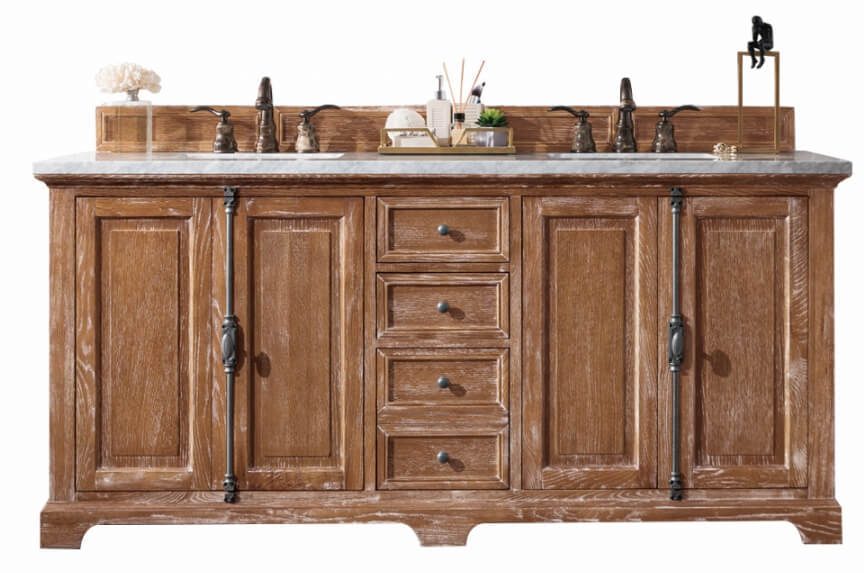 72 Inch Double Sink Bathroom Vanity in Driftwood
For a modern rustic finish, this double vanity in driftwood is a great choice. This vanity comes with multiple top options, including everything from quartz to Carrera white marble, and even without a top if you've got another one in mind. The dual-sink vanity offers four drawers and two cabinets with plumbing cut-outs so it's ready to install. You can also choose to add mirrors for a completed look, and more.
72 Inch Double Sink Bathroom Vanity in Dark Gray with Choice of No Top
For those who want a more modern look, this dark gray vanity is a great choice. The style features two extra drawers under the cabinets for added storage and the sleek matching mirror can complete the look. You'll also enjoy the modern, clean hardware and the option of multiple tops (or no top at all). The sinks leave plenty of counter room, as well.
72 Inch Double Sink Bathroom Vanity with Top Choice
Those who are looking for something traditional and elegant will love this vanity cabinet that is made of premium materials with a dark espresso brown finish. The classic hardware knobs add the perfect touch and the dark cabinet could be matched with several top options to create the look you want. There's room for two sinks with a bowed front for added counter space in front of the sink, too.
72 Inch Double Sink Bathroom Vanity with Soft Closing Drawers
This vanity is all about sleek style, offering a mix of modern style and traditional finishes. The bottom shelf adds a great detailed touch and is good for the storage of towels and other larger items. Plus, you still get four drawers for storage and plenty of room on the counter, as well. This piece isn't as heavy as some, which makes it great for smaller spaces or rooms where you want a more open feel.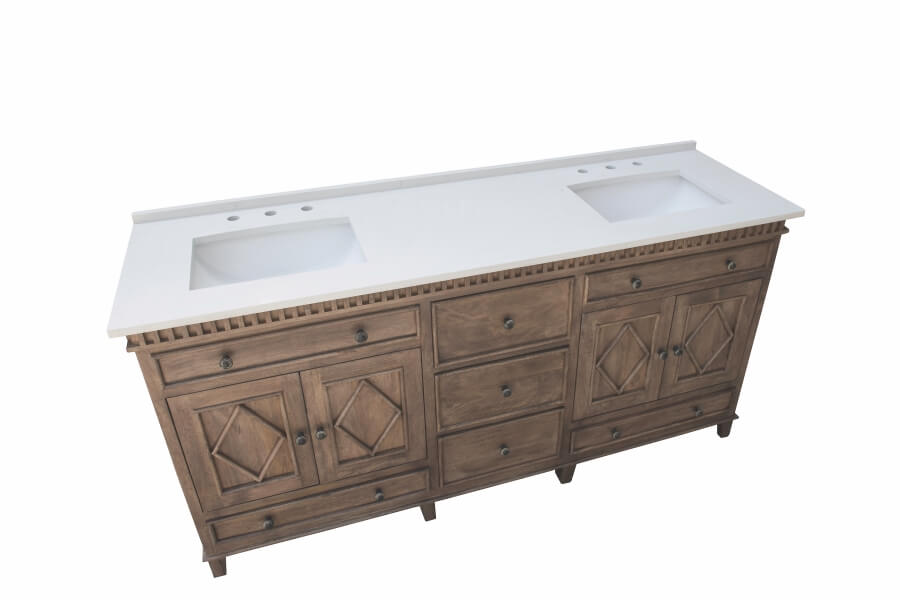 72 Inch Double Sink Bathroom Vanity with Choice of No Top
This dual-sink vanity offers a very traditional finish and is made of premium mango wood, which creates a look unlike anything else. The vanity comes with or without the countertop and includes five drawers and two cabinets for storage of all of your toiletries and personal items. This piece is great for anyone who wants something a little more unique.
72 Inch Gray Oak Modern Double Sink Bathroom Vanity
This is another modern design that is focused on minimalism. The sleek cabinet front features a single bar, but you will have access to two cabinets and three drawers in total. It fits two sinks and the gray oak finish adds a touch of color that's different than those standard wood tones. For the contemporary space, this vanity has it all.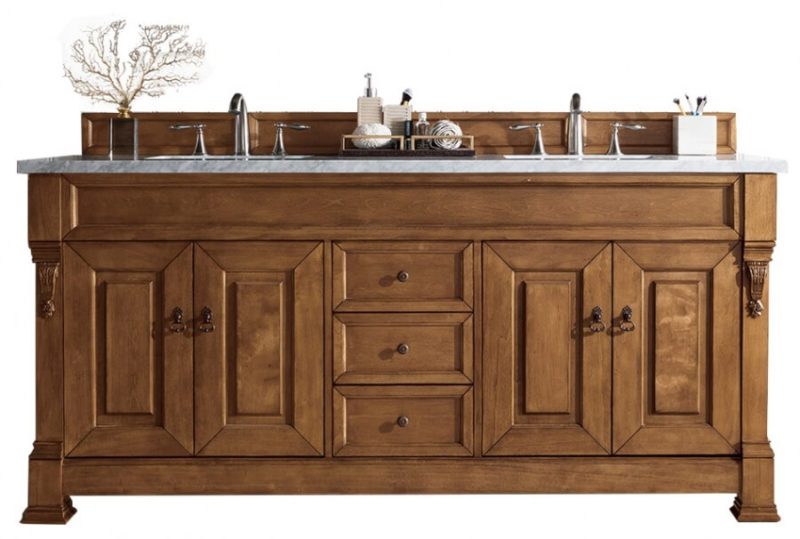 72 Inch Double Sink Bathroom Vanity in Country Oak
Finally, we go back to that classic country traditional style with this vanity in country oak. This piece will be a great focal point in any room and can look like it was built into the space if you desire. It features two cabinets and three drawers and sturdy feet and molding details that add even more style. Plus, it has multiple counter options or comes without a top.
Whether you choose any of the vanities listed here or a different style, you're sure to find the 72 inch bathroom vanity selection to give you the perfect amount of space in your bathroom upgrade.
Related: Why Consider A Floating Bathroom Vanity?
---
My name is Julia Ritzenthaler, Founder and President of Unique Vanities, started in 2005. I started this business as an extension of our residential remodeling business, which focused on the design and build of custom cabinetry and architectural trim. I also worked as a financial advisor for 10 years at Ameriprise Financial, helping clients make sound money decisions, including budgeting for home improvement expenses. This expertise led me to start Unique Vanities, which offers a handpicked selection of high quality bathroom vanities, sinks, mirrors and more. You can find me most days sitting in Starbucks, my second office, or in my car driving my daughter across Dallas to gymnastics training.
---
Resources
https://www.hayneedle.com/tips-and-ideas/bathroom-vanity-buying-guide
https://www.thespruce.com/bathroom-space-design-1821325
https://www.lowes.com/n/buying-guide/bathroom-vanity-buying-guide1