Upgrading the bathroom can be a big undertaking. However, if you know what you're doing, it doesn't have to be. Outdated bathrooms are the bane of some people's existence. Too often, they're left unattended because people simply assume it would be too expensive to upgrade or do a bathroom makeover. Today, however, there is so much that you can do even with a limited budget.
Think about simple changes, from updating paint and accessories to changing your bathroom vanity lighting, and even just swapping out your shower curtain or rugs. If you can't afford to replace items, consider repurposing them or even buying secondhand to accommodate the renovations you want, even when you're working with a budget. Below, you'll find five great ways to spruce up your bathroom space without spending a small fortune.
Related: 6 Ways to Maximize Bathroom Space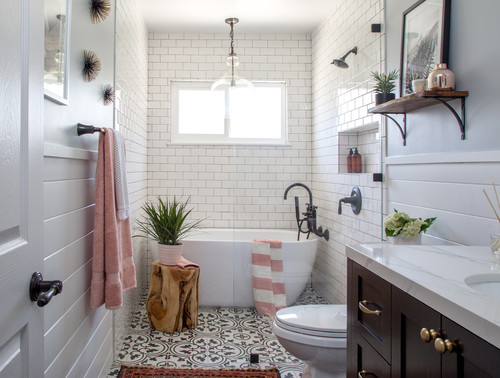 #1: Freshen Up with a Facelift
Sometimes, a simple touch-up can go a long way. Choosing a fresh coat of paint or some new wallpaper can make a big impression without breaking your budget. Take it to a full facelift by adding a new shower curtain, rugs, and even some new towels to freshen up the space. You can do this all for less than a hundred bucks, in most cases, except for paint or wallpaper, which may cost a little more depending on what you choose.
When you don't have a big budget but want to make big changes, think about the things people see most often, and use most often, and which changes would have the biggest impact visually, not just functionally. That way, you can plan a more affordable upgrade.

#2: Change Out the Lighting
Adding new vanity lighting is one of the easiest and more affordable options for upgrading the bathroom. Light fixtures come in all styles and price ranges, and they can make a huge difference in how the bathroom looks. Stuck with basic, functional bathroom lighting? Consider upgrading to a designer look that still serves a functional purpose. It'll look much more elegant and modern and still get the job done by providing the light you need.
You choose bathroom lighting differently because you have to have the appropriate lights above the vanity and in other areas of the space. However, this gives you more room to make upgrades without spending a lot because you can swap out all the fixtures and create a whole new ambiance in the bathroom while still delivering the task lighting you need.
Related: Small Bathroom Lighting Tips: Make Any Space Shine with the Right Lighting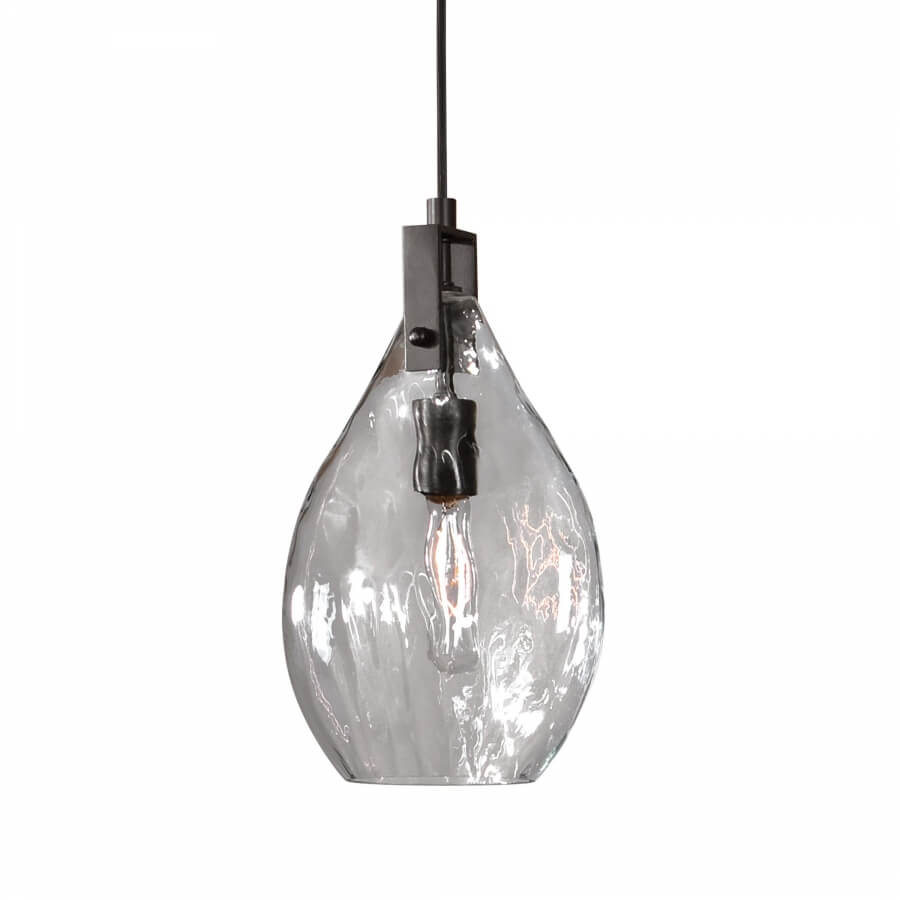 Campester 1 Light Watered Glass Mini Pendant
#3: Change Out the Mirror
A mirror can make a big difference. Many bathrooms have a standard vanity medicine cabinet with a mirror, which isn't very aesthetically appealing. Perhaps you've just got a plain, unframed rectangular or square mirror hanging over the sink without much design. Regardless, there's so much more out there to choose from today. You can pick a modern, stylish mirror or medicine cabinet for your bathroom, swap it out, and see a big difference for a lot less than you might think.
Most people will stick with a more traditional wall mirror design, although some prefer the cabinet for storage. Regardless of which you choose, consider function and design while shopping, and if you just need a mirror, check other departments. Just because it's not designated as a "bathroom mirror" doesn't mean it won't be perfect for your space.
Related: Bathroom Mirror Lighting Ideas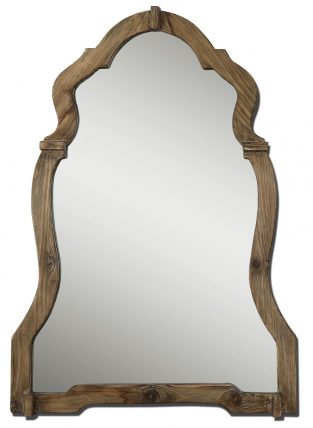 Agustin Unique Light Walnut with Burnished Details Mirror
#4: Repurpose the Vanity or Shop Second-Hand
If you don't have the money to buy a brand-new bathroom vanity, consider upcycling the one you have or buying a secondhand piece from a thrift shop or home store. That will allow you to get a new vanity without the huge expense. A coat of paint or some cool contact paper can go a long way in sprucing up an old vanity. A growing number of stores sell refurbished and secondhand home goods, or you can check online classifieds like Facebook, where people are getting rid of old pieces that may still be in good condition.
A coat of paint can go a long way in sprucing up an old vanity. It might not make more space in your bathroom or give you a new design, but it will help refresh the space and make it feel new again. And if you're buying repurposed or secondhand items, you can feel good about giving old products new life.
Related: How to Protect Wood Bath Vanities from Moisture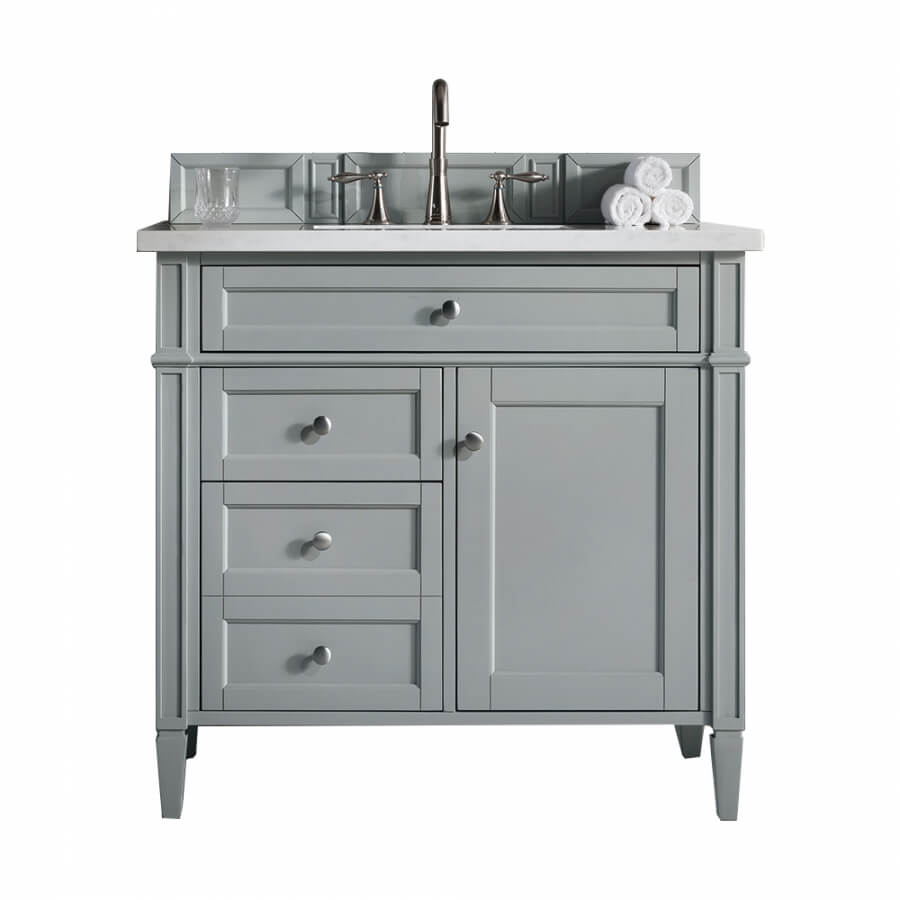 36 Inch Single Sink Bathroom Vanity with Choice of Top
#5: Repurpose Storage and Clear Clutter
Space can go a long way toward making a bathroom look bigger and more luxurious. If you are limited in storage space, you'll want to get creative and find a way to clear the clutter for good. Again, you can repurpose existing storage solutions that you have to help here or just do some cleaning and organizing to see what you can get rid of. You don't have to spend a small fortune on a new storage solution. You can even get online and find inspiration from other people's bathroom designs to help you improve your space.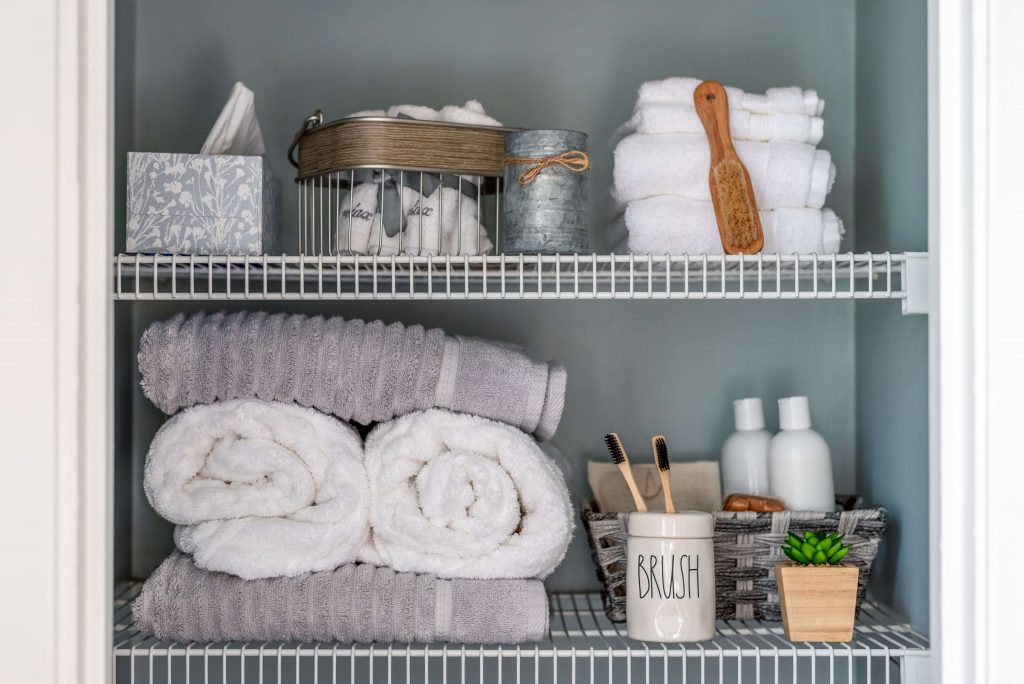 Get Creative and Get More Out of Your Upgrades
The biggest thing to remember here is to think outside the box. These are just a few of the best ideas to get you started on thinking about how to renovate even when you've got a tight budget. Think about the ideas listed here. Which ones fit your situation? Perhaps you've been inspired by this list to come up with your own affordable changes. At least now you can see that there is more that you can do than you might think, even when you're renovating on a shoestring budget.
Look at accessories, mirrors, and bathroom vanity lighting that can make a big change for your space without making a big dent in your budget. With these tips, you'll have a new bathroom in no time, even if you're trying to do it on a dime.
---
My name is Julia Ritzenthaler, Founder and President of Unique Vanities, started in 2005. I started this business as an extension of our residential remodeling business, which focused on the design and build of custom cabinetry and architectural trim. I also worked as a financial advisor for 10 years at Ameriprise Financial, helping clients make sound money decisions, including budgeting for home improvement expenses. This expertise led me to start Unique Vanities, which offers a handpicked selection of high quality bathroom vanities, sinks, mirrors and more. You can find me most days sitting in Starbucks, my second office, or in my car driving my daughter across Dallas to gymnastics training.
---
Resources
https://www.semiglossdesign.com/16-ways-update-bathroom-on-a-budget