In a bathroom, the vanity size can easily make or break the space. You're limited on counter and storage area without a big enough one. With one that's too big, your entire bathroom gets swallowed up and there's little room to move around. That's why even though it seems like a simple decision, it's crucial to take the time to measure the space and choose the ideal size vanity for your bathroom.
You'll find that 36 inches is a good size for those who want something larger than "standard" size but not as big as what a 48 or 60 inch vanity might offer. Depending on the design, these typically feature a single sink and may have a cabinet or drawers. Some styles offer a lot more storage than you expect, too. Check out the list below and see which ones you like best to get inspired for your design.
First, though, let's talk a little more about space planning and where to start when choosing a 36 inch bathroom vanity.
Related: 11 Steps to Remodeling Your Bathroom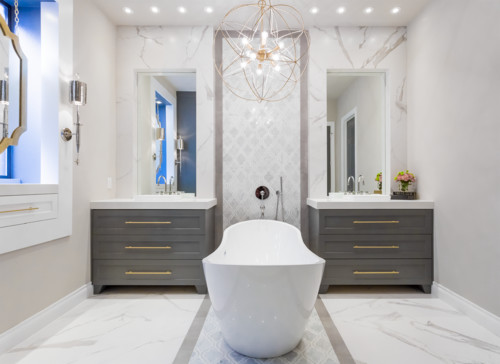 Bathroom Space Planning and Choosing the Right Vanity Size
Size matters in the bathroom. You have to ensure you have the storage and function you need and do that without compromising the space. Always choose a vanity that allows for enough cabinet and counter space for your needs and that isn't going to overwhelm the room. 36 inch vanities are great for small to mid-size bathrooms where you want a little more counter space, but you don't quite want a full-wall cabinet.
There's no hard-and-fast rule for choosing a vanity. Some people like pieces that take up a lot of space. Others prefer the minimalist look. Still more like floating vanities and pedestal sinks because they free up space. What you need to think about in choosing your vanity includes:
Where the plumbing is located and how it will affect your installation
Whether you need one sink or two
How much storage space you need
What kind of space you have in the bathroom
Related: 12 Designer Tips Make a Small Bathroom Bigger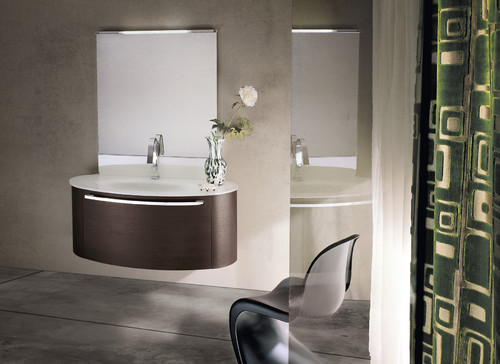 Check Out These Top 10 Trending 36 Inch Vanity Styles
Starting with a classic style, this vanity in vintage vanilla white delivers that perfect traditional bathroom look for anyone who wants something more stylish. It offers your choice of counters, satin nickel hardware, and an undermount sink for seamless countertops.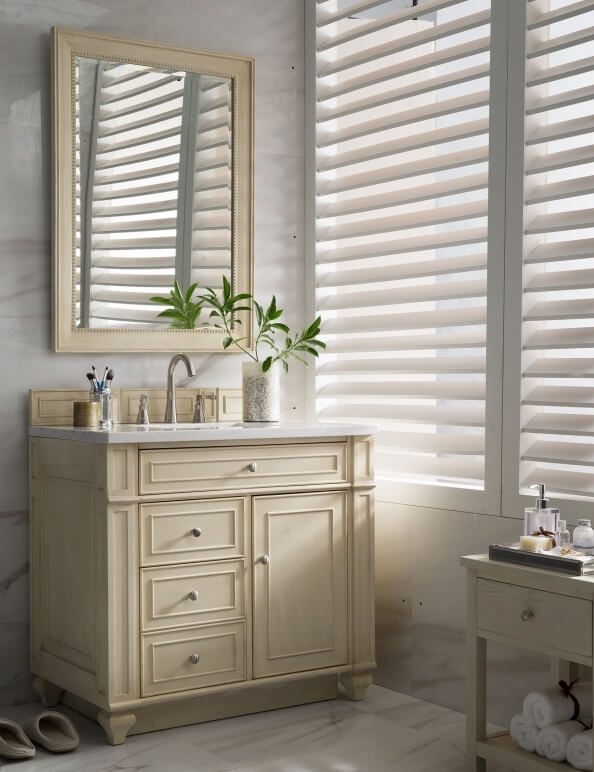 36 Inch Single Sink Bathroom Vanity in Vintage Vanilla White
If you want to combine modern and traditional, this vanity delivers. The traditional cabinet features drawers, a door for access to plumbing and storage, and an impressive Carrera marble top with an integrated ramp sink to create a whole new look in any bathroom space.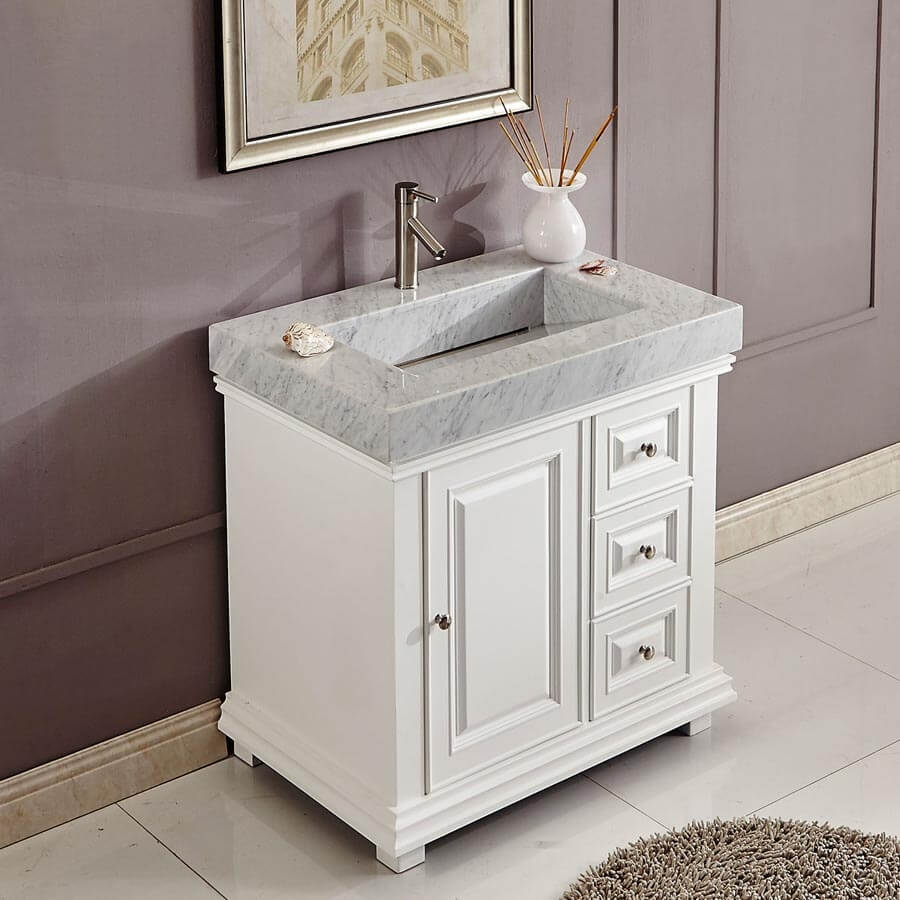 36 Inch Single Sink Bathroom Vanity in White with Offset Drain
What's better than a custom bathroom vanity? With this model, you'll get the unique look of an offset sink and the selection of different types of counters and sinks to suit your design. Plus, the traditional dark wood cabinet will create a rich, elegant look in any space.
36 Inch Bathroom Vanity with Offset Sink – Custom Options
If you're tired of boring wood tones and white, this navy blue vanity will surely get noticed in your new bathroom space. The offset sink makes it a unique design and ensures it fits into spaces where plumbing might be a concern. The modern piece features contemporary hardware and a Carrera marble top.
36 Inch Single Sink Bathroom Vanity In Navy Blue with Offset Left Side Sink
An elegant rustic style is found in this vanity, which offers a unique aged driftwood finish with rustic hardware for that classic country charm. Many people enjoy the rustic style this cabinet delivers, offering two storage drawers and a multitude of options for countertops.
36 Inch Single Sink Bathroom Vanity in Driftwood Finish
If you're looking for a more traditional vanity, this style delivers what you need. The classic white finish and satin nickel hardware will add the perfect elegant touch to any bathroom space, and the combination of a storage door and drawers will give you more space, too.
36 Inch Single Sink Bathroom Vanity in Bright White with Choice of Top
This vanity offers a more rustic, beachy look with mirror inlays on the doors. It also offers the option of no top, or you can get a white quartz top to finish the slightly aged but modern look. The cabinet includes two doors for storage and comes with an undermount sink, creating a seamless finish on the counter.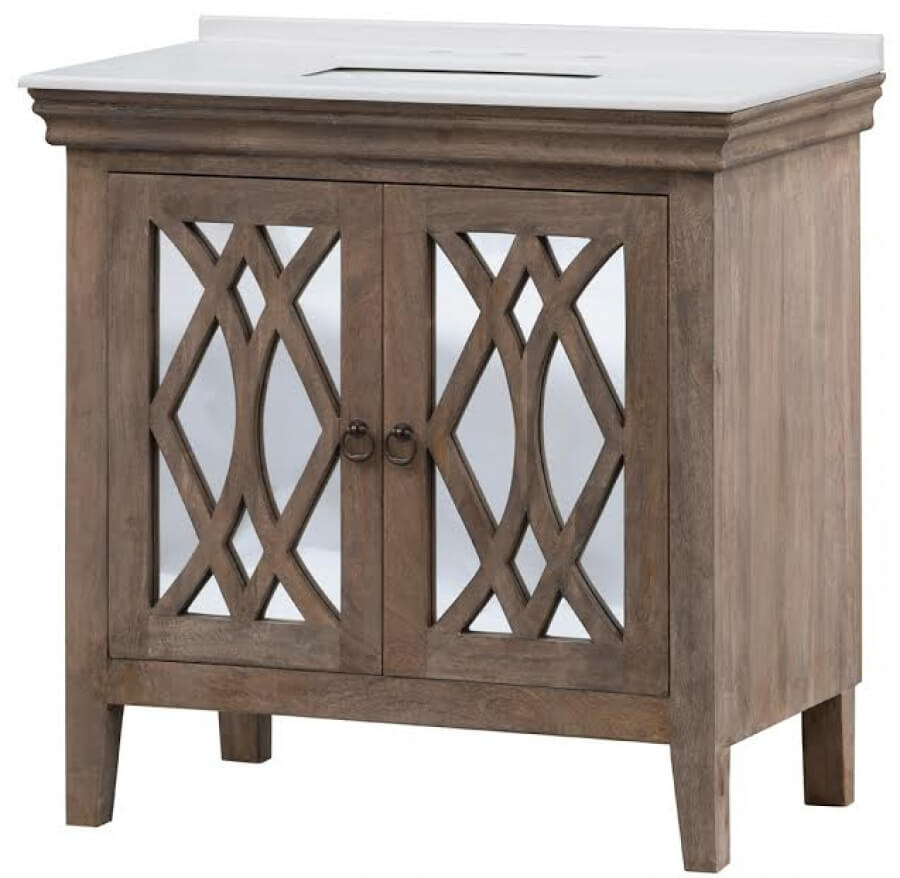 36 Inch Single Sink Bathroom Vanity with a Clear Mango Finish
For those who want a more modern design, this cabinet/drawer combo vanity makes the most of your storage space with a counter-mount sink that won't take up any valuable cabinet area. You will find two drawers, two doors, a shelf to store things, and the modern chrome and ceramic sink add a stylish touch.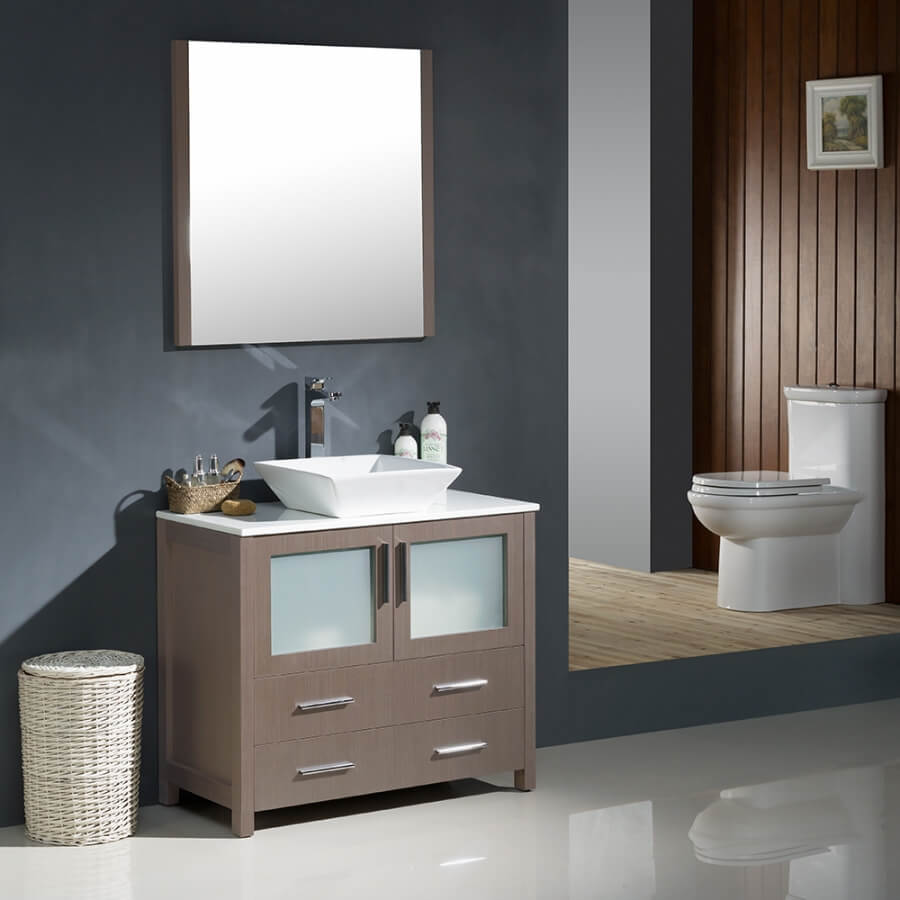 36 Inch Gray Oak Modern Bathroom Vanity
This stylish vanity features a traditional, dark finish that creates an impressive look in any space. The dark wood includes detailed accents that add a unique touch and hardware made of antique brass. It also comes with a marble counter, an under-mounted sink, five drawers, and two doors for storage.
36 Inch Single Sink Bathroom Vanity with Marble
You may think this is a duplicate item from above, but perhaps your plumbing requires your sink to be on the right side rather than the left or middle. This single sink vanity has a simple design that will fit well within many different types of room decor. Aside from the classic look, it provides wonderful functionality for storage within the five drawers and double door cabinet. This model has a dark navy blue finish that is smartly accented by the bright silver tone of the chrome hardware pulls. The overall size is a good match for many homes. The high quality materials that go into the making of this piece ensure many years of usefulness.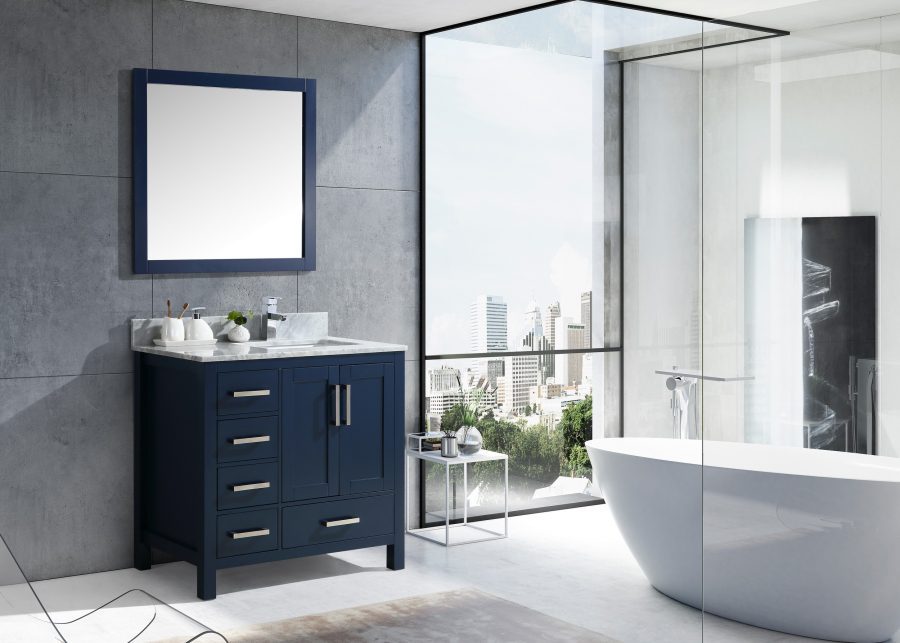 36 Inch Single Sink Bathroom Vanity In Navy Blue with Offset Right Side Sink
Find Your Favorites
A vanity upgrade can go a lot further than you might think. When you want something smaller, that doesn't mean your options for style shrink, either. You'll find everything you want in today's selection, as seen in the list above. From modern to traditional and much more, the 36 inch vanity offers a style for all.
Related: How to Make a Bathroom Look and Feel Luxurious
---
My name is Julia Ritzenthaler, Founder and President of Unique Vanities, started in 2005. I started this business as an extension of our residential remodeling business, which focused on the design and build of custom cabinetry and architectural trim. I also worked as a financial advisor for 10 years at Ameriprise Financial, helping clients make sound money decisions, including budgeting for home improvement expenses. This expertise led me to start Unique Vanities, which offers a handpicked selection of high quality bathroom vanities, sinks, mirrors and more. You can find me most days sitting in Starbucks, my second office, or in my car driving my daughter across Dallas to gymnastics training.
---
Resources
https://www.lowes.com/n/buying-guide/bathroom-vanity-buying-guide1