What's in a trend? These days, it seems like everyone is talking about what's "trending". While that can be a fun topic, there are just as many trends to avoid as there are to indulge, and especially when it comes to the bathroom. If you're looking for the best bathroom design ideas and the ones you need to avoid, you're in the right place.
You'll find all kinds of people who want to tell you about which bathroom trends to try, but which ones should you be avoiding? We'll cover all that below to help you get the best design for your new bathroom.
60 Inch Single Sink Bathroom Vanity in Driftwood Finish
What Is Trending Right Now?
Right now, people are looking for ways to modernize and turn their home bathrooms into luxurious, spa-like spaces, thinking that since they're spending more time at home, they'll love having the upgrades. However, there are some upgrades and renovations that just won't go over well when it comes time for resale.
Less than what's trending, you need to think about the intention behind your renovations—the best ideas when you're trying to sell are different than the best design ideas for your family home that you're going to stay in forever. While you might love that bright green bathroom with the claw-foot tub, other buyers might not be so inspired by your design choices.
Another popular trend right now is upcycling and refinishing—people are choosing to repurpose their existing pieces, upgrade pieces they buy from others second-hand, and find new ways to breathe life into old furnishings. This can do a lot for the bathroom without a big budget, too, which is part of why people like it. If you're looking for a trend that isn't going to take a chunk out of your wallet, this is one worth embracing.
According to the pros, the list below covers the biggest trends to avoid and explains why you need to steer clear. Once you've got that covered, you'll be able to focus on what you can do when it comes time to renovate your bathroom space.
Related: Bathroom Trends to Watch in 2021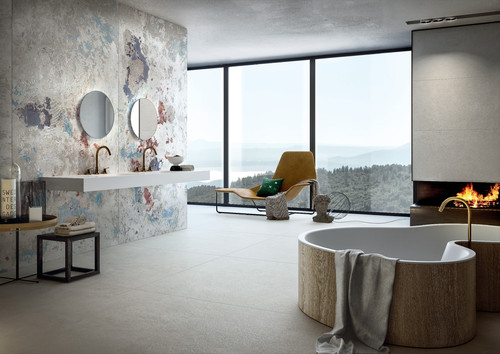 Bathroom Remodeling Mistakes and Trends to Avoid
These are the top don'ts, according to designers, realtors, and other experts that know all about bathroom design.
White on White Design
Yes, it's good to brighten up a space to make it feel larger. However, you can't just put white tiles on white walls and put in white furnishings and say it's to increase space. Not only is this a paint to keep clean, but it can actually make the space look stark, cold, and unwelcoming. It's better to choose a slightly varied color palette that has gray or beige neutrals to create a lighter look without going all white.
60 Inch Double Sink Bathroom Vanity in White Washed Walnut
Tacky Colors
Speaking of colors, you should also be careful about which ones you choose. Get rid of dated colors right away, like that terrible baby pink or slightly horrid shade of avocado. When you are choosing a color for a bathroom, choose light, warm, inviting colors that aren't too shocking and that create a good mix. Never choose more than three colors for the space and make sure that they all accent and complement each other accordingly.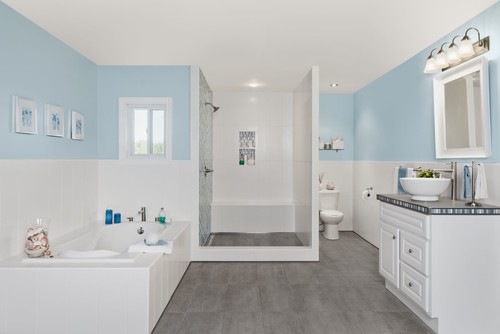 Oversized Bathtubs
For some reason, everyone thinks that an oversized tub is a great investment for their bathroom. Sure, it will be luxurious, and you'll love taking baths, but if you're planning to sell, it might not be the best idea. People are still budget-conscious and will think about saving water, not wanting to spend a small fortune to fill the tub each time. You'd get a much better return on your investment if you chose an eco-conscious and equally luxurious shower installation.
Stainless Steel Thermostatic Shower Massage Panel
Nickel Finishes
There were a few years when everything was brushed chrome or satin nickel finished, and the hardware looks modern and stylish. Unfortunately, like all trends, this one has run its course. More people are looking to upgrade to modern finishes, or more rustic styles like antique brass, as those charming country designs come back into popularity. You can still use this hardware, but if you're looking for a value increase, choose a different finish.
72 Inch Single Sink Bathroom Vanity in Glossy White with Radiant Gold Pulls
Subway Tiles
Some people are shocked to hear that subway tiles are already trending out. However, people are switching their interests and the theme now is geared toward large-format tiles and geometric shapes that add a modern-looking finish. If you have options beyond subway tiles, go for those first. If you had your heart set on subway tiles and you're not sure where to go from here, check out online design sites to get inspiration to help you along the way.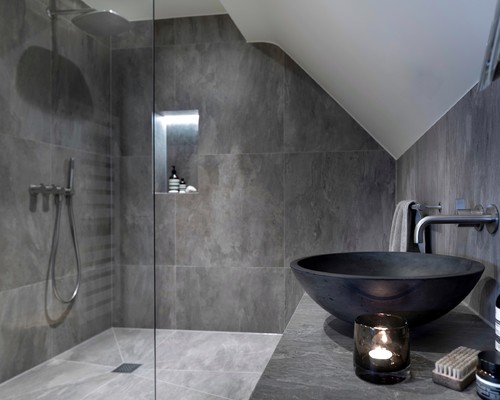 Adding Additional Bathrooms
This is a big one that a lot of people don't think about. It's assumed that adding another bathroom to the home will always be a good investment. However, that would be an incorrect assumption. It actually only gets an ROI of about 56% to add another bathroom to your home, so unless it's particularly in demand in your market or you're planning to live in the home and need the extra bathroom, you might want to skip this one.
Related: 12 Designer Tips Make a Small Bathroom Bigger
Quick Trends You Can Embrace
If you do want to take advantage of the best bathroom trends, consider things like:
A modern hardware upgrade
A fresh coat of paint on the walls
A vanity upgrade or refinish
New bathroom vanity lighting
New hardware and fixtures
Rugs, shower curtains, and other accessories
A handheld shower unit
Related: How to Make a Bathroom Look and Feel Luxurious
3 Light Vanity Lighting in Brushed Nickel
All the little changes are going to make a much bigger difference, and when you avoid the worst trends, you'll know that your bathroom design can deliver everything that you want, whether it's for your use or for resale.
That's really the bottom line here—you have to choose renovations and bathroom upgrades based on your intention and what you have in mind. What works for you might not always work for everyone else. Feel free to take advantage of bathroom design trends and inspiration that you find online but remember that in the end, it's about what works for your space.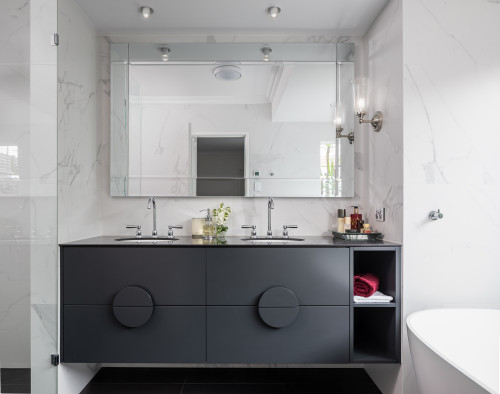 Related: 11 Steps to Remodeling Your Bathroom
Resources
https://www.pouted.com/outdated-bathroom-design-trends-avoid/
https://laurelberninteriors.com/2020/09/16/7-of-the-hottest-bathroom-trends-to-avoid-or-embrace/
https://www.intrendbathrooms.com.au/avoid-these-out-dated-bathroom-trends/
https://eco1plumbingmiami.com/5-must-know-bathroom-trends-to-avoid/
https://www.purewow.com/home/bathroom-trends
https://www.bhg.com/bathroom/remodeling/planning/2021-bath-trends/
https://stylebyemilyhenderson.com/blog/2021-bathroom-trends