Bathroom and kitchen trends change all the time, for several different reasons. Light-colored quartz is the latest of these trends, offering a popular style for those who want something that looks upscale without breaking the bank. Quartz is a durable, beautiful material that can withstand a lot of use and abuse over the years. It's also a low-maintenance option.
Quartz can range between $30 and $150 per square foot, depending on the quality of the stone and the thickness of the slab that you choose. This is usually a little less expensive when compared to granite, and it's much cheaper than marble. It's more expensive, but also much higher quality than laminates and other solid surface materials.
A quick note on design—your bathroom and kitchen countertops don't need to match, even if they're right next to one another. They're separate rooms and the bathroom door allows you to create an entirely different space. You can choose complementary styles or colors to create a sense of flow in the house, or you can just choose the counters that fit each room individually, regardless of the other.
Now, let's dig into the details of quartz and why it's becoming a preferred choice for kitchen and bathroom countertops.
Related: What Size Vanity Do I Need for Two Sinks?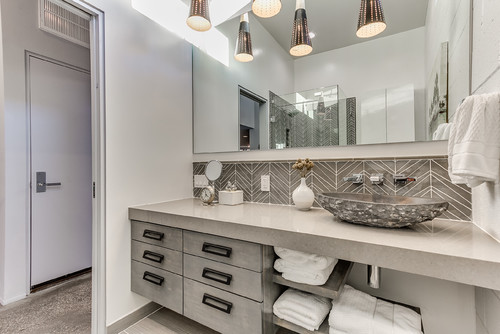 What is Quartz?
Quartz is a stone that is engineered, which means that it is not used as a natural product in its basic state—it's modified to be turned into countertops, floor tiles, and other materials. Unlike natural stones, this makes the material more affordable, and yet it still retains many of the perks that people appreciate about stone.
Quartz countertops are made of 90-95% quartz that is ground up and mixed with polymers and a polyester resin to create a binding agent. You can also add colors of your choice to the quartz during the creation process to create the perfect look. Quartz is also known for being one of the most abundant minerals and one of the hardest minerals that you will find on earth.
Quartz is manufactured by several companies throughout the country and the world. Each brand has its own methods but many focus on eco-friendly efforts, which we'll get into later in the pros and cons section. For now, let's talk about why this engineered stone is becoming so popular.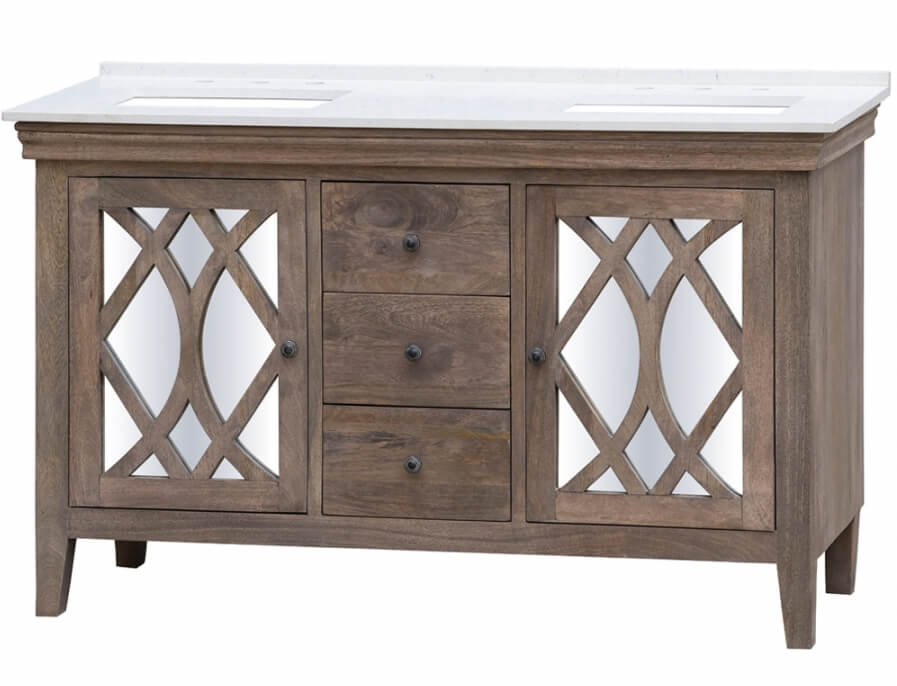 58 Inch Double Sink Bathroom Vanity in Mango Wood and Quartz Top
Why is Quartz Becoming So Popular?
Light-colored quartz is becoming popular for all of the reasons listed above and several others. This material is durable and provides the longevity that people want from a natural stone without the high cost of something like granite or marble. People love this material because it is:
Stylish
Durable
Stain and scratch-resistant
Available in several colors
Affordable
Long-lasting
Low maintenance
Related: How to Protect Wood Bath Vanities from Moisture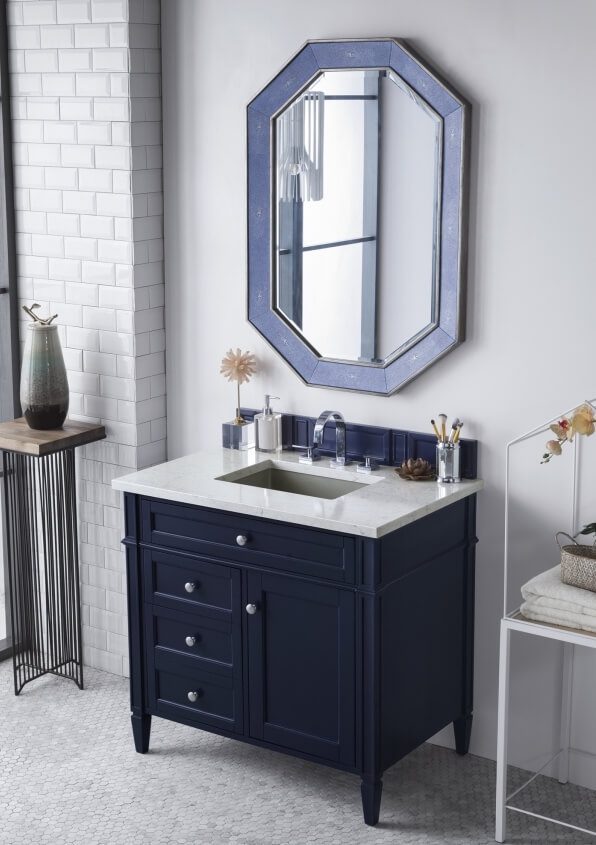 36 Inch Single Sink Bathroom Vanity in Victory Blue with Choice of Top
Popular Colors of Quartz
There are several different colors of quartz available today. You will likely find just as many as you can imagine wanting, including in dark shades and lighter options. Some people still prefer dark blacks or charcoal gray colors, but today, light-colored quartz is becoming the popular choice because it can open up a room and give you more light. It also offers a surface that's easy to see and work on, and it can hide small imperfections with ease.
Popular quartz colors right now include:
Gray
White and gray marbled
White and black
Tan
Tan/brown marbled
Beige
Ivory
White
Textured or marbled white
Gray and tan marbled
In addition to all of these colors, people are also choosing to add various textures and designs to their quartz to create a unique look. You can create styles and designs that are totally custom or buy the countertops off the shelf and just choose the look that you like best.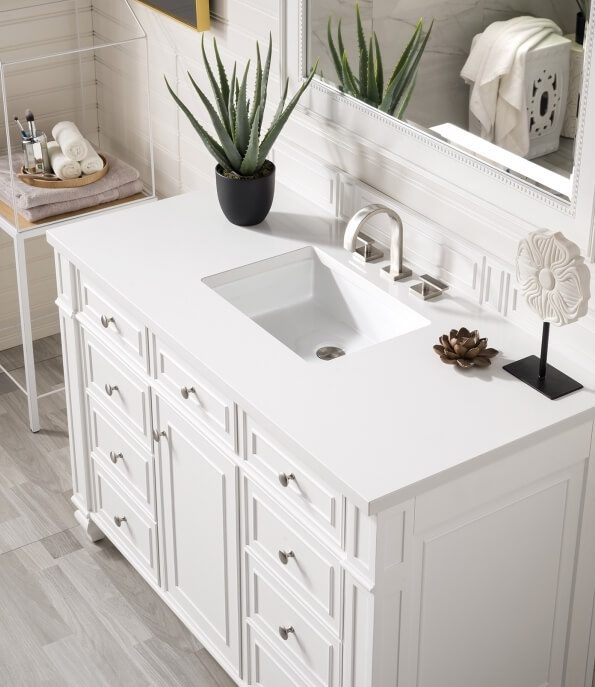 48 Inch Single Sink Bathroom Vanity in Cottage White with Choice of Top
The Pros and Cons of Choosing Quartz
There are several pros and cons to consider when you are looking at quartz (or any other countertop for that matter). You will need to think about durability, especially in the kitchen and bathroom, and quartz offers that along with the look of much more expensive material. It's a good choice for long-lasting surfaces that don't require a lot of maintenance.
One disadvantage that quartz has is that it doesn't withstand heat as well as some materials like granite. Thus, you'll want to continue to use hot pads and trivets to keep pans and hot plates from sitting on the counter so that you don't cause damage.
On the other hand, though, these counters ARE great for bathrooms because they're stone so there's never a moisture concern. They also offer the durability that bathroom counters need in any type of home, and since it's a smaller space, it's generally at a much lower cost than premium counter materials. And again, you can choose from an endless selection of colors and designs to brighten up the space and create the perfect look.
Then, there's the fact that most quartz manufacturers are eco-conscious. This gives you the peace of mind that you're buying a material that's not going to be harmful to the environment and that is sourced in the best ways possible. You can even take the time to research the options and find a supplier that does focus on environmentally friendly methods and sourcing if you want.
The pros and cons of quartz countertops are many. However, you can easily see that the pros outweigh the cons for the most part. If you're looking for premium counters and don't want a premium price, this could be a perfect balance.
Related: Trending 72 Inch Bathroom Vanities: Everything You Need to Know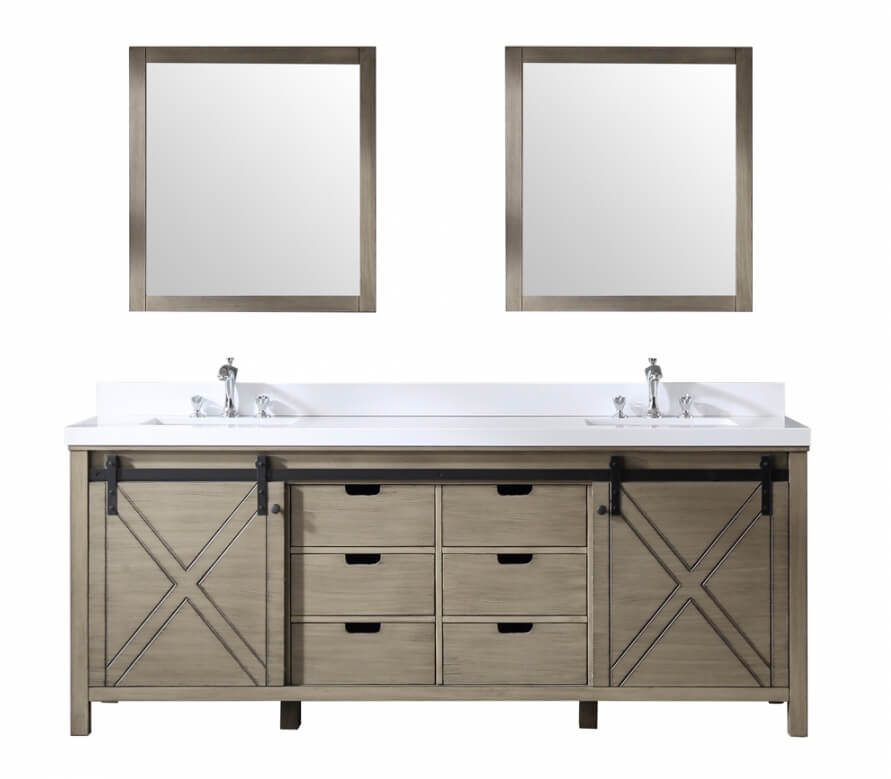 84 Inch Double Sink Bathroom Vanity in Ash Gray with Barn Door Style Doors
The Bottom Line
Light-colored quartz can change a lot about your bathroom or kitchen space. From lightening up the space to making the counters appear larger, it will add to the design in several different ways. Plus, it offers a durable, yet stylish material that can provide years of enjoyment with minimal maintenance and care.
While premium materials still have their place, those who are looking for a more affordable alternative will love the investment in quartz. It can even help enhance the value of your home in a renovated kitchen or bathroom space, which is great if you ever plan to sell.
Related: Now Offering Lexora Home Bathroom Vanities at UniqueVanities.com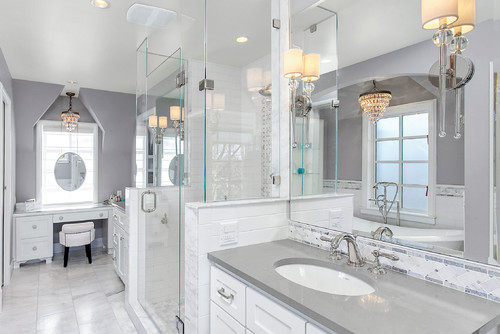 ---
My name is Julia Ritzenthaler, Founder and President of Unique Vanities, started in 2005. I started this business as an extension of our residential remodeling business, which focused on the design and build of custom cabinetry and architectural trim. I also worked as a financial advisor for 10 years at Ameriprise Financial, helping clients make sound money decisions, including budgeting for home improvement expenses. This expertise led me to start Unique Vanities, which offers a handpicked selection of high quality bathroom vanities, sinks, mirrors and more. You can find me most days sitting in Starbucks, my second office, or in my car driving my daughter across Dallas to gymnastics training.
---
Resources
bobvila.com/articles/quartz-countertops/
https://marble.com/articles/most-popular-quartz-countertop-colors
https://graniteselection.com/blog/the-best-quartz-countertop-colors-of-2019/
https://www.forbes.com/sites/sherikoones/2019/11/22/why-quartz-has-become-such-a-popular-countertop-stone/
https://granitegold.com/quartz-countertop-colors
https://www.msisurfaces.com/blogs/post/2019/02/12/how-to-choose-a-quartz-countertop-that-matches-your-kitchen-colors.aspx
https://www.archcitygranite.com/the-most-popular-quartz-countertop-colors-in-2018/