The medicine cabinet is a staple in most bathrooms and it has been for a long time. It's where people traditionally kept medicine, and today it's where people store medicines, toiletries, hygiene products, and so much more. This storage space can become invaluable in a bathroom, but it's only effective if you use it properly. In this guide, we'll cover the details behind the medicine cabinet and how you can choose the perfect style for your bathroom.
To find the best medicine cabinets, you have a lot of different things to consider. Fortunately, you don't have to do it on your own. Read on to learn all about medicine cabinets and what they offer, as well as how you can find the perfect one for your bathroom to create the balance of style and function that you need.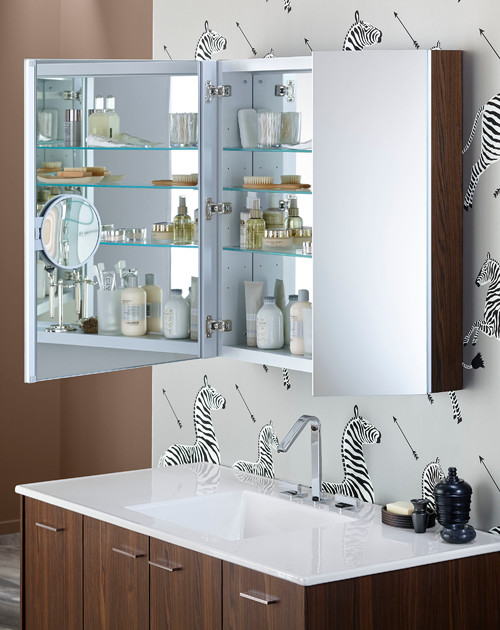 The Benefits of a Medicine Cabinet
First, let's talk about the benefits of having a medicine cabinet over your bathroom vanity. This cabinet gives you a convenient space to store everything in an area that doesn't get a lot of traffic. You can keep toiletries, medications, and other items stashed out of sight but right at hand when you need them. These cabinets also come in every size, style, and configuration imaginable, giving you the perfect storage solution for your space.
Most medicine cabinets also have mirrors, which is a necessary part of the bathroom for many people. There are several different designs and styles available, including wall-mounted cabinets and recessed cabinets. The recessed option is popular in a lot of older homes and new construction, but many models are built out to be wall-mounted today, making it easy for anyone to incorporate this into their design.
The storage is probably one of the best aspects of this piece. It offers a place for all those small items that you keep on hand every day: toothpaste, brushes, floss, small bottles, combs, and other items that you use on a daily basis. Having a place to keep these items can make it easier to enjoy your bathroom routine and avoid a cluttered mess.
Related: 6 Ways to Maximize Bathroom Space
Vanderbilt Triple Door Medicine Cabinet
Are Medicine Cabinets Outdated?
Some people question whether these cabinets might be a bit out-of-date. However, the fact is that they're only as outdated as their style. The actual medicine cabinet fixture is still one that has a place in almost every bathroom. Although some homeowners will opt to put up a simple mirror without a cabinet, that space is going to have to be made up for elsewhere when it's not available.
These cabinets can still add a modern, stylish touch to any bathroom space. Your bathroom can be a space that adds a "wow" factor to your home and with the right medicine cabinet, you can create the ideal look.
Medicine cabinets will never be outdated. However, the styles and designs will continue to change over time, and that's what you need to pay attention to.
Related: 5 Bathroom Makeover Ideas That Won't Break the Bank
Arched Single Door Medicine Cabinet
Medicine Cabinet Storage Rules
Of course, we can't talk about the wonder of the medicine cabinet without considering storage. You don't need a hard-and-fast list of what you put in this cabinet, but you can't just toss everything in there and call it a day. This cabinet should be used for things like:
Toothpaste and toothbrushes
Floss and other oral care items
Combs and brushes
Tweezers, nail clippers, and other hygiene tools
Other daily use items
Three Mirrored Door Medicine Cabinet
In addition to this list, of course, there is then the list of items that you should never store in your medicine cabinet. This is probably the more important list of the two. Some of the items might even surprise you, but here are the top items that you should put elsewhere:
Medications: The moisture in the bathroom can actually cause the pills to become less potent. It also creates the risk of easy access for children and visitors, which is a safety hazard that you want to avoid at all costs.
Open packaging: Again, the bathroom is a place of moisture and heat. If you have items that aren't sealed, they could be damaged by the constant exposure. You will want to store items that are open in a drier space that is free from humidity and the constant heat of the shower or bath.
Light-sensitive items: The cabinet is going to be opened time and again. If you have vitamin C, benzoyl peroxide-based substances, and other items that are affected by exposure to light, this is the worst place to keep them. Consider a dark cabinet or closet that doesn't get opened as often, and preferably also somewhere away from moisture.
Razors: This one confuses a lot of people because you use them regularly enough that razors should be on hand. However, exposure to moisture and heat can cause them to rust too soon and you'll find yourself replacing razors more often than necessary.
Basically, if it can be affected by the heat and humidity of the bathroom, you shouldn't store it in the medicine cabinet.
Related: Bathroom Mirror Lighting Ideas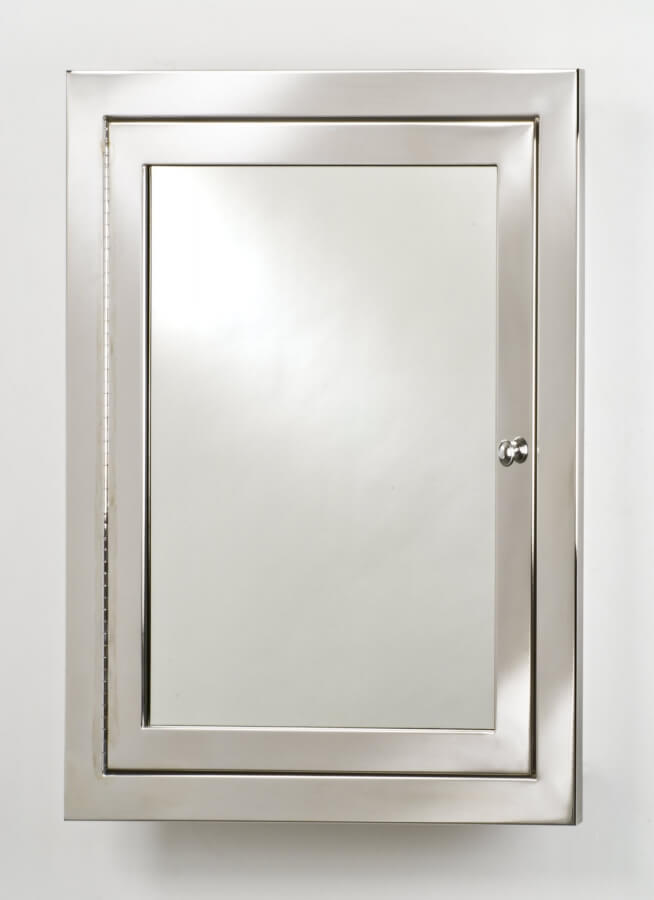 Metro Single Door Stainless Steel Medicine Cabinet
What if You Opt to Go Without One?
No law says your bathroom has to have a medicine cabinet. If you don't install one, you could choose to just hang a mirror on the wall and call it a day. But where do you put your toiletries and medications? Well, you can use the vanity cabinet storage (if you have a sink with a cabinet or drawers) or you could install a cabinet or shelving above the toilet, for a couple of examples.
Essentially, you can create whatever space you want as long as you take the time to check out the options and find what works for you. Medicine cabinets can be a great addition to your space and give you more room for storage. They can also do a lot more for your design than you might realize. Take a minute to explore the best medicine cabinets on the market today and see what they can do for your space.
Related: Bathroom Trends to Avoid in 2021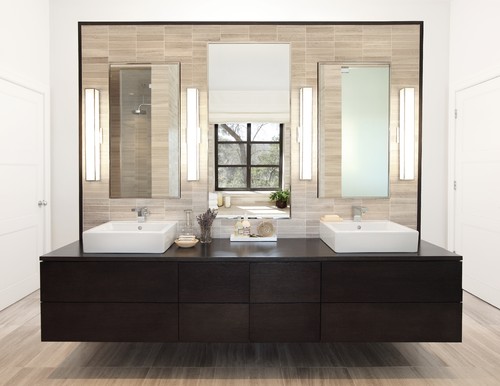 ---
My name is Julia Ritzenthaler, Founder and President of Unique Vanities, started in 2005. I started this business as an extension of our residential remodeling business, which focused on the design and build of custom cabinetry and architectural trim. I also worked as a financial advisor for 10 years at Ameriprise Financial, helping clients make sound money decisions, including budgeting for home improvement expenses. This expertise led me to start Unique Vanities, which offers a handpicked selection of high quality bathroom vanities, sinks, mirrors and more. You can find me most days sitting in Starbucks, my second office, or in my car driving my daughter across Dallas to gymnastics training.
---
Resources
https://www.houzz.com/magazine/should-you-get-a-recessed-or-wall-mounted-medicine-cabinet-stsetivw-vs~33521749
https://www.realsimple.com/home-organizing/organizing/organizing-bathroom/bathroom-medicine-cabinets-storage-rules
https://www.walterworkshardware.com/medicine-cabinets/4-benefits-of-a-medicine-cabinet-in-your-bathroom/
https://homedecorbliss.com/bathrooms-need-medicine-cabinets-or-outdated/