When people think about remodeling or updating their homes, they often think of new beds, updated couches, new kitchen appliances, and beautiful patio furniture. You and your guests will definitely enjoy improvements to all of these areas, but have you considered your powder room?
A guest bathroom or powder room is often one of the most overlooked and underrated rooms in a house. Yes, you clean it whenever you have company over, and you make sure that there's always hand soap and toilet paper available, but have you really done anything with it other than that?
Is it, honestly, a bit embarrassing? When friends ask if you have a restroom they could use, do you say something like, "Yes, of course, but please don't mind the mess," or, "It's not the nicest," or do you just cringe a bit?
Even if an out-of-date powder room is perfectly clean, it can still feel a bit off. You want your guests to leave your home talking to each other about how nice everything was, how tastefully it was decorated, and how beautiful the décor was. You certainly don't want them saying, "Except for the bathroom…"
Fortunately, though, updating your powder room doesn't have to be difficult or expensive. You can do it with little effort and on a tight budget, if you follow these easy tips.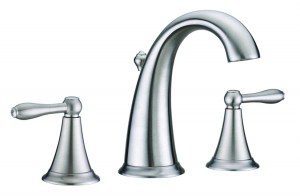 Invest in the Small Stuff
If you really can't afford to spend the money on a full remodeling job right now, there are a few things that you can do to spruce your powder room up without breaking the bank. For example, have you looked at the prices on bathtub and sink accessories lately?
For less than $50, you can buy a new trim kit for your bathtub. You might be surprised how much nicer it looks with a new nozzle and handles for the hot, cold, and shower settings. In the same price range, you can update the handles on your vanity cabinets and drawers, or get new handles and maybe even a faucet for your sink.
That means you could update just about all of your bathroom fittings and accessories for under $200. For the price of a couple of dinners out on the town, you could be on your way to a much classier looking guest bathroom.
Embrace the DIY Lifestyle
You don't have to do everything yourself, but think about how much money you can save and how good you'll feel about being so self sufficient when you take on some of the remodeling yourself. For example, hiring someone to come in and paint the bathroom costs a good deal of money. All you have to do to paint it yourself is buy a few supplies, like rollers, plastic sheeting, and masking tape. You could have the paintjob done in an afternoon. Then you'll have money left over to pay for any updated plumbing systems.
Updating the Décor
Floating bathroom vanities and cabinets are very popular right now, and they're very practical, too. Because they're bolted to the wall, they don't take up any floor space. You can either leave that space bare for a clean, minimalist look, or you can use it as storage space for lavatory supplies.
Narrow depth bathroom vanities are also less expensive than larger vanities and give any powder room a finished, sleek look. They have the added bonus of fitting in small bathrooms, like a half-bath or powder room. New accessories go a long way toward updating the look of a bathroom, but the best way to really give the room a new and stylish look is to replace the vanity.
If you can't replace the vanity yet, though, you can give it an updated look by painting the counter and cabinets a dark, rich brown or black. Then, instead of replacing the whole thing, just replace the mirror with one that's more up to date, with a more interesting frame.
If you choose a smaller mirror than your old one, you have the opportunity to add some wall décor around it. A couple of small, framed photographs or paintings can lend a familiar and warm air to the room. You could also choose a wall decal of the silhouette of a tree or flowers. These will make it look like you spent a lot of time and/or money on your paintjob, and they're just plain beautiful, too.
One Last Finishing Touch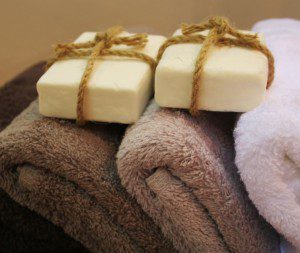 You really don't have to spend a lot of money to update your powder room. With a few touches to spruce the place up, you won't ever cringe when a guest asks to use the restroom, even if it's your mother-in-law! After you've done all of the remodeling you plan on, go ahead and buy a new set of towels that match the updated look of the powder room. The towels will draw everything together, and you'll be proud to show off your work.
---
My name is Julia Ritzenthaler, Founder and President of Unique Vanities, started in 2005. I started this business as an extension of our residential remodeling business, which focused on the design and build of custom cabinetry and architectural trim. I also worked as a financial advisor for 10 years at Ameriprise Financial, helping clients make sound money decisions, including budgeting for home improvement expenses. This expertise led me to start Unique Vanities, which offers a handpicked selection of high quality bathroom vanities, sinks, mirrors and more. You can find me most days sitting in Starbucks, my second office, or in my car driving my daughter across Dallas to gymnastics training.
---