So you want to remodel your bathroom and/or powder room? You've probably seen some amazing bathrooms in design magazines and on your friends' Pinterest boards. You might have a friend who has the perfect master bathroom, with a gorgeous vanity, vessel sinks, and even heated floors.
Whatever the reason for your bathroom and/or powder room renovation, you'll need to think about a few things and make a complete plan before you get started. By following a good plan, you'll be sure to get all of the details just the way you want them, so that you can enjoy a soak in the tub and a little bit of "me" time at the vanity when you're done.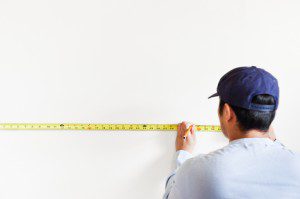 What Are You Working With?
First of all, look at the size and layout of your bathroom and your powder room, if it's separate. Take measurements and make notes on odd angles and narrow spaces. Just because you have a long, thin bathroom, that doesn't mean you can't have a large bathtub and a vanity. Small bathrooms present some challenges when it comes to space and appliances, but you can often get exactly what you want with a little bit of imagination and ingenuity.
Next, look at what you're working with financially. It's important to have a clear idea of your budget before you start spending money on supplies and/or labor. The truth is, if you're smart about it, you can remodel your bathroom and get the results you want without spending an arm and a leg, but the first step is knowing just how much you can spend.
What Do You Want?
Do you love claw-foot tubs? Are you a huge fan of the modern look and feel of floating bathroom vanities? Make a list of everything you want to have in your new bathroom. This is your time to dream, so don't hold back. If you want a huge Jacuzzi, a lighted vanity, a heated floor, and all of the storage room you could ever dream of, write it down on this list.
They say, if you aim for the stars, you might miss and hit a stump, but if you aim for the stump, you'll definitely hit nothing but dirt. So, for just a moment, aim for the stars. In this step, all you have to focus on is what you want. In the back of your head, you'll already be filtering out the really ridiculous wishes because you've already taken measurements, and you already know what kind of space you have to work with.
How to Resolve the Dream With Reality
Once you've gotten all your dreams down, it's time to rein yourself in a bit. Think about what on that list is most important to you. Using the measurements you took of your bathroom, make a sketch of the space. Now, sketch in the things you want to put in that space the most.
Next, take that sketch, and start looking online for appliances and materials that fit into the space. Look for narrow depth bathroom vanities, floating vanities, mirrors, and cabinets, as well as vessel sinks and over-the-toilet storage cabinets.
Finally, list the prices you find for each of these items and add them up. If you're over budget, look at your list again. For example, instead of a giant, overhead showerhead unit that requires installation work and/or new plumbing, you could get a simple replacement showerhead that will give you the same feeling without as much cost.
If you can't afford to replace the tub, you might want to look at having it re-coated and replacing its trim kit. You might be surprised at how much new nozzles and handles on the controls and showerhead can spruce up your bathtub.
Getting It Done on a Budget
Doing everything yourself can seem like the most affordable option, but it can also mean spending a lot more time and effort. It might also mean having to pay the professionals to come out and do something right that you messed up. Be sure that you're confident in your home improvement skills before you bite off more than you can chew.
That said, with a few supplies and a little bit of time, painting a room is not difficult. If you handle painting your bathroom walls, you'll save a good bit of money on the labor costs. Then, if you're not confident with your flooring or plumbing abilities, you can call in the professionals.
When you do call the professionals, don't just go with the first contractor you talk to. Get estimates from 3-4 local contractors. Then go online to a review site like Yelp or Angie's List and look at how customers have liked them. Don't just pick the contractor with the lowest prices. Instead, pick the one with the best balance of customer satisfaction and low pricing.
If you follow a good plan, you'll be bathing and relaxing in your newly remodeled bathroom in no time, and you might even have some spare cash left over for new towels and bathrobes.
---
My name is Julia Ritzenthaler, Founder and President of Unique Vanities, started in 2005. I started this business as an extension of our residential remodeling business, which focused on the design and build of custom cabinetry and architectural trim. I also worked as a financial advisor for 10 years at Ameriprise Financial, helping clients make sound money decisions, including budgeting for home improvement expenses. This expertise led me to start Unique Vanities, which offers a handpicked selection of high quality bathroom vanities, sinks, mirrors and more. You can find me most days sitting in Starbucks, my second office, or in my car driving my daughter across Dallas to gymnastics training.
---