To some people, medicine cabinets have long since gone out of style in favor of new bathroom mirrors and other vanity designs. However, that's not entirely the case. Many people still seek out medicine cabinets for their bathroom, whether they call them that or refer to them as over-the-sink cabinets, vanity mirror cabinets, or anything else. The name doesn't matter—if you do it right, you can find many great ways to incorporate a medicine cabinet into your modern bathroom space.
Whether you're doing a full renovation to the bathroom or just looking to update a couple of things here and there, a new medicine cabinet can make all the difference. This upgrade can add storage space and value to the home and give you a chance to find unique pieces you might not have expected to come across. If you're considering medicine cabinets for your next bathroom project, here's what you need to know.
The Medicine Cabinet: Dated Storage or Stylish Function?
As mentioned, some people feel these cabinets are outdated and useless. However, modern medicine cabinets include several stylish designs and high-quality finishes that accent any space. These cabinets are a great way to add storage without adding too much bulk to the space. They can be installed as recessed cabinets, or you can stick with a surface mount installation if you don't want to cut into the wall (or if a hole isn't already present).
The medicine cabinets available today are not your grandparents' medicine cabinets. There are many styles to choose from and plenty of reasons to consider them for your space. Bathroom storage has always been a hot topic — even the largest spaces can feel like they lack storage in certain ways.
So, what's the final verdict? Ultimately, you get to choose. Medicine cabinets can be a great way to add space to your bathroom, and the available selection makes it easier for everyone to get a finished look that fits with their bathroom design. To help you with your decision, let's look at some benefits of medicine cabinets and other factors.
Related: Medicine Cabinets: Mixing Functionality And Style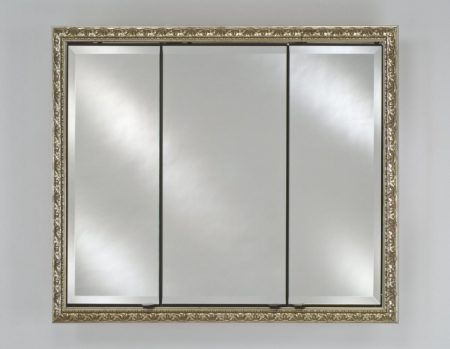 Signature Collection Custom Framed Triple Door Medicine Cabinet
What Are the Benefits of a Medicine Cabinet?
Like all bathroom features, a medicine cabinet will have its pros and cons to consider. Typically, the benefits outweigh the potential disadvantages, but everyone's needs will differ. Here are a few benefits of adding medicine cabinets to your bathroom.
These cabinets offer simple, easily accessible storage. You can keep medications, everyday toiletries and hygiene products, first aid kits, and anything else you need on hand in these cabinets and have them ready. It conceals the items and creates a clean look while making sure everything is right at hand.
Medicine cabinets today come in a variety of finishes and other options. You can choose between recessed and wall-mount styles and many different designs, styles, and finishes.
When you already have a recessed hole in your bathroom wall from an old medicine cabinet, adding a new one can be a better solution than trying to cut one in or fill in the wall space and add a flush-mount mirror or cabinet. It saves time and money and provides all that convenient storage.
Medicine cabinets can hold anything that you like. It doesn't have to be medicine. You can keep your hair products, shaving products, toothpaste, toothbrushes, or anything else that you want in these cabinets. They can even be installed outside of the bathroom to make them more convenient and accessible in the home, depending on their use.

These are just a few of the biggest perks of using a medicine cabinet. Some people wonder about their shallow nature and whether they will provide the necessary storage, but as long as you're not trying to store huge items, they should do much more for your space than you might realize.
Bathroom medicine cabinets add function and value to the space. Any new storage or upgraded features will increase the value of your home, which is great if you are going to sell or try to refinance for one reason or another.
Related: Decluttering Your Bathroom Is The Key To Redecorating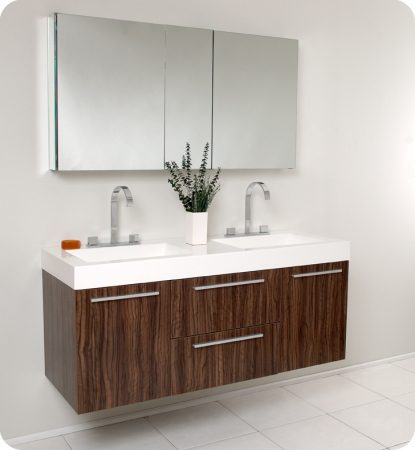 54.25 Inch Walnut Modern Double Sink Bathroom Vanity with Medicine Cabinet
What Are the Different Installation Types of Medicine Cabinets?
In the past, the selection of medicine and vanity cabinets was much more limited. People typically looked for functional tools that fit their large or small spaces, and extra style was always a bonus. Today, however, style comes first on many of these cabinets, available in several colors, finishes, materials, and designs.
Typically, mirrored medicine cabinets are separated into two main groups: recessed and surface mount.

Recessed medicine cabinets sit in the wall. As mentioned, if you do not already have a section of the wall cut out for these cabinets, it may take a little extra installation work. However, many people have older homes with existing cabinets that are recessed, which makes adding a new medicine cabinet even easier.
Surface Mount cabinets are installed flush to the wall, sticking out somewhere between three and four inches from the wall in most cases. There are deeper medicine cabinets that might have up to six inches of depth, but shallower storage is more common. Flush cabinets are great for those who don't already have a recess in the wall and who want to save money or effort.
Most medicine cabinets include a mirror on the front, but you can also find models without a mirror. These work best in spaces outside the bathroom or a bathroom where you already have a mirror and may not need another one. The biggest decision you must make is between recessed and flush-mount styles.
Related: Incorporating The Vintage Look Into Your Bathroom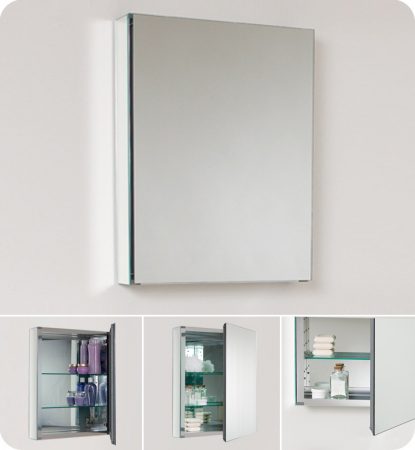 Small Bathroom Medicine Cabinet
How Do You Choose a Medicine Cabinet That Fits Your Space?
Several factors are involved in choosing the best medicine cabinet, and we've covered some briefly. Now it's time to take a closer look to help you choose the best cabinet for your bathroom space. Although you may have other considerations in mind, such as the hardware or the color finish, those are personal preferences you will need to determine on your own.
The most important elements to consider with your new medicine cabinet include size, installation type, material, and features:

Size: You must determine the size of the medicine cabinet you need for your space, including the height, width, and depth. Remember that depth means how far it sticks out of the wall. Measure and make sure you are okay with these dimensions.
Installation Type: We covered this topic above—the type of medicine cabinet you choose will either be recessed or flush-mount. You will need to pick the one that best suits your needs. Remember, as discussed, adding a recess or filling one in is much more work, so consider working with what you already have.
Material: Typically, medicine cabinets will be made of wood or wood composite. However, they are also available in metal, sometimes, and may add a more rustic or industrial look to a space if you go that route.
Features: How much storage does the medicine cabinet have? Do you want a mirror or perhaps a certain type of hardware? Perhaps you want a cabinet that has adjustable shelves or is lighted.
Make sure that these factors are included in your purchase, and you'll be loving your new bathroom medicine cabinet in no time.
Related: 6 Questions About Bathroom Mirrors
Broadway Triple Door Medicine Cabinet
Pairing a Medicine Cabinet with Your Bathroom Vanity: Easier Than You Think
So, now that you've seen what medicine cabinets offer, you can incorporate them into your new bathroom design. Some people use these cabinets above the vanity to replace the mirror or other fixtures, while others install them near the vanity as separate fixtures. As discussed above in the buying considerations, you'll have to think about the cabinet's materials and size to ensure that it fits with your bathroom vanity.
Consider the finish of your vanity and its other features. How much storage do you have compared to what you need? What is the design or style of the bathroom vanity? If you have a modern vanity, you likely won't want a rustic medicine cabinet because the two design themes will clash, for example.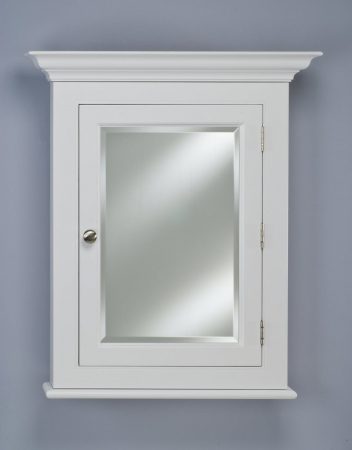 Wilshire 2 Single Door Medicine Cabinet
Choose an appropriately sized medicine cabinet for your vanity if you use it above as a mirror and storage solution. If the cabinet is installed elsewhere in the bathroom, ensure the size fits the space. You don't necessarily have to choose the same color for all your bathroom accents so long as they work together.
For example, you might install an espresso bathroom vanity, then use a white-framed medicine cabinet to offset the dark color and create light in the space. You can do so much with these pieces that it shouldn't be difficult to create your perfect space. You can even get inspiration online to help you choose your design.
When you add a medicine cabinet, prepare to modernize your bathroom with a revamped classic. With so much to choose from, you will surely find something that suits your needs.
Related: 2023 Design Trends To Watch For

---
My name is Julia Ritzenthaler, Founder and President of Unique Vanities, started in 2005. I started this business as an extension of our residential remodeling business, which focused on the design and build of custom cabinetry and architectural trim. I also worked as a financial advisor for 10 years at Ameriprise Financial, helping clients make sound money decisions, including budgeting for home improvement expenses. This expertise led me to start Unique Vanities, which offers a handpicked selection of high quality bathroom vanities, sinks, mirrors and more. You can find me most days sitting in Starbucks, my second office, or in my car driving my daughter across Dallas to gymnastics training.
---
Resources
https://www.luxurylivingdirect.com/blog/post/medicine-cabinet-buying-guide.html
https://www.modernbathroom.com/blog/post/2017/10/17/medicine-cabinet-bathroom-remodel-debate
https://vevano.com/blogs/bathroom-resources/medicine-cabinet-guide
https://homedecorbliss.com/bathrooms-need-medicine-cabinets-or-outdated/
https://www.uniquevanities.com/bathroom-vanity-blog/bathroom-essentials/medicine-cabinets-mixing-functionality-and-style.html
https://www.glasscraftersinc.com/all-the-benefits-and-details-of-a-medicine-cabinet-design/