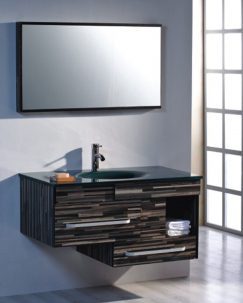 Modern bathroom vanities are labeled as such because they promote simple, clean lines that are not overly designed. Modern styled bathroom vanities are a fantastic selection for a redecorating project because they are a timeless style that will grow and evolve with the look of your space. These simple bathroom vanities will be in style for many years to come and you will be able to accessorize your modern vanity by changing out the mirror, the lighting, and other bathroom accessories throughout the years.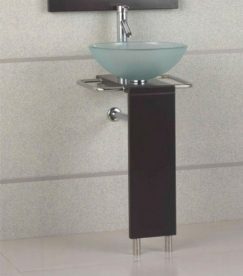 You will find that single sink contemporary bathroom vanities are often nice and narrow, ranging from just 12 inches wide and going up from there; making this bathroom vanities style perfect for a very small bathroom or a guest bathroom. Contemporary bathroom vanities also come in beautiful wall mounted styles, which creates the illusion of added space in the bathroom.
Many modern bathroom vanities feature the vessel sink look. The sinks featured on these bathroom vanities are often glass, natural stone, or porcelain. A simple, clean looking vessel sink really adds to the trim look of contemporary bathroom vanities.
Modern bathroom vanities are not just for small spaces; however, you will also find a wonderful selection of double sink bathroom vanities. Again, we offer a selection of amazing vessel sink bathroom vanities and under mount bathroom vanities in this style. Sizes go all the way up to 91 inches for these gorgeous modern bathroom vanities.
When shopping contemporary bathroom vanities, you will find a multitude of storage choices; shop modern bathroom vanities with typical combinations of doors and drawers, contemporary bathroom vanities that feature shelving concealed by sleek frosted glass doors, even bathroom vanities with open shelving with drawers below or to one side.
Once you have decided that modern bathroom vanities are the right item for your project, you can move on to determining whether you like the vessel sink bathroom vanities or if the more classic under mount bathroom vanities fit your style. Then look at your storage needs and you will be able to narrow down to the right contemporary bathroom vanity for you. And if you still need help, you know how to reach us–visit us online at UniqueVanities.com— or call 866-526-1843! We LOVE calls from our clients!