Most homeowners desire a unique look for their remodeling project. Not too many people want a cookie cutter design that imitates everything that can be seen at any local Home Depot or Lowes. So when a few of our modern minded clients have asked our team for help in something truly one of a kind, we've shown them a few of our patterned glass vessel sinks.
Now keep in mind, these types of vessels are NOT for everyone. They're far different from the simple, streamlined look that many people that want a vessel are looking for. Often times, they're brightly colored and most of the time, will determine the color scheme you will be going for in your bathroom. We've gathered a few of our client favorites here to show ya.
And, don't worry, if this isn't your style, we do offer a large variety of vessel sink styles, from stone vessel sinks to copper and metal. So you don't see one here you like,  you are sure to find the one that fits your decor and project needs here on our vessel sink page.
How to install a vessel sink? Vessel sinks are most typically mounted on top of the bathroom vanity counter. You can mount totally above the counter or you can recess the bath sink into the counter a few inches. It's all up to your personal style and the mounting specifics of the vessel sink you choose.
Additionally, we offer a one-stop-shopping experience by having a great selection of vessel sink bathroom vanity cabinets, faucets and hardware to complete your project. So, read on, and see if you can't find one you love! And if you don't, don't hesitate to give one of our experts a call! We genuinely love helping our clients – even if they don't end up buying from us!
This elegant swirling vessel makes a great addition to a room highlighted in ambers, golds, and yellows.
Love fall foliage? Then this vessel will fit perfectly into your design.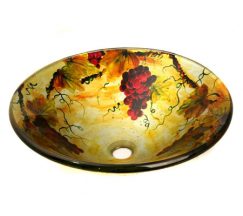 Got a wine aficionado in your home? Then this grapevine vessel will delight!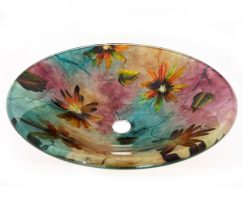 For the "girly girl" in every woman.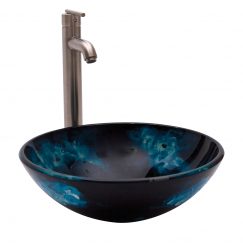 Oh-so-modern… Dark delight!