This bathroom vanity looks beautiful.  Its clean and classy but also functional.  There's plenty of storage for his and her beauty needs, which lends well to this bathroom's classic décor.  Using white in a bathroom keeps the space looking bright, since oftentimes there may only be a small window in the room, if any at all.  This homeowner chose a monochromatic look, and the white vanity fits right in. The low contrast in this application is not meant to blend or hide something; its purpose is to create unity through the space and reflect light.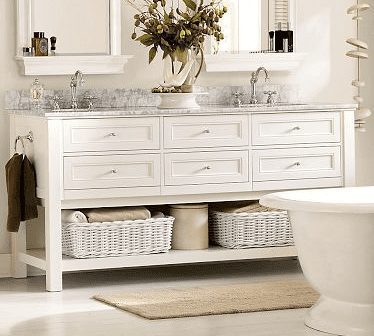 Think about it this way:  white furniture is more about its form and shape rather than its color.  The drawers and block legs in the photo above signify a transitional, almost cottage look – very homey.  The profile of the drawers, faucets, and pulls are key details to reinforce the style.  Adding the baskets and beige accents makes this bathroom cozy and relaxing. Compare it to the vanity in the purple bathroom.  This vanity works with the other white pieces in the space but is a showcase piece for its texture.  It's a more modern space, but the beauty is in the uniqueness of the pieces.
You can see that white is far from a boring color.  It's a great color choice that can be a big game-changer as far as the style of your space is concerned.  You can go country cottage with a distressed white finish or modern sleek with a high gloss.  Be sure to note the style details of the piece, like hardware and the leg style (if it has legs at all), and you'll have no problem deciding which white is right for you!