Shower fixtures are one of the most unique parts of the fixture world.  There are showerheads that are simple and one-function – for those that take the utilitarian shower, and there are showerheads on hoses that are great for the pampering shower.  Here are some examples of awesome showerheads for you to consider for your next bathroom revamp!
Budget – this Kohler showerhead is beautifully budget friendly.  At around $45 shipped, you can have this showerhead that will likely trick everyone into thinking it was something you splurged on.  This showerhead has a 5 ½" diameter head, giving your full spray coverage and warmth during your shower.  Its clean in design and could fit in a modern or traditional space with ease.     The sprayer tips are rubber for easy cleaning.
Mid-range – The Flipside from Kohler is a seriously fun design for your modern shower.  There are four different spray types, selected by flipping the showerhead on the horizontal axis.  There is a full coverage spray, dense yet soft spray, massaging spray, and a motion side that sprays in a circular pattern.  This showerhead is definitely on my "to buy" list.  I love the unique operation of it, and it looks just plain fun to use.  It clocks in at 2.5 gpm, and would almost always tempt you to take a longer shower to enjoy each flip of the sprays – this showerhead is not for the watersavers, but for those looking for a fun shower experience topped only by the budget bursting showerheads of the next price point.  The Flipside is about $110 retail price.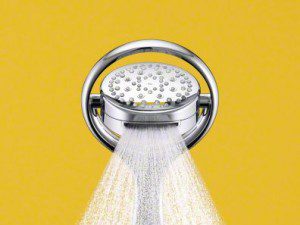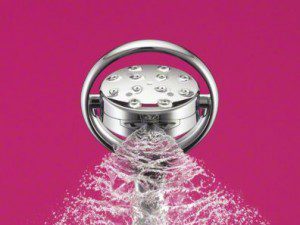 Alternately, you can peruse a number of shower sets available online that include the showerhead, the faucet, and the temperature dial for only slightly more than a single showerhead and of the same quality–weighing in at around $200, these sets can be great finishing budget fits for bathroom remodels!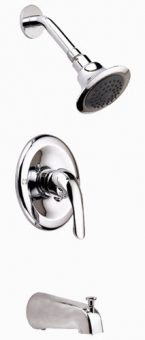 Show me the Money – When you're looking for luxury fixtures – and I mean LUXURY… look no further than Grohe.  Grohe is definitely high style and big budget, but every designer dreams of owning something Grohe.  There is a large variety of products from this prestigious company – rainshower heads, sidespray shower heads, and even retrofit systems to convert your regular head shower into an extraordinary shower system using the plumbing arrangement you currently have.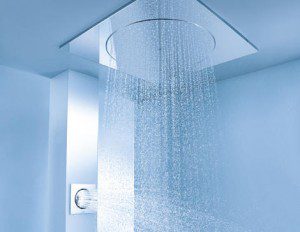 This work of art is a Grohe F-series digital.  This system uses wireless digital interfaces and modern technology to create a shower experience that is truly insurmountable.   The showerhead is ultra-flat and is mounted seamlessly onto the ceiling or wall.  These fixtures are paired with a digital control that handles the water temperature with a twist of a dial, and offers push button on and off.  The control is illuminated with a ring of light that corresponds with the water temperature for quick visual feedback before you get in.  As if all of that isn't enough – there's a remote control that allows you to start your shower before you even get into the bathroom.  Despite the luxury look, Grohe uses WaterCare technology, clocking these fixtures in at 1.75-2.5 gpm, right at the average.  This showerhead costs around $360 for the smaller 10 inch version, and over $1000 for the large 20 inch version.  The sideshower pieces are a little more realistic at $120.