As an online furniture retailer, we here at Unique Vanities attend a few of the furniture markets yearly. We go to find new ideas, look for new products to offer you, and furthermore to keep our finger on the pulse of the trends that are constantly changing. This year's KBIS in Chicago certainly didn't disappoint! In the next few days we'll be highlighting just a few of the standout trends we saw while we were there. So, stay tuned… Seriously… it's that good.
Our First Stop: Metals Are Making It!
Certainly many of us think hair bands and hard rock when we think of heavy metals. Thankfully, this post isn't about music. One of the first trends we noticed staging a huge comeback at this years KBIS was the appearance of metals and metallics. From  hammered copper vessel sinks from Premier Copper Products to vessel sink vanities with funky metal countertops by Oios Metals, and a stop at Bellaterra Home for a modern metallic vanity,  these unique pieces are enough to make all of your neighbors jealous… and then run home, and online, to purchase their own. Take a peek below at some of the beauties we saw!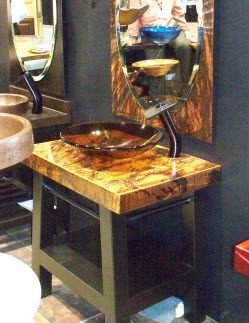 Yup, that's the metal countertop from Oios Metals. Not only does it look great, but it's made from recycled steel! With multiple colors available and ease of cleaning and maintenance unparalleled, we were impressed! Pretty neat, right?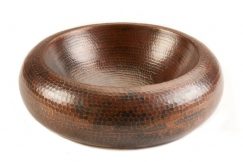 Premier Copper Products have been bringing quality copper products for years in both simple and detailed designs. This one was definitely a favorite. They do the hammered copper vessel like no one else. Click here to check out this vessel sink.
Bellaterra consistently brought the talent throughout all of our trends.
Keep an eye out for the next three installments of our trend watch from this year's KBIS. You won't be disappointed, we promise!
Written By: Hillary Hansen