Industrial bathroom design is simple and practical. You can transform your bathroom into an industrial space by using rough materials paired with smooth surfaces and a neutral color palette full of grays and browns.
The right vanity will be a focal point in your bathroom's industrial design. Look for vanities with clean lines and minimal details. You may find that modern vanities look great in industrial design as long as they are paired with more rough materials. Features like open shelving or metal legs will also look great in an industrial bathroom.
Mixing rough surfaces with smooth ones is a quick way to establish an industrial feel. The corrugated metal provides texture in this example, while the porcelain sink remains functional.
Many manufacturers offer fixtures with an industrial twist, like these.
Metal, wood, concrete and brick are all materials associated with industrial design – any mixture of these is sure to look good.
In modern industrial design, re-purposing objects is a good way to add character. Artist and photographer Benjamin Bullens created a working vanity from an old bike. He has other projects that may inspire you to reuse something in your garage or attic.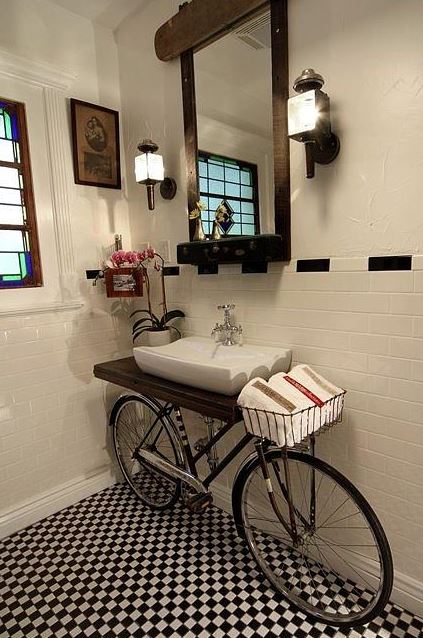 Content provided by Julia Ritzenthaler