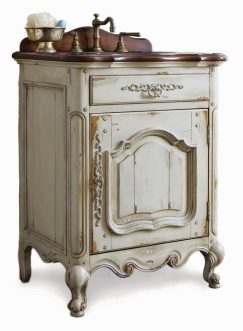 A popular trend making a reappearance in specifically kitchen and baths is the cottage style.  This is a very beautiful and simple style, perfect if your design tastes favor more understated tones and light, airy spaces.  This style uses predominantly whites or creams mixed with pastels combined with traditional elements.  The trend with this style is antique white bathroom vanities.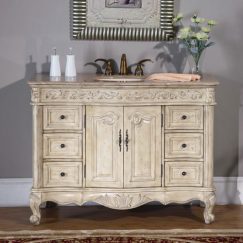 These vanities are typically found painted white and have an old fashion feel to them.  Reminiscent of the baroque style, these vanities have a feminine flair to them.  Very ornate in decoration and design, these vanities can stand alone in a bathroom as if a piece of furniture instead of the typical cabinet vanity.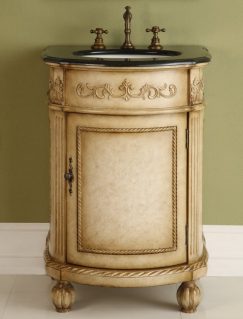 To incorporate this into a cottage style bathroom is simply done.  Round or oval mirrors will enhance this style.  By using muted or pastel color schemes, such as blues, teals, pinks, light yellows, will add to the breezy feel that is characteristic of the classic style.  Lace or organza could be used for either draperies or shower curtains.  In the cottage style, you want to avoid heavy fabrics or dark colors.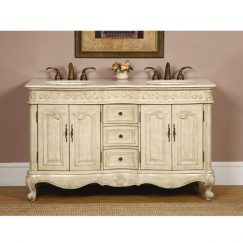 One of the most distinguishing elements of a cottage style bathroom is a claw-foot tub.  Clawfoot tubs are not for the faint of heart.  Clawfoot tubs come with their varying advantages and disadvantages so research is a must before deciding to go down this path.  If your bathroom is spacious and you are committed to the cottage style, then a clawfoot tub is a must.
There are so many options when decorating for the cottage style and it is up to you to decide how far you want to take it.  Cottage style is a perfect place to try out some of those diy projects that have been on your to do list.  A recycled bench with distressing and a gingham fabric would fit perfect in this bathroom.  If there is a way to incorporate a stone or pebble feature into the bathroom, that would take a warmer approach to the cottage style.  If you are thinking lighting options, bell lanterns in a brushed nickel finish would put the finishing touch on your dream cottage inspired bathroom.
Written by: Hillary Hansen