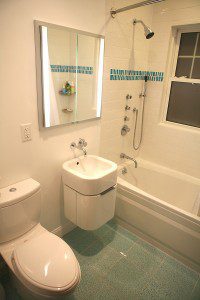 People tend to opt out for white linens and neutral walls in bathrooms to emulate a sense of cleanliness and calmness in the space.  Whites and neutrals can, over time, become boring though.  Adding color to a plain bathroom can be refreshing.  There are ways to do this in a bathroom without having to do a complete redesign or break the bank.  Plus, there's no need to break out the drop cloths and paint brushes either.  Here are a few quick and simple ways to add color to an otherwise blank canvas of a bathroom.
Towels are an essential element in a bathroom, so they are an obvious way to add color in this space.  If you have open storage in your bathroom, buy brightly colored towels to display.  Small colorful hand towels can also be hung on towel holders.  Also, pattern can be introduced through towels to add color as well as interest to the space.
Color can be introduced through various fabrics in your bath.  Through shower curtains or window treatments, these areas are an ideal place to add color.  An added bonus is that either of these items can be completely customizable with your favorite fabrics.  Also, a textile can be used to inspire the theme for the entire space.
Flowers or other accessories can be placed on top of your toilet to add not only color, but also personal touches in your bathroom.  Colorful vases, intricate display boxes, or even fun picture frames are small enough to be placed in this area.
Area rugs are perfect for a bathroom for not only the practical reason of covering the cold floor, but they can also introduce color to the room.  Whether a soft, plush rug or something more logical like a natural wool rug, this design feature can also add an addition of texture and pattern in the bathroom.
If your bathroom has space for a piece of furniture, that would be a chance to introduce color as well.  A bench for seating can add color through a seat cushion.  Add a piece of furniture for storage and colorful accessories, like jewelry boxes or perfume bottles, can be openly displayed.
Like any other room, your bathroom needs a touch of personal style.  Hang a piece of inexpensive art, preferably something that can withstand the humidity, to bring your own flair to the room.