Vintage style design is classic, cozy and elegant. Before the indoor plumbing and bathroom vanities of today, there was basically a basin (or bowl) and a pitcher sat atop a dresser for cleansing hands and faces. Vessel sinks are great because they appear to be exactly that – a bowl sitting on the counter.
Undermount sinks can also work well in a vintage bathroom, especially in an aged wooden vanity.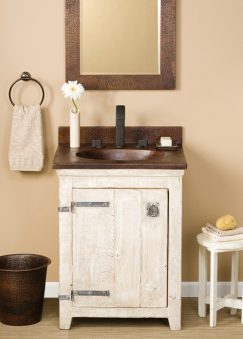 Click on the picture to learn more about this vanity or:
Click Here to Shop More Vanities!
Dressers can be retrofitted with sinks for a genuine vintage vanity. Just keep in mind you'll lose the center drawer space because of pipes and the sink body. This example features a shelf to help get some storage space back.
If you can't transform a dresser, use one the way it is as storage.
Other quintessential elements of vintage design are a clawfoot tub and black and white tiles. These fixtures have the classic vintage shape with the fun touch of color as well — perfect for making sure it doesn't feel outdated.
White tiles can be balanced with black accents or trim.
Content provided by Julia Ritzenthaler